Uguisuya: Delicious clear seafood-based broth with a unique touch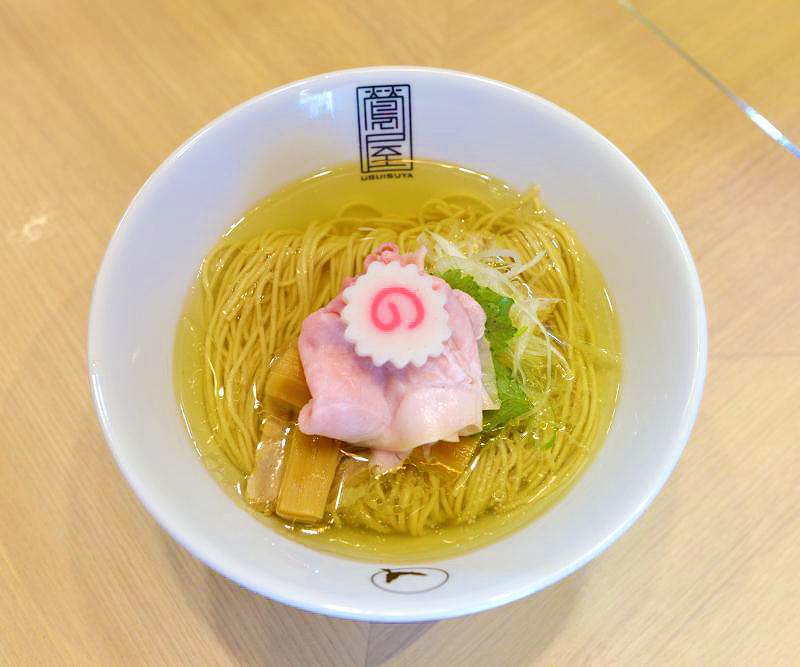 15:42 JST, May 12, 2022
Soshigaya-Okura station, located on the Odakyu Line in Setagaya Ward, Tokyo is known for its Ultraman shopping street. Ultraman, a tokusatsu special effects superhero, is familiar to every Japanese person. Of course, I had to take a picture with his statue at the north exit and was amazed to feel as if I were standing next to the real Ultraman. After snapping a photo with the superhero, I made my way to Uguisuya, a ramen shop just a short walk from the station that opened last October.
An Ultraman, said to be 40 meters tall, seems to be part of the scenery.

The actual Ultraman statue is not that big.

Ultraman also appears on the information board in front of the station.

A motif designed in the image of Ultraman's chest is used for a street sign.
As I approached the shop I was delighted to see white noren curtains and lights by the doorway which gave the place an air of cleanliness and elegance. I purchased a shio salt ramen for ¥800, a regular menu item, from the ticket machine outside the shop. "Welcome!" Katsuhiko Seiwa, the 32-year-old manager, greeted me with a friendly smile and voice as I sat down at the eight-seat counter. It took less than five minutes for my order to be placed in front of me.
The exterior of the shop conveys a sense of cleanliness and elegance.

The shop is located on the first floor of a building in front of the station, but its view is slightly obscured from the street.

The store logo features a Japanese bush warbler

Ticket machine
"What a beautiful clear broth!" I immediately thought. Even the blue Uguisuya name on the inside of the white bowl was clearly visible. As I sipped the gold-colored soup, I tasted its light and gentle umami flavors. My whole body filled with happiness.
"The broth only uses seafood and is made with no animal ingredients," Seiwa explained. Blending kombu, iriko dried fish and katsuobushi dried bonito flakes, he makes the soup every day, imitating a style in Japanese cuisine known as ichiban-dashi, first broth of the day.
But that reason alone is not enough to explain why the soup has umami flavors. "I use Shaoxing wine, white wine vinegar and other ingredients to give it a rich flavor," Seiwa continued. The first oil put into the bowl is "Taihaku sesame oil," used at high-end tempura restaurants in Ginza, Tokyo, which doesn't have a strong sesame aroma and is not as dark.
The noodles are mixed with whole grain flour, the aroma of which is quite noticeable.

Manager Katsuhiko Seiwa adds in a special sauce to enrich the taste of ramen.

Medium-thin straight noodles

Soup is placed in a bowl.
Having understood what made the broth so unique, I started on the noodles. The medium-thin, straight noodles use whole-grain flour and have a nice texture and wheat aroma. They're custom-made by the Kanno noodle factory in Nishi-Kamata, Tokyo, which is well known among ramen enthusiasts.
The toppings included pork belly chashu and pork thigh chashu cooked rare, as well as green onions, a mitsuba leaf, extra-thick menma bamboo shoots and naruto fish cake, typical for Japanese ramen. Both types of chashu are homemade. The chashu cooked rare is prepared in a low-temperature cooker and tasted delicious. Everything was well-balanced, which made for an extremely satisfying eating experience.
Ramen breaks stereotypes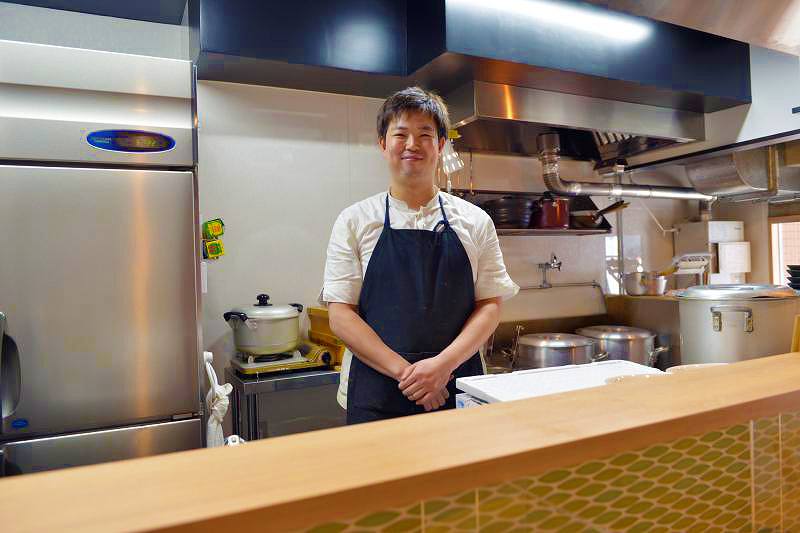 Seiwa trained for six months at the famous Yatagarasu ramen shop in Kudan-kita, Tokyo, before assuming the position of manager. There, he thoroughly studied the basics. But that wasn't all. He was moved by the owner's creativity and originality, and his stereotypes about ramen were completely shattered.
Taking advantage of this experience, Seiwa has been offering limited time ramen specials during dinner hours. The spring special, which ended with the Golden Week holidays, was sea bream with sesame sauce. He showed me magnificent sea breams that had just arrived which would be used for the dish. He paired the noodles cooled in cold water with a mild sesame and tofu-based sauce. The toppings included kobujime sea bream marinated in kelp, marinated freshly sprouted onion and Nanko ume plums from Wakayama Prefecture, as well as yam, shibazuke pickles and a slice of lemon. Sea bream rice and cherry blossom soup was served along with the ramen for 1,300 yen. The dish was very successful.
A splendid sea bream used for "sea bream with sesame sauce ramen."

Details about "sea bream with sesame sauce ramen."

Special shio ramen, ¥1300, with extra topping wonton and harf-boiled egg.

Special shoyu (soy sauce) ramen, \1300
Seiwa has worked in the restaurant business for about 10 years, once at an open kitchen counter izakaya where he cooked while conversing with customers. So it comes as no surprise how well versed he is in serving patrons, and why the atmosphere of his shop is warmed by his innate gentle personality. He has always loved ramen and served it independently during his izakaya days, but now that he has learned how versatile the dish can become, he is working hard to refine it even further in his shop.
Speaking of, why the name Uguisuya? Uguisu is Japanese bush warbler, and one contributing factor to the name is that shop owner's family in Wakayama Prefecture run a plum wine company called Kishu Uguisuya. But there's also this interesting tidbit. Yatagarasu, the ramen shop where Seiwa trained, is named after the mythical bird that guided Emperor Jinmu, the first emperor of Japan, from present-day Wakayama and Mie to Nara. It is worshipped at Kumano Hongu Taisha shrine in Wakayama Prefecture as a deity of guidance. Although it is a mythical creature, it's associated with Wakayama Prefecture and non-mythical uguisu birds. Inside the shop, there is a magnificent kamidana Shinto altar with an ema votive tablet of Yatagarasu from Kumano Hongu Taisha shrine.
A cozy interior with eight seats at the counter

Chopsticks, paper aprons, and wet wipes are smartly stored in counter drawers. The idea was to save space as partitions have been attached amid the coronvirus pandemic.

Items are also available for takeout.

Shinto altar and shrine plaque with yatagarasu in the shop.
"Next time you come here, try the umeshiso ramen," Seiwa told me as I left. It's a unique salt-based ramen with shiso oil and Kishu Nanko ume plums on top. Seiwa said, "I want to make this shop loved by the locals." It has only been about half a year since Uguisuya opened, but after being touched by both Seiwa's delicious ramen and warm personality, there's no doubt in my mind that his wish will become reality.
---
Uguisuya
8-10-1 Kinuta, Setagaya Ward, Tokyo, Japan.
Lunch is served from 11:30 a.m. to 3 p.m. Dinner is from 5:00 pm to 9:00 pm. Open until 10 p.m. on Fridays and Saturdays. Closed on Thursdays, subject to change. Information on ramen available for a limited time and such can be found on Twitter (@uguisu_ya) and Instagram (uguisu.ya).
---
Futoshi Mori, Japan News Senior Writer
Food is a passion. It's a serious battle for both the cook and the diner. There are many ramen restaurants in Japan that have a tremendous passion for ramen and I'd like to introduce to you some of these passionate establishments, making the best of my experience of enjoying cuisine from both Japan and around the world.
---
■Japanese article
[Ramen is an art ! ] Soak in happiness with clear soup at "Uguisuya" in the city of Ultraman
---