Noroshi / A champion tie-up of tsukemen noodles and delicious soup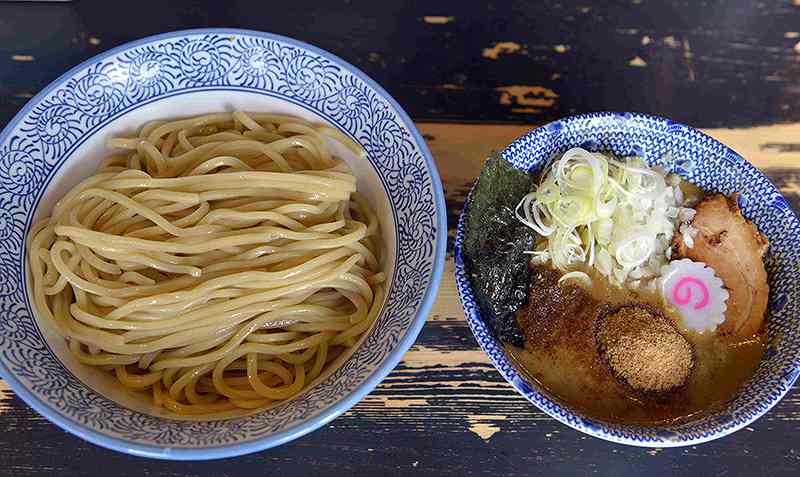 15:29 JST, February 17, 2022
Surprisingly, it wasn't the delicious ramen that impressed me most when I visited Noroshi ramen shop in Saitama City. Rather, it was the vibrancy of the atmosphere that knocked me for six. The Saitama City-based outlet is famed for its tsukemen dipping noodles, featuring homemade noodles and a thick soup that takes time and effort to prepare. There is usually a long queue outside the shop, and, upon entry, customers are served by friendly, energetic staff.
Though Noroshi's location is not in the most convenient of locations, there is always a long queue of people outside the shop.

Noroshi has just 10 seats at the counter.

A storefront signboard explains the queuing process.
"We're very particular about our noodles," says Koji Nakamura, president of Noroshi. "We use a blend of three types of wheat flour: Yumechikara from Hokkaido, which serves as the main ingredient; Hanamanten from Saitama Prefecture; and Ayahikari udon flour." Personally, I believe tsukemen starts with good-quality noodles, and I found myself nodding in agreement with Nakamura's explanation.
Blend the flour, make the dough and then stretch it: staff on the second floor repeat this process daily working by hand and using three noodle-making machines. The noodles are left overnight before being served. This process gives the noodles a firm texture known as koshi.
Ticket machine

A menu with pictures is posted next to the ticket machine.
I paid 900 yen at the ticket machine for a bowl of medium-sized tsukemen. The thick noodles looked shiny and beautiful. I started by eating the noodles without dipping them in the soup. They were delicious with a springy texture. I savored the aroma of the wheat and the firmness of the noodles.
Homemade noodles, the pride of the shop. The noodles are thick and firm with a wheaty aroma.

An explanation of how particular the shop is about creating its noodles.

Nakamura boils homemade noodles.

Cooling the boiled noodles with cold water

Ready-to-go noodles

Placing and arranging the noodles in a bowl
The soup is made by combining pork, chicken and niboshi dried fish, then topped with homemade pork chashu, green onions, naruto cured fish and a special fish powder.
"We put about 100 kilograms of pork and chicken bones into a large pot, and use about three times as much fish as other ramen shops," Nakamura, 41, explains. "This helps to condense the umami flavor, which gives the soup its richness."
 Nakamura says making the soup takes considerable work. The pork bones are cleaned, bled, and boiled to get rid of lye and odors. The bones are then crushed and boiled over a high heat. Next, chicken bones, onions, leeks, carrots and ginger are added, and the mixture is simmered. Finally, niboshi and other seafoods are added, which takes another hour. The entire simmering process takes about 10 hours. With so many ingredients, there is a risk of burning, so staffers keep a close eye on the soup and give it an occasional stir. The final step is to filter the soup.
 "It's not just a matter of using the best ingredients to make the soup tasty," Nakamura notes. "It's also important to put in the requisite time and effort."
Noroshi's rich soup, created through time and effort.

The soup combines delightfully with the noodles.

Homemade Chashu pork

A pot of soup-wari sits on the counter.
Because the soup is made with such care, I knew it would be delicious. I dipped the thick noodles halfway into the soup and slurped them up. The rich flavors spread in my mouth. Even though many bones are used to make the liquid base, I sensed no strange odors. The thick soup combined delightfully with the noodles, and the liquid level quickly dropped as I savored each mouthful. Finally, I added extra soup — known as soup-wari — from the pot on the counter and finished everything off. I like to follow this little ritual when I eat tsukemen.
Kickboxing high school days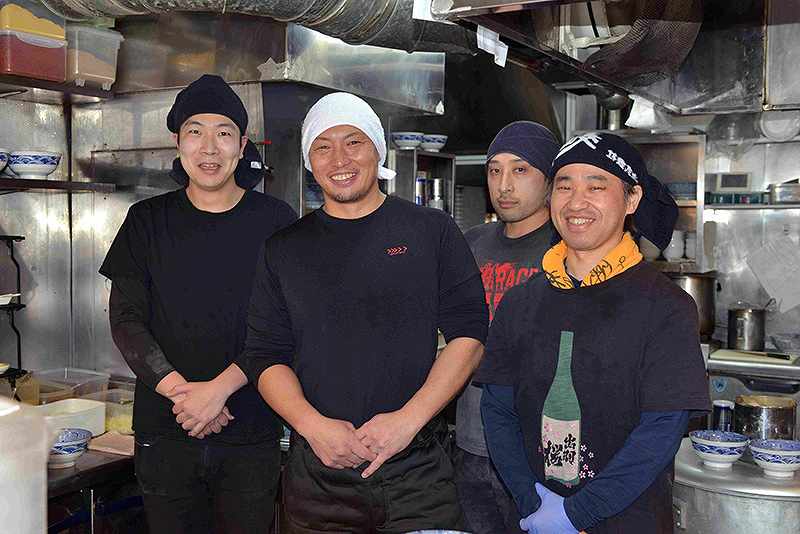 Making ramen at Noroshi involves long hours of physical labor. Nakamura told me how he developed mental strength by training his body, which he initially cultivated during his time as a professional kickboxer.
 A native of the area, Nakamura obtained his kickboxer's license as a 16-year-old high schooler, making his professional debut at 17. He worked part-time to save money, and spent a month in Thailand, competing in Muay Thai matches. However, he found it difficult to make a living as a professional. "At that time, even the champions were working other jobs," he recalls.
After graduating from high school, Nakamura worked for a construction company, but quit to try his hand in the ramen world, at the age of 21.
When interviewing for a part-time job at Ore no Sora — a famous ramen shop in Takadanobaba, Tokyo — Nakamura learned the president was a former wrestler. With a shared background in combative sports, the two hit it off. The president took good care of Nakamura, who was impressed by the president's personality. Nakamura became a regular employee and embarked upon his ramen-related training in earnest. After five years learning the ropes, the then 26-year-old struck out on his own, opening Noroshi in 2007.
"I still lift a 100 kilogram barbell and do squats at the gym," he says. "One of the bodybuilders there pushes me to the verge of passing out, which is really tough. When you run a business, there are a lot of hard times. But there are few things in life harder than this kind of physical training; it builds up your mental strength so you can overcome anything. Without [the gym], I wouldn't be where I am today."
Upon hearing this, I began to think that Nakamura's quiet demeanor came from a confidence founded in his steel-like body and spirit.
 Delicious noodles and soup created with time and effort are like two stars in a show, or two champions battling it out in the ring. Over the past fifteen years, Noroshi's noodles and soup have been subjected to various rounds of trial and error, before arriving at their current form. These prandial associates have now grown up, and have more trusted colleagues to join them in battle.
Mazesoba (soupless mixed ramen) is also popular with regular customers.

The spicy tsukemen has a flavorsome kick.

The shop also offers a take-out service.

Messages celebrating the shop's 10th anniversary
 Noroshi means "smoke signal" in Japanese. "I wanted to make smoke signals in my hometown," Nakamura said modestly of his shop's name. Today, Nakamura's smoke signals rise into the air from five locations across the prefecture.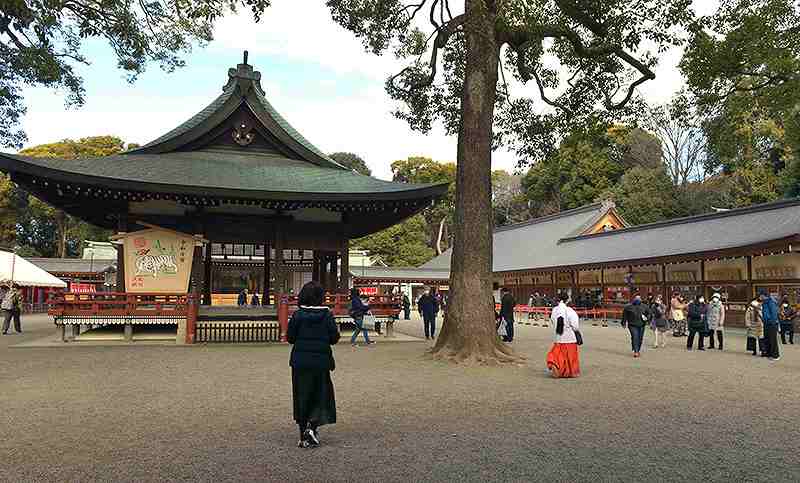 ---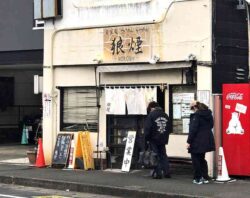 Noroshi
1-544 Higashi-Oonaricho, Kita Ward, Saitama City, Saitama Prefecture.
The shop is an about 20-minute walk from famous Hikawa Shrine, and an about 15-minute walk from the Railway Museum. Opening hours are from 11:00 a.m. to 8:20 p.m. (last orders). During the quasi-emergency period to counter the novel coronavirus last orders are at 7:40 p.m. There is no lunchtime break and the shop is basically open year-round.
There are four Noroshi outlets: the main shop; the Urawa shop, which opened in December; the Omiya shop; and the Higashi Omiya shop. In addition, there is another outlet in Omiya, called Temomi Chuka Soba Nakamura, which serves freshly made noodles and — primarily — soy sauce ramen with chicken-based soup.
---
Futoshi Mori, Japan News Senior Writer
Food is a passion. It's a serious battle for both the cook and the diner. There are many ramen restaurants in Japan that have a tremendous passion for ramen and I'd like to introduce to you some of these passionate establishments, making the best of my experience of enjoying cuisine from both Japan and around the world.
---
Add TheJapanNews to your Google News feed.