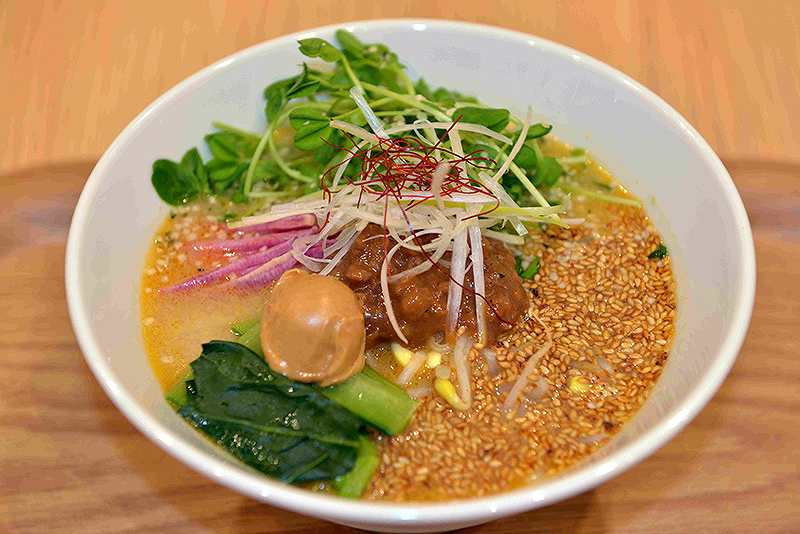 16:39 JST, January 26, 2022
Beautiful, delicious, healthy ramen — there's no better way to treat yourself than with a bowl of noodles when traveling via JR Tokyo Station.
T's Tantan specializes in vegan ramen and the branch inside the ticket gates in the ecute Keiyo Street area used to have foreign visitors queuing up to try the noodles. That was before the coronavirus pandemic, but on my first visit recently, I could tell it wasn't just the novelty of vegan ramen that drew the crowds.
Tantan ramen is usually spicy with some minced meat in a thick soup, so I didn't have much hope that the ramen at T's Tantan would be good, as no animal products are used, only vegetables and soybeans. But once I tried it, I was deeply impressed by the flavor.
One bowl is worth a thousand words, so I visited the shop again, hoping to hear the story behind the ramen.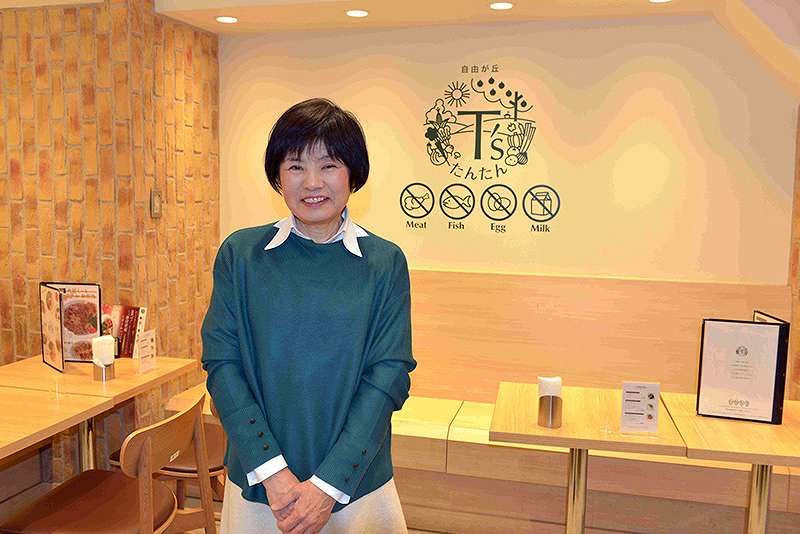 "The most important thing is to be healthy, and I want to convey this message through food," Masako Shimokawa said with a charming smile.
Shimokawa, 65, is the owner of T's Restaurant, a vegan establishment that opened in 2009 in Jiyugaoka, Tokyo, where the vegan tantan ramen was born. T's Tantan opened in 2011 as a ramen shop serving mainly vegan tantan ramen, and is run by JR East Cross Station Co., a new retail and development entity wholly owned by East Japan Railway Company. In other words, T's Tantan is the fruit of 11 years of cooperation between Shimokawa and the JR East Group.
In vast Tokyo Station, the shop is easy to find, located about a minute from the Yaesu South Gate. The interior of T's Tantan is spacious, bright, and sophisticated. On one wall are illustrated signs to denote that meat, fish, egg, and dairy products are not used.
Entrance of the shop in the Keiyo Street area, Tokyo Station.

Bright and spacious interior

Signs declaring that no animal products are used in the food.

The menu, made from soybeans, is explained.

T's Tantan's catchphrase, "Smile Vege"

Stylish interior
I ordered the golden sesame tantan noodles (¥1,100), the signature dish. Two kitchen staff worked briskly in the not-so-large kitchen, preparing the dish in no time. The shop has done a lot of research on how to serve ramen quickly, such as boiling the noodles for only 20 seconds, to minimize the waiting time for the many people who use the station.
Kitchen staff preparing ramen.

Kitchen staff preparing golden sesame tantan noodles.

It only takes 20 seconds to boil the noodles.

Putting the noodles into the tantan noodle soup

Placing soy meat miso on top

A lot of vegetables are placed on the bowl one after another.
The golden sesame tantan noodles that came to my table had more toppings than ordinary ramen, which made me happy just by looking at them. There were pea sprouts, hemp seeds — which are said to be a superfood — chili threads, fine strips of the white end of scallion, and bean sprouts. Soybean meat miso is hidden underneath. In addition, there is watermelon radish, peanut paste, komatsuna greens, and plenty of golden sesame seeds.
Normally, wheat flour noodles are served, but for an extra ¥100, you can change them to "uruhada" konnyaku noodles, which are low in carbohydrates and contain skin-friendly konnyaku ceramide. I had them on my very first visit and, as they have surprisingly few calories, you can shave almost 330 calories off each bowl of ramen.
The noodles are easy to eat.

Wheat flour noodles

Ramen menu
"Stir well before you eat, so that the soup will be richer," Shimokawa advised, explaining that the peanut paste also enhances the richness of the soup.
I mixed the noodles, soup, and vegetables together and tried the soup first. It was rich and full of umami. I was really impressed.
The vegetables were delicious, and the noodles (wheat flour this time) were easy to eat. I could enjoy the spiciness of the tantan ramen as well.
I felt I had eaten good ramen.
Toppings such as vegan cheese (¥200) and vegan chashu (¥450) , stylized on the menu in English as "char-siu," can be added for an even different taste.
Adding balls of vegan cheese to the ramen. Melting them together will make the dish even richer.

Vegan cheese made from low-fat soy milk really smells and tastes like cheese.

Soy meat chashu makes you feel like you're really eating meat.

Tantan noodles with tomato sauce, coriander and vegan cheese (¥1,100), konnyaku noodles (¥100) selected. Wheat flour noodles have 337 calories, while konnyaku noodles have only 10 calories. There is no smell of konnyaku and it is easy to eat.
Vegan cheese came as two balls made from low-fat soy milk and produced with the passion of Sagamiya, a tofu company in Gunma Prefecture. When I took a bite of one, I was surprised to find that it really smelled and tasted like cheese. I put the other one in the soup, broke it up, and drank some of the soup with it. It made for a milder flavor so you don't feel guilty at all after drinking it as you might from a bowl of regular ramen. It is also recommended to add rice to the soup and eat it like risotto.
"When speaking of ramen, chashu is a must," Shimokawa said. The soy meat chashu, which took Shimokawa 10 years to be satisfied with, tastes so good that you feel as if you are eating real chashu made of pork.
You don't have to think about concepts like "vegan" or even "vegetarian." Let's think simply:
This is a ramen that can satisfy anyone who drops in for a quick bite.
From homemaker to restaurant owner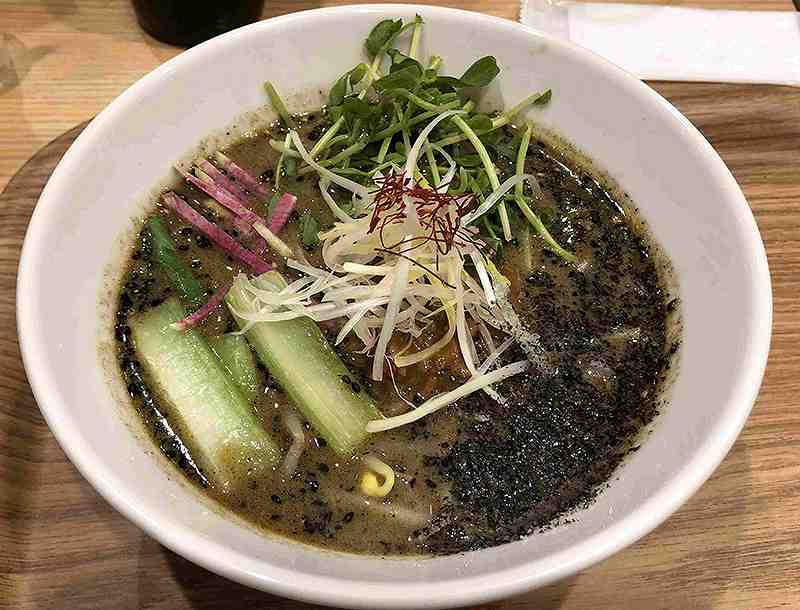 Shimokawa was a homemaker who used to eat meat and fish.
"If it was a sirloin, I liked the fatty part," she recalled.
However, when an acquaintance became ill, she began to think deeply about health and began to prepare healthier food for her family.
"I want people to enjoy eating delicious food, rather than holding back because they are vegetarians," she said by way of telling me why she opened T's Restaurant in September 2009.
Shimokawa started to serve vegan tantan ramen at the restaurant, and for some reason, people from JR started to visit the restaurant frequently. Shimokawa was wondering why, since there is no JR station anywhere near Jiyugaoka in Meguro Ward.
Guidance on ingredients used

Explanation of the menu
Then one day, JR representatives approached her about opening a restaurant in Tokyo Station. The company was scouting for restaurants for the new Keiyo Street passage to open under the theme "a people-friendly, nature-friendly lifestyle."
Shimokawa's philosophy and JR's were a perfect match, and just six months after the opening of the restaurant in Jiyugaoka, the decision was made to open a ramen shop in Tokyo Station. After spending six months developing the menu, the restaurant opened on March 20, 2011, nine days after the Great East Japan Earthquake.
Dumplings made with only vegetables

Bento boxed lunch with soy meat chashu from the take-out menu
Since then, the restaurant has continued to make improvements under the catchphrase "Smile Vege," which implies "making customers smile with dishes that make their bodies happy."
Popular among foreign clientele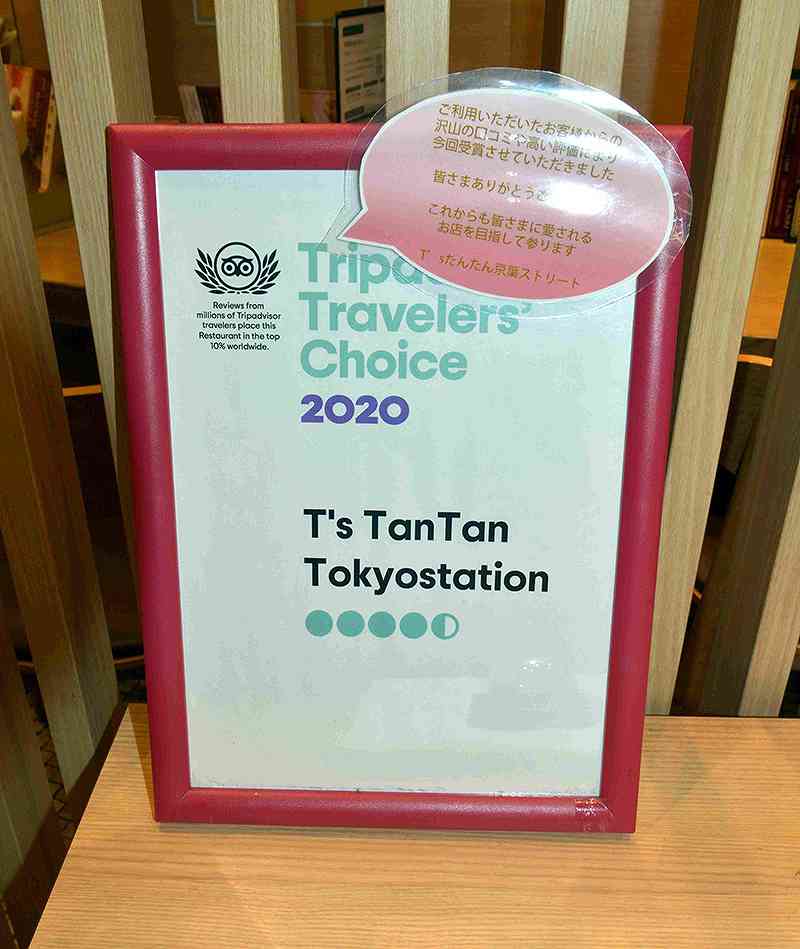 "Please tell the world that we are grateful for the many messages of support through social media from foreign people who cannot come to T's Tantan now," Shimokawa said.
T's Tantan is well known abroad. There were times when 90% of the customers in the shop were from a foreign country. In 2020, the restaurant was awarded "Traveler's Choice" by TripAdvisor, a global travel review site, based on the evaluations of travelers, and was ranked in the top 10% of all restaurants in the world.
Shimokawa remembers that once when she was waiting for a train at Hamamatsucho Station in Tokyo, she saw a ticket had fallen onto the platform. She picked it up and approached a group of three female travelers in front of her. One of them had dropped the ticket and was relieved to have it back. The three said they were from Sweden and Britain. Shimokawa then asked where they were going.
"We're going to T's Tantan in Tokyo Station now," one of them said with joy.
After the coronavirus outbreak, the number of foreign visitors to Japan plummeted and their numbers have yet to recover. But as a result of the shop's efforts such as revamping the menu and starting to offer takeout, not only have Japanese female customers increased, but also male customers who are becoming more health-conscious due to the spread of the coronavirus.
Terumi Kaneko of JR East Cross Station has been working on seasonal menu items. Last year, she came up with six kinds of seasonal ramen, including Setouchi lemon ramen, which was a great success.
"Suddenly, it's as if something comes to me and the idea flashes in my head," Kaneko says happily.
Some of the limited-edition ramen offered so far

There are also cup noodles. Foreign visitors used to buy them in boxes.

Boxed ramen with fresh noodles (2 servings)
The "T" in the name of the shop is not just the "T" of tantan ramen, but also for the words "taiyo" (sun), "tsuchi" (soil), "taberu" (eat), "teinei" (politeness), "tsunagari" (relationship) and so on. I will add "tokimeki" (inspiration) to it.
---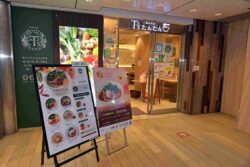 T's Tantan (http://ts-restaurant.jp/tantan/)
The Tokyo Station ecute Keiyo Street branch is normally open from 10 a.m. to 10 p.m. It is closing at 9 p.m. during the period of COVID-19 quasi-emergency measures to prevent the spread of the disease, scheduled to be in effect through Feb. 13, 2022.
There are also branches in two other JR stations: the ecute Ueno shop inside the ticket gates of Ueno Station and the Ikebukuro shop inside the ticket gates of Ikebukuro Station. The branches at Narita Airport Terminals 1 and 2 are temporarily closed.
---
Futoshi Mori, Japan News Senior Writer
Food is a passion. It's a serious battle for both the cook and the diner. There are many ramen restaurants in Japan that have a tremendous passion for ramen and I'd like to introduce to you some of these passionate establishments, making the best of my experience of enjoying cuisine from both Japan and around the world.
---
Add TheJapanNews to your Google News feed.