Kaneko: A tasteful new ramen shop sets sail in old Ofuna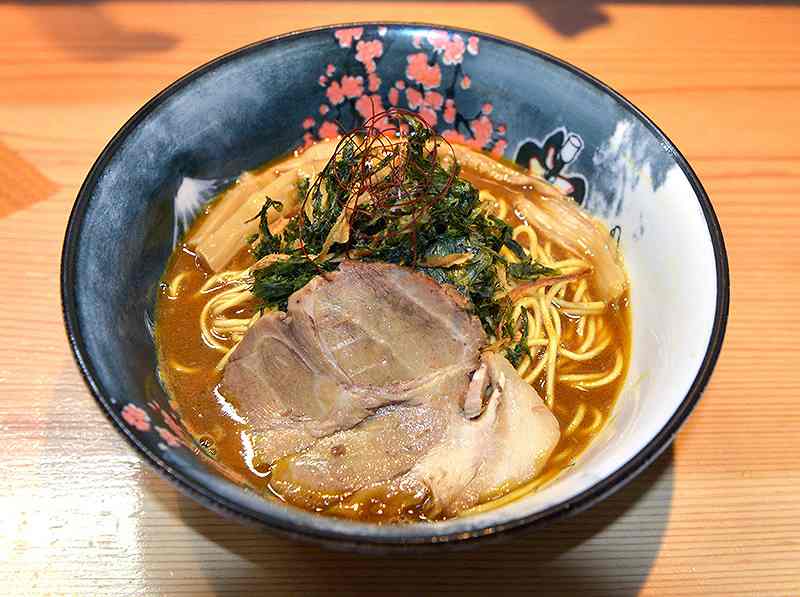 15:56 JST, September 12, 2021
The streamlined bow of a multideck cruise ship appears to rise up on the skyline next to JR Ofuna Station in Kanagawa Prefecture.
Dubbed the Grand Ship, the glistening landmark is not a seafaring vessel, but a large-scale commercial facility, opened earlier this year alongside luxury high-rise apartments.
Landlubbers need only venture a short walk from the new development to find that Ofuna — a name that literally means "big ship" — is an old town, as attested by the diverse array of grocery vendors, shops, and restaurants jostle for space like boats in a crowded harbor. The humanity and vitality that course through streets here always seem to buoy my spirits and draw me back, hungry for more.
Grand Ship, a new landmark in front of Ofuna Station

The building where Kaneko is located. The store is tucked away at the end of a corridor.

A corridor on the first floor of the building
I recently visited to call on ramen shop Kaneko, another newcomer to drop anchor in the area. First-time visitors may require a map to find the shop, tucked away at the back of a building on a side street in the shadow of Grand Ship. As the shop was opened a little over a year ago, its premises are still refreshingly spick-and-span. But the quarters were tight with only a narrow counter for seating that could accommodate about five customers at a time.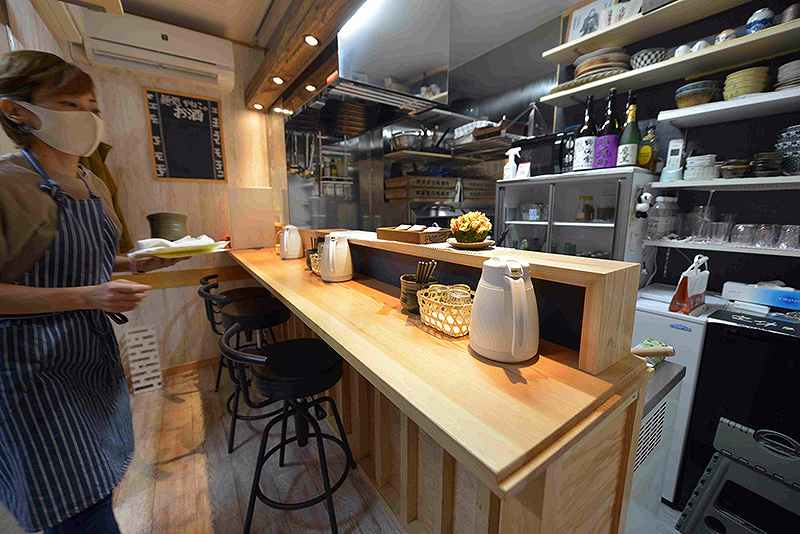 When I slid open the wooden entrance doors, I was greeted with a mellifluous welcome from Yumi Maeda, the lovely manager at the shop's helm. I immediately ordered the Niboshi Curry Ramen (¥850 including tax).
The shop's owner, Tatsuyuki Kaneko, 45, explained that it was the shop's signature dish: "We mix curry spices with chicken broth that has been simmered for eight hours, finished off with a thick stock made from niboshi (dried fish)."
A piping hot bowl of ramen was placed on the counter in front of me, smelling wonderfully of curry. I took a sip of the soup and found it to be tasty with a piquant punch. The broth had an undeniable elegance that told me it had been prepared with care.
"The soup is healthy, so you don't have to feel guilty about polishing off the entire bowl," said Kaneko. I certainly required little convincing. The ramen was a feast for the eyes as well as the belly, beautifully plated with aosanori (dried seaweed), homemade chashu pork, menma (pickled bamboo shoots), and slivers of red pepper. Kaneko uses a thin noodle made specially for their shop by a local noodle maker using domestic wheat.
Check the blackboard for the day's specials.

The shop uses specially-ordered thin noodles made with domestic wheat

Maeda prepares the niboshi curry ramen broth

Rich niboshi stock is added
The shop offers three types of ramen — curry, chicken, and niboshi — served on an irregular rotating basis. The flavor of the day is announced on the shop's Instagram account and a blackboard posted at the shop's entrance. Diners can also always opt for a "shirunashi" (soup-less) ramen, which consists of noodles served with a little bowl of thick soup for dipping and mixing with garnishes and chashu pork on the side.
The niboshi curry broth coats the noodles

Boiled noodles are arranged

Niboshi curry ramen broth is poured over the noodles

A ninja-themed ramen bowl. (Mt. Fuji is another featured motif.)
The meticulous menu reflects the exacting tastes of an owner who has over three decades of experience in the traditional culinary scene. After training at many famous restaurants, Kaneko opened the chic kappo restaurant Chiso Kaneko in nearby Kamakura, where he can be found manning the kitchen as owner-chef. This background has made him exceptionally particular about the ingredients and flavor profiles in his ramen.
"I take a lot of care with the soup, so it has the refinement that one would expect from a kappo restaurant," Kaneko said. "But people don't want to pay for a bowl of ramen over ¥1,000. I've worked hard to keep the price at ¥850, while still using only the best chicken, fish, and bonito flakes. I have confidence in our ingredients and would never cut corners for profit's sake."
In fact, Kaneko's ramen counter can be seen as an extension of the dining tables at kappo restaurant, where he first started serving bowls of gourmet ramen to 30 lucky lunchtime diners each day. After the limited-edition ramen was featured on a TV program, it became so popular that all 30 bowls would be accounted for by the long queue of people that started forming outside the shop before lunchtime.
It reached a point where Kaneko had to pull ramen from the lunch menu, lest the crowds fully confuse his restaurant for an affordable ramen joint, rather than a purveyor of high-class Japanese cuisine. In a conciliatory gesture, he added a small bowl of ramen to the round out the course menu served to dinner customers. But the inquiries continued to stream in unabated and he decided to open the ramen shop in August last year.
Each morning, Kaneko prepares his broth fresh in the kitchen at Chiso Kaneko and then ferries it by bike over to the ramen shop where Maeda works her magic.
Shop manager Yumi Maeda (left) poses with owner Tatsuyuki Kaneko, who doubles as the owner-chef of a kappo restaurant in Kamakura.

Dishes served by Kaneko drawn by illustrator Ryoko Hamaguri, a customer at the kappo restaurant, Chiso Kaneko.

Dishes served by Kaneko drawn by illustrator Ryoko Hamaguri, a customer at the kappo restaurant, Chiso Kaneko.
A former staffer at the kappo restaurant, Maeda was handpicked by Kaneko to run the ramen shop. Maeda can be found behind the counter at night, doling out obanzai (side dishes), gyoza dumplings, and sake.
When I first visited for an interview in September, the restaurant was closed due to the pandemic, but they graciously prepared a bowl of ramen for me to sample.
Once the state of emergency was lifted and the shop resumed operation in October, I eagerly hustled back to Ofuna to get the full experience.
My perseverance was rewarded with five side dish platters lined up on the counter. All were handmade by Maeda and tantalizingly priced from between ¥150 to ¥400 per serving.
"Customers can enjoy two or three dishes and some sake, all for about ¥2,000, before their ramen," said Maeda. "It's also pretty common for people to start out here with some light snacks and drinks, barhop in the neighborhood, then come back to cap their nights with a bowl of ramen."
he shop always has a good selection of rare sake.

Maeda's "obanzai" menu

An array of a la carte dishes entice diners on the counter.

A chicken, radish and egg dish
Ofuna is indeed full of culinary temptation, whether sampled prix fixe or a la carte. As someone who enjoys exploring a town with my stomach as my guide, I savor few things more than having such a warm and welcoming shop waiting as the perfect conclusion to the day.
Of course, good conversation is also a key ingredient to any proper pub crawl. Maeda has a unique background. Before entering the restaurant industry with plans to open her own izakaya, Maeda studied abroad in the United States while in college, and worked for an international securities company for nearly a decade. "My English is out of practice, but I think I could hold my end of the conversation," she said. "I'd be glad to share my ramen and cooking with diners from far and wide."
The entrance to Kaneko. The sign was written by Maeda's mother.

Kaneko's menu
---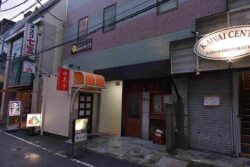 Kaneko
Located on the first floor of the Kawai Center building at 1-2 Ofuna, Kamakura City, Kanagawa Prefecture.
Open from 5:30 p.m. to 11:00 p.m. (currently 9:00 p.m. due to the pandemic). Also open for lunch on Sundays from noon to 2:00 p.m. Closed on Mondays and Tuesdays. All ramen dishes are ¥850 including tax.
---
Futoshi Mori, Deputy editor of The Japan News
Food is a passion. It's a serious battle for both the cook and the diner. There are many ramen restaurants in Japan that have a tremendous passion for ramen and I'd like to introduce to you some of these passionate establishments, making the best of my experience of enjoying cuisine from both Japan and around the world.
---