Hechikan / Niboshi fish broth ramen with universal appeal in Yokohama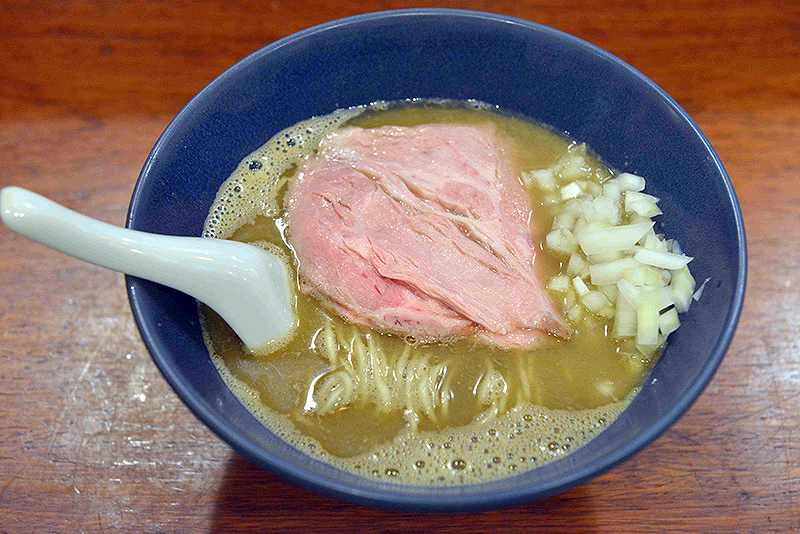 19:54 JST, September 1, 2021
Whenever I visit Yokohama, I feel that I have an extra spring in my step. Holding my ear to the sea breeze, I can still hear the grooves of the soul music bar that I used to haunt as a young reporter cutting my teeth on the Yokohama beat. Maybe there's something special in the water down here, with the expansive views out across the harbor. Maybe it's a pinch of nostalgia for those hectic, bygone days of youth, combined with a heaping helping of camaraderie shared with the scrappy, straight-shooting Hamakko, as the locals are known. Whatever it is, I can't get enough. Every time I step off the train at Yokohama, I'm reminded of how much I love this port town.
Follow the passageway from Yokohama Station to the nearby Asobuild complex, and you'll find Yokohama Hechikan Ramen, nestled alongside 17 other eateries lining the first floor dining arcade. The shop is one of three Hechikan outposts in Yokohama, serving up ramen with a distinct thick broth made by simmering copious amounts of niboshi dried fish. When I entered the shop, I was greeted by handsome 25-year-old manager, Yusuke Makise, who promptly took my order for a bowl of their signature Niboshi ramen (¥850).
A dining arcade with 18 eateries. Hechikan is on the right front.

The exterior of Hechikan

Spacious interior with only a counter
Makise revealed that the shop goes through nearly 5-kilograms of dried fish each day to achieve its uniquely thick broth.
You might expect it would take a while to stew so many fish, but Makise said: "It's like making dashi broth, so doesn't take very long to prepare. For today's broth, I used 70% isaki (grunt) and 30% hirago (pilchard) from Sakaiminato, Tottori Prefecture."
A steaming bowl of ramen was placed on the counter in front of me, topped simply with slices of rare chashu pork and roughly diced white onion. When I took a sip of the light brown soup, I was surprised to find that it packed quite a satisfying umami punch, while still having a crisp, bright feel that was not overly fishy.
The thin noodles are good because the soup goes well with them.

The manager, Yusuke Makise, begins making ramen.

Mixing the soy sauce tare with the niboshi soup

Thin noodles made with domestic wheat

Noodles are ready.

Pour the niboshi soup into a bowl.

Put the boiled noodles into a bowl.

Proudly made rare chashu pork
The scrumptious broth was developed by Hechikan's president, Yoshihiro Sato.
"He was so impressed with the niboshi ramen he ate in Kyushu that he ended up searching high and low for the same fish, a journey that would ultimately lead him to Sakaiminato," explained Makise.
The niboshi brought ashore in Sakaiminato, a port in Tottori Prefecture, form the bulk of Hechikan's broths, and they even opened a ramen shop in Yonago, a 30-minute drive from Sakaiminato, to ensure direct access to the highest-quality niboshi possible.
But Hechikan has also cast a wide net of suppliers that provide a steady stream of seasonal fish for their broths, such as horse mackerel in summer.
Hechikan is so confident in their broth that the only other ingredient is a splash of soy sauce. Most of their ramen is served with thin noodles, prepared by a company in Tokyo using domestic wheat. But some of their stronger soups are paired with brown noodles, made with a special, fragrant flour.
The chashu is made in house, by slow-roasting pork shoulder at low temperatures.
Chopped onion, however, is an unusual garnish for ramen.
"The onions are a perfect match for niboshi," explained Mayuki Sato. "Their crispy bite and sweetness enhance the umami of the soup."
The energetic staff at Yokohama Hechikan make an excellent team. From left to right: daytime manager Yusuke Makise, Daijiro Sumikama, nighttime manager Mayuki Sato, and Hirotaka Hashimoto.

The night manager Mayuki Sato places the chashu pork on the top.

Staff member Daijirou Sumikama cutting homemade rare chashu pork.
The manager changes from Makise in the day to Sato at night, when the shop takes on a more relaxed vibe. Before COVID, diners could enjoy sake and tapas-style appetizers, before capping their meal with ramen. But the pandemic's restrictions on alcohol service have left Sato's encyclopedic knowledge of sake untapped.
"I serve five or six kinds of sake with a focus on unpasteurized namazake. I try to offer customers brews that are delicious yet perhaps a bit niche, the sort of sake that can be hard to find elsewhere, and junmais generally pair well with our ramen," Sato said. "Well, let's hope the pandemic ends soon."
There are now six Hechikan shops, including a franchise in Kisarazu, Chiba Prefecture — an impressive number for a comparatively recent entrant to the ramen scene.
Hechikan was originally run out of a rented space in a Yokohama snack bar, but became so popular that the first proper shop was opened four years ago in Yokohama's Fukutomi-cho district. The shop near Yokohama Station became the fourth Hechikan when it opened two years ago.
All the many nationalities in Yokohama can agree on a good bowl of ramen. English and Spanish speakers can order in their native tongues around trilingual staff member Daijiro Sumikama, who studies at prestigious Keio University. His language skills came in handy when a Banksy exhibition was held in the building, leaving the Hechikan's counters packed with diners from Europe and the Americas.
The Hechikan also features a special ramen menu that changes daily. When I visited, the options were asari clam ramen and curry ramen. For my second bowl, I couldn't resist ordering the Sichuan curry. The fiery blend of curry spices and niboshi broth was perfect for working up a sweat and cooling down in the summer.
Very spicy curry ramen

Makise preparing the limited curry ramen

Mixing curry with niboshi soup

Warming up the soup for niboshi ramen (left) and curry ramen.

Put the curry ramen soup into a bowl.
It is Makise's job to come up with the daily menu, which is where he shows off his culinary flair. Customers come back day after day, eager to try his latest creation. At the Yokohama Hechikan, these imaginative offerings have included chilled oyster ramen and lobster ramen, the latter served with a optional side of gourmet butter from Hiruzen, Okayama Prefecture.
The daily special of the day was Japanese clam ramen.

The menu at the front of the shop

Mural of the building where Hechikan is located

Entrance of the building where Hechikan is located
Incidentally, Hechikan was named after an eccentric tea master, whose hijinks between the Warring States and Azuchi-Momoyama eras have become the stuff of legend. The Chinese character used to write "Hechi" is itself quite uncommon in Japanese and resembles a path that forks off in another direction. Just like their namesake innovated the tea ceremony, the team at Hechikan is well on its way to carving out its own unique path in the world of ramen.
---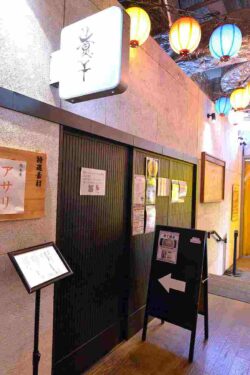 Yokohama Hechikan
First floor of the Asobuild complex, 2-14-9 Takashima, Nishi-ku, Yokohama.
Lunch: 11 a.m. to 3:30 p.m. weekdays (until 3 p.m. on weekends and holidays). Dinner: from 5 p.m. on weekdays (from 4:30 p.m. on Saturdays and holidays). Closed on Sunday nights.Although normally open until 10:00 p.m., the shop is operating on an adjusted schedule due to the pandemic and closes at 8:00 p.m.
---
Futoshi Mori, Deputy editor of The Japan News
Food is a passion. It's a serious battle for both the cook and the diner. There are many ramen restaurants in Japan that have a tremendous passion for ramen and I'd like to introduce to you some of these passionate establishments, making the best of my experience of enjoying cuisine from both Japan and around the world.
---
Add TheJapanNews to your Google News feed.