Aozora / Serving up classic salt ramen under nostalgic blue skies at the foot of the Southern Japanese Alps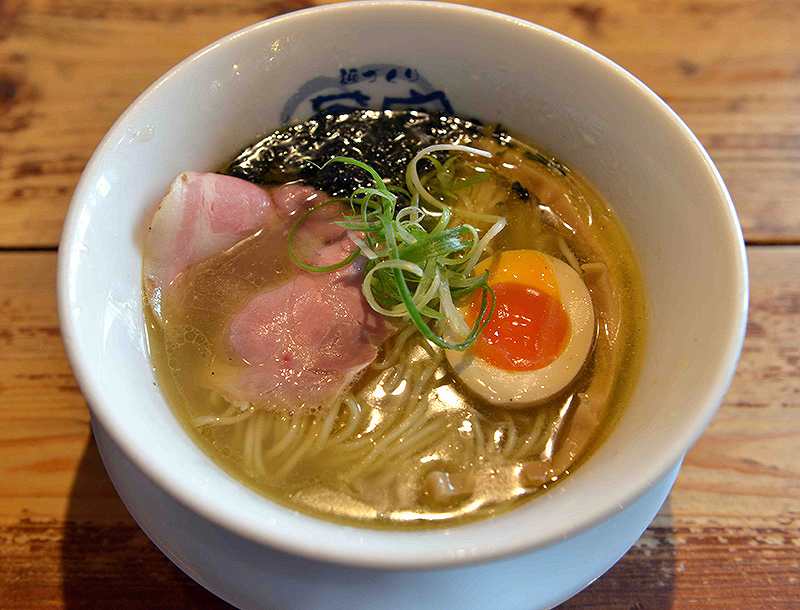 19:17 JST, June 23, 2021
The Japan Alps mountain ranges — consisting of the Northern, Central, and Southern Alps — bisect Honshu island with peaks towering over 3,000 meters. Fortunately for hungry food trekkers in search of a bowl of good ramen, culinary heights can be found a bit closer to sea level.
Aozora ramen at the foot of the Southern Alps is one such landmark popular among ramen-loving locals in Minamiminowa, Nagano Prefecture. When travelling through the idyllic Ina Valley during the rainy season in mid-June, I found the shop across the street from expansive rice paddies with leggy chartreuse stalks of young rice swaying comfortably in the breeze.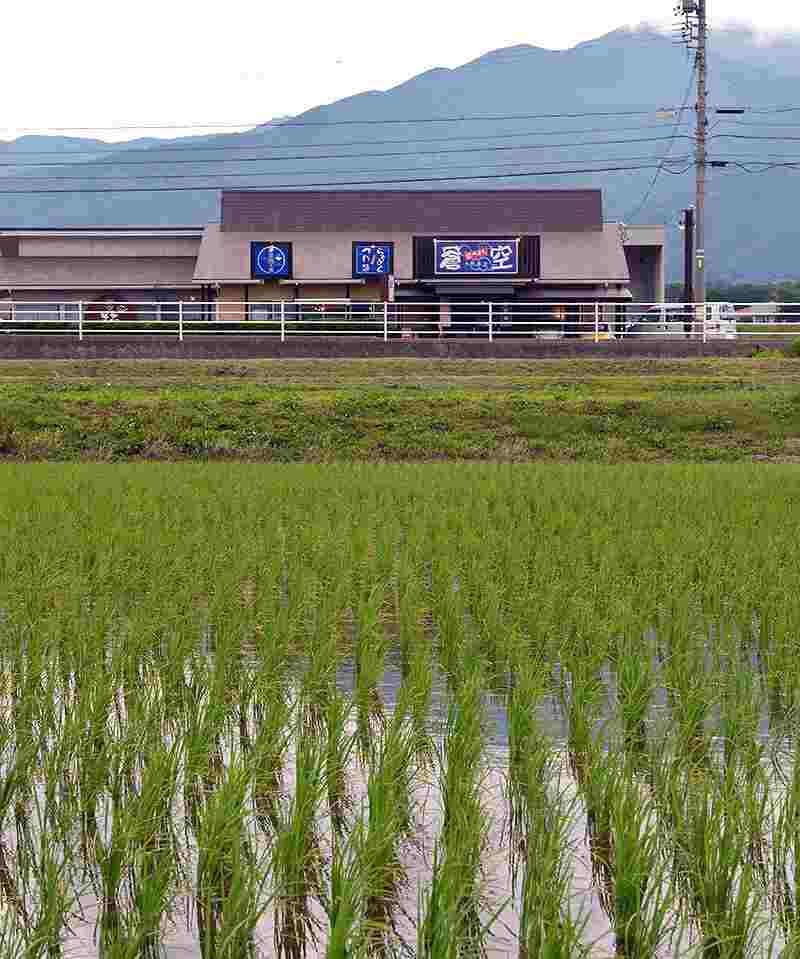 Pulling into the parking lot, my interest was already piqued by the two eye-catching classic Japanese cars nestled under an awning near the restaurant's entrance. When I walked through the front door, I was greeted by a scene quite unlike the cramped ramen shops in Tokyo. Far from the capital, Aozora boasts long counters, big tables, and a spacious tatami dining area, all decorated to the gills with vintage signs and toys from yesteryear that made me feel as if I had stepped back in time to the Showa era (1926-1989).
With last call for lunch orders fast approaching, I had to pry my eyes from the decor in order to peruse Aozora's menu.
Across the counter, Aozora's owner, Yasuharu Takemura, worked busily in the kitchen. Despite his tough-guy appearance, Takemura turned out to be a very friendly man. "Start with a bowl of ramen, of course!" he called out cheerfully. Takemura recommended the iso-shio salt ramen (¥803 including tax), which has been his signature dish since he opened Aozora 15 years ago.
The exterior of the shop

The spacious seating area in Aozora. There is also a tatami room in the back. Retro items are displayed in every corner of the shop.

Long counter seats
"When I started this shop, I knew I wanted to make shio (salt) ramen using homemade noodles. After experimenting to find a perfectly balanced bowl of ramen that would appeal equally to the tastes of locals of all ages, this is what I came up with," Takemura explained.
The soup is made with domestic pork, chicken, and several kinds of dried fish. Takemura prepares his animal-based broths and fish-based broths separately in advance, then keeps them chilled in the fridge. He waits until just before opening to mix the broth, which he says is the secret to enjoying both the surf-and-turf flavors to their fullest. To the soup he adds a sauce reduction, made by boiling down an armful of scallops and clams, that enhances the seafood flavor and fragrance.
On a typical visit to Aozora, diners will find four types of noodles made with locally sourced wheat flour. Takemura makes the noodles fresh in-house every day, in a little room separated from the dining area with glass doors.
He serves a thin noodle with his iso-shio ramen.
Takemura carefully lays out the cut noodles in a box.

Very tasty looking flat noodles.

The noodle-making room in a corner of the shop. Noodles are made here every day.

The noodle-making room in a corner of the shop. Noodles are made here every day.
As soon as the piping hot bowl of ramen was set on the table in front of me, I was struck by the pleasant smell of seafood wafting up through the air. I took a first sip of the soup: light and refreshing yet satisfyingly rich with a depth of flavor. Another sip: elegant. Followed by another sip: wonderful.
The soup commingled harmoniously with the thin noodles, making them extra enjoyable to slurp. The toppings of homemade pork, aosa nori, egg, and hosaki memma (bamboo shoots) suited the dish perfectly. I think people of all ages could unanimously agree that this was, indeed, the archetypal bowl of shio ramen.
The thin noodles are smooth and easy and commingle well with the delicious soup.

The kitchen in front of the counter is always very busy.

Thin noodles are used for iso-shio ramen.

Put the salty sauce into the bowl.

Then add the soup to the bowl.

The boiled noodles are put into a bowl.

Prepare the noodles.
Takemura brought over another popular menu item, the ebi-tsukemen dipping noodle (¥1,250 including tax). Available as a limited time offering this season, the dish features flat noodles made with special flour, topped with freshly picked asparagus from a nearby farm that have been wrapped in chashu pork. The beautiful presentation — pork-wrapped asparagus atop noodles — almost looked like something you would see in a fancy Italian restaurant.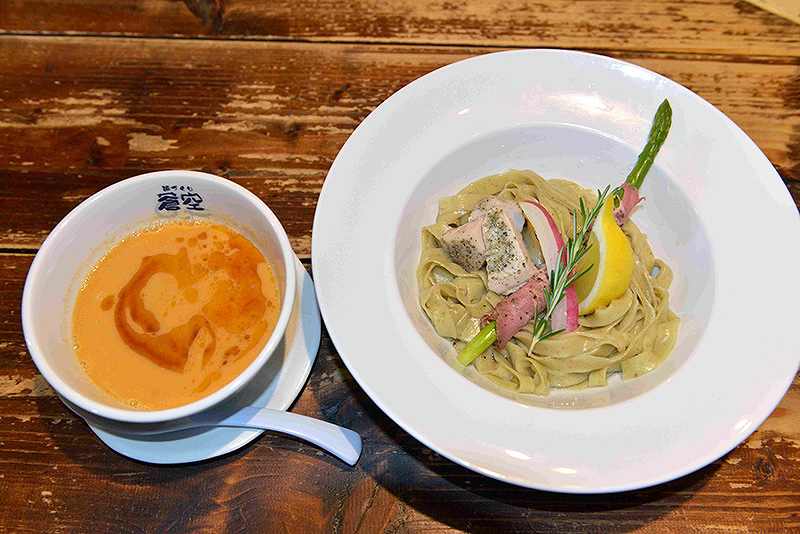 But what about the taste? In contrast to the light flavor profile shio ramen, this tsukemen soup offered an explosion of rich shrimp flavor that complemented the wide, glutinous dipping noodles and left me thoroughly satisfied.
New challenges
Glutinous flat noodles taste very nice.

Seasonal Shrimp Tsukemen

Thin noodles are used for iso-shio ramen.
Starting this month, people from all over the nation can now sample Aozora's ramen from the comfort of their homes. Takemura partnered with three other local purveyors of handmade noodles to offer the online sales of meal sets that include ramen, soba, udon, and pasta made with natural ingredients. The new endeavor was launched to share the local flavors of the Ina Valley, at a time when foot traffic has been flagging at restaurants due to the pandemic. Once the pandemic has ended and travel is back in the cards, the restauranteurs hope that internet customers will be enticed to tour the Ina Valley and savor the noodles in person.
"We are now living in a time when the future is uncertain, so we want to continue exploring new business models," Takemura explained.
As an ardent advocate of the "local production for local consumption" ethos, in addition to the local wheat that goes into each bowl of ramen, he also sources his soy sauce from producers within the prefecture and vegetables from nearby farms.
"Last year, businesses like mine starting to feel the pinch of countermeasures put in place to prevent the spread of the coronavirus. I sold generic boxed lunches like everyone else. But I soon came to my senses and realized that a ramen shop should stick to ramen," he said.
Takemura recently obtained the license necessary to sell fresh noodles and has been working to refine his ramen takeout offerings.
"Nowadays, I'm always thinking about ways to let as many people as possible enjoy our fresh, delicious ramen."
Takemura is the sort of person who always likes a good challenge. He once collaborated with a restaurant specializing in "gibier" (wild game meat) to create a local venison ramen that won 8th place in a ramen contest with over 400 participants. He said that when working with venison, freshness is key: "If you procure the venison from a skilled butcher, who knows how to properly process the internal organs and whatnot, both the meat and broth will have an exotic flavor, without being overly gamey. Venison is unimaginably delicious if done right." Venison ramen occasionally appears on his menu during the winter months.
Ramen made with local wild venison won 8th place out of 462 shops in a ramen contest.

Some of the limited edition ramen that Takemura has offered so far. From left to right: duck, sea bream, clams, and vegetables.
If you do visit in winter, Takemura is also proud of another seasonal offering dubbed the "Osama chuka soba (King's ramen)." The dish is something of a local legend that originated at a popular ramen shop that once existed in Nagano. After the shop closed, a group of ramen chefs in the prefecture joined forces to recreate the Osama chuka soba and save it from extinction. The dish is characterized by a kingly helping of pepper and green onions. Each ramen store adds its own unique twist, and Takemura uses black pepper.
Ramen ambassador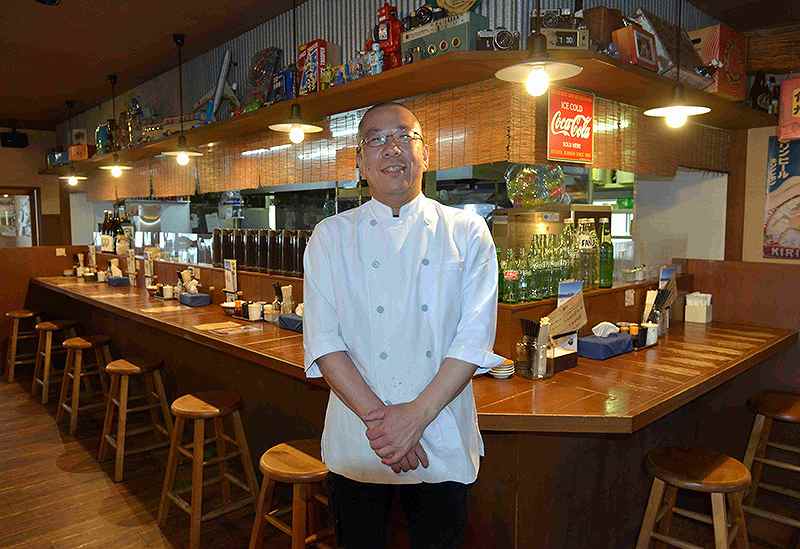 Takemura, 52, opened Aozora in 2006.
"I had been working in other corners of the restaurant industry, but found what I really wanted to do was open a ramen shop," he said.
As a newcomer to the ramen business, he began by spending three months training at ramen shops in Kanazawa to learn the tricks of the trade, before going on to develop his own style over the years. The taste of his ramen evolved as he refined his skills. Now, the shop is a firmly established favorite, beloved by the locals. He has even been invited to give lectures on ramen at a nearby junior high school.
The name of the shop, Aozora, means "blue sky" in Japanese.
"In the Showa era, I think the sky must have been bluer than it was now," he explained. He chose a more complex kanji (Chinese character) for blue to convey a deeper, nostalgic image that also resonates with the song "Aozora" by his favorite rock band, the Blue Hearts.
This harkening back to a simpler era explains why the shop has so many retro items on display. But Takemura said that he didn't amass the impressive collection of bric-a-brac on his own. "Customers just started bringing in antiques they had laying around at home, and this is where we ended up."
An old sign, cleaned up and restored.

There is also a Japanese-style tatami seating area.

You can use the medals that come with the children's ramen to try gacha-gaacha toy vending machines.
The two classic cars parked out front? Those were acquisitions made by Takemura. The one on the left is a Daihatsu Midget, a small three-wheeled truck that was extremely popular in Japan after the war. The other car, a yellow Subaru 360 with a very small engine, was another common sight on streets in the Showa era. I'm sure the cars will be great conversation starters for families visiting the restaurant with grandma and grandpa.
A Daihatsu Midget sitting by the entrance of the shop. The car has been fully restored and is ready to drive. All it needs is a license plate.

Next to the Midget is a Subaru 360, another famous car that was popular among the common people in the Showa era.
A Daihatsu Midget sitting by the entrance of the shop. The car has been fully restored and is ready to drive. All it needs is a license plate.
Next to the Midget is a Subaru 360, another famous car that was popular among the common people in the Showa era.
Store sign on the outside wall.

A variety of ramen on the menu

Summer-only tsukemen menu
From his shop in the Ina Valley, Takemura has this message for readers all over the world: "You can make your own original ramen, wherever you call home. All you need is chicken stock, dried shiitake mushrooms or dried bonito, local meat, and veggies. If you have a pasta machine, you can even easily make noodles by yourself. I certainly think the outreach of Japanese ramen culture can help play a part in making the world a more interesting place."
---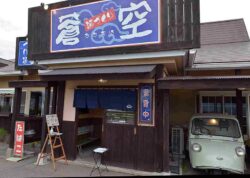 Aozora
5553-3 Tabata Minamiminowa, Nagano Prefecture.
Lunch time is from 11:30 a.m. to 2:30 p.m. and dinner from 6:00 p.m. to 9:00 p.m. (The shop would ordinarily be open until 9:30 p.m., but has been closing 30 minutes early on an adjusted scheduled amid the coronavirus pandemic). Closed on Tuesdays.
---
Futoshi Mori, Deputy editor of The Japan News
Food is a passion. It's a serious battle for both the cook and the diner. There are many ramen restaurants in Japan that have a tremendous passion for ramen and I'd like to introduce to you some of these passionate establishments, making the best of my experience of enjoying cuisine from both Japan and around the world.
---
Add TheJapanNews to your Google News feed.