Kujira Shokudo / Impressive ink black ramen with a mellow surf and turf soul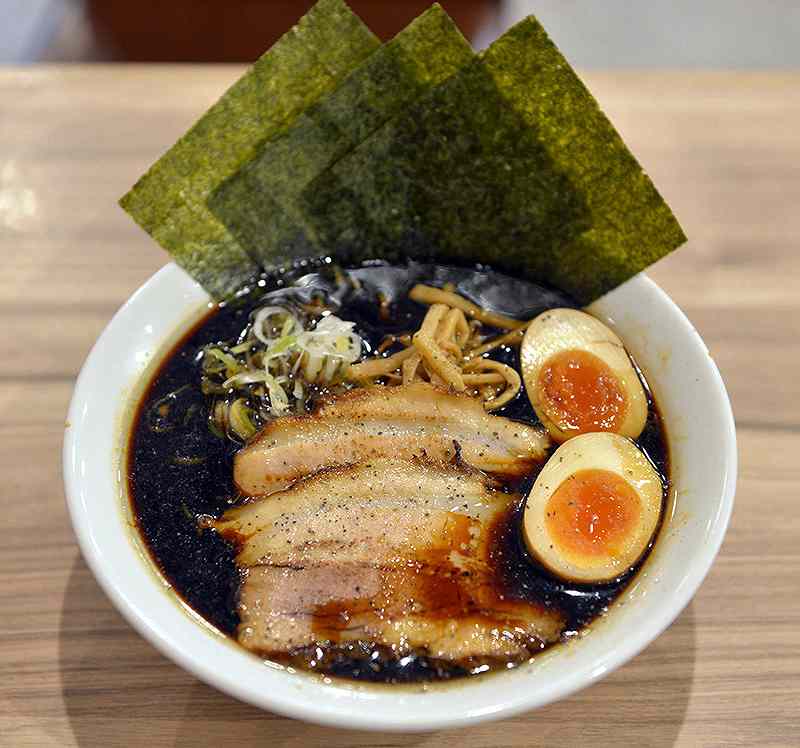 16:37 JST, March 25, 2021
Kujira Shokudo is a famous ramen shop near Higashi Koganei Station on the JR Chuo line in the western part of Tokyo that never fails to hook the taste buds and reel patrons back in for repeat visits. Conveniently located a 30-second walk from the station's ticket gates, the shop is nestled among a series of shops that branch out from the station, under the elevated train tracks that run overhead. Kujira Shokudo offers seven types of ramen on its regular menu, and if you're lucky, you might even catch one of their limited-time specials. Their counter is always stocked with a wide variety of seasonings that let you adjust the flavor to your liking. Experimenting with combinations is part of the fun and provides new discoveries each visit.
The bright and spacious interior of Kujira Shokudo

Kujira Shokudo is located beneath the elevated platforms of the JR Chuo line.

Located under an elevated railway tracks, the shop is brightly lit due to its glass walls.
Upon entering the shop, I was greeted by a cheerful chorus of "Irasshaimase!" (Welcome!). All the staff members are energetic hard workers, dedicated to their craft. The spacious interior's floor-to-ceiling glass windows contributed to a bright atmosphere that lifted my spirits and already put me in a cheerful mood before even taking a bite of the ramen itself. I hungrily perused the buttons on the ticket machine by the entrance that showed the names of the regular menu offerings: soy sauce, salt, miso, abura-soba, ginger, black, and tsukemen dipping noodles. My finger gravitated toward the black ramen, a dish which I had come to know well on a previous visit.
Since the shop is open from morning to night without a lunch break, the shop manager, Ishii, was busy making ramen for the steady stream of customers who appeared throughout the interview.

When you buy the ticket, choosing one ramen from many is difficult.

Additional side dishes and toppings are also available.
As the name suggests, this ramen features a distinctive, jet-black soup. I asked Juri Ishii, the shop's manager, how they managed to make the broth so black. Ishii revealed that the key is tamari, an expensive soy sauce that has been aged for a year or more to achieve a sublimely thick, rich taste. "We start with a tamari-blend sauce that we then combine with our base broth and browned garlic oil," he said, ushering me into the kitchen to demonstrate how the black ramen is made.
Tamari-blend sauce and browned garlic oil are poured into the bowl.

Basic soup is poured

Black ramen's soup is ready.
While the homemade noodles boiled off to the side, Ishii poured the tamari-blend and garlic oil into a bowl. The mixture was as black as night. I watched attentively as he added the soup broth, made from chicken and bonito, expecting the light broth to dilute the color. But the black barely blinked. Evidently, it would take a whole lot of broth to override the tamari.
Homemade noodles made with a special blend of Japanese wheat.

Before boiling the noodles, press them by hands to make them wavy crinkles.

Pork belly chashu are given a quick sear with a handheld butane torch.

Noodles are added
The now-boiled noodles were carefully added to the bowl, followed by two pieces of succulent pork belly chashu, which had been given a quick sear with a handheld butane torch for good measure. Sliced leek, menma bamboo shoots, and a halved soft-boiled egg were arranged atop the bed of noodles and given a dusting of black pepper. As a final artful flourish, the dish was garnished with three sheets of crispy nori seaweed.
Ramens are cooked in an open kitchen

Tidy up the noodles with a chopstick.

Sliced leak, menma bamboo shoots and chashu are placed on the top.

Finally, three sheets of crispy nori seaweed are placed.
Visually, this ramen makes a big impact. But how about the taste? I took a sip of the shiny black soup. It was very rich yet nuanced and certainly not overly salty. I savored the umami notes of the chicken and bonito, and could detect the savory punch of the browned garlic. The thick homemade noodles were the perfect vessel for the well-balanced broth, their wavy crinkles capturing the soup in all its sumptuous glory. The noodles are made fresh each morning from a meticulously calibrated blend of Japanese wheat for a toothsome spring and a delicious flavor.
There are a variety of seasonings on the table so you can enjoy changing the taste.

There are large and small tables.

The large L-shaped counter can seat 13 people.
On the table were black pepper, red chili pepper, fish powder, homemade rayu chili oil, vinegar, and grated garlic. Absorbed in my ramen, I forgot all about the seasonings until after I had already downed my bowl in record time.
The Whale Diner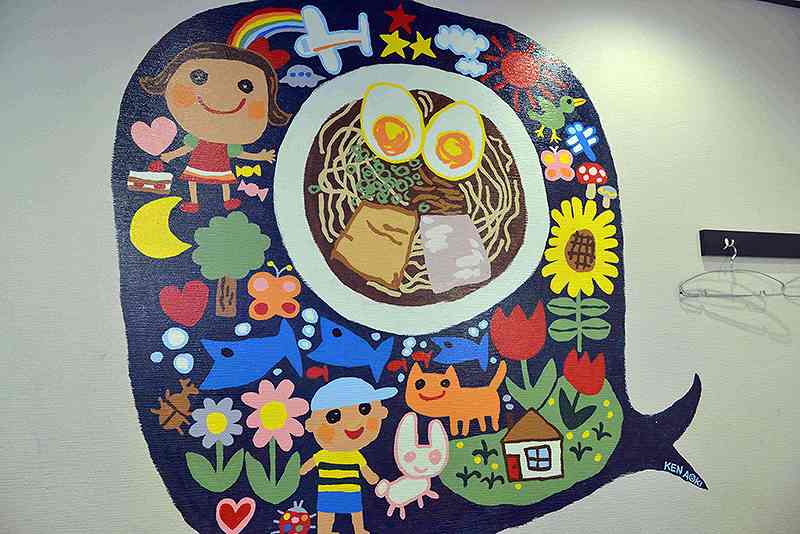 It bears mentioning that the world "kujira" is Japanese for "whale," and the "shokudo" in the shop's name conjures up the image of a bustling hole-in-the-wall diner where people from all walks of life are welcome to enjoy a convivial meal with colleagues or family. A shokudo is a place to linger and relax, rather than somewhere to eat alone in a hurry.
The name "kujira" came about on the suggestion of owner Kosuke Shimomura's young daughter. Before opening the shop in 2013, he was searching for a name, when his daughter piped up, "I like whale!" Although the ramen shop is far from the sea, "kujira" struck him as an endearing, approachable word that reflected his vision to create an unpretentious place where people could share a filling meal together. The name stuck, and Kujira Shokudo was born.
The original shop opened a short stroll away from its current location. After quickly garnering a loyal following, an affiliate of JR East approached them about relocation to their current space under the train tracks in September 2018. The new shop is larger and sports a sleeker design that has reportedly helped draw more female patrons.
Ishii and Shimomura have been an inseparable team some time after opening that first shop, supporting each other through thick and thin in pursuit of their shared dream. As Ishii passionately explained:
"We want people who get off the train tired after a long day's work and people who live around this area to eat really good ramen and go home satisfied. We want those people to come back again with their families. We aspire to be that kind of ramen shop, pure and simple. We are very particular about the ingredients and seasonings we use, and very much confident that all the ramen on our menu is top-notch. But we try not to hit customers over the head with all that stuff. Above all, we just want people to be able to have fun and enjoy eating our ramen."
---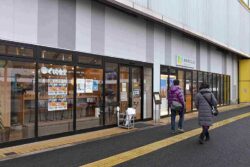 Kujira Shokudo Higashi Koganei shop
5-1-1 Kajinocho Koganei, Tokyo.
Weekday hours: 11:00 a.m. to 1:00 a.m. Weekend and holiday hours: 10:30 a.m. to 1:00 a.m. (Currently open until 9:00 p.m. on all days during the pandemic.)
The shop has a counter and two tables which seat a total of 21 people. Wheelchair accessible. Ishii adds that they will be happy to accommodate halal diets upon request. A branch of the Kujira Shokudo ramen shop with a different concept can also be found in Mitaka, Tokyo.
---
Futoshi Mori, Deputy editor of The Japan News
Food is a passion. It's a serious battle for both the cook and the diner. There are many ramen restaurants in Japan that have a tremendous passion for ramen and I'd like to introduce to you some of these passionate establishments, making the best of my experience of enjoying cuisine from both Japan and around the world.
---
Add TheJapanNews to your Google News feed.