Tan Tan Tiger / Specialty shop serves up numbingly spicy soupless noodle dish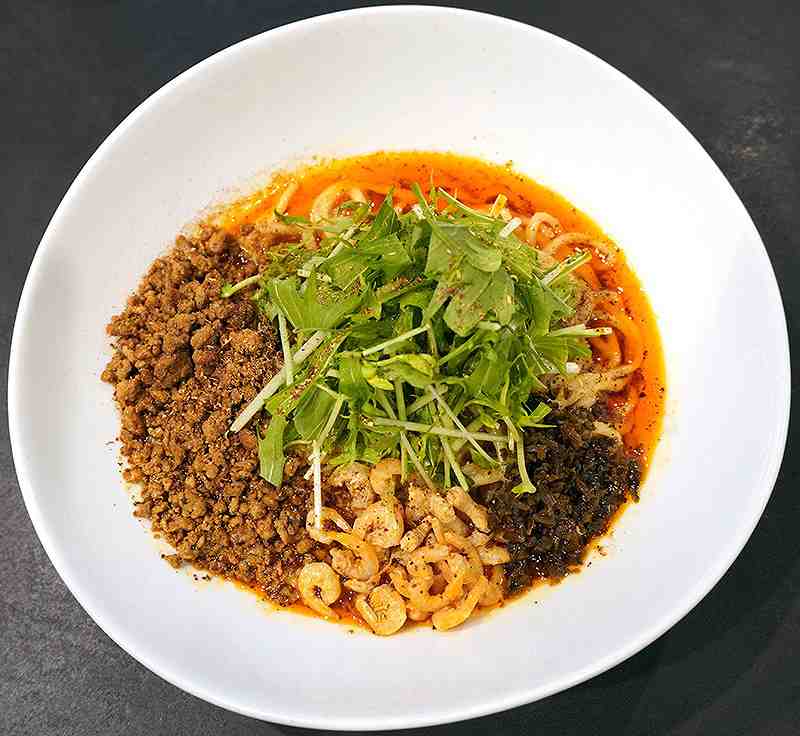 16:37 JST, February 9, 2021
It was a chance encounter with a gourmet comic book that led to the opening of a unique ramen shop in Tokyo, and I had to see for myself what was behind Tan Tan Tiger and its trademark soupless tantan-men, a spicy noodle dish.
The dish, featuring a rich taste, is said to have originated in Sichuan, China. In Japan, it is topped with minced meat and a savory sauce of hua jiao (Sichuan pepper), sesame and chili oil, which are mixed together with the noodles.
Tan Tan Tiger has two branches in Tokyo, and I ventured to the Nakano shop (the other is in Kuramae). The restaurant is located in the bustling area of over 10 shopping streets outside the north exit of Nakano Station. On the way to Tan Tan Tiger, I take an enjoyable stroll through Nakano Broadway, a commercial building referred to as the "subculture holy land" for its abundance of stores selling anime goods and toys.
Nakano Station

Nakano Broadway
Tan Tan Tiger is located on a shopping street that approaches Baishoin temple. With owner Hiroki Higashiyama, 34, among a number of young entrepreneurs opening shops on the street and keeping it vibrant, the area has bucked the trend of shuttered stores and desolation as shopping malls increase and owners of mom & pop shops age.
Both the exterior and interior of Tan Tan Tiger are painted black, giving it a stylish appearance. The menu consists of only two dishes: the "standard" soupless tantan noodles and the other, which contains more vegetables and less noodles. I went with the standard.
Choice of spiciness and numbness
Exterior view of Tan Tan Tiger

Interior view of Tan Tan Tiger
The interesting thing about this shop is that you can choose both the "spiciness" and "numbness," by specifying the level — "large," "medium" or "small." A card explaining the levels is pinned to the wall. The "large" spiciness, it states, "is for those who like super-spicy food," and the "large" numbness is for those who love hua jiao, as it "leaves you incredibly numb."
Instead of adjusting the amount of chili oil to derive the levels of spiciness, Higashiyama makes a specific one for each three level by using a different type of chili pepper. For instance, the oil for "large" spiciness is made with habanero chili peppers, while the one for "small" uses chili peppers from South Korea. "The chili pepper's taste and aroma are completely different depending on where it comes from and the type," he said. Chili peppers and green onions are simmered in vegetable oil for three hours to make the homemade chili oil.
Making homemade chili oil for a "small" level of spiciness

Hiroki Higashiyama adds chili oil to the noodle dish.
The tongue-tingling numbness that you feel when you eat the noodles is controlled by the amount of Sichuan pepper that Higashiyama adds in. In recent years, there has been a boom in Japan of such numbing cuisine used this and similar spices.
A notice pinned to the wall explains the levels of spiciness and numbness.

Hiroki Higashiyama, owner and chef of Tan Tan Tiger
Higashiyama said he gets many foreign customers, almost most order the both "small" spiciness and numbness. "They look too afraid of spiciness and numbness, but I guess they can eat 'medium,'" he said. I like spicy food, but can't eat a whole bowl of Shin Ramyun, the well-known spicy instant ramen from South Korea. So I settled on ordering "medium" spiciness and "medium" numbness.
Noodles before boiling

A serving of tantan noodles with fresh coriander
In preparing the dish, Higashiyama first mixes the noodles with a sauce of sesame and chicken broth. He then puts in the minced pork, small boiled shrimps, finely chopped Chinese pickles and mizuna greens and, in my case because I ordered it as an extra topping, fresh coriander.
When the bowl is placed in front of me, the green of the coriander offers a pleasing contrast with the red of the chili oil. After mixing it all up, I dig in. The noodles are thick and chewy, and go down easily as you sense the flavors of the various ingredients coming together in your mouth.
The "medium" serving was not as spicy as I had feared, and I was able to eat without a problem. Aside from the spiciness, I enjoyed the harmony of the savory chicken broth, the sweetness of the minced pork and shrimp, and the saltiness of the pickles. After a few minutes, my tongue started to tingle from the Shichuan pepper. For first-time eaters, it may be a bit of a surprise.
As for the noodles, Higashiyama said he tried out dozens of different kinds before settling on a factory that can make noodles that are easy to slurp and mix well with the sauce.
Bottles of black vinegar and white vinegar

Finely chopped Chinese pickles
During the meal, I spied a bottle of black vinegar on the table and added some to the noodles to try a different taste. The black vinegar was slightly sweet and really added to the taste. "My customers often tell me that [the black vinegar] is delicious," Higashiyama said. "We import it from China."
Hundreds test the prototype
Higashiyama first encountered soupless tantan noodles as a high school student in Saitama Prefecture. But it wasn't at a ramen shop. He saw the dish in an issue of the popular gourmet manga Oishimbo, which he read to find dishes to feed his hobby of cooking. The soupless tantan noodle really appealed to the young Higashiyama, who, based on the little information in the manga, found he could make a pretty good version.
While he liked cooking, but he did not think of making it a career. He attended an agricultural university and after graduating, found a job at a temporary staffing company. While working in the sales department, the urge to live out a dream and become a chef began to overwhelm him. Finally, he quit his job and opened a ramen shop to serve the soupless tantan noodles that he discovered in his high school days.
Higashiyama thoroughly researched the dish before going into business. For a year and a half, he repeatedly made test runs of recipes, using Excel flow charts to record the differing amounts of spices. More than 200 people, including friends and friends of friends, taste-tested his concoction.
After one woman said it felt heavy and she could not eat much of it, Higashiyama reduced the amount of animal fat as much as possible by using lean pork for the minced meat and removing oil from the chicken broth.
He opened the Kuramae branch in 2016, and the Nakano branch followed two years later. Like other restaurant owners during the pandemic, he is encountering tough times. But his customers have remained loyal, often coming in for takeout or calling for delivery. It is said that vendors in ancient China sold dishes of the soupless tantan-men suspended from a pole carried on their shoulders; now, Uber Eats delivers them at the touch of a button.
"We are living in a world in which we can't see past the pandemic," Higashiyama said with a solemn tone. "All I can do is put my whole soul into each and every bowl that I prepare."
---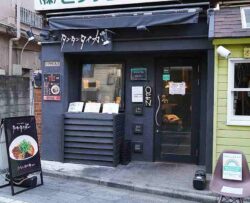 Tan Tan Tiger Nakano
1-23-22 Arai, Nakano Ward, Tokyo.
Open 11 a.m. to 3 p.m. and 5 p.m. to 8 p.m. The standard soupless tantan noodles is priced at ¥880.
---
Chikako Minami, Japan News Staff Writer
Enjoys making ramen using a meal kit at home at least once a week and baking various types of bread.
---
Add TheJapanNews to your Google News feed.