Mugi to Olive / Sharp, rich soy sauce-based chicken ramen with a dash of olive oil worthy of Ginza flair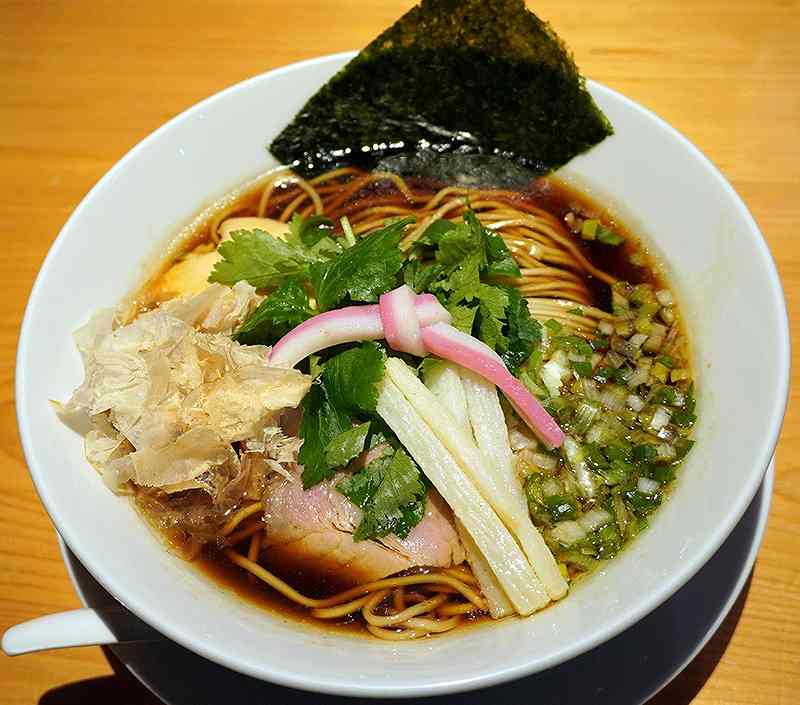 16:37 JST, December 31, 2020
I am particularly preferential to Ginza in the wintertime. The trees in Tokyo's glitzy shopping district are adorned with sparkling lights, and shop windows are elaborately decorated for the New Year.
The coronavirus pandemic may have reduced foot traffic this year, but just walking through Ginza in the cool, crisp winter air among the ornamental flourishes puts pep in your step and naturally elicits a festive feeling.
Elaborate winter decorations are seen in a shop window in Ginza, Tokyo, on Dec. 23.

Tokyo Kotsu Kaikan (Tokyo traffic hall), in front of JR Yurakucho Station near Ginza, is illuminated for the New Year holiday.
The Ginza branch of a ramen shop named Mugi to Olive, which translates as wheat and olives, has tori soba (chicken with wheat noodles) that syncs seamlessly with the district's glamorous image. This soy sauce-based ramen has toppings including slices of chicken and pork, yams fried in olive oil and dried, shaved flakes of chicken called "tori bushi." To top it off, a thin piece of knotted naruto kamaboko fish cake is set over mitsuba parsley greens. The dish costs ¥950.
A piece of knotted naruto kamaboko fish cake tops off the noodle dish.

Dried, shaved chicken flakes
The shape of the naruto fish cake resembles mizuhiki, a decorative cord used in Japan to signify joy and condolences. Mizuhiki is used to tie up gifts and envelopes enclosed with money. Red and white strands are used for congratulatory occasions. I found the pink and white naruto to look like an expression of the shop's congratulations to diners, which made me smile.
Satoshi Tanaka, the shop's manager, explained to me that the broth is cooked for seven and a half hours. When he took the lid off a large pot, the wonderful aroma of chicken spread throughout the kitchen. The golden-colored soup was filled with whole chickens and many chicken bones.
Satoshi Tanaka, manager of the Mugi to Olive Ginza shop, takes the lid off the soup pot.

Chicken broth simmers in a large pot.
Satoshi Tanaka, manager of the Mugi to Olive Ginza shop, takes the lid off the soup pot.
Chicken broth simmers in a large pot.
The broth is made with Daisendori, chicken produced in Tottori Prefecture, and is cooked at 96-97 C. If the temperature increases any further, the aroma will diminish, and any lower temperature makes it difficult to remove the scum. Tanaka said he adjusts the heat by watching the bubbles rising in the broth.
Tanaka placed a bowl of ramen before me. The fragrant chicken aroma tickled my nose, and I knew the soup would be rich and delicious.
I took a sip of the soup. The special soy sauce used as the base was quite sharp and rich. I sometimes find strong soy sauce-flavored ramen to have a harsh taste, but Mugi to Olive's soup was nothing at all like that.
Tanaka gets his soy sauce from a producer in Saitama Prefecture, the birthplace of the restaurant's owner, Keisuke Iwata. The soy sauce is not heated in the production process, so it has a strong soybean flavor, Tanaka said.
Tanaka ladles a special soy sauce into a ramen bowl.

Ramen noodles, before cooking
One of the distinctive features of Mugi to Olive's ramen is the noodles. When biting into them, they easily break into pieces, in a way similar to Japanese soba noodles. The texture is light, and it's different from the glutinous noodles used in regular ramen.
"We use these noodles to make our ramen elegant," Tanaka said.
Tanaka gets his noodles from a producer in Kyoto.
"Shipping them from Kyoto to Tokyo is expensive, and there's the risk of supply disruptions. Even so, these noodles are very important for our shop," Tanaka said.
Indeed, when I took my first bite of the noodles, I must admit I was a bit bewildered by their texture. They were so different from the ramen noodles I usually eat. But then I realized that Mugi to Olive's noodles paired extremely well with the rich soy sauce.
Italian influences
Olive oil and black pepper are available as condiments.

Olive oil is drizzled over ramen
The name of the restaurant was coined by the owner, who used to be an Italian chef. Bottles of Japanese scallion-infused olive oil are placed on each table. When I poured some over the ramen, it had a green onionlike aroma and made the dish velvety. In addition, there are pepper mills with fresh black pepper, which added a nice accent when I sprinkled some on my ramen.
I never imagined that olive oil and black pepper would go so well with soy sauce-flavored ramen.
Ramen shops are generally frequented by men, and I often find myself to be the only female customer in one. However, about half the customers at the Mugi to Olive Ginza shop are women. The cozy, cafelike vibe no doubt rectifies the gender imbalance.
The interior of the shop is notable for its unfaced concrete walls, and the staff wear flat caps and collared shirts. It's certainly a place where young women can enjoy ramen in a stylish atmosphere.
Tweaking the taste
Courtesy of Mugi to OliveThe interior of the Mugi to Olive Ginza shop

Courtesy of Mugi to OliveThe interior of the Mugi to Olive Ginza shop
Mugi to Olive opened in 2014, and it has been awarded as a Bib Gourmand restaurant by the Michelin Guide.
Prior to the pandemic, many foreign tourists dined at the shop.
Tanaka, who is the oldest staff member, sometimes changes the taste of the soup depending on where tourists come from. He tries to pinpoint which language visitors are speaking and tailors the soup's taste. For example, he slightly dilutes the soup for customers from Asian countries, especially those from China.
"Chinese customers tend to prefer a lighter taste and softer noodles," Tanaka said.
He also goes to a Chinese restaurant run by a Chinese owner to check the intensity of the soup flavor and the noodle hardness.
On the other hand, Tanaka offers ramen with a sharp taste to Western customers.
Satoshi Tanaka, shop manager of the Mugi to Olive Ginza branch

Tanaka puts slices of white chicken and pink pork in the ramen.
Tanaka is enthusiastic about food and does much culinary-related research. Words and phrases about ingredients and calories, such as "oleic acid," "glutamic acid" and "nine calories per one cc of oil," roll off his tongue with ease. Prior to joining Mugi to Olive, he worked at Italian and French restaurants for many years.
Tanaka said the beauty of ramen shops is that customers feel free to just drop by.
The Ginza shop has many regular customers, and Tanaka is very attentive to them. When he sees one who often orders tsukemen dipping noodles, he naturally picks up the noodles for tsukemen. He knows which customers don't want mitsuba in their ramen and skips it even before a customer makes this request to staff when ordering.
When I went to the shop to interview Tanaka, it was a weekday afternoon, just after 3:30 p.m., and even though it was well past lunchtime and nowhere near dinnertime, there was no shortage of customers.
At Mugi to Olive I witnessed the true strength of a prestigious ramen shop, where staff is highly attentive to customers and delicious food is, of course, the norm.
---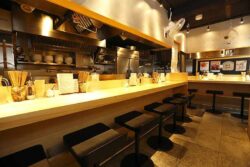 Mugi to Olive Ginza shop
6-12-12 Ginza, Chuo Ward, Tokyo.
No regular holidays. Open from 11:30 a.m. and last order is 21: 45 p.m. on weekdays. Open from 11:30 a.m. and last order is at 20:45 on Saturdays, Sundays and holidays. Business hours are shortened when the soup runs out. Tori soba (chicken with wheat noodles) is ¥950. Hamaguri soba (clam with wheat noodles) is ¥1,000 yen.
Triple soba (chicken, dried small sardine and clam flavors) is ¥1,000. In addition to the Ginza shop, the restaurant chain has branches in the Nihombashi district in Chuo Ward, Tokyo, in Saitama Shin Toshin district in Chuo Ward, Saitama city, and other locations.
---
Chikako Minami, Japan News Staff Writer
Enjoys making ramen using a meal kit at home at least once a week and baking various types of bread.
---
Add TheJapanNews to your Google News feed.