Ichikanjin: Silky smooth soy-milk ramen with fresh local vegetables on the side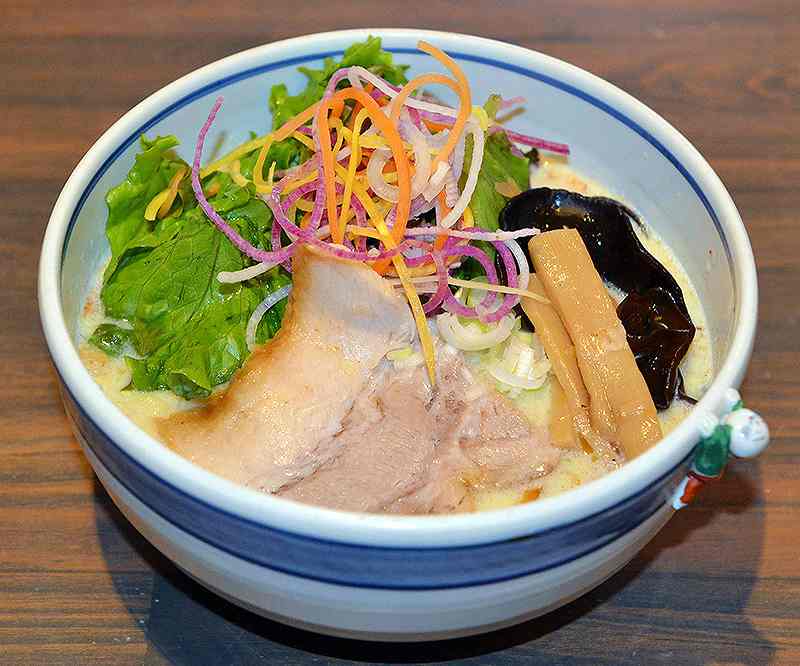 16:42 JST, December 19, 2020
Ichikanjin in Kamakura, Kanagawa Prefecture is a one of a kind ramen shop that is sure to leave a lasting impression. Its two signature dishes are a soy-milk based ramen dish, and a spicy tsukemen (dipping-style ramen) that uses homegrown green chilies and habaneros. Customers are also offered a reasonably priced salad made from fresh local vegetables to accompany their ramen.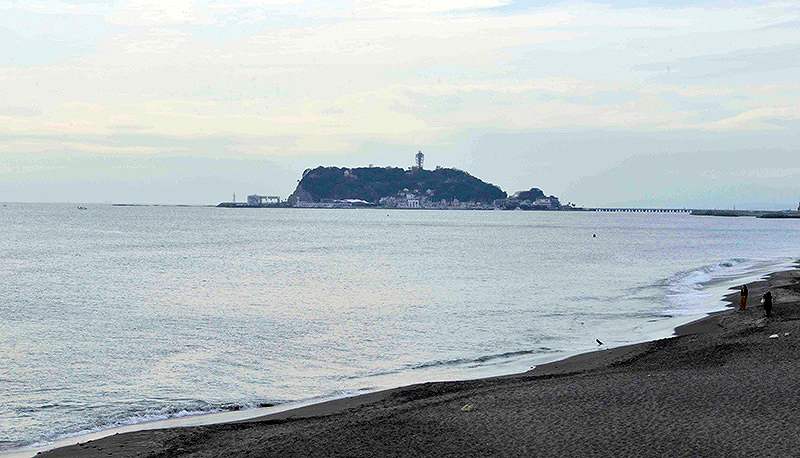 Kamakura is an ancient capital that is almost completely surrounded by mountains except for in the south where it faces the sea. This natural fortress became the political center of Japan for about 150 years after the establishment of the Kamakura Shogunate in late 12th century. Kamakura's appeal, however, doesn't just lie in its history. Its scenic beauty has made it not only an ideal tourist spot, but a great place to set up a vacation home, with many literary figures going so far as to settle in the area. Kamakura's popularity among tourists continues to this day, with its coast being crowded with people enjoying activities such as yachting and surfing.
A lovely Enoden train departing from Wadazuka Station.

Enoden runs through very close to the houses.

Enoden's small train runs seaside in Kamakura.
Enoshima Dentetsu (Enoden) Kamakura station is connected to JR Kamakura station.

JR Kamakura station
Ichikanjin is a roughly 15-minute walk from Kamakura Station. Or for those who'd like to enjoy a smaller train ride, you can board the Enoshima Dentetsu at Kamakura Station to reach Wadazuka Station. The small station which is only one stop from Kamakura station is closest to Ichikanjin. Walking around streets in Kamakura, you'll notice the most restaurants and shops in the area have a sophisticated and elegant atmosphere. The same can of course be said for Ichikanjin. At first glance, it'd be hard to guess that it is a ramen shop, as it looks more like a cafe or a boutique.
The interior of Ichikanjin. Umezawa is a very friendly owner.

The exterior of Ichikanjin

Business hours of Ichikanjin

Ichikanjin's menu is written in Japanese and English.
"My wife, a Kamakura native, made [our shop] stylish to appeal to our female customers," said owner Shingo Umezawa, 52. I stepped inside and saw that the interior was based around white colour and that there was both a counter and two tables available, which could accommodate as many as 15 people.
I placed my order and decided to give the famous salad a try.
"Every morning, I shop at a market where the Kamakura farmers gather, and buy only the freshest locally grown vegetables. Because of that, the salad's ingredients can vary from time to time," Umezawa said, arranging some vegetables on a rather large plate. More than ten vegetable varieties, including turnips, dried persimmons, potatoes with honey mustard, daikon, red Chinese cabbage and watercress, were topped with hard-boiled eggs and a homemade Italian dressing based on Bagna Cauda. All of this for just ¥500 with a smaller serving size available for ¥280. What a bargain!
A salad featuring over 10 varieties of local vegetables (\500; \280 for a small size).

Fresh local vegetable salad is being prepared.

Salad dressing is homemade by Umezawa.
I could tell with each bite of the vegetables I took that they were fresh.
"Initially, I only used the vegetables as toppings for the ramen," he said. "I didn't think that salads would sell well. But I had an abundance of vegetables, I started to offer the salads at ¥150 for a small and ¥300 for a big as a sort of service for the customers. They've really taken off now."
Because the salads have increased in popularity, there are those who would like to only order them as a meal. However, because Ichikanjin is a ramen shop, Umezawa asks that customers order the salad in addition to a ramen dish. At any rate, the salads he serves are gorgeous and are sure to leave you satisfied.
Creamy soy-milk ramen
Once I'd finished the salad, I ordered a bowl of the shop's soy-milk ramen (¥800). Umezawa explained the process of making the broth and I have to admit it's quite complicated. First, he begins with a number of ingredients which can include a whole chicken, chicken wings, pork, pork ribs, pork back fat, etc. These ingredients are boiled, creating a thick and rich broth. The broth is removed, water is added to the ingredients left behind and the process begins again, creating a broth with a lighter flavor than the one before it. This is done a total of four times. One single broth is then created using a portion of varying size from each of the four broths. From there, scallops and a vegetable broth are added, followed by soy milk, a salt-based sauce and okayu (Japanese rice porridge) broth. Finally, his own personal blend of spices, including ground sesame, shichimi spice, kombu powder and black pepper, is added.
Umezawa began his rammen shop with no formal training, having learned to make ramen from a ramen shop owner who was a friend of his father. The flavor of his dishes are the direct result of his own research, which continues to this day. Even dishes he's been making for years have a different flavor than they did in the past.
Thin, tender noodles are well mixed the soup, which makes this ramen more tasty.

Soy-milk ramen's soup is heating up.

Noodles for the soy-milk ramen

Umezawa prepares the soup for the soy-milk ramen.

Noodles are ready.

Soy-milk ramen served with chashu roast pork and fresh vegetables.
The soy-milk ramen was served with raw vegetables, chopped fried shallots and homemade chashu roast pork. The broth was filled to the brim with flavor, a nice blend of the mildness of the soy milk and the robust flavor of the original broth. It warmed me inside and out. The noodles, specially ordered from a noodle maker, were thin with a moist texture and paired well with the broth. It was delicious. One of the toppings, an edible mushroom called wood ear or kikurage as it's known in Japan, is well known for its chunky texture, but Umezawa says that many foreigners tend to pick it off.
Hot and spicy tsukemen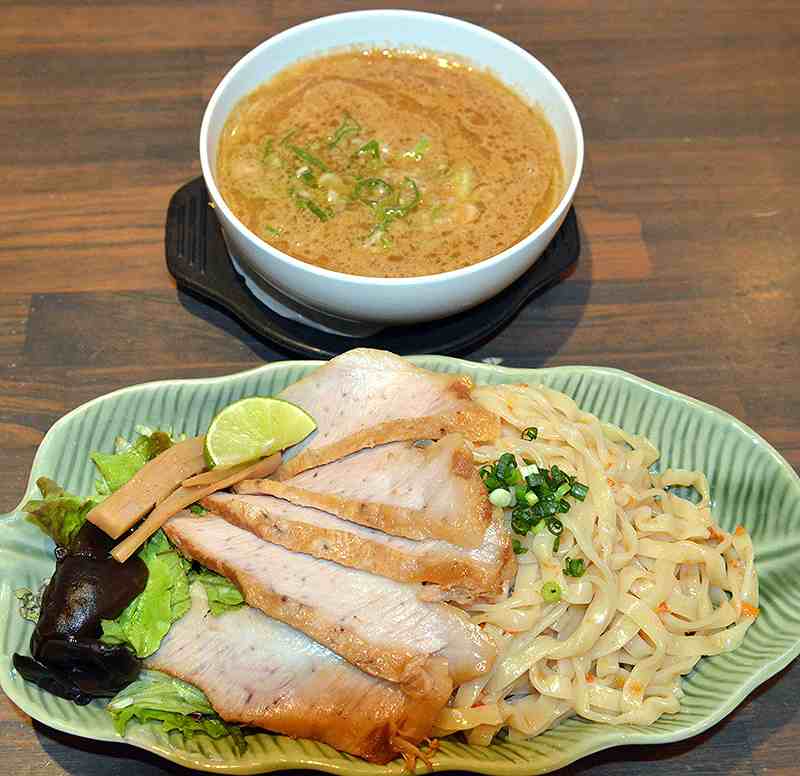 "I make my hot and spicy sauce from green chili peppers and habaneros picked in the fields of my parent's home in Hachioji, Tokyo. We had a good harvest this year," Umezawa said. Even though I was pretty full from the last dish, as a lover of hot and spicy food, I really wanted to taste the shop's spicy tsukemen. So, I ordered a bowl topped with tontoro special chashu roast pork (¥1,280).
The habanero sauce is on the noodles directly.

Umezawa prepares a variety of sauces to add to the ramen soup to enhance the flavor.

Tsukemen soup is poured into the bowl.

Noodles for tsukemen are flat and thick.
The tsukemen features flat thick noodles, which are surprisingly sprinkled with a habanero and yuzu-based sauce. I would have thought that it would have been added to the broth, which instead is a mixture of the shop's signature basic broth, a soy sauce-based sauce and a ponzu and green chili-based sauce. The dish was placed before me and I could see red specks from the habanero sauce on the noodles. After tasting a bit of the broth, I took a bite of the noodles on their own. The kick from the habanero went right to my brain. It was so spicy that the inside of my mouth began to hurt. Even so, the flavor was refreshing and it was a pleasant experience overall. I was surprised myself that I could eat more and more noodles. In the latter half of the meal, I squeezed some lime over the noodles, which enhanced the freshness and spiciness.
Tontoro chashu roast pork is soft and juicy. Umezawa buys this chashu pork from a butcher he knows and cooks by himself.

Super hot and spicy habanero sauce are being put onto the noodles.

Habanero tsukemen noodles and slices of tontoro chashu pork are ready.
The slices of tontoro chashu pork, which is a limited item on the menu, tastes very nice as well. This is a popular brand pork called Imobuta and Umezawa advised me to keep them in the tsukemen soup for a while before eating them. I ate them that way and enjoyed tender and juicy meat.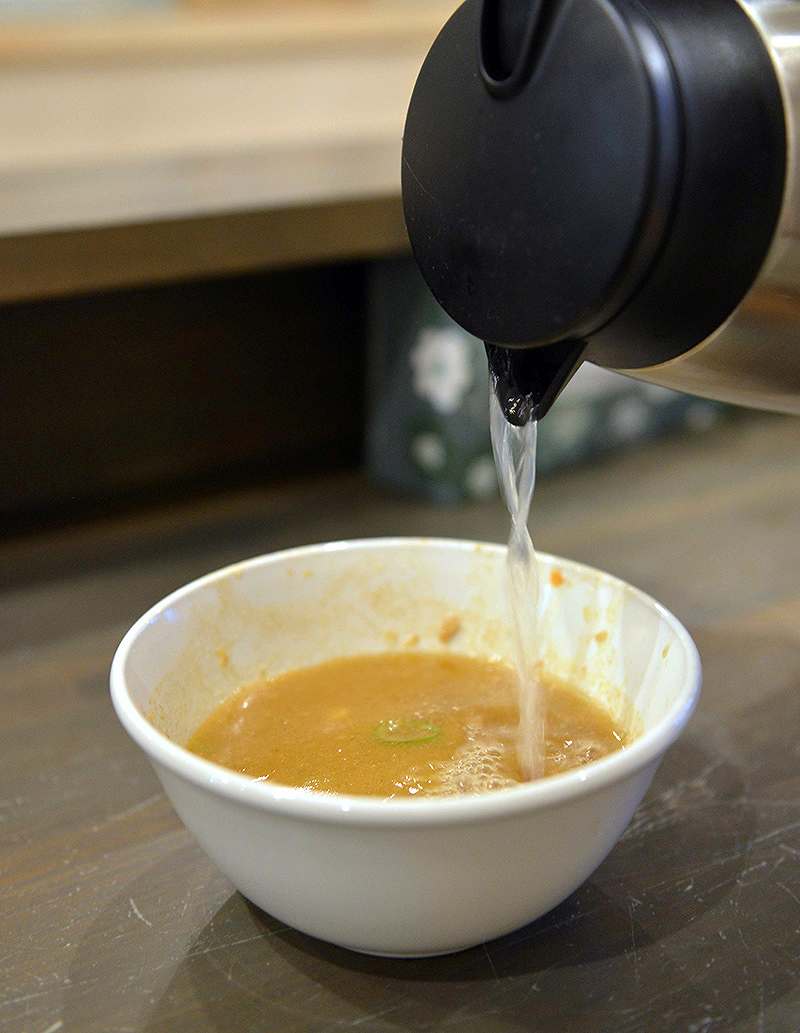 Ichikanjin is written with the kanji that can be translated as "a person with plenty of time." It is normally pronounced Ikkanjin which is a design of the bowls with a small man on the edge. It is said a man with plenty of time peering into a well.
This is Ikkanjin bowl for ramen. It is said to represent a man who has a plenty of time is looking into a well. Umezawa says these bowls are less common nowadays and more expensive.

There are pig artifacts everywhere in the store.

Impactful figurines greet you at the entrance.

Local beers are also available.
"The year before I opened my first shop, I was a man with plenty of leisure time. All I did was research different ramen dishes," Umezawa said.
The winter sun is soft and the sea is quiet.

Kamakura has many temples and shrines. If you walk 15 minutes from Ichikanjin, you can find the famous Hase Temple.

In the precincts of Hase Temple, the autumn leaves were lit up.

The architectures of Hase Temple were also lit up.
Umezawa opened and ran a ramen shop near his parent's home in Hachioji for six years before opening Ichikanjin in Kamakura nearly twelve years ago. Because his signature ramen has attracted so many loyal customers, it's safe to say that he no longer has any leisure time.
How to eat tsukemen
Tsukemen, a noodle dish in which the broth and noodles are separate, was created as a way for ramen shop employees to eat quickly anytime they were in the kitchen. Having the noodles separate from the broth keeps them from becoming soggy. The noodles are rinsed with water to remove any starchy residue then chilled, giving them their firmness. This also allows you to enjoy their distinct flavor, even when they're on their own.
Trying a few of the noodles with a bit of the broth in your mouth really showcases that distinct flavor. Once you do that, pick up a small portion of the noodles — as much as you can handle in one mouthful — with your chopsticks, dip roughly a third of them in the broth, and enjoy. Don't worry if you make a sound while you slurp your noodles. If it helps, try to imagine the soup and noodles being mixed by the force of a slurp. If you dip the noodles entirely into the broth, however, will cool the broth and make it lose some of its deliciousness. And if you were to dip all of the noodles into the broth, it wouldn't be tsukemen anymore!
Because tsukemen broth is very rich and high in sodium, at the end of your meal, you can ask for some unseasoned broth to add to the soup and that will make it easier to drink.
---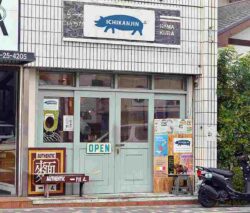 Ichikanjin
1-10-3 Yuigahama, Kamakura, Kanagawa Prefecture.
Lunch is served from 11:30 a.m. to 3:30 p.m., and dinner is served from 6 p.m. to 9 pm. (Last orders are taken 30 minutes prior to closing for both lunch and dinner).
Although Ichikanjin is closed on Mondays, staff member Naoya Suzuki runs "Eat on Monday" a Monday-only ramen shop that mainly features soy-milk ramen.
---
Futoshi Mori, Deputy editor of The Japan News
Food is a passion. It's a serious battle for both the cook and the diner. There are many ramen restaurants in Japan that have a tremendous passion for ramen and I'd like to introduce to you some of these passionate establishments, making the best of my experience of enjoying cuisine from both Japan and around the world.
---