Antinoodles: Truffle-tomato tsukemen crafted by rebellious rocker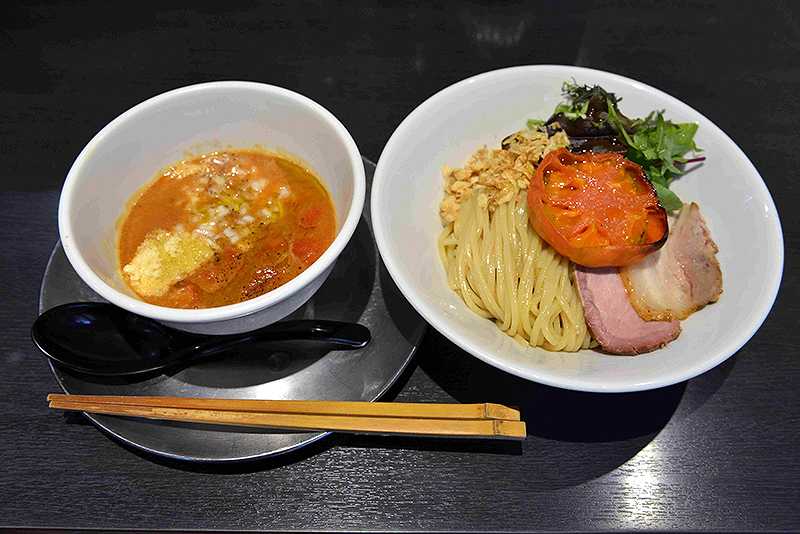 16:43 JST, December 7, 2020
Antinoodles is a ramen shop that is a testament to owner Yuki Isoda's rock 'n' roll spirit. A former rock band member himself, Isoda incorporated that very same rock 'n' roll spirit into his shop's name and with his "never going to lose" attitude. He has taken up the fight against the novel coronavirus outbreak, the decline of his hometown, and himself. One of the shop's dishes, a limited-time-only item called truffle-tomato tsukemen (dipping noodles), has become a huge hit. Wanting to try some for myself, I hopped on a train and took a 1-hour ride from Tokyo Station.
Tokyo is a metropolis with a population of 14 million that encompasses a mountainous area in the west and the Ogasawara Islands 1,000 kilometers south. Anitnoodles is located close to the western mountainous region in a city called Akishima. As I arrived at my destination station, Nakagami, I found that the area had a very relaxed atmosphere contrary to what one would expect of a city in Tokyo. There was hardly anyone on the street!
The entrance of Antinoodles. Ramen menu is on the signboard.

A cool mailbox

Business hours is on the wall.

The street in front of Antinoodles. Nakagami station is right at the end.
After just a 1-minute walk from the station, I arrived at Antinoodles and found that there were quite a few people inside, even though the lunch rush was coming to an end. Isoda was hard at work in the small kitchen just beyond the L-shaped counter that could seat about seven people.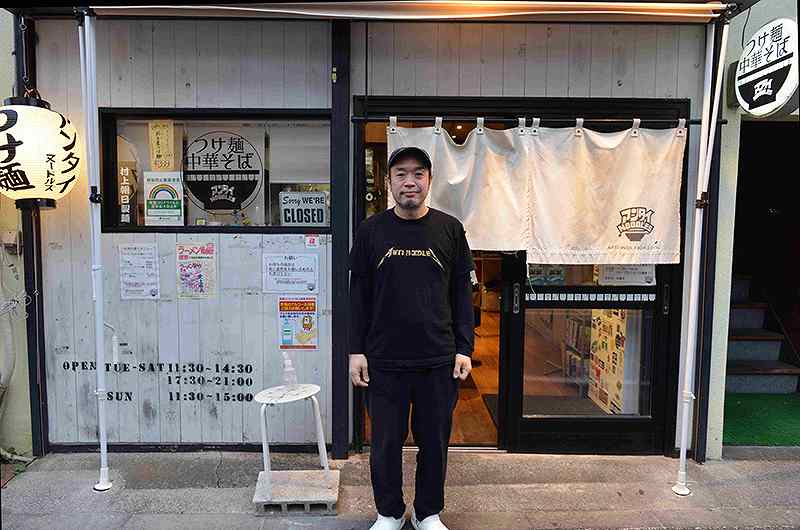 "I don't like making my customers wait, so if I can, I try to avoid having them line up. It's not as if they want to line up anyway, right?" Isoda said. "I don't want to become a place that always has a line outside the door. So whenever I have customers waiting, I buckle down and work faster so that I don't keep them waiting long. Doing things that way makes me happy."
His words, which seemed to contradict the norm of mainstream ramen shops, were filled with his rock 'n' roll spirit.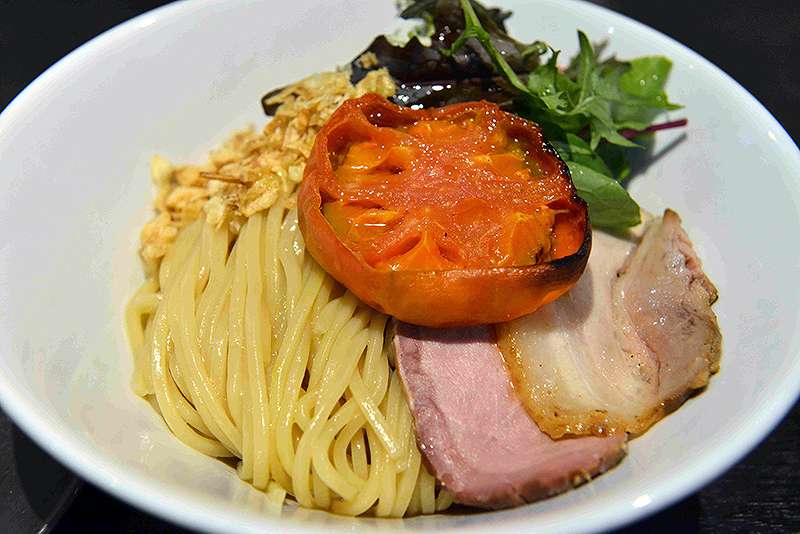 I wasted no time in placing my order for the truffle-tomato tsukemen. As some of you may recall from the first installment of the Ramen of Japan series, I went into detail about tsukemen and how it should be eaten. That explanation will be posted down below, so be sure to check it out!
The noodles for tsukemen look good enough to eat as they are.

Isoda put the noodles into the boiling water.

The boiled noodles are immediately cooled with cold water.

The noodles are cooled and ready.
Isoda placed the pot for the broth on the stove and put the noodles, which looked good enough to eat as they were, into the boiling water. While they boiled, he began roasting the chashu pork with a handheld blowtorch. "Roasting it again just before serving it brings out its aroma and flavor," he said as he worked. Even so, the star of this ramen dish is the tomato, which is sliced, semi-dried and oven-roasted the day before. Finally, truffle oil was drizzled over both the noodles and the soup.
The truffle oil is also added to the noodles.

The noodles are placed in the bowl.

The truffle oil is drizzled over the soup.
The first thing I noticed was how beautiful the dish looked. I then had a taste of the broth, which is typically the first step when enjoying any tsukemen dish. Its sweet and sour flavor was so good that I exclaimed in delight. The chopped onions, parmesan cheese and black pepper definitely added to the tomato broth's flavor.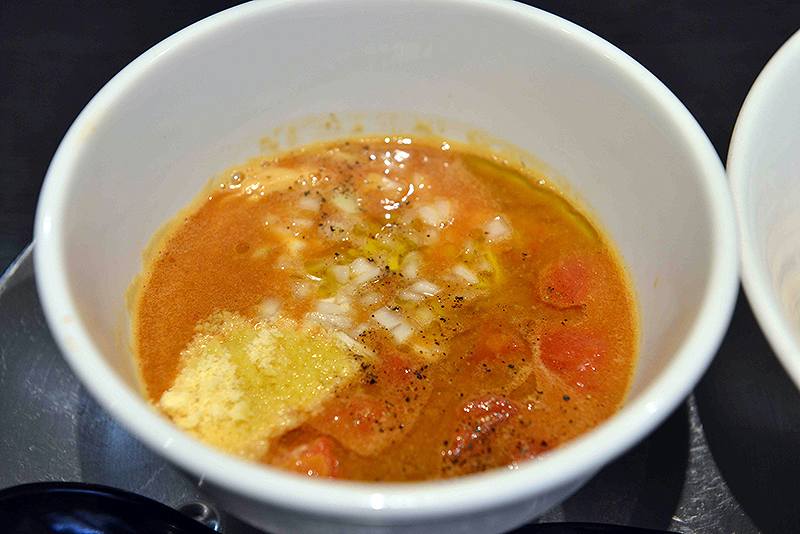 Next, I had a bite of the noodles which were firm, delicious and went down smoothly. They were topped with a slice of roasted tomato, baby leaves, fried onions and two types of chashu roasted pork — one from the shoulder and the other from the belly — which were prepared by Isoda himself. The tomato's sweet yet tangy flavor paired well with the mild flavor of the broth. As I continued to enjoy my ramen, another thing I noticed was that the roasted tomato wasn't sour or watery like fresh tomatoes tend to be, but instead very rich in flavor. It was very delicious.
Isoda roasts the chashu pork again with a handheld blowtorch before serving it.

A semi-dried, oven-roasted slice of tomato that has a rich and sweet flavor.
 "Unfortunately, the truffle tomato tsukemen is a limited-time-only dish, so it's not always available. But whenever I announce on social media to serve it, I see a lot of customers come and it always sells out," Isoda said. Although he exclusively uses tomatoes grown in Japan, he isn't particular when it comes to which region they come from. Even if he were to choose tomatoes from one region in particular, the flavor of the tomatoes would vary depending on the season. So, Isoda chooses what tastes best at the time.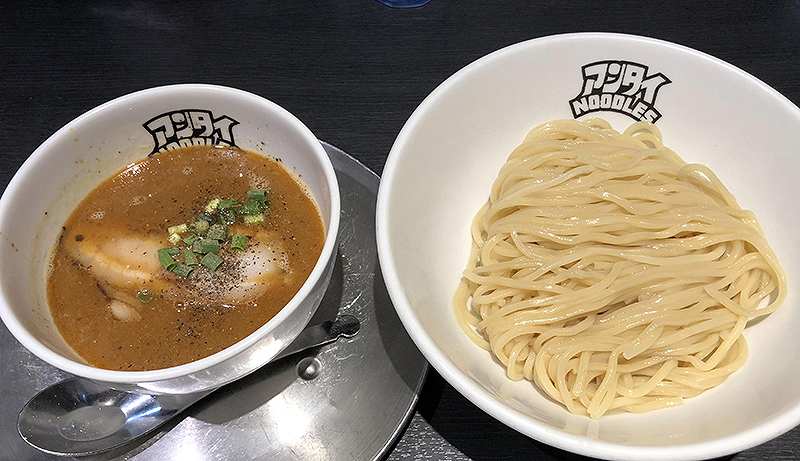 The tomato soup that is blended with the regular tsukemen broth is also homemade. Because of this, enough of the tsukemen broth must be prepared in advance, otherwise, it will run out before the shop closes. It is only when there is sufficient time to prepare enough soup and the delicious tomatoes that truffle-tomato tsukemen can be served to customers.
 The shop's regular menu consists of tsukemen (¥800) and chukasoba (Chinese-styled ramen, ¥750). The tsukemen broth is made with a chicken stock base, to which pork bone-based broth is added. A soy sauce-based sauce is then added to the mixture.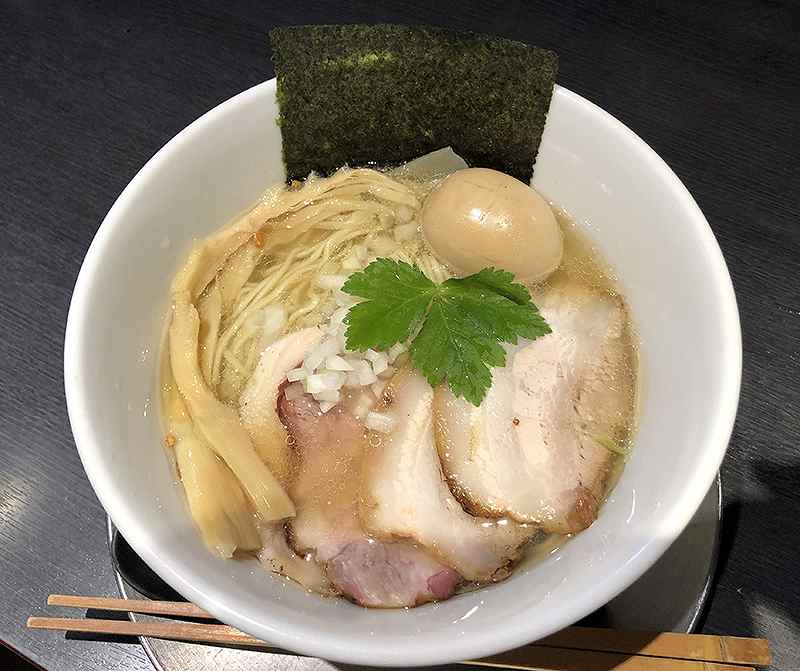 The chukasoba, on the other hand, features a mild-flavored broth that is a mixture of a chicken broth and a broth made from dried bonito. Although the noodles for this dish aren't homemade, Isoda is very particular about them. Isoda has always loved tsukemen and has long since enjoyed sampling dishes from various restaurants. He discovered the noodles that he uses to this day during one such outing. He even underwent training at the ramen shop that introduced him to the noodles that he loved so much. For the dishes at Antinoodles, he uses a thick type of noodles for the tsukemen dishes and a thinner type for the chukasoba.
Keep challenging from local
 Isoda was born and raised in the town where Antinoodles is located. He trained at two ramen shops in central Tokyo for a total of three years and also worked as a tsukemen teacher at a ramen school. Then, six years ago, he opened Antinoodles. People around him tried to persuade him to open his shop closer to the heart of Tokyo, saying, "You will fail if you open it in such a remote area." Even so, Isoda decided to open the shop in his hometown.
"I was really against the idea of opening a ramen shop in the typical way, " Isoda said. "Besides, this area was on the downturn, so I thought it would be great if the shop that I opened could help revitalize the town where I grew up.
"I don't think I've lived a conventional life myself, so I guess rebelling against the orthodox is just in my nature," he said, looking back at his life thus far. In his younger days, he was a member of a punk rock band. His favorite group is the Ramones, an American punk band that was very popular in Britain. He has some of the covers from their records on display in his shop. He said, "They continued to do their own thing, never changing their music style or the way they dressed since the 1970s. In the 1990s, people said they were 'uncool' or 'old.' Even so, they were well-loved just as they were right up until the end. That's cool, isn't it? That's the way I'd like to live."
Isoda's favorite punk rock band the Ramones

This is just a part of special ramen menus Isoda has created on every weekend.
He says that he judges things based on whether it's "rock" or not. In other words, does it fit his way of life? For example, the Akishima municipal government often comes to him for interviews that are printed in the city newsletter. His sales don't increase, but Isoda never turns them down. He believes that he should help his hometown thrive.
"I believe that even in a place like this if you continue to make delicious food, people will surely come to enjoy it."
The truffle-tomato tsukemen isn't his only limited-time-only dish. Every weekend, he creates various special menu items. He began placing special menu papers with such items as shrimp bisque ramen and salt ramen with nameko mushrooms on the counter. I saw a dozens of them. Although fewer customers are seen because of the coronavirus crisis, on weekends, many fans of his ramen come from far and wide to enjoy the special items. Isoda is always coming up with new dishes for his fans, saying that they're no longer just limited special dishes, but "a symbol of my love for the fans of my work."
Long ago, the street outside of his shop was a shopping district. But, when he opened his shop for the first time six years ago, there were hardly any stores in the area. Now, perhaps as a direct result of the many customers enjoying Antinoodles' cuisine, an izakaya Japanese style bar, a yakitori shop and a flower shop have all opened nearby. Isoda seems quite pleased with this turn of events.
This is a menu for takeaway.

Business hours of Antinoodles
How to eat tsukemen
Tsukemen, a noodle dish in which the broth and noodles are separate, was created as a way for ramen shop employees to eat quickly anytime they were in the kitchen. Having the noodles separate from the broth keeps them from becoming soggy. The noodles are rinsed with water to remove any starchy residue then chilled, giving them their firmness. This also allows you to enjoy their distinct flavor, even when they're on their own.
Trying a few of the noodles with a bit of the broth in your mouth really showcases that distinct flavor. Once you do that, pick up a small portion of the noodles — as much as you can handle in one mouthful — with your chopsticks, dip roughly a third of them in the broth, and enjoy. Don't worry if you make a sound while you slurp your noodles. If it helps, try to imagine the soup and noodles being mixed by the force of a slurp. If you dip the noodles entirely into the broth, however, will cool the broth and make it lose some of its deliciousness. And if you were to dip all of the noodles into the broth, it wouldn't be tsukemen anymore!
Because tsukemen broth is very rich and high in sodium, at the end of your meal, you can ask for some unseasoned broth to add to the soup and that will make it easier to drink.
---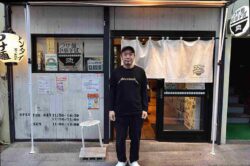 Antinoodles
1-3-14 Asahicho, Akishima, Tokyo.
Lunch hours are from 11:30 to 14:30 and dinner is served from 17:30 to 21:00 Tuesday through Friday. On weekends and holidays, only lunch is served from 11:00 to 15:00. Closed on Mondays.
---
Futoshi Mori, Deputy editor of The Japan News
Food is a passion. It's a serious battle for both the cook and the diner. There are many ramen restaurants in Japan that have a tremendous passion for ramen and I'd like to introduce to you some of these passionate establishments, making the best of my experience of enjoying cuisine from both Japan and around the world.
---