Kanekatsu: Self-educated noodle chef serves up exquisite ramen in simple, elegant space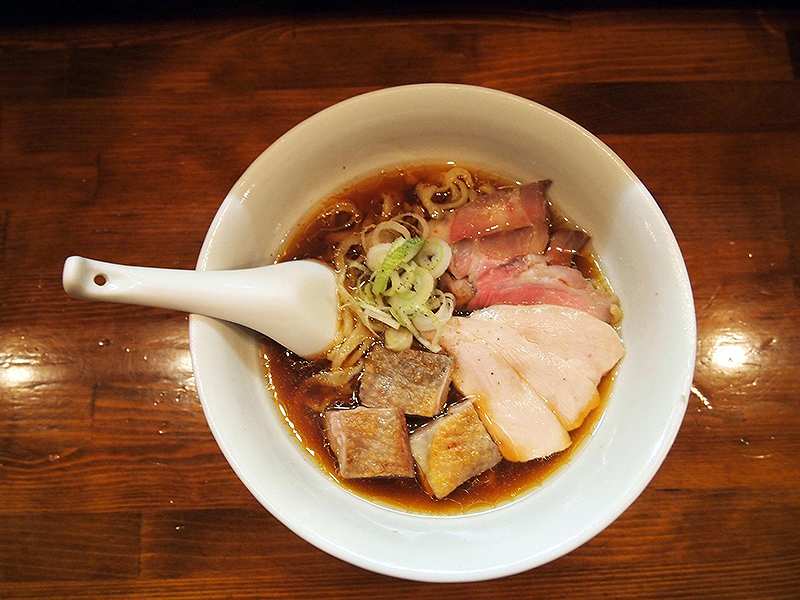 13:20 JST, December 3, 2020
Historically, Kawaguchi in Saitama Prefecture has been known as a city that produces cast metals since the Edo period (1603-1867). The Olympic Cauldron for the 1964 Tokyo Games was made in the city.
Nowadays, though, Kawaguchi — located just across the Arakawa river from Tokyo — is more of a northern suburb of the sprawling capital than a city of foundries.
Customers start lining up around 11:00 a.m. outside of Kanekatsu.

I'm also waiting in line.
It was noon and there was already a line of people standing outside a small shop. The queue seemed incongruous in this quiet residential area of Kawaguchi, but everyone was waiting to eat at Kanekatsu, a popular ramen shop.
I was standing in the line, too, and every now and again I saw the profile of the shop owner and chef, Masaru Otomo, through a small window.
Then Otomo stuck his head out the window and asked a customer, "What can I get you?"
The first time I came here, I was quite surprised to be asked for my order from someone standing at a window. But I've gotten used to it since I became a fan of Kanekatsu's ramen.
I had the basic ramen the last time I came here. Then I fell in love with Kanekatsu's three types of chashu meat fillet toppings. The meal wasn't cheap. The ramen is ¥1,000 and the special meat toppings cost ¥700.
"I'll have ramen with the special meat toppings," I said, deciding to splurge today.
Customers place their orders through a small kitchen window.

The menu on Nov. 17 included a special: brothless noodles with sanma saury
A few customers finished their meals and exited the shop. After a few minutes, Otomo once again stuck his head out the small window and said, "Next person, please."
I opened the heavy wooden door, which seemed totally out of place for a ramen shop, and walked in.
There were only five counter seats. For a moment, the atmosphere made me forget that I was at a ramen shop. Oshibori moistened paper towels in a black bags, chopsticks banded together with a piece of Japanese paper set on chopstick rests, and empty glasses were neatly placed on the counter.
Chef and owner Masaru Otomo works behind the counter at Kanekatsu.

Chopsticks, a moistened hand towel and an empty glass are set neatly on the counter.
The thick wooden counter made me feel like I was at a fancy Japanese-style restaurant.
Each person poured their own water from a jug placed on the counter. As I wiped my hands, a bowl of ramen was placed on the counter.
"Be careful, it's hot," Otomo said.
The ramen was topped with three pieces each of three kinds of meat. The subtle sour scent that tickled my nostrils when I was standing in line outside was coming from the soy sauce broth.
Otomo puts noodles into a ramen bowl.

Ramen with special meat toppings: Iberico pork, top, guinea fowl breast, middle, and guinea fowl thigh, bottom
The thick noodles that Otomo makes every morning from around 5 a.m. shined beneath the pieces of meat. I slurped as hard as I could. The surface of the noodles was smooth and the texture was firm when I took a bite.
The shop was quiet. No music was playing. There was only the sound of diners slurping noodles echoing around the room.
The three meat toppings were guinea fowl thigh, guinea fowl breast and Iberico pork shoulder roast.
The guinea fowl thigh was cooked in a frying pan until crispy. The breast was cooked at a low temperature and was so juicy that it melted in my mouth. It was as if I were eating sashimi. Just like the breast, the Iberico pork shoulder was cooked at a low temperature, but then the surface was fried in a frying pan right before putting it on the ramen. It was a fatty meat, and I liked it immensely.
Each piece of meat is cooked with a very small amount of salt, and the flavor of the meat teems with each bite.
Handmade noodles

The Iberico pork was my favorite.
Each piece of meat was delicious. I'm glad I ordered the extra toppings.
Otomo opened Kanekatsu in 2013. He makes a soy sauce-base broth using a soy sauce made in Kitakata, Fukushima Prefecture. Otomo said that it's the only part of the ramen he has not changed since opening the shop. The light flavor and slight sourness of the soy sauce enhanced the flavor of the noodles and meat, whetting my appetite.
Otomo stands in front of his ramen shop.

The ramen is made with a soy sauce-based broth.
Otomo was born in Iwaki, Fukushima Prefecture. Kitakata ramen has been his favorite since he was a child. Otomo remembers eating his grandmother's homemade ramen together with his grandfather. His shop is named after his grandfather: Kanekatsu.
Otomo moved to Tokyo when he entered university. To earn a living, he worked part-time at a Izakaya Japanese style pub and a ramen shop. Cooking came to him naturally. When he was 29, Otomo worked for a noodle maker in Ota Ward, Tokyo.
"I learned to use the flour and add the right amount of water," Otomo said. He learned on his own how to make handmade noodles and broth. When he was 32, Otomo opened Kanekatsu.
Otomo makes the broth with guinea fowl bones, kombu, dried bonito flakes and mackerel flakes.

Cuts of meat are ready for slicing.

Otomo uses a hand-cranked noodle cutter.

Fresh noodles before and after being cut

Otomo divides noodles into each serving.

One serving of noodles
Otomo gets to work every morning at 5 a.m. and starts kneading a blend of wheat from Saitama Prefecture while cooking the guinea fowl bones, kombu, dried bonito flakes and mackerel flakes to make the broth.
"The good thing about making things by hand is that I can check how everything feels myself," he said. "The smooth surface and firm texture cannot be produced by a machine," he said of his noodles. Otomo uses a hand-cranked noodle cutter. "The texture of noodles cut this way is better than cutting them by hand," he said.
Even on this cold early November morning, the kitchen was hot. Otomo worked silently, wearing a short-sleeve shirt. But he still was sweating.
Kanekatsu serves 50 meals on weekdays and 70 to 80 on weekends.
Otomo has another ritual: Before opening at 10 a.m., he eats a bowl of ramen to check the quality of the noodles he will be serving that day.
Otomo also makes seasonal noodles, changing the special about every two weeks. From Nov. 9 to 23, sanma saury mazesoba (brothless noodles with sanma saury) (¥1,200) was on the menu. From Nov. 24 to Dec. 6, he made kabu ramen shioaji (turnip salty ramen) (¥1,200).
"Since there are more things I want to try, I also serve seasonal noodles as an experiment," he said. "The stuff that works gets reflected in the daily menu."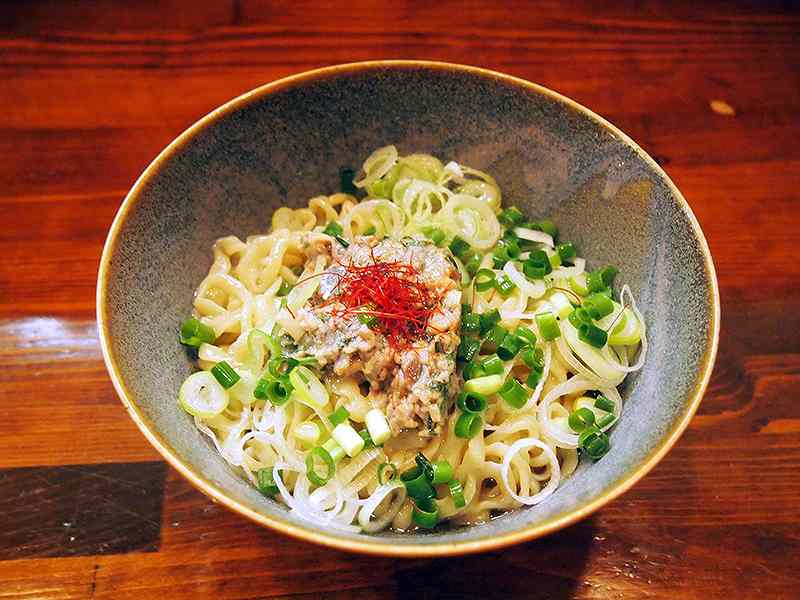 Otomo is particular not only about ramen, but the other utensils he uses as well. When I picked up the bowl of ramen from the counter, I could tell by touch that it was very nice.
"Did you notice?" he said with a smile. He uses Shinshu pottery from Shizuoka Prefecture for his ramen bowls. While thinking about what to serve his ramen in, Otomo went to the prefecture to check the textures and colors of the pottery.
"I want customers to enjoy everything, not just the taste," he said. "The ideal shop is the one I want to go to on my day off."
---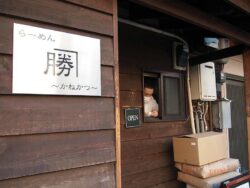 Kanekatsu
2 -14 -23 Iizuka, Kawaguchi, Saitama Prefecture.
Open from 10 a.m. to 3 p.m. Closed on Fridays.
The usual menu includes ramen (¥1,000), tsukemen ( ¥1,000) and aburasoba brothless noodles (¥900). Various toppings can be added, such as special meat toppings (¥700), guinea fowl breast (¥400), guinea fowl thigh (¥400) and Iberico pork shoulder (¥500).
---
Miho Nakamura, Japan News Staff Writer
As a working mother of two young sons, I haven't been able to enjoy many of the spicy dishes I love because my taste buds have adapted to their level. For me, adding a seasoned egg is a must! I also tend to let any hot food or drink I have cool before I dig in because my tongue is a bit sensitive.
---