Asakusa Ramen Yoroiya / Fragrant soy sauce ramen offered in traditional Japanese flair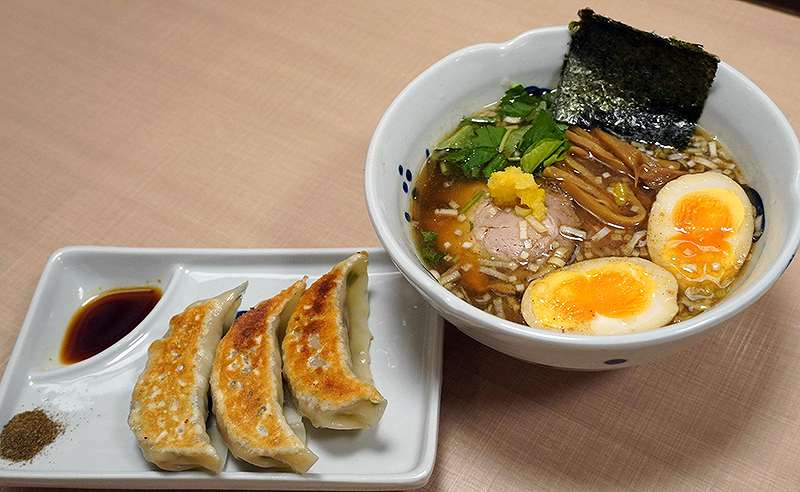 13:20 JST, November 30, 2020
Asakusa is one of the most popular tourist destinations in Tokyo. Even as a Tokyoite, I also get excited whenever I come to Asakusa. The bright red Sensoji Temple provides a nice, scenic backdrop and the many people in the bustling shopping streets add a bit of excitement to my trips to the town. I always feel as if time has flown by after downing traditional Japanese sweets and browsing through souvenir shops. Before the pandemic, foreign tourists were also often seen enjoying strolls around the area in a kimono, as there are many stores in the vicinity that rent the traditional garb.
Sensoji Temple

Nakamise-dori shopping street
On one of my last trips, I visited the ramen shop Asakusa Ramen Yoroiya, located on Denboin-dori street, which is one of Asakusa's shop-lined streets. The exterior of the restaurant was inspired by a traditional Japanese warehouse called "kura," and a doll that resembles a bandit in the Kabuki play "Shiranami Gonin Otoko" is perched on the roof. There are actually four other bandit dolls displayed in other stores and on a road. It's quite fun to spot them.
The exterior of Yoroiya

One of five dolls depicting bandits, who appear in the Kabuki play "Shiranami Gonin Otoko," sits on the roof of Yoroiya.
When you enter Yoroiya, you can hear the lively sounds of Japanese festival music. And the walls are decorated with ukiyoe woodblock prints and pictures of Asakusa in the olden days. You can certainly feel aspects of traditional Japanese culture and history here.
The shop's recommendation is "egg ramen," a basic soy sauce-flavored ramen topped with a seasoned egg. When I entered the kitchen to get a behind-the-scenes look at the preparations, I found the soup was being made with an array of ingredients including chicken, pork, dried sardines, dried bonito flakes, dried mackerel and negi green onions. Even with my face mask on, I could clearly smell the delicious aroma of bonito flakes, sardines and mackerel. I couldn't help but say, "It smells so good!" And as I started taking pictures, I felt my stomach rumble with hungry.
Dried sardines, dried bonito and dried mackerel are seen in a net in a soup.

Dried sardines

Double-yolked egg

Chopped yuzu citrus
After I sat and my meal was placed in front of me, the fragrant aroma of the bonito wafted from the ramen, tempting me to dig in. Just before serving, Mitsuaki Matsumoto, the owner, adds bonito powder in addition to the soy sauce and soup. The soup had a deep flavor from a variety of ingredients that nicely blended together. The taste of seafood in the soup was a little stronger, but it didn't smell too fishy.
Ramen originated from China, but I thought Yoroiya's ramen can definitely be identified as Japanese-style ramen. The soup went well with the slightly curled noodles that Matsumoto requested a noodle maker produce for his recipe. The chopped yuzu citrus and mitsuba green were also a nice accent in the ramen. I have to say, it's the addictive quality of the ramen that will make you want to stop by again for a quick bite.
The seasoned egg was quite interesting too. The egg, which is about larger than a normal egg, has double yolk. A double-yolked egg is sometimes born from young chickens, said Matsumoto. The eggs are produced in Iwate and Hiroshima prefectures. According to Matsumoto, local women who work in the poultry industry separate the double-yolked eggs by looking at the shape of the eggs. Matsumoto said these rare eggs are a kind of good luck charm.
Chicken gyoza, another specialty
Homemade gyoza made with chicken

Gyoza being grilled on a griddle
I also tried their handmade gyoza (dumplings), which are a specialty for the shop. The delicious taste of chicken and the chewy texture of harusame bean-starch vermicelli inside the gyoza were delightful. The gyoza was light and easy to eat. It is said to go well with beer when dipped in zanthoxyli fructus powder, which was served beside the dumplings. On another day, I bought some of their frozen gyoza and baked them at home. My family loved them so much that they were gone before I even sat at the table.
Gyoza is usually made with pork in Japan, but the shop decided to use chicken because they were inspired by the fact that duck was used in a dish believed to be Japanese gyoza in the Edo period (1603-1867).
Matsumoto, who has a deep knowledge of history, is also creative in the design of his ramen bowls. The inside of the bowl has a pattern of light appearing on the surface of a body of water, which represents the legend that a Buddha statue caught in a fisherman's net on the Sumida River 1400 years ago became the principal deity of Sensoji Temple.
A ramen bowl with a design that depicts the legend of Sensoji Temple.

A painting that represents the legend of Sensoji Temple
Matsumoto, 68, was born in Asakusa, where his parents ran a men's clothing store. And because his parents were busy, he and his family often ate out. He liked the ramen at a local Japanese soba noodle restaurant. The ramen he ate in those days was like Chinese soup with Japanese dashi, Matsumoto recalled. He later worked for a trading company, but he wanted to recreate the taste of his childhood memories, so he joined the ramen industry and opened Yoroiya in 1991.
Owner Mitsuaki Matsumoto

Matsumoto boils noodles
Town planning
Denbo-in dori shopping street

Stores are unified in calm colors such as black and brown on Denboin-dori shopping street.

Stores' signboards on Denboin-dori shopping street
Matsumoto is a well-known person in Asakusa, because he spearheaded the development of a streetscape on Denboin-dori street to attract tourists about 15 years ago. He guided me around the location.
Among the shopping streets of Asakusa, Nakamise-dori street, which leads to Sensoji Temple, is the most famous, but Denboin-dori, which intersects with Nakamise-dori, had fewer tourists. So Matsumoto persuaded the shop owners to unify the exterior of their stores in subdued colors such as black and brown and add an elaborate signboard to each shop, creating a streetscape reminiscent of the Edo period. The color of the road was also changed to brown to look like a dirt road.
As a result, Denboin-dori has become more vibrant and the number of people on the street has increased fourfold. I was amazed at how the passion of the locals had transformed Denboin-dori, which I have been visiting for some time, into the vibrant shopping street it is today.
"I wanted to do something for this street, because I was born and raised in Asakusa," he said. I felt his deep love for the town.
Matsumoto said he has two dreams. The first is to "keep the restaurant going for 100 years and make it a well-established ramen shop." His son, the next generation to take on the mantle, also works at the shop. Secondly, he hopes to introduce foreigners to the depth of ramen. He said he wants to offer a ramen experience tour to tourists. "I want tourists to see how much time and effort is put into making ramen. I'd also like them to experience wrapping a gyoza." Matsumoto has a lot of energy. I can almost picture him making ramen with a smile and surrounded by tourists.
The interior of Yoroiya

Menus in English, Chinese, Thai and Korean

The shop does not have a ticketing machine, and the clerk near the entrance gives customers their meal tickets.
---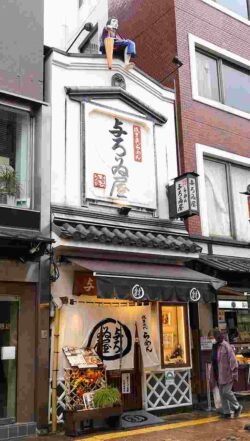 Asakusa Ramen Yoroiya
1-36-7 Asakusa, Taito Ward, Tokyo.
Opening hours 11:00-21:00, last call at 20:30. Open all year round.
Basic ramen for ¥800 and "egg ramen" is ¥900. Gyoza is ¥350 for three pieces. There are table seats on the second floor. English, Chinese, Korean, and Thai menus are available.
---
Chikako Minami, Japan News Staff Writer
Enjoys making ramen using a meal kit at home at least once a week and baking various types of bread.
---
Add TheJapanNews to your Google News feed.