Kaoru / Ginger ramen and a considerate owner warms your body and heart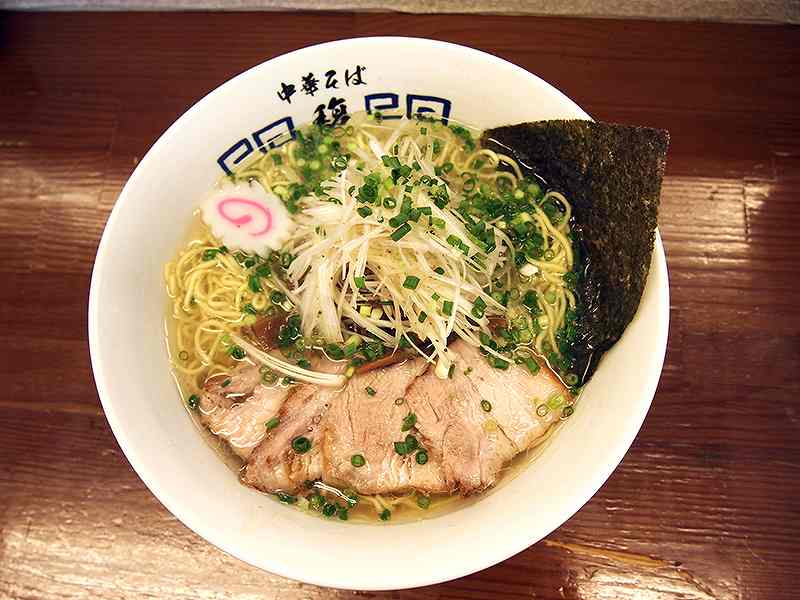 13:24 JST, November 26, 2020
The city of Soka in Saitama Prefecture — Tokyo's northern neighbor — is especially known for its locally produced senbei rice crackers. Even so, for as many senbei shops as there are in the area, there are probably just as many ramen restaurants.
One of my family's favorites is a shop called Kaoru, located just a five-minute walk away from Dokkyodaigaku-mae Station on the Tobu Skytree Line. While my eldest son loves the Chukasoba, a standard ramen dish with a salty tonkotsu pork-based broth, my husband and I enjoy the restaurant's special ginger ramen. In Japan, ginger is well-known as a food that warms the body and is considered a must-have during winter.
The autumn chill was growing in the air which put me in the mood to enjoy some of Kaoru's ginger ramen, so I popped in for a visit. As my order was placed before me, I was enveloped in its unique aroma. I took a spoonful of the clear broth and relished the flavor as it exploded in my mouth. I think the kick from the ginger was also good for my throat. As I took another bite, I felt my body begin to warm up, beginning with my empty stomach.
Ginger ramen.

A spoonful of the ginger ramen's clear broth
"Originally, ginger ramen was a winter-time only dish. But because it became so popular among our customers, we decided to add it to our regular menu last winter," said Kaoru's owner, Hirokazu Abe.
Abe exclusively uses ginger produced in Kumamoto Prefecture, saying that "The refreshing spiciness of the ginger pairs well with our salty tonkotsu broth." He adds one tablespoon of grated ginger to the bowl just before adding the tonkotsu broth, which is made from thoroughly cooked pork bones and back fat. He also uses salt that he buys from a different vendor when he runs out.
"When I change the salt I use, the flavor changes slightly, but always more than I expect. I hope our customers also enjoy the subtle differences," Abe said.
I then dug into the dish's thin noodles, which paired well with the ginger-flavored broth. With my appetite now fully stimulated, my chopsticks just couldn't be stopped. The four slices of chashu roasted pork were also so tender and satisfying that before I knew it, I had emptied the bowl.
The ginger ramen's thin noodles

Chashu roasted pork

Abe grinds ginger produced in Kumamoto Prefecture

Dokkyo University's entrance
Kaoru is also popular among college students as it is located near the campus of Dokkyo University — where about 8,500 students are enrolled.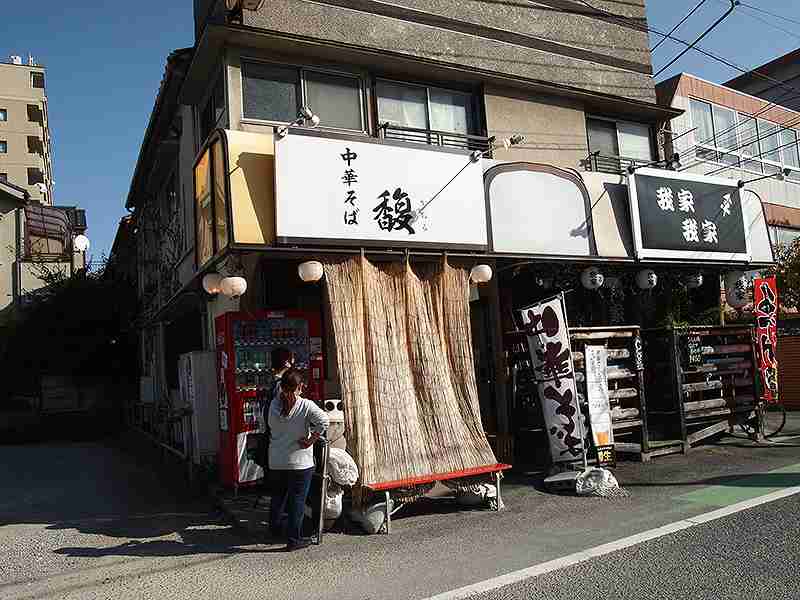 Ever since the restaurant's opening, Abe has offered a student discount for his Chukasoba. When they present their IDs, students can get a bowl of the standard ramen dish for just ¥500. "I want students [who may not have much money] to be able to eat their fill of our ramen," Abe said. He also offers a lunch service, which ends at 5:00 p.m. every day. During this time, visitors are allowed the addition of one side dish or topping for free. The options are a serving of nori seaweed, a side dish of white rice, an extra helping of noodles, a seasoned soft-boiled egg, almond jelly, and a small serving of a dish called nikumeshi, which is a mixture of rice, chashu pork and a sweet and sour marinade. I think that this is a wonderful service that is easy on the wallet!
Side menu and topping menu is posted on the restaurant's wall

Yoshikazu Abe stands in his kitchen.

A sign that lists the items that are free during Kaoru's lunch hours

Kaoru's interior
Another nice thing about Kaoru is that even its standard ramen dish is topped with four slices of chashu roasted pork, Abe's pride and joy. When you order the nikusoba, a ramen dish topped with an extra serving of chashu, the dish's surface is beautifully covered with the sliced meat.
"I am happiest when people tell me that my chashu is delicious," said Abe. The black pepper in the nikumeshi also gave it a nice kick. I always have trouble deciding whether I should add nikumeshi or my favorite seasoned soft-boiled egg to my order during lunchtime.
Roasted pork as it marinates in a sweet and sour sauce

Nikumeshi
Single-handedly creating his favorite flavors
All of the ramen served at Kaoru is made by Abe himself, even during the hectic lunch rush! Born as the eldest son of the owner of a Chinese restaurant in Tokyo, he took the reins at the age of 24, after his father passed away. During his time as manager, he began to dream of opening a restaurant where he could focus solely on ramen and make it himself. After he permanently closed his restaurant following the Great East Japan Earthquake in 2011, he underwent training at the then-famous Tanaka Shoten in Adachi Ward, Tokyo, before finally establishing Kaoru five years ago.
The restaurant's name comes from the kanji used in his Chinese restaurant's name, Huwen. The character for "hu" can be read as "Kaoru" in Japanese.
The kanji for "Kaoru" is written on the ramen bowl.

Abe pours tonkotsu broth to a bowl of ramen.
His decision to open his restaurant near the Dokkyo University campus was actually the suggestion of a customer he saw regularly during his time at Tanaka Shoten. Despite not being in an ideal location, due to it being on the side of a one-way street, Kaoru's popularity skyrocketed soon after its opening and saw long lines on not just weekends but during the week as well for about three months. Even though the coronavirus crisis has diminished those numbers, a long line of customers can be seen outside the restaurant before it opens at 11:00 a.m. and the adjacent parking lot is usually full.
Kaoru is particularly popular among older people as Abe offers a choice between two types of noodles — one flat and the other thin. Abe did this because he thought that the thin noodles would be easier for the elderly. To accommodate customers with children, customers are seated at tables rather than at the counters usually seen in ramen restaurants. An additional slice of nori and an extra naruto fishcake is added when one bowl of ramen is shared between a child and an adult.
Chukasoba (¥700), a standard ramen dish, with an added seasoned soft-boiled egg.

Flat noodles in the Chukasoba
Abe's wife, Arisa, works as both a waitress and a cashier. While she is constantly on the move, she is also very attentive. When I ordered some nikumeshi to share with my son, she asked if we would like that without black pepper to make it easier for him to enjoy. After paying the bill, she also gave him a small snack to take home, so my son is now a big fan of the restaurant. Each time my family and I visit Kaoru, we also visit Yuyadokoro Matsubara, a Japanese style spa and bath located right across the street. My son gets so excited every time we come here, because he loves both the ramen and the spa. According to Arisa, many of Kaoru's customers stop by either before or after visiting the spa.
My favorite topping — a seasoned soft-boiled egg

A delicious almond jelly.
Because it's getting colder outside, it may be nice to keep warm with a bowl of ginger ramen and enjoy the nearby spa.
---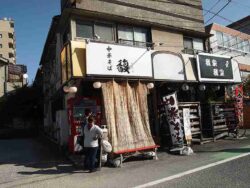 Kaoru
2-4-8 Sakaecho, Soka, Saitama Prefecture.
Business hours are from 11:00 a.m. to 9:30 p.m. Closes at 5:00 p.m. on the first and third Mondays of the month. Closed on Sundays. In addition to its ginger ramen, popular menu items include Chukasoba (¥700), Niboshi (dried bonito) chukasoba (¥820), Yamagata karamiso (spicy miso) ramen (¥880) and Nikusoba (¥980).
---
Miho Nakamura, Japan News Staff Writer
As a working mother of two young sons, I haven't been able to enjoy many of the spicy dishes I love because my taste buds have adapted to their level. For me, adding a seasoned egg is a must! I also tend to let any hot food or drink I have cool before I dig in because my tongue is a bit sensitive.
---
Add TheJapanNews to your Google News feed.