Gallon / The exquisite harmony of orange and ramen born in Golden Gai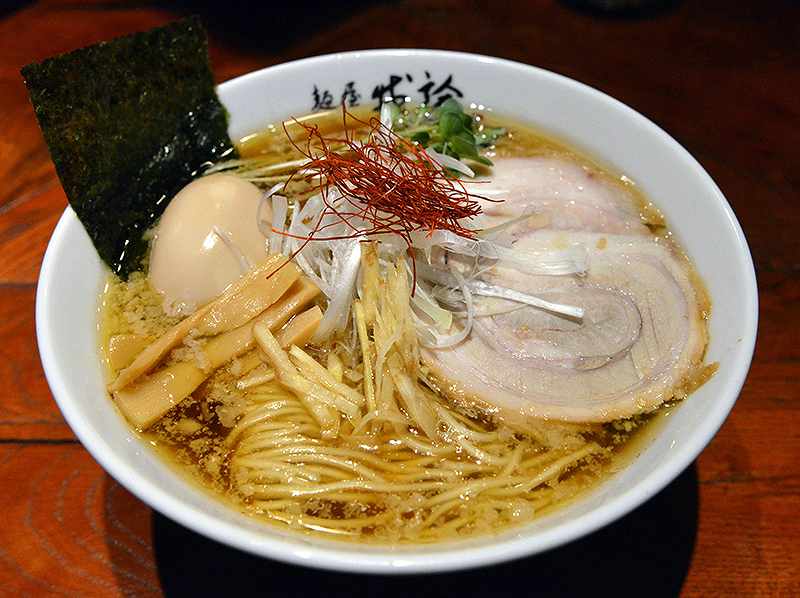 13:24 JST, November 24, 2020
Welcome to the Asian labyrinth, Golden Gai! This small area in Shinjuku, Tokyo, is packed with nearly 300 very small bars. When the lights come on at night, it becomes a sleepless, bustling area with many people walking around looking for a place to drink. These days, however, the number of drinkers has decreased drastically due to the coronavirus pandemic. And small bar owners are struggling to survive.
Gallon, which opened in June in the middle of the pandemic after renovating the first floor of a two-story bar, is a vibrant and unique ramen shop. The shoyu (soy sauce) ramen, for instance, is served with salted orange peels and green chili peppers, both handmade by the owner. And when added to the soup, the orange aroma and spicy flavor create a beautiful harmony with the soy sauce-based soup, making the enjoyment of the ramen reminiscent of having a cocktail at a bar. I was so impressed by this that I requested an interview.
Shinjuku Golden Gai. The number of drinking people decreased because of the novel coronavirus pandemic.

The exterior of Gallon. A large 5 GALLONS neon sign is a landmark.

A skeletal ornament is sitting above head at the entrance of aisle to Gallon.
You don't have to struggle to find the shop among the many establishments, as a large neon sign, 5 GALLONS, shines brilliantly on the roof of the two-story bar, sort of like a homing beacon. Upstairs is the bar 5 GALLONS and downstairs is the ramen shop Gallon. Overhead at the entrance, a skeletal ornament sits as a greeter, welcoming you into the aisle. Gallon is located at the back of the narrow passageway. The shop only has a U-shaped counter, with seating arrangements to occupy seven or eight customers. Because the bar was made over into a ramen shop, it still has a bar-like atmosphere, including a 1946 jukebox.
The interior of Gallon with a U-shaped counter

The owner Okumura wanted his picture taken with his treasured jukebox.

Okumura's beloved 1946 jukebox is still working and play music.

A part of song lists that jukebox can play. You can listen to the music for free on request.

Meal tickets machine in the shop

A skeletal ornament is inside the shop as well.

The display in the shop
 "I have been thinking of opening a ramen shop for several years," says the owner, Ken Okumura, 55. That quickly came to fruition in June. The number of customers at the bar had dropped dramatically due to the pandemic. So, he decided to open a ramen shop because "eating and drinking in a short amount of time is going to become more important from now on."
 However, it was difficult for Okumura, who had no prior ramen training, to open a ramen shop right away. It is said that there are 10,000 ramen shops in Tokyo, and competition is high. In March, Okumura entered a ramen school in Chiba Prefecture that taught him all the basics of ramen. He spent a week at the school, where he gained all kinds of ramen knowledge on a one-on-one basis. From making tori-paitan (chicken-based soup), tsukemen (dipping noodles) and tonkotsu (pork-bone based soup) to abura-soba, noodle types, and various general recipes.
 "What they teach you in the school is just the basics," he says. "I had to think of how to make my own ramen." At the request of the Tokyo Metropolitan Government, the bar was closed in April and May to prevent the spread of infection. Okumura, along with shop manager Shunichi Inaba, 37, tried every day to come up with what kind of ramen they would serve, including the soup, noodles and so on. Okumura recalls: "If it wasn't for this research during the shutdown, I wouldn't have been able to open a ramen shop."
 "Our goal was to create a soup with no chemical seasoning, which is said to be difficult to make, and to make customers feel it is a ramen specially served in the bar." Since he manages the bar, there was plenty of soda water. Okumura heard that soda water brings out the flavor of the broth better than water, so he decided to make a soup with it. The boiled egg condiment is soaked in the American bourbon whiskey Maker's Mark. And the ramen bowl is shaped like a cocktail glass. Finally, everything is topped off with orange peels, which are often used for cocktails in the bar. "I knew soy sauce and orange would go well together from my experience," says Okumura.
Inaba is taking out the back fat of stewed pork from the pot.

The back fat of the pork is being strained, which increase the umami of the soup.

Inaba prepares the soup for the ramen.

Noodles are put into the boiling water.

Noodles are ready.

Noodles are adjusted to look beautiful.

Special soy sauce ramen has three chashu pork slices.

Boiled egg soaked in the Maker's Mark, spring onions and Memma is added on the bowl.
 The basic soup is made from whole chicken and pork bones. The soup from kombu and niboshi (dried sardines) is made separate and then combined with the chicken and pork soup. Soda water is used for boiling these ingredients. No chemical seasonings are used. The noodles are thin, 100% domestic wheat noodles ordered from a Kyoto noodle mill and served in a slightly hard state. Chashu roasted pork and Memma (bamboo shoots) are both homemade. It is also topped with Nori (seaweed), green onion and threaded chili pepper. This is essentially how they complete their basic menu of shoyu (soy sauce) ramen (¥770) and shio (salt) ramen (¥770). The shio ramen is topped with yuzu zest and comes with a separate dish of yuzu pepper. Shio's light flavor is also popular, but I ordered the special shoyu ramen (¥1100).
Inaba quickly went to work in the small kitchen space, then said, "Here you go," and the delectable-looking ramen dish was placed on the counter in front of me. I took a sip of the soup. The flavor was rich and thick, packed with the essence of the ingredients. It was very good. Chopped ginger was in the bowl as well and when combined with the soup, the taste became crisp and smooth. I slurped the thin noodles. They married quite well with the soup and was very tasty. "The Konbu's stickiness makes noodles easy to mix with the soup," Okunura says.
The noodles are thin and easy to mix with the soup.

Chopped orange peel and green chili pepper, which is salted by Okumura.
The chashu pork was very juicy and soft and the boiled egg really had Maker's Mark aroma. When I was about halfway through, I added chopped salted orange peel and green chili pepper. Then, the aroma and taste of the soup seemed to have transformed. The orange aroma pepped up the thick broth and it became a bit spicy, adding another layer to the deliciousness of the soup. This was not ramen made by a bar owner who started the whole thing on a whim. It was a splendid, authentic ramen dish. I felt fortunate to have such ramen in Golden Gai.
Bar on the 2nd floor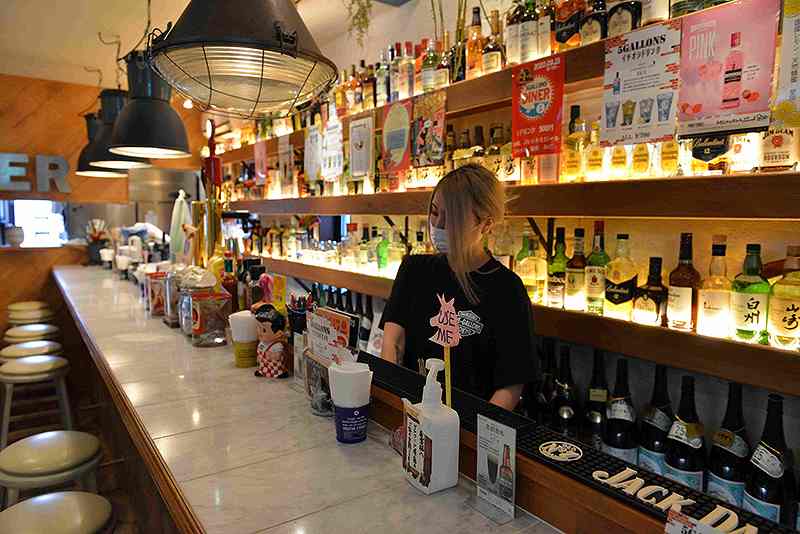 There is a staircase inside the shop that provides access to the bar on the second floor. I noticed the stairs when I first went to Gallon, and after eating ramen, I walked up the narrow stairs to drink at the bar. It was an American diner-inspired bar with a long counter, and there was a man sitting at the end of it.
 He was an elderly man wearing a large pink afro-haired wig with a lot of stuffed tigers wrapped around his body. He gave me a strong vibe. I sat down, leaving about four chairs between us. He was quietly sipping his drink, occasionally chatting with the female bartender. Then an older man, with a hole in his mask and a pipe sticking out of it, walked in. He sat down between me and the pink-haired man, and as the drinking progressed, he began to talk to me. He said he's a big fan of country music, stating, "Charlie Nagatani is a real country musician." He then went on to tell me the following story.
Charlie Nagatani is very popular in the United States, being awarded the title of honorary citizen from 33 U.S. states. In May 1999, then U.S. President Bill Clinton invited Nagatani and then Japanese Prime Minister Keizo Obuchi to a White House dinner. Nagatani arrived in a helicopter dispatched by the president from the concert venue. Clinton introduced him to Prime Minister Obuchi, "This is Charlie Nagatani, the famous country musician," to which Obuchi looked puzzled. Then Prime Minister Obuchi was introduced to Nagatani, "This is Prime Minister Obuchi of Japan," and Nagatani had the same expression on his face. "They are both famous Japanese, but they didn't know each other." He laughed. I later found out that the two men had actually been invited to a White House dinner.
 While I was listening to the story, the pink-haired man began preparing to leave. He even started wrapping some more stuffed animals around his body, which had been placed on the floor. Now his size became larger, and I began to worry about him getting through the narrow bar door. He managed somehow to get through and slowly made his way down the stairs. Again, I later found out, he was a very famous man called "Shinjuku Tiger." He always wore a large pink afro hair and a tiger mask, and until recently, he had been a newspaper delivery man. He is now over 70. A movie about him was also produced. It was such a wonderful night. I was able to encounter such unique customers because of this distinctive ramen shop in Golden Gai, where you can simply take the stairs and go from ramen shop to bar.
Golden Gai survival
In Japanese restaurants, water is free. Gallon serves water in copper cups of Maker's Mark.

You can have a maccha (green tea) beer in Gallon.
 There's another reason why Okumura started Gallon. He's also a board member of the shop owners union in Golden Gai. "The coronavirus will put a damper on the late-night drinking culture," he says. If Golden Gai wants to survive, we need to think about shifting the business hours to an earlier time of day." With this in mind, he took the initiative to open a ramen shop to "liven up Golden Gai from noon." He hoped that if his shop becomes popular, other shop owners would also start some kind of eatery. His aim seems to be succeeding fast. Gallon enjoys more customers than expected during the day.
 The name of the bar, 5 GALLONS, comes from the fact that the gas tank capacity of Okumura's Harley-Davidson is 5 gallons. Gallon, the ramen shop, is a Chinese character with the same pronunciation. "I'm going to issue a discount coupon in the near future for customers to enjoy both the ramen shop and the bar." Now, he is planning to make an orange ramen, with such features as an orange slice on the edge of the ramen bowl.
---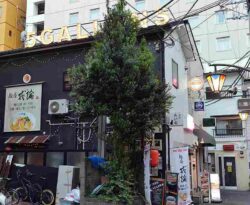 Gallon
1-1-5 Kabuki-cho, Shinjuku Ward, Tokyo.
Lunch time is from 11 a.m. to 3 p.m. Dinner time is from 5:00 p.m. to about 10:00 p.m. (It ends when the soup runs out). Closed on Sundays. Regular menu items are Shoyu (soy sauce) ramen (¥ 770), Shio (salt) ramen (¥770) and tan-tan-men (ramen with sesame paste and chili oil, ¥900). There is also a limited menu, which is currently niboshi (bonito) ramen with tasty pork fat (¥1000).
---
Futoshi Mori, Deputy editor of The Japan News
Food is a passion. It's a serious battle for both the cook and the diner. There are many ramen restaurants in Japan that have a tremendous passion for ramen and I'd like to introduce to you some of these passionate establishments, making the best of my experience of enjoying cuisine from both Japan and around the world.
---
Add TheJapanNews to your Google News feed.