Ramen-ya Toy Box: Ramen maker sticks to basics in his own way, gets in the Michelin Guide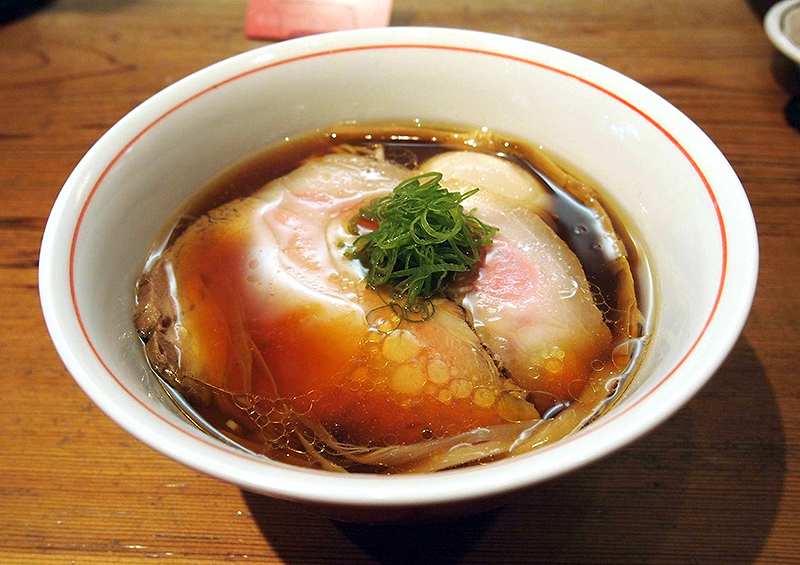 15:16 JST, November 9, 2020
Toy Box was a name so peculiar that it piqued my interest to the point where I just had to go. So I got on the Tokyo Metro Hibiya Line and got off at Minowa Station, nearby its location. What also prompted my visit was that for six consecutive years up until 2020, the ramen shop was listed on Michelin's "Bib Gourmand" — restaurants that serve good quality meals at reasonable prices. Expectation filled my heart.
After popping out of Exit 3 at Minowa station, I crossed the Meiji and Nikko Street crossing and walked down Nikko Street for about a minute until arriving at a "Ramen-ya Toy Box" signboard posted on a tiny little restaurant. At 2:20 p.m., there was one person waiting outside.
The intersection of Meiji Street and Nikko Street

Road sign of Meiji Street and Nikko Street

The exterior of the Toy Box

The red sign of the Toy Box
The shop was surprisingly small. I chose the shoyu ramen with a seasoned egg because I had heard that Toy Box's shoyu ramen was the first of its kind to be listed on Michelin Guide's Bib Gourmand. The small kitchen was surrounded by eight counter seats and the tough-looking manager, Takanori Yamagami, and a staff member were briskly making ramen. Mine was served in about five minutes.
Meal ticket machine at the entrance

The interior of the Ramen-ya Toy Box

Takanori Yamagami, the owner of the Toy Box, cuts chashu roasted pork.

A staff opens the seasoned egg box.
I was shocked to see the clear soup and the huge slices of chashu roasted pork. But what surprised me more than anything was how delicately Yamagami placed the finely chopped green onions in the center of the bowl. I found it strangely adorable.
Shoyu ramen with a seasoned egg

One scoop of the shoyu soup
The first scoop of the soup — simple and delicious. I couldn't believe it was made solely of chicken, soy sauce and water (I still feel nostalgic thinking about it). I tore the big chashu pork slices with my chopsticks and tucked into the noodles. The chewy texture of the straight-style noodles was irresistible and the pork's flavoring was fully brought out in the chashu.
Next up, the seasoned egg. I cut it in half with my chopsticks and was pleased to find a yolk all gooey and soft. The dish's elements were all simple, yet so delicious that not once did I tire of this ramen experience.
Straight-style noodles.

A seasoned egg cut in half.
"Why is the soup so beautiful?" I asked unintentionally, and the owner smiled slightly and said, "I use water with all the impurities removed."
Yamagami introduced a water purifier in January 2017. In April of last year and in line with his master's teachings, he upped his game and introduced a better one.
Yamagami decided to open a ramen restaurant when he was 31. He said that he was tired of his life and until then was letting the days slip by. When he thought of something to devote his life to, ramen came to mind.
When he was 3 years old, he was impressed by his grandmother's miso ramen and when he went out to eat with his family, he frequently asked for ramen.
To surround himself daily with his favorite ramen, he set his sights on opening up his own ramen shop. He was fortunate enough to meet someone and eventually became an apprentice at "69Rock 'N' Roll One," a popular ramen restaurant in his hometown of Sagamihara City, Kanagawa Prefecture. At the age of 39, he took advantage of another chance and launched the shop in 2013.
The reason behind the name Toy Box is two-fold. This first is so that he never forgets the excitement of being a three-year-old taking a toy out of a box. The more nuanced second reason also comes from childhood experiences. Yamagami explains: "Children often play with their most favorite toys even though there might be a pile of them. A child's number one toy shines out to them for the reason that there are so many to choose from."
His ramen shop sticks to three basic types of ramen — shoyu, salt and miso and all three have each received a Bib Gourmand award.
The shoyu ramen I had was simply seasoned with chicken oil and soy sauce. The soy sauce used for the ramen is a compilation of nine types of fresh soy sauce selected from his chosen breweries. Yamagami blends them together and heats them up himself. For the salt ramen, sudachi citrus and his in-house cayenne and Japanese spicy sansho pepper are added until it gets to Yamagami's taste.
Chicken oil used in shoyu ramen

Side menu is sold out at 2:30 p.m.
He says the desire of serving ramen according only to his own standards has remained unchanged since starting the ramen restaurant and that there are no plans of opening more stores or becoming some sort of celebrity. He sticks to the principle that "The most important thing is the delicious taste and feeling of comfort I get from eating my own ramen."
Yamagami said: "People seem to do the same thing every day, but each day is different from the next. Just like how the weather changes day by day, for example the temperature, the water and the humidity, so too does my chicken selection process in making a day's worth of broth. My physical condition also shifts around on a daily basis."
He constantly considers about what can be done to make his ideal ramen.
To maintain a consistent palate he places importance on a stable rhythm of sleep and wake cycles. Furthermore, he actively pursues improving the ingredients in his ramen. From July he pushed himself to introduce Hinaijidori chicken, and ended up reducing the soup stock from five kinds of chicken to four. The sweetness emanating from the new meaty flavor reaffirmed him that his palate was continuing to evolve.
Despite the novel coronavirus pandemic, sales remained brisk. The shop's location in Higashi-nippori is not a business district and many office workers who ended up working remotely started coming in for lunch. But some quick changes were made. Starting in January, all staff wore masks. When the state of emergency was declared, Yamagami remained open but shortened his operating hours so that local residents would still be able to find something to eat. And starting from the Golden Week holidays in May, Yamagami began selling tsukemen for takeout lunches. After the state of emergency was lifted, Yamagami returned to regular hours but added measures to shorten customers' stays by placing disinfectants around and by having people purchase order tickets prior to getting in line.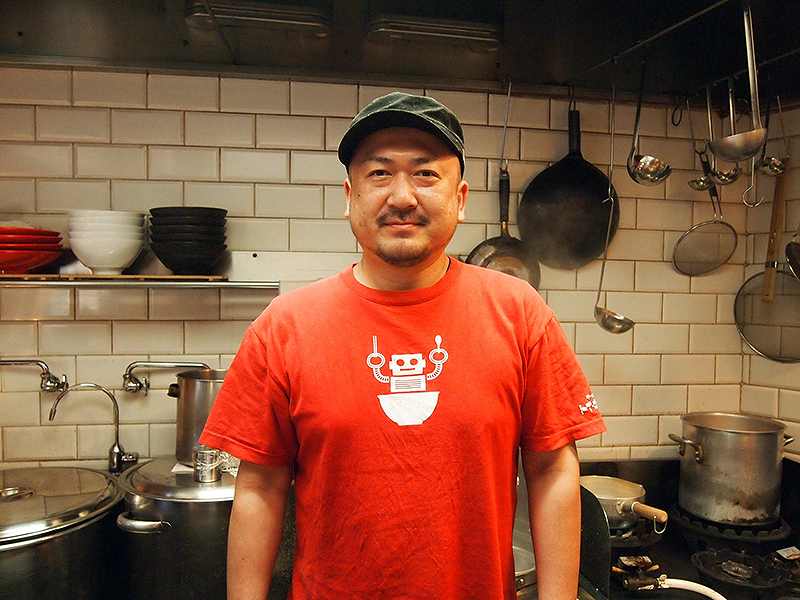 Yamagami had actually implemented measures to reduce waiting time even before the coronavirus disaster struck. Due to the location of the restaurant, the line of customers going around the corner often disrupts the neighbors and surrounding shops. To speed up the average customer's stay but without rushing them through a meal they had wait in line for, the ramen staff began preparing customers' dishes in advance.
Perhaps it is because of his ever-changing methods that he doesn't feel anxious about the adjustments brought on by the pandemic and why he plans to continue serving up ramen in line with the solid core of his stern yet responsive methodology.
---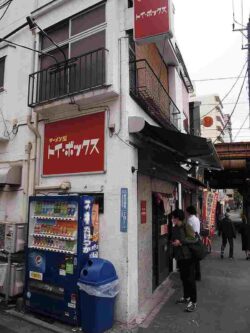 Ramen-ya Toy Box
1-1-3 Higashinippori, Arakawa Ward, Tokyo.
Lunch is served from 11 a.m. to 3 p.m. Dinner is served from 6 p.m. to 9 p.m. Dinner is not served on Sundays and public holidays. Closed on Mondays and the second Tuesday of each month. When Monday is a national holiday, only lunch is served and closed the next day.
There are side dishes such as "Korokoro chashu gohan (rice with roasted pork fillet)" (¥250) and "Jidori teriyaki gohan (rice with roasted local chicken)" (¥400), but they are often sold out by 1 p.m.
---
Miho Nakamura, Japan News Staff Writer
As a working mother of two young sons, I haven't been able to enjoy many of the spicy dishes I love because my taste buds have adapted to their level. For me, adding a seasoned egg is a must! I also tend to let any hot food or drink I have cool before I dig in because my tongue is a bit sensitive.
---