Hulu-lu: Savoring ramen with a unique Hawaiian flai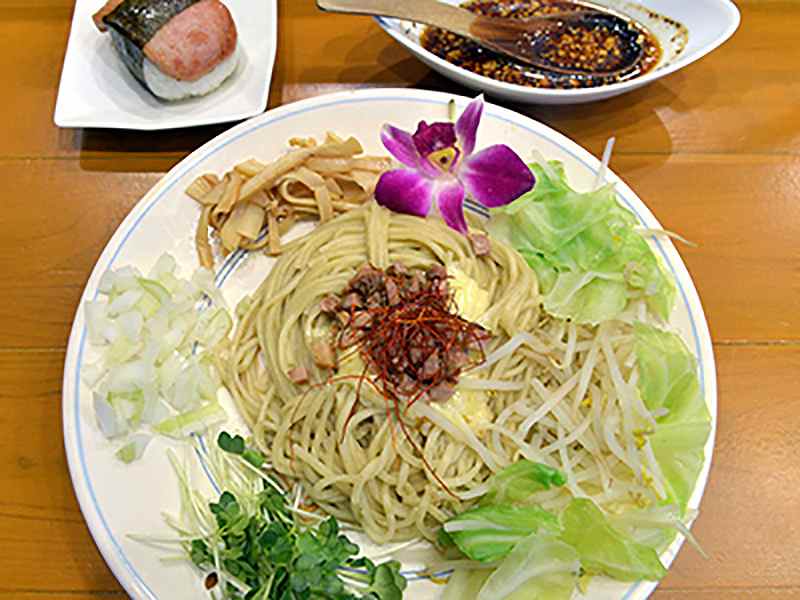 12:16 JST, November 5, 2020
Hulu-lu is a ramen shop that makes you feel as though you are dining in a Hawaiian cafe. For example, just outside of the restaurant's entrance, there's a bicycle that looks just perfect for riding through the Hawaiian breeze. The interior is full of all sorts of knick-knacks from the tropical island and even the floor takes design elements from its sandy beaches. Just saying the restaurant's name aloud gives you the feeling of the standard Aloha greeting. Owner Yuji Furukawa opened this shop eight years ago, pouring his passion for everything Hawaiian into it. He's also recently completed making a few renovations.
"There's no set rule as to what a ramen shop has to be," said a tanned 47-year-old Furukawa as Hawaiian music played in the background. "No matter the place, no matter the style, as long as you have noodles, broth and a cook to put the two together, it's a ramen shop. I wanted to work in an environment surrounded by the things I like."
Hulu-lu's front entrance

The interior of Hulu-lu that Furukawa poured his passion for Hawaii.
The shop itself is located northwest of Ikebukuro Station, which is in the heart of one of Tokyo's largest entertainment districts. Filled to the brim with izakaya Japanese-style pubs, bars and adult-entertainment establishments, the area is like a glittering swarm of fireflies, its dazzling neon lights tempting all who see them into joining the nightlife. There are many ramen shops where those who've spent their evening enjoying alcohol will make their final stop of the night. I myself am a middle-aged man who is vulnerable to the temptation of alcohol and whenever I think of Ikebukuro, I can only seem to recall having a bowl of ramen there in the middle of the night after having quite a few drinks.
As I walked through the area and made my way past quite a few apartment buildings, and I suddenly found myself face to face with this stylish Hawaiian ramen shop. At first sight, it seems that many visitors mistook it for something else, like a hair salon or a coffee shop. According to Furukawa, no one believed that it was a ramen shop.
 "I wanted to make my way onto the battlefield that is the world of ramen. My goal is to create ramen like no one has ever seen or tasted before." His words were filled with passion. He has visited over 500 ramen shops and trained for 10 years at the famous, though now closed, Tokyo ramen shop Chabuya. His master was a former French chef who wore a traditional chef's coat in the kitchen, which was unusual to see in ramen shops at the time. As a Lenny Kravitz song began playing throughout the shop, it was hard to believe that it was a ramen restaurant. His experiences at Chabuya were probably where the free spirit and relaxed atmosphere he incorporated into his own restaurant were honed.
Small items from Hawaii

Furukawa designed the vanity in the image of a Hawaiian resort hotel.

The bathroom is also Hawaiian taste.

Hawaiian dolls
 I ordered one of the signature dishes, the spicy mix ramen, which is a brothless ramen dish. Instead, it's served along with a special soy sauce-based dressing that also contains fishmeal, black pepper, garlic and chili bean sauce in a separate bowl. You're welcome to pour on as much of it as you like. Furukawa boiled thick homemade noodles and placed them in a bowl, topping them with melted cheese. He then added chopped chashu pork glazed in a sweet sauce and thinly-sliced togarashi peppers. To garnish the dish, an assortment of vegetables: pickled bamboo shoots, chopped onions, radish sprouts, boiled cabbage, bean sprouts, and a red-violet Cooktown orchid (Den phal) was placed on the outer edges of the plate, allowing me to mix and match them as I pleased. With that, a tropical mix ramen dish the likes of which I'd never seen before was complete.
 I dug in to the noodles right away. They had a nice firm texture and were delicious. The slight spice of the dressing paired well with the sweet sauce of the chashu pork, which was also very tasty. Meanwhile, the cheese brought out the dish's rich flavor and the vegetables blended nicely with both the dressing and the noodles, making it very easy to eat. On top of that, the dish is also very healthy and doesn't sit heavy on the stomach.
The dish is complete with red togarashi pepper

A spicy dressing for mix ramen

Homemade thick noodles are used for mix ramen.

Furukawa boils the noodles.

Chopped chashu pork glazed in a sweet sauce

Melted cheese was topped on the noodles.

The cheese is covered with chopped chashu pork

Spam onigiri
 Of course, the ramen dishes with broth are also available. On the regular menu there are the basics, soy sauce ramen and salt ramen, which are made with a chicken-based broth that's almost like bouillon soup. Although expensive chicken isn't used, the chicken that is used is prepared with great care. "I follow the basics to the letter," said Furukawa.
 The shop has four varieties of homemade noodles, which are all made using water imported from Hawaii. Even if local water was used, the flavor would probably go unchanged. However, Furukawa says that "[Using imported water] just gives it a better feel." Even the water served to customers is brought in from Hawaii.
The shop's thickest variety of noodles is used for its tsukemen (dipping ramen) dishes, while the second-thickest are reserved for mixed ramen. The thinner ones, which tend to be easier to bite and cut, are used for the soy sauce-based and salt ramen dishes and the final noodle variety is actually a flat noodle used in miso ramen that blends nicely with the broth.
 The chashu roast pork is made from pork shoulder that has been left to simmer for a long time, carefully adjusting the heat throughout. Onigiri rice balls made with spam are also a shop specialty. Shiso, or Japanese basil, and sesame kombu are sandwiched between the rice and spam which helps reduce its greasiness.
You can have Hawaiian beer.

A Ford miniature car chopstick rest

A Hawaiian-inspired counter

The shop uses Hawaiian water for customers as well as noodles.
 Furukawa's first trip to Hawaii was with his family back when he was in high school and he immediately fell in love with the place. After that, he found himself a part-time job and when he could afford it, he took trips there himself. He would stay for a few weeks every year and even got into surfing. Most of the knick-knacks on display in his shop were purchased during some of his trips. However, after opening his shop eight years ago, tarveling to his beloved island became difficult. He had actually been in the middle of planning his first trip there a long time when the novel coronavirus pandemic broke out.
During my first visit to his shop, I saw a customer in a wheelchair waiting just outside of the entrance. Furukawa politely escorted her to a table and casually struck up a conversation. From that, I feel as though I came to understand Furukawa's gentle nature and good character.
The shop's name Hulu-lu is actually Furukawa's nickname. Typically when written in Roman characters, it would be spelled as "Furu-ru," but he says he chose this particular spelling because Hawaiian words usually have H's and L's in them such as Honolulu and hula dance. On his many trips, he has visited the islands of Oahu and Hawaii Island. He currently dreams of seeing the landscape of Maui, his next destination, spread out before him.
Meal ticket machine. Soy sauce-based ramen and shio(salt) ramen are both ¥800. With spam onigiri, both ¥1,000.

Soy milk tantan ramen (ramen with a sauce of sesame paste and chili oil) only served in winter season is popular among women. ¥890
---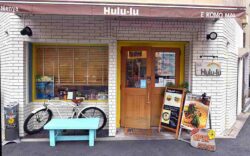 Hulu-lu
2-60-7 Ikebukuro, Toshima Ward, Tokyo.
Lunch is served from 11:30 a.m. to 3 p.m., while dinner is served from 6 p.m. to 9 p.m. On Sundays and holidays, the shop is open from 11:30 a.m. to 3:30 p.m. and offers no dinner service. Closed on Tuesdays.
---
Futoshi Mori, Deputy editor of The Japan News
Food is a passion. It's a serious battle for both the cook and the diner. There are many ramen restaurants in Japan that have a tremendous passion for ramen and I'd like to introduce to you some of these passionate establishments, making the best of my experience of enjoying cuisine from both Japan and around the world.
---