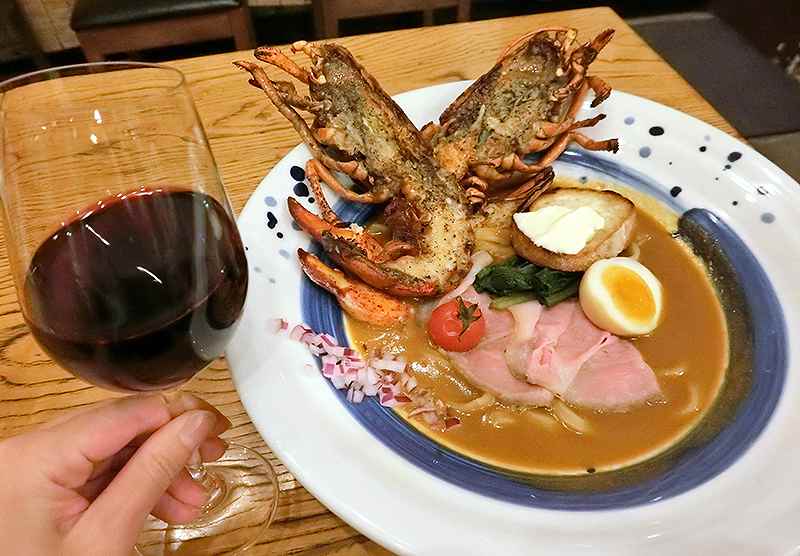 11:31 JST, November 2, 2020
Have you ever been taken to a ramen restaurant for a dinner date? It was our second date when my boyfriend took me to an old-fashioned ramen shop in Tokyo for dinner.
Growing up in a city close to Sano, Tochigi Prefecture, which is famous for the city's specialty, Sano ramen, I used to eat the noodle dish often in my childhood and I still like it to this day. However, when it came to that second date, having ramen was a big challenge for me.
The primary reason is that the noodles get soggy after being in the soup for too long, so it is hard to enjoy a conversation while eating. Moreover, ramen shops tend to be smaller than restaurants of other cuisines and popular ones often attract long queues, which makes me feel pressed to leave the shop as soon as I finish eating. I suppose that some women shy away from having ramen for these reasons in the early stages of dating.
Ebimaru Ramen near Jimbocho Station in Chiyoda Ward, Tokyo, however, completely changed my mind about ramen dates.
A sign for Ebimaru Ramen is seen on Hakusan Street. It's an about 5-minute walk from Jimbocho Station.

The exterior of Ebimaru Ramen
The ramen cooked by a French cuisine-turned-ramen chef is full of the rich flavor of lobster, which is a typical ingredient of a French soup called bisque. This place is spacious for a ramen shop, making you feel unrushed and comfortable. Furthermore, a bottle of wine, priced from ¥2,400, and other alcoholic drinks can be enjoyed while eating such Western style appetizers as Prosciutto and ajillo, along with its specialty? ramen.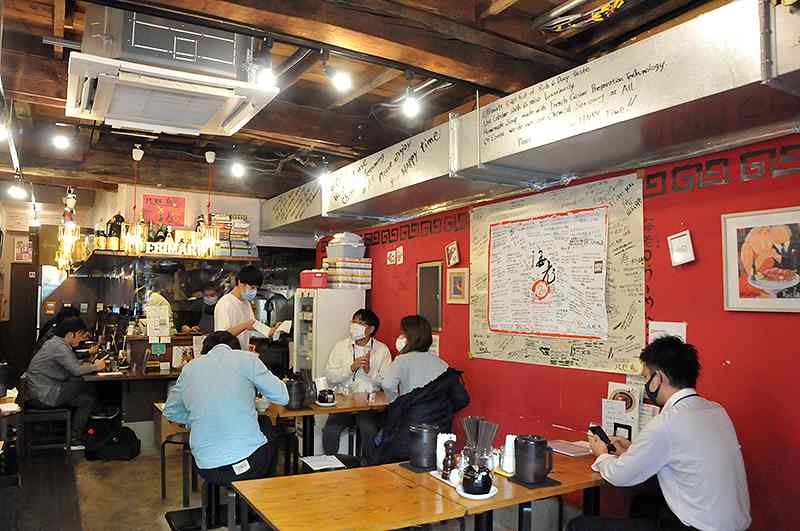 I first visited this ramen restaurant by myself several months ago solely because I wanted to try the lobster-flavored ramen soup, as I am a fan of crustacean soups. It turned out to be a nice surprise as I had unintentionally found a ramen shop where I would feel comfortable going with my boyfriend, who is a big fan of the noodle dish.
Unique, gorgeous and affordable
I cannot remember how many bowls of ramen I have had in my life, but this shop's signature dish, Ebimaru Basic Ramen (¥880), has one of the very few ramen soups that I always find myself drinking up.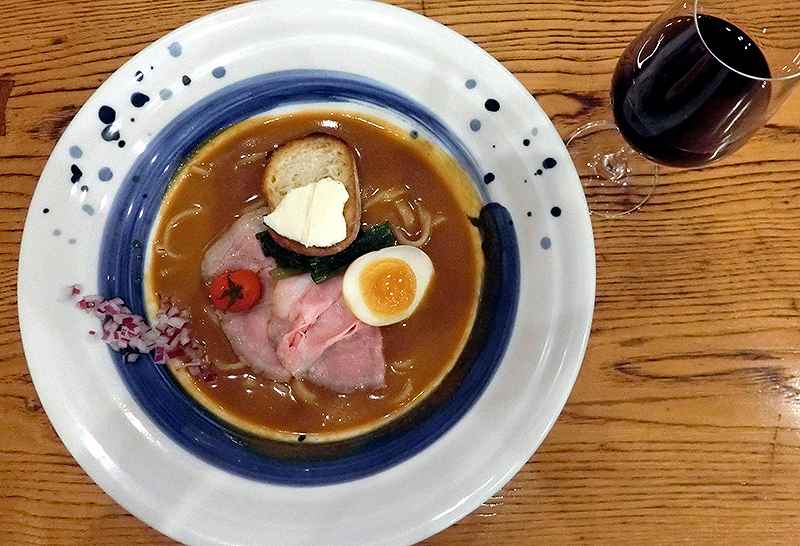 I have eaten prawn-flavored ramen, but the ramen at Ebimaru Ramen is not just about flavor, rather, it makes me feel as if I am eating a lobster dish.
The shop's chef, Masashi Nagasaka, 49, makes the soup using French cooking methods.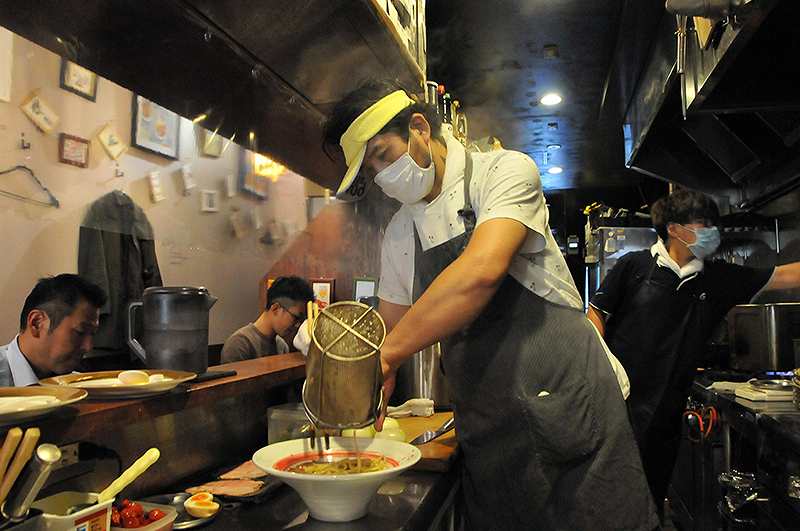 He makes the creamy and flavorful lobster soup, bisque, with such ingredients as roasted lobster shells, brandy, tomato paste and various vegetables. Then he adds it to the kaeshi sauce (base sauce), which he makes from about 20 ingredients, including kombu and Thai fish sauce.
The soup is so satisfying that it makes me feel as if I am eating a soup dish, rather than drinking ramen soup. Furthermore, the fact that I can savor the rich, aromatic lobster soup to my heart's content at less than ¥1,000 in Japan is surprising.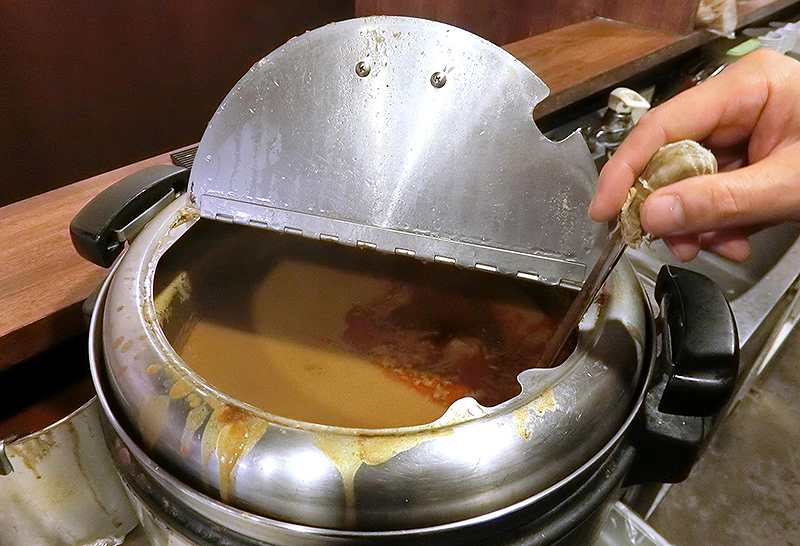 The distinctive soup and reasonable price are being realized largely thanks to Nagasaka's cooking skills. A craft he has honed since he was 17 through such experiences as working at renowned French cuisine restaurant Chez Inno in Kyobashi, Tokyo, and launching his own restaurants in Tokyo. All that is coupled with his efforts to keep the cost of lobsters low by making a contract to buy 5 tons of Canadian lobsters annually.
Besides the soup and the price, the ramen is full of noteworthy features. The thick noodles made from wheat produced in Japan mix well with the soup and gives a sense of fullness. Thinly sliced roasted pork fillet that has a very soft and delicate texture, a smoked egg as savory as the soup, and a slice of baguette topped with creamy sour cream are among the ramen's toppings. Each of these components make this ramen dish stand out from conventional ones.
Noodles for basic and seasonal ramen

Thinly sliced roasted pork fillets

Smoked egg as a savory in the soup

Thick noodles mix well with the creamy lobster soup.
For those who love lobsters, I recommend Whole Lobster Ramen (¥2,700), which is Ebimaru Basic Ramen topped with a big whole roasted lobster. The aroma of roasted lobster whets your appetite and the lobster meat makes you even more satiated.
Roasted lobster to be put on top of Whole Lobster Ramen

Masashi Nagasaka serves Whole Lobster Ramen.

Ramen flavor changer: a spicy oil

Another ramen flavor changer: curry powder
Immediately after Ebimaru Ramen was featured on a Hong Kong TV program about two years ago, Whole Lobster Ramen became so popular among travelers from the region that sometimes as many as 100 bowls of the luxury ramen sold daily until the number of travelers to Japan dropped sharply due to the coronavirus pandemic, according to Nagasaka.
Whole Lobster Ramen is undeniably not cheap for a bowl of ramen. But you can still enjoy it, for example, by sharing half of the lobster with your date or friend!
Some people eat ramen after drinking alcoholic beverages. However, you cannot miss trying one more dish after eating the noodles at this shop. It is a risotto (¥300), which you can make with the ramen soup left in your bowl. To make it, you will receive a small portion of cooked rice topped with some shrimp and an egg yolk served in a tiny hot bowl, then you simply pour some soup over it. After that, a shop staff will grate cheese on top and you mix it well with a spoon. The cheesy, creamy taste will surely make you want another glass of wine.
A staffer grates cheese for risotto.

Risotto is full of cheese topping.

After mixing rice, ramen soup, shrimp and an egg yolk with grated cheese, the risotto is ready to eat.
Competing with himself
One weekday evening in October, as the restaurant opened for dinner at 6 p.m., customers poured into the restaurant, immediately filling all the seats at the counter and tables. This was an unimaginable situation for Nagasaka compared to the first six months after he opened the shop in September 2017. In fact, up until immediately before the pandemic, sales at the shop had grown four times larger than that of the first couple of months after the shop's opening.
Hailing from Hida Takayama, Gifu Prefecture, Nagasaka grew up in a family that runs a restaurant. Such an environment allowed him to see such luxurious ingredients as live eels and soft-shelled turtles in his daily life. Hoping to work with his father, a Japanese cuisine chef, in the future, Nagasaka began working as a chef at the age of 17.
After working at a canteen at a hospital that serves meals for 500 people a day, he worked for a renowned French cuisine restaurant in Tokyo and later moved to the United States to continue working as a chef. He then returned to Japan and opened a couple of restaurants before he opened Ebimaru Ramen.
Although he used to cook and serve dinners priced at about ¥80,000 per person at one of his restaurants in Tokyo, he decided to open a ramen restaurant, hoping to allow people to enjoy French cuisine much more casually.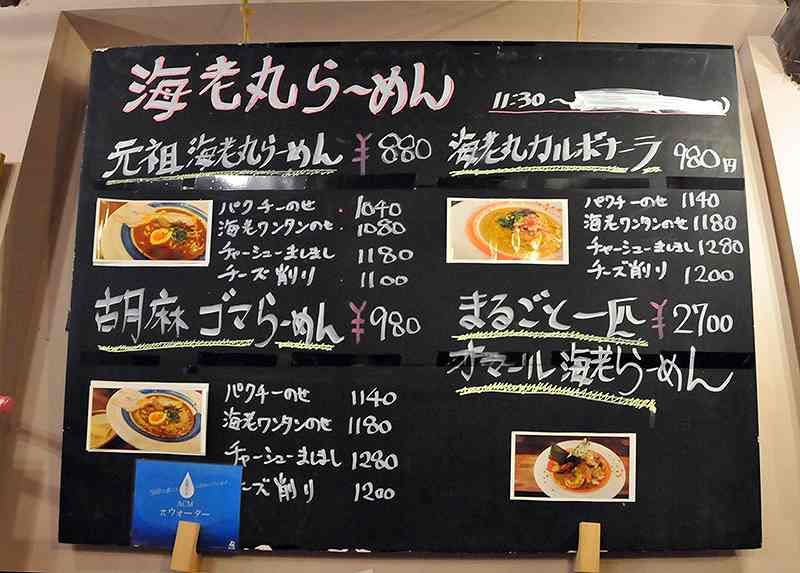 "I wanted to make my ramen one of a kind. But, I had no training at ramen shops. It was when I was thinking about not competing with other ramen shops while making my ramen special that I thought about creating a ramen featuring a typical French style soup using lobsters," Nagasaka said.
Despite his hope, it took about six months from the launch of the restaurant until he was satisfied with his ramen.
Unpleasant comments and feedbacks that customers wrote online left him feeling discouraged. Some wrote such comments as "This is not a ramen," and "This shop must be operated by a big restaurant operator."
It was actually after he opened the shop that he realized that there are a lot of ramen shops in the Jimbocho area.
"Opening my ramen shop here gave me a wonderful opportunity to improve my ramen," Nagasaka recalled.
About three months after he opened his shop, he began visiting 30 to 40 popular ramen shops in Tokyo to learn about the dish. While doing so, he has made more than 100 kinds of ramen noodles. For the roasted pork fillet topping alone, he has made 30 to 40 kinds to find the most satisfying one.
About six months after he opened the restaurant, he began sending messages through social media to people who had harshly commented on his ramen, saying that he wanted them to return to the restaurant to try his improved ramen. Subsequently, some of them began to return and favorable feedbacks gradually started to spread online, attracting more customers. Nagasaka said he is still improving noodles and soup little by little.
"You can enjoy the taste of French cuisine in the form of ramen. For a ramen shop, we have many female customers. About 40% of our customers are women," Nagasaka said.
For male ramen lovers, I think your date will likely love this place!
Comments written by customers to celebrate the first and second anniversary of Ebimaru Ramen

One of many artworks featuring a lobster at Ebimaru Ramen. You can have a nice ramen date at Ebimaru Ramen like this couple in the art!

A menu for limited-edition ramen
---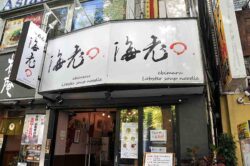 Ebimaru Ramen
2-1-13 Nishikanda, Chiyoda Ward, Tokyo.
Open from 11:30 a.m. to 3 p.m. and 6 p.m. to 10 p.m. on weekday; 11:30 a.m. to 8 p.m. on Saturday, Sunday and public holidays. Closed on Monday, but if it is a public holiday, it will be open and closed the following day.
There is seasonal ramen offered in limited availability every day. Nagasaka initially began offering this kind of ramen for those who are allergic to lobster, making it the only ramen on the menu that does not use lobster soup. However, the special ramen now attracts many ramen fans who love to eat limited-edition ramen, some of whom queue at the restaurant's door as early as 7 a.m. Special ramen menus offered recently included those featuring oysters and mussels from Mont-Saint-Michel Bay.
---
Yuka Kumakura, Japan News Staff Writer
Hailing from Oyama, Tochigi Prefecture, I would often eat Sano ramen, a specialty from the neighboring city of Sano, in my childhood. I liked this ramen, known for being made using a bamboo rolling pin, so much that I began eating full adult portions of Sano ramen from the time I was about 6, which surprised adults around me for the volume I ate. I hope to share my favorite Sano ramen and other kinds of ramen shops in this section!
---
Add TheJapanNews to your Google News feed.