Kanda Ramen Waizu / Rich, sharp tastes merge in tonkotsu shoyu ramen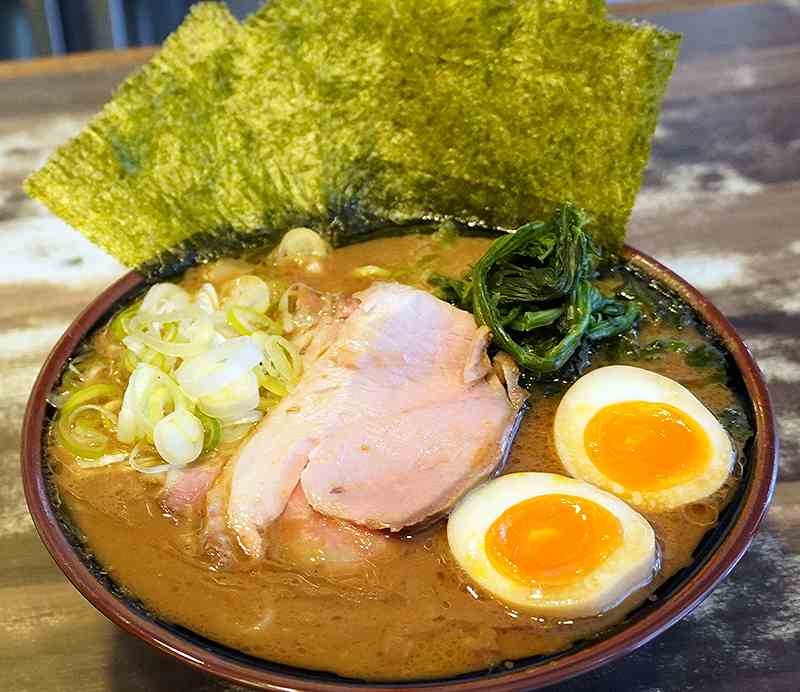 0:09 JST, October 29, 2020
Ramen shop Kanda Ramen Waizu is packed with office workers at lunchtime as it celebrates 20 years since its opening. Located near the west exit of Kanda Station in Tokyo, their signature dish is tonkotsu shoyu ramen — a pork bone-based broth mixed with soy sauce.
Kanda Station in Chiyoda Ward, Tokyo

The entrance to shopping streets near the west exit of Kanda Station.
This type of the ramen, called "ie-kei" (Ie family), originated at Yoshimuraya, a ramen shop which opened in Yokohama in 1974. The kanji character "ie" means "house," and it was used in the shop names of Yoshimuraya and subsequent shops, and that is why the tonkotsu shoyu ramen is called ie-kei ramen. This richly flavored ramen has become quite popular throughout Japan. The ramen shop offers a selection based around ie-kei ramen, though with its own unique twist on the broth, soy sauce and toppings.
I lived near Yokohama when I was a university student, and tonkotsu shoyu ramen was one of my favorite foods. I was used to eating ramen at night, but now, 20 years later, I'm a little worried about whether my stomach can handle the thick broth. I ordered the recommended Nori Tama Ramen at ¥1,040 — a ramen with a half-boiled egg and five pieces of nori seaweed — with both anticipation and a little bit of trepidation.
The ramen broth had a dark brown color, and as soon as I took my first sip, the robust aroma of pork bone enveloped my mouth. The second sip brought the sharp taste of soy sauce and a meaty flavor. The noodles were thick, curly and mixed well with the dense broth; the chashu roasted pork was soft and savory.
The incessant sound of hungry office workers slurping their noodles made me eat the noodles faster than usual.
A chef brings out chashu roasted pork

Chashu roasted pork is cut
A better broth
A chef puts pork backbones into a large pot.

Pork backbones
Lots of pork bones, chicken bones and kombu are used to make the broth, said shop owner Yasutaka Watanabe, 49.
The ramen shop uses several hundred kilograms of pork bones per day. In particular, the pork backbone with lean meat helps deepen the broth's flavor. To prevent the bones from smelling foul, chefs replace the bones while stewing the broth.
"The ingredients are really expensive," Watanabe said with a wry smile.
Broth is simmered in a pot.

A sieve is used to remove bones when the broth is poured into a bowl.
Special soy sauce
Soy sauce is put into a bowl.

Soy sauce
The special soy sauce used in the broth is also unique. Watanabe adds various ingredients to the soy sauce and then allows the sauce to mature at a certain temperature, which enhances the flavor.
"The color also changes," he said. He developed the recipe for the soy sauce, and only he knows how to make it. "We are careful to balance both the richness of the broth and the sharpness of the soy sauce."
In my case, this type of thick ramen left me feeling full until the next day. However, Waizu uses less fat in their ramen than other shops.
"It would taste better if we added more fat to the ramen, but we don't want to ruin anybody's health," Watanabe said.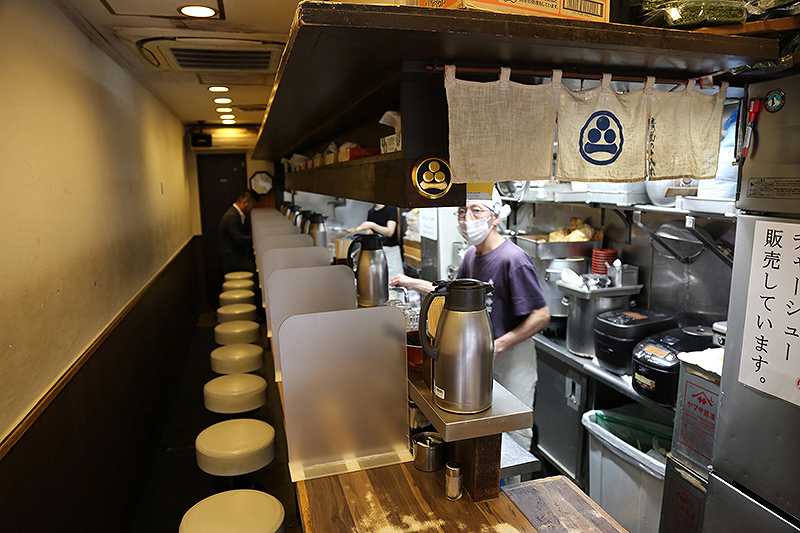 Quitting the next day
Owner Yasutaka Watanabe

The inside of the kitchen
Watanabe seems too youthful to be turning 50 this year.
When he worked in the finance industry, he was so surprised by the taste of ie-kei ramen that he submitted his resignation to his boss the day after eating it. I think he looks young because he is brisk and active as he works.
He started training at an ie-kei ramen shop in Tokyo, but only for a few months. He opened Waizu when he turned 30.
The shop initially was busy, but over time fewer and fewer customers came. There were days when only a few people stopped by for lunch, usually when a ramen shop rakes in money.
"I thought I had learned how to make ramen, but the ramen I made just wasn't that good," Watanabe said.
Suffering from few customers, Watanabe closed his newly opened shop for a month and trained at another ramen shop. There, he learned that a massive amount of ingredients are needed to make the broth.
"If you don't use enough ingredients, the broth won't taste good," he said. "The quantity of the ingredients doesn't lie."
He invested all of his money into buying ingredients and used them to make the broth, which improved the taste and brought in more customers.
Although he leaves the management of the shop up to his staff now, he prepares the broth, himself. Before the shop closes, he goes there at night to check the taste of the day's ramen and then spends all night preparing broth and cleaning the shop until morning.
"I've been doing this for about 10 years, but before that I used to work in the shop during the day, too."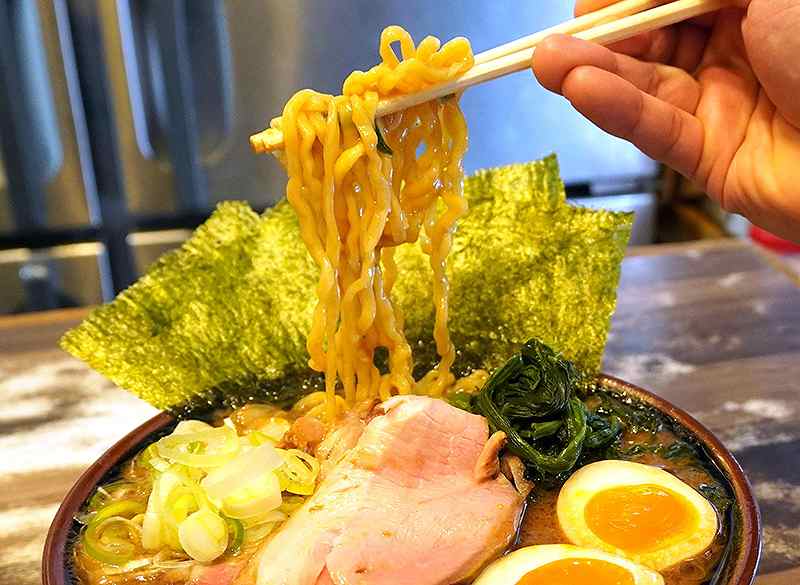 Going abroad
Watanabe said his goal is to make his ramen available worldwide. There are already four restaurants in South Korea that serve Waizu's mazesoba brothless ramen mixed with toppings. There are also plans to open ramen shops serving his tonkotsu shoyu ramen and tsukemen dipping ramen in other countries in Asia, in cooperation with other companies.
"I haven't taught people how to make ramen before, but I think it's time for me to do that," he said.
This came after studying spices in Thailand and Vietnam to develop tsukemen at his branch in Akihabara, Tokyo. He went to restaurants offering Thai or Vietnamese foods in the countries and whenever he found something he liked, he would ask the chefs how they cooked the food or which spices they used.
"I tried getting into kitchens and asking chefs, 'How do you make this?'," said Watanabe.
In some cases, the chefs refused to let him into their kitchens, but other chefs were kind enough to show him how to cook their food and to let him take a video. Watanabe was impressed with their kindness and attitudes of sharing their knowledge to other chefs who were willing to learn.
"If our chef quits, we can't keep our cooking method a secret. Secrets would be meaningless," he said. "I would like to share my knowledge of Waizu's ramen with anyone who sincerely wants to learn how to make it."
The exterior of Kanda Ramen Waizu

A ticket machine
---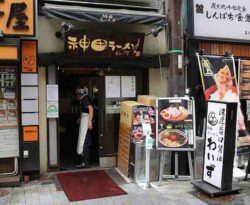 Kanda Ramen Waizu
Located at 3-9-6 Uchikanda in Chiyoda Ward, Tokyo.
Open from 10:30 a.m. to 1:00 a.m. Closed on Sundays. The standard tonkotsu shoyu ramen is ¥800, and the ramen with egg and nori seaweed is ¥1,040. The ramen with a lot of chashu roasted pork is ¥1,150. The shop also serves Taiwanese mazesoba at ¥900.
---
Chikako Minami, Japan News Staff Writer
Enjoys making ramen using a meal kit at home at least once a week and baking various types of bread.
---
Add TheJapanNews to your Google News feed.