Tsukumo Ramen 99: Mounds of fluffy grated gouda goes great with mouthwatering miso ramen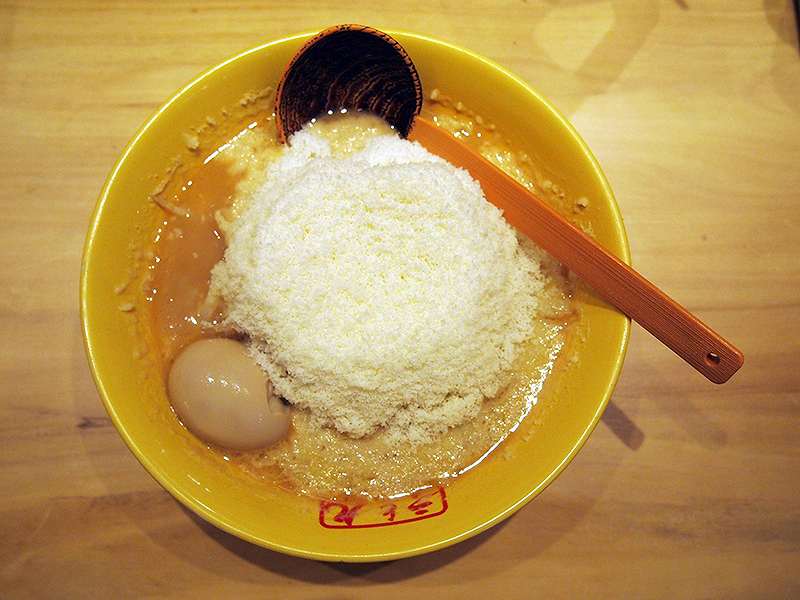 0:09 JST, October 26, 2020
The next ramen shop I'd like to tell you about is Tsukumo Ramen 99 in Hiroo, Tokyo. It's a shop that I visited for the first time with a friend back when I was a college student. I recently found myself wondering if the flavor of their famous miso cheese ramen had changed after all these years.
Emerging from Ebisu Station I realized that although the nearby streets have remained the same, the shops that line them have changed quite a bit. I walked straight down Komazawa Street and because there is no crosswalk at the Meiji Street intersection, I crossed the street using the pedestrian bridge. After another three-minute walk, the familiar red sign of the main branch of Tsukumo Ramen 99 Ebisu where I had been 15 years ago came into view.
The view of the intersection of Komazawa and Meiji streets from a pedestrian bridge

The exterior of Tsukumo Ramen 99
I was surprised at just how trendy and chic the restaurant had become. There was a touch-panel ticket machine outside of the entrance, alongside a thermal scanner and an automatic disinfectant dispenser. The doors were left open and partitions had been set up between each seat. It was clear to me that the restaurant had been doing its best to manage amid the novel coronavirus crisis.
A table set up outside of the restaurant

A customer buys a ticket at the vending machine

The shop's high-tech vending machine

The shop's ramen menu
As I looked at the menu displayed on the ticket machine, I saw that customers had the option of placing their orders in one of four languages — Japanese, English, Chinese and Korean. It was so high-tech! Some of the items on the menu included some of their well-known dishes, like the original Marukyu cheese ramen and the Marukyu tomato cheese ramen, as well as new items like the Marukyu white cheese ramen. I had a hard time deciding which one to choose, but I decided to go with the original cheese ramen that I had had before.
During the lunch hours, customers are offered one free topping with their ramen, so I chose a seasoned egg. But that wasn't the end of my order! The images on the screens changed one after another, allowing me to customize my ramen by deciding things like the thickness of the noodles, the richness of the broth and the amount of fat I'd like in the broth.
Ultimately, I went with the shop's recommendation of noodles with the thicker noodles and chose "normal" for all of the other options.
Even though it was two in the afternoon, there was no shortage of customers, which is what one would expect from such a restaurant.
Tokachi golden gouda cheese replicas on display at the counter table

Patrons of the restaurant enjoy their meals.
As I entered the shop, I saw that there was some cheese replicas on display, which I believe was a new addition. I was told it's called Tokachi Golden gouda cheese and is the cheese the shop uses for its ramen dishes.
I also noticed that the interior was very clean. It seems that the shop had only reopened its doors recently on Oct. 5.
I was seated in front of a large cheese grater that looked like a very special device.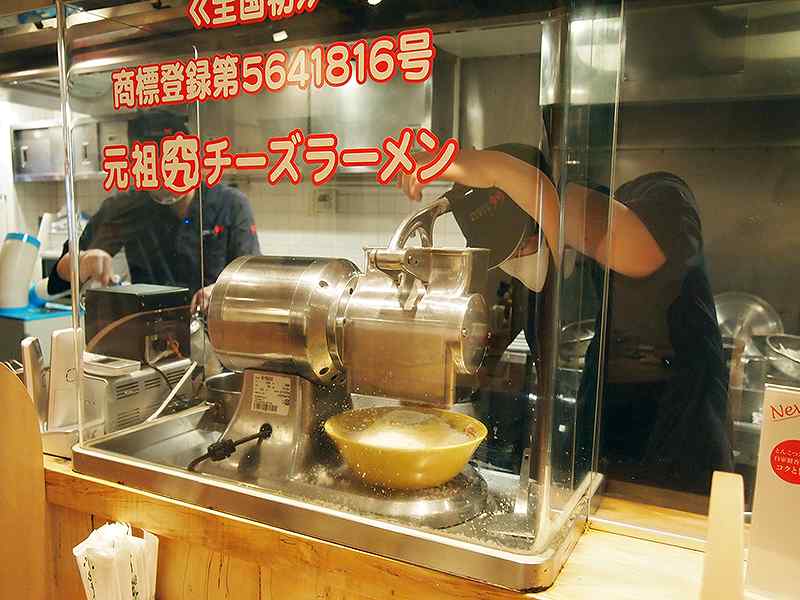 The owner, Soshi Saito, skillfully sprinkled the grated cheese over miso ramen as though it were shaved ice. Within five seconds, the popular ramen dish is ready to be served with a mountain of fluffy grated cheese.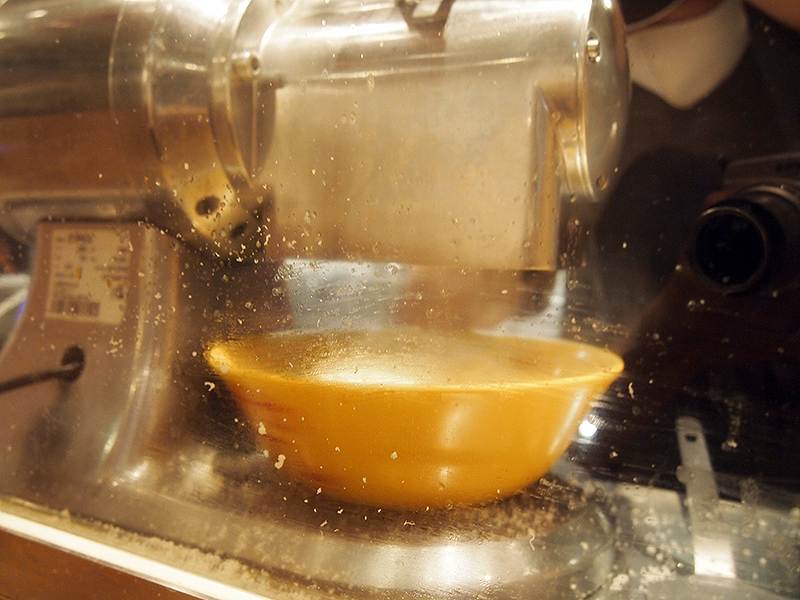 The shop's original miso cheese ramen seems to be one of its most ordered dishes.
The ramen I ordered, topped with a fluffy and thick pile of cheese was brought to my seat. As I picked up my chopsticks, the manager, Daiki Masuda, advised me to, "Melt the cheese in the broth little by little as [you] eat it."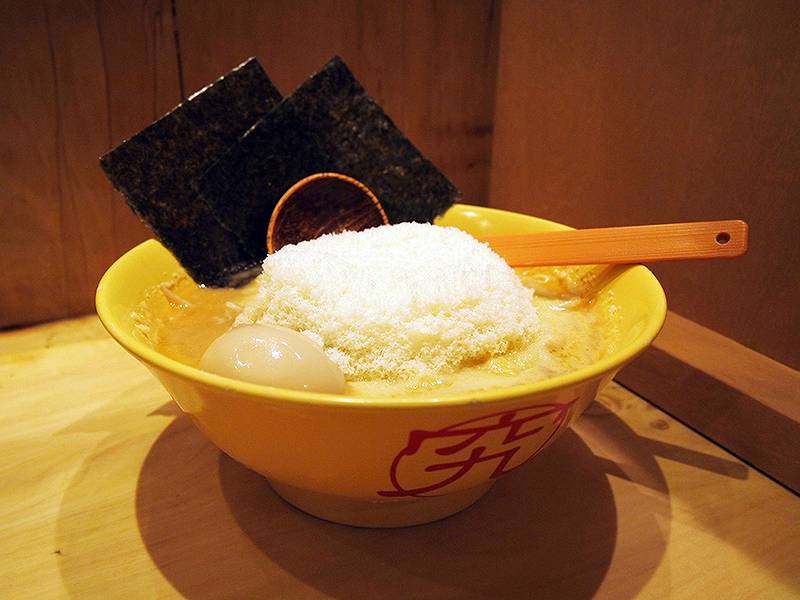 I figured that I should start by tasting the broth, but because there was so much cheese, it was pretty difficult to only scoop up the broth. Working from the edge of the bowl and taking care not to accidentally pick up any cheese, I was able to get some broth to sample. The flavor was just as rich as I thought it'd be. I was ready to dive in, so I poked my chopsticks through the cheese to get to the noodles. When I did, the cheese crumbled like snow, and through it I could see bean sprouts and corn.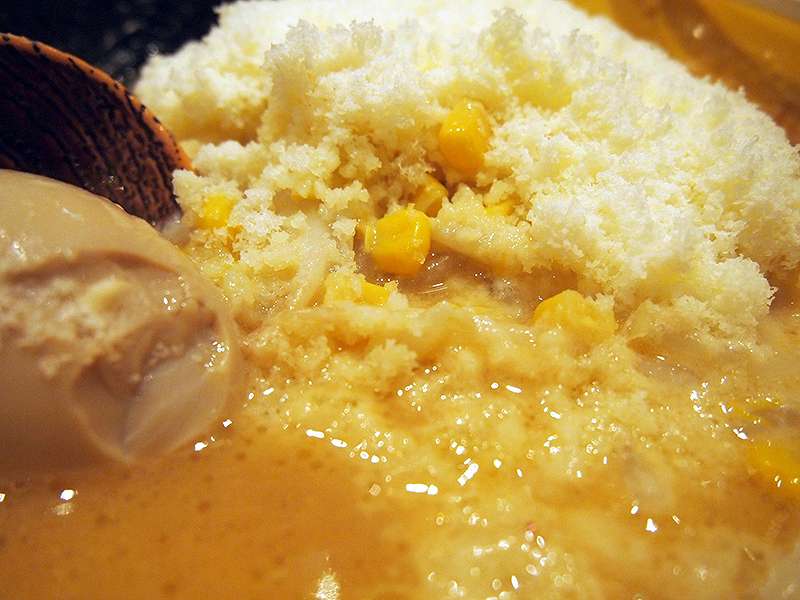 Corn is a standard miso ramen ingredient, but I never would have imagined I would see it hidden by flakes of cheese. I dug right in. This dish is perfect for those who enjoy cheese as well as a rich flavor. I like melted cheese, but the fluffy texture of this cheese was a new experience for me.
When I visited the shop for the first time, I was surprised to see miso ramen and cheese together in one dish. But after a friend of mine who loves ramen invited me to try some, I fell in love with it. Back in those days, much like other girls, I was concerned about my figure, so I didn't eat it very often. But when I did, I made sure to go all out and order something high in calories.
I sprinkled plenty of my favorite toppings — sesame and grated fresh garlic — on as well. The other free toppings available on the table were pepper, sliced green onions and spicy bean sprouts.
The free toppings available on each table, from left, grated fresh garlic, pepper, black sesame and salt, spicy sauce and sesame.

Spicy bean sprouts, right, and sliced green onion
During my meal, I was offered some very spicy takana, a topping I've mentioned before. I only added a little since I'm not as fond of spicy foods as I used to be. Spicy takana packed quite a punch at once but it didn't slow me down. I really enjoyed the sweetness of the corn and even though I said I'm not fond of spicy things, I found myself liking the spicy takana and added a bit more here and there.
Spicy takana

Ramen with spicy takana flakes
Because the ramen is piping hot right after it's served, the cheese melts right away, but after it cools down a bit, the cheese does as well. This allows customers to enjoy the different textures of the cheese. Towards the end, any remaining cheese will have melted into the broth, bringing its richness to its peak. Whenever I eat miso ramen, I secretly like to search for every kernel of corn hidden in the broth and eat each one. Once I'd done that only the broth remained. I was so full that I didn't even feel hungry that evening and didn't have dinner.
Thoughts contained in 99
The Tsukumo in the restaurant's name is written using the kanji for the number 99. I wondered if there was any sort of meaning behind it, I spoke with Masuda once the rush was over.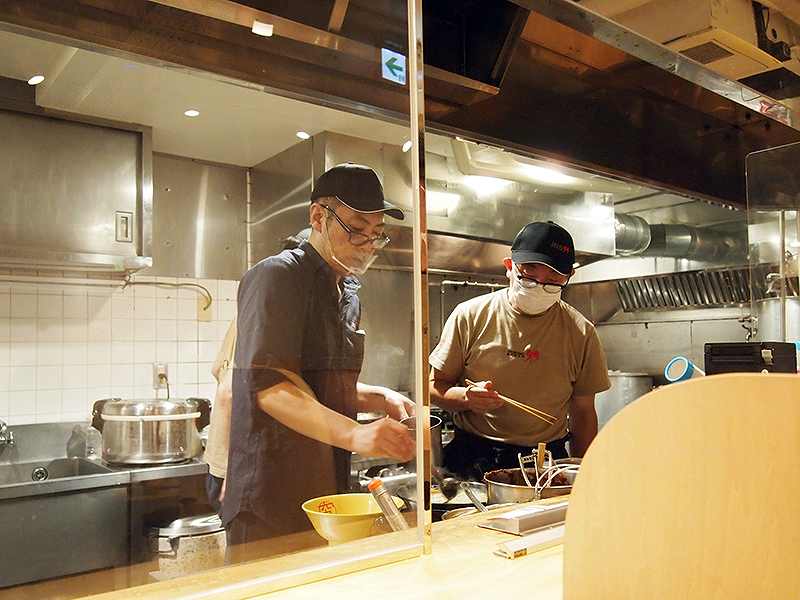 According to him, the number expresses the 99% satisfaction level offered by the restaurant. The addition of the remaining 1% is up to each customer. Customers have many ways to customize their orders allowing them to create their own unique 100% satisfaction level. Rather than pushing their recommendations, the staff values each customer's preferences, so many questions are asked when orders are placed and a number of free toppings and sauces like soy sauce and ra-yu for gyoza are made readily available. He also mentioned that the extra spicy takana, currently not one of the available free toppings, is seasoned in such a way that both customers who like spicy foods and those that don't care for them can be satisfied.
Starting out with just tonkotsu ramen on the menu, Tsukumo Ramen 99 is set to mark its 25th anniversary next year. While not a genuine Kyushu tonkotsu ramen, it was made with newcomers to the dish in mind by reducing the typically strong odor. Less than a year after the shop's establishment, the popular miso cheese ramen made its debut. A close friend of the founder from Hokkaido recommended the use of Tokachi Golden Gouda cheese made in Hokkaido Prefecture. This particular cheese is less salty and has a milder flavor than those from Europe, making it a perfect match for tonkotsu miso ramen. Soon after making the scene, the dish became a hit.
The side dish menu

The partitions that separates customers
The secret to the cheese's fluffiness is that it's stored at -20 C. Grating the frozen cheese gives it a fine, fluffy snowy texture similar to shaved ice. "I'd like others to enjoy [the cheese's] fluffy texture." Masuda said.
This special texture of cheese is used in three of the shop's dishes — the original Marukyu cheese ramen, the Marukyu tomato cheese ramen and the newly developed Marukyu white cheese ramen, which debut on the shop's reopening on Oct. 5. The dish was inspired by a traditional Georgian dish called, Shukmerli.
The tomato cheese ramen dish got its start nine years ago. The dishes all include "Marukyu" because this means "the ultimate dish," Masuda told me.
As a result of the coronavirus disaster, the number of available counter seats was halved and there is no tabled seating. While each guest is separated by a partition, it can be removed to allow for parties of two. The coronavirus crisis has also shortened it business hours, the shop now closing at 3 a.m. instead of 5 a.m.
Tsukumo Ramen 99's lunch rush has a customer turnover speed that's the same as many other ramen restaurants. However, at night, customers also often enjoy items typically sold at izakaya Japanese-style pubs, such as beer and snacks.
"We'd like to continue to make new ramen dishes that pair well with fluffy cheese." Masuda said.
---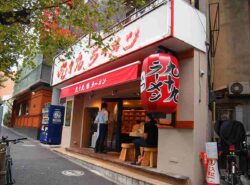 Tsukumo Ramen 99
1-1-36 Hiroo, Shibuya Ward, Tokyo.
Open from 11 a.m. to 3 a.m. the next day. Open all year round.
outside of their famous cheese ramen, the shop also offers dishes such as vegetable ramen, tonkotsu ramen and soy sauce ramen. Various side dishes are also available. The baked cheese rice ball made with crispy golden gouda cheese can be enjoyed as is or made into a risotto with miso cheese ramen broth.
---
Miho Nakamura, Japan News Staff Writer
As a working mother of two young sons, I haven't been able to enjoy many of the spicy dishes I love because my taste buds have adapted to their level. For me, adding a seasoned egg is a must! I also tend to let any hot food or drink I have cool before I dig in because my tongue is a bit sensitive.
---