Munch-ken: Lots to quack about with this one-of-a-kind duck ramen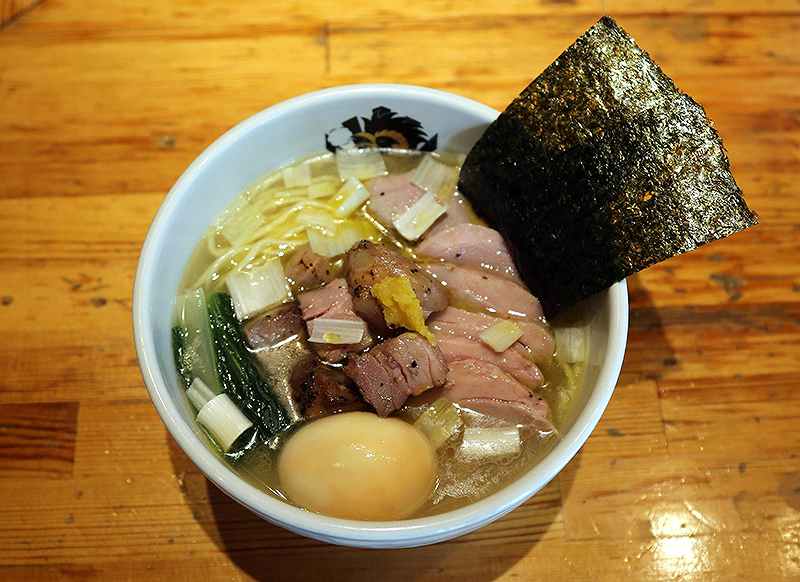 0:09 JST, October 22, 2020
The area around Kinshicho Station is lined with shopping buildings and restaurants, making it one of the busiest on the east side of Tokyo. There are no shortage of ramen shops, and the area has been referred to as a "ramen war zone." Among the most famous shops in this battleground are "Munch-ken" and its sister ramen shop, "Mengyo," located in the nightlife district near the south exit. Munch-ken specializes in duck ramen, while Mengyo offers sea bream ramen.
This time I opted for Munch-ken. There are adult entertainment shops and cabaret clubs in the district, making it a little intimidating to walk around alone at night. But on a weekday afternoon, the streets were quiet, and I found a white cat lazily lounging in an empty parking lot.
Kinshicho Station in Tokyo

A cat is seen near Munch-ken.

The Munch-ken building once housed its sister shop Mengyo, thus the painting of a fish on the wall.
The name of the shop uses kanji characters for "to fill" and "chicken" (more on that later) to produce the English word "Munch," as owner Tomonori Hashimoto, 44, hopes customers gorge themselves on his dishes. "Ken" is a Japanese character commonly used at the end of a restaurant name.
The most popular item on the menu is the deluxe duck ramen in a salt-based soup, priced at ¥1,150. I've had duck soba, a traditional Japanese noodle soup made with duck, but duck ramen is a rarity. In fact, I had never heard of it.
I started with the soup, which is very simple, basically just duck, water and salt. But the clear broth has a tasty richness to it, with the duck flavor subdued. According to Hashimoto, he carefully dresses the duck to remove as much of its pungency as possible. Hashimoto has a background in Japanese traditional cuisine, and he puts the skills he developed back then to good use. Some ramen shops typically use tonkotsu (pork bone) and other ingredients in their soup without pre-preparations, leading to mixed flavors. "As a chef, I want [my ramen] to say, 'This is the taste of duck.'" To give customers a sense of duck's pungency, he adds a dash of oil made from sauteed foie gras prior to serving.
Oil made from sauteed foie gras

Oil made from sauteed foie gras is added to the ramen

Hashimoto cooks a serving of noodles
To bring out the richness, Hashimoto uses the whole duck for his soup, removing only enough meat for be used as a topping in the dish. It is possible to use only the bones, but he says having some meat makes the soup more delicious.
The soup was delectable, but I could also clearly taste the wheat noodles, making it even better. The noodles are custom-made by a noodle maker from a mixture of three types of domestic wheat flour. The straight, thin noodles go down smoothly, and when mixed with the soup, I felt I could keep eating them forever.
On top of the noodles was placed chopped yuzu citrus, and I wondered when I should mix it into the soup. I did it about halfway through, and the fragrant yuzu gave the soup a much smoother taste. What a difference it made. If you want to taste it both ways, with and without the yuzu, it's best not to mix it in right away.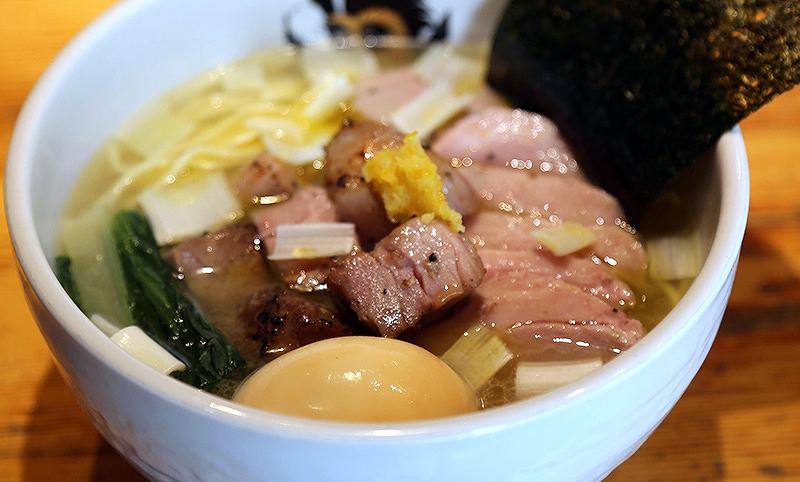 One of a kind
Toppings include two kinds of duck meat, slices of either loin or thigh. The meat is prepared with vacuum cooking at low temperature.
It has recently become common for chashu pork, used as a ramen topping, to be cooked using this process, and I love it, but this was the first time to experience it with duck meat. Filled with expectations, when I took my first bite, I was surprised to find that the flavor of the duck was so concentrated, even with a feel of a wild taste. The soup and noodles had very elegant tastes, but the duck meat made a particularly strong impression. The gap between them was so natural and enjoyable. Hashimoto said the duck has drawn compliments from other chefs, and I can see why.
Diced thigh meat used for the topping is smoked-cured, then seared with a kitchen torch prior to serving to release oils that make the soup more delicious. "If you don't put a lot of effort into it, anyone can do it. I want to be the only ramen shop of its kind," Hashimoto said. The sliced leeks were fresh and dried seaweed abundantly fragrant. Every item is of the highest quality.
Duck thigh meat is seared by a kitchen torch

Duck thigh meat

Duck loin
Resilient to recessions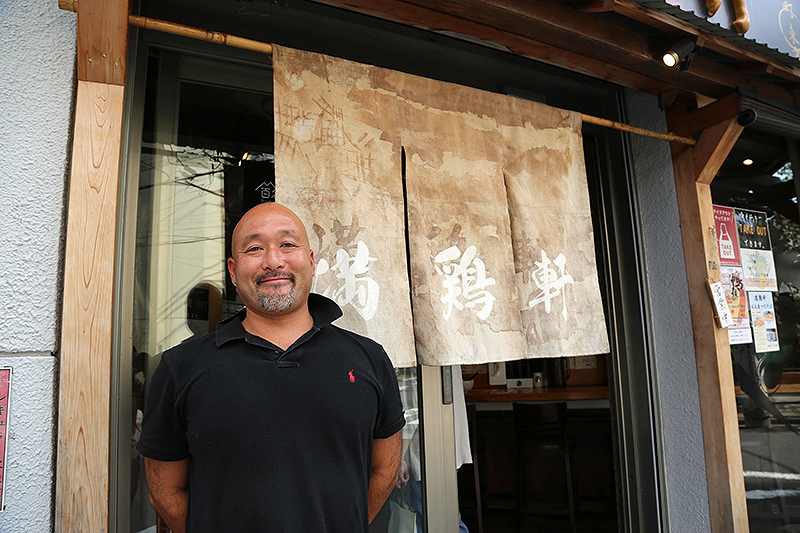 After graduating from university in Okinawa, Hashimoto attended a culinary school and, following a stint as a wholesaler at Tsukiji market, went to work as a chef at a Japanese restaurant in a hotel. Hashimoto and his brother were preparing to open their own Japanese restaurant when the 2008 recession hit Japan, following the collapse of U.S. investment bank Lehman Brothers. The hotel restaurant where he was working had a ¥20,000 set course, but Hashimoto thought he wouldn't be able to make it with such expensive dishes. At the time, an acquaintance asked Hashimoto if he could help at his ramen shop, and he took up the offer. Working there for a half-year opened Hashimoto's eyes to the appeal of ramen.
More importantly, he realized that unlike high-priced restaurants, ramen shops "are resilient to a recession," Hashimoto said, and, together with his brother, they opened a shop in Chiba Prefecture.
That shop flourished, and, not limiting himself to ramen, expanded out to izakaya pubs and wine bars until he had group of 11 restaurants. But relations with his brother soured, and Hashimoto went independent. In 2016, he opened Mengyo in Kinshicho, with Munch-ken following two years later.
Munch-ken's interior

A ranma carved wooden panel above the counter
Master of fowl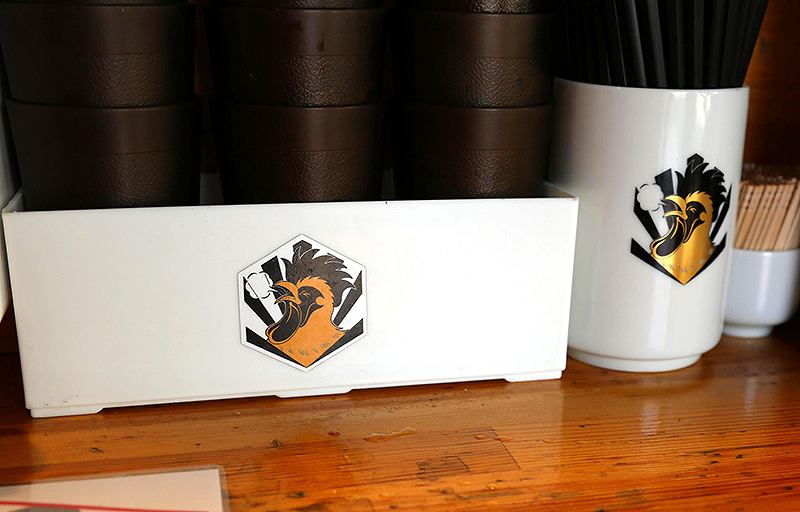 At Munch-ken, the receptacles for chopsticks and the bowls are embossed with the image of a chicken, not a duck, just as the kanji character for chicken is used in the restaurant name. "I plan someday to make ramen using not only duck, but also pheasant or some special brand of chicken," Hashimoto said. "I want to become the master of the fowl genre."
He is also considering how to hedge his risk. "When a disease like bird flu spreads, that could be devastating for a restaurant that serves only a single type of fowl," he added.
There was talk of opening Mengyo and Munch-ken branches in Vietnam and Indonesia, but it was abandoned due to the novel coronavirus pandemic. However, as the saying goes, "ramen can weather hard times," and he is discussing opening more ramen shops in Japan. "Now is the time to make a move. If we stand still, our business will wane. It is critical what we do from now," Hashimoto said.
I left the shop with my heart filled with Hashimoto's passion, and my belly full of his delicious duck ramen.
---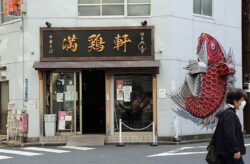 Munch-ken
Located at 2-5-3 Kotobashi, Sumida Ward, Tokyo. Open all day from 11:00 a.m. to 9:00 p.m., including holidays.
The duck ramen comes with two choices of soup, salt or soy sauce. The basic duck ramen is ¥870 and the basic duck noodles with egg is ¥990. The duck ramen with extra duck meat is ¥1,140. The combination set of duck ramen and rice porridge is ¥1,090. The deluxe duck ramen with extra duck meat, egg and dried seaweed is ¥1,150. Duck dipping ramen is also available.
---
Chikako Minami, Japan News Staff Writer
Enjoys making ramen using a meal kit at home at least once a week and baking various types of bread.
---