Chilitoma Ramen THANK: Healthy chili tomato ramen that athletes can enjoy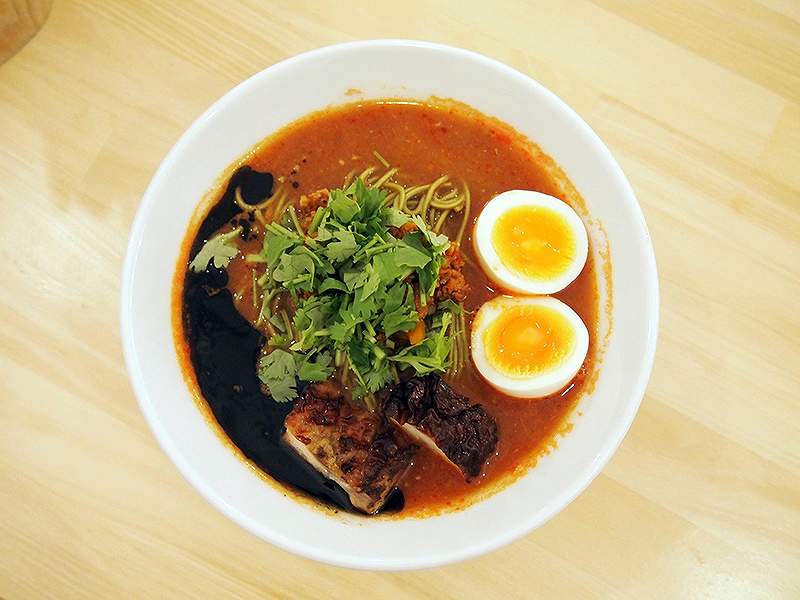 22:44 JST, October 15, 2020
I was on my way to Chilitoma Ramen THANK, a shop in Shiba-Daimon in Minato Ward specializing in low-calorie, nutrient-rich spicy tomato ramen that athletes can eat in preparation for the Tokyo Olympics and Paralympics. But I came across a sign that read "Observatory" as I was passing through the World Trade Center Building connected to JR Hamamatsucho Station.
I had a bit of free time so I paid the ¥620, got in the elevator and went up. From the observation deck on the 40th floor, I could see an up-close view of the Tokyo Tower. Amazing! As I walked around the floor, I could see Tokyo Bay stretched out before me, along with the Rainbow Bridge and the Ferris wheel out in Tokyo's Odaiba district. As I kept walking, the green Hamarikyu Gardens popped out between the high-rise buildings with the entirety of Kyu Shibarikyu Gardens observable below. As I made a full circle back to where I started, I could see Shinkansen passing beneath me. All of this put some pep in my step.
Tokyo Tower is seen from the observatory.

Kyu Shibarikyu Gardens is seen in the bottom, and Tokyo Bay, the Rainbow Bridge and the Ferris wheel are seen in the distance.

A monorail enters Hamamatsucho Station.

Hamarikyu Gardens is seen between the high-rise buildings.
Hunger was calling and it was already 2 p.m. Back on the ground, I started walking toward Tokyo Tower and turned into a row of restaurants replete with lunch-seeking salarymen. As I was looking for the restaurant, I was drawn by the wafting and delicious aroma of ramen and rice bowls coming out from all of the restaurants in the area. When I finally found Chilitoma Ramen THANK, I eagerly stepped inside.
The exterior of Chilitoma ramen THANK

The interior of Chilitoma ramen THANK
Chilitoma Ramen THANK, which only serves chili tomato ramen, is a cute shop and there were still some customers inside, even though it was after the lunch rush. I put my money into the meal ticket machine at the shop's entrance to make a purchase.
Customers can buy a meal ticket from the vending machine at the entrance.

A sign explaining what Moringa is.
With so many options to choose from, I had a tough time deciding what to eat but I ended up going with the basic chili tomato ramen, with, of course, the egg topping — I wouldn't forget that. I handed my meal ticket to the staff and was asked three questions.
Chinese noodles or Moringa noodles? Coriander? And of the four levels of spiciness, from zero to three, which would you like?
I love coriander, so in it went. Though the recommended level of spiciness is three, I decided on spicy level two because as a mother of two young sons, my taste buds have adapted to their level and I realized that I can't tolerate spicy foods as much as before. In addition, I ordered the superfood I had heard about: Moringa noodles.
Moringa contains more than 90 kinds of nutrients such as vitamins, iron and protein, and is also called a "Miracle Tree." It is said to grow in Okinawa Prefecture.
The kitchen could not be seen from the dining area, so to get a look, I found the shop manager, Toshiyuki Nagaoka, efficiently operating a not so spacious kitchen.
Toshiyuki Nagaoka, a shop manager, pours chili tomato soup into a bowl.

Nagaoka shows the Moringa noodles before it is boiled.
With my ramen order ready, I returned to my table and took a seat.
Red soup, green noodles, brown chicken taco meat, green cilantro, black garlic oil and tandoori chicken. So many colors! I spooned up some soup right away. The sourness and umami of the tomato spread throughout my mouth. I mixed some noodles with the soup and slurped up a mouthful. It smelled a little like Japanese matcha green tea powder. Was this the characteristic of Moringa? Another bite. I mixed in a little bit of the taco meat, giving it a hint of Latin flavor. Another bite. Mixed in the coriander and it felt like I was in Thailand. Another mouthful. The tandoori chicken topping added a splash of India. The mixture changed from one bite to the next and not once did I tire of it. The egg I was looking forward to was not a seasoned egg but a salted egg. The delicious salty egg relaxed me with its familiar taste.
Free toppings are set on the table with fried Japanese leek, left, and sansho powder, right.
Don't forget to check for free toppings. When I looked over the side of the table, there was fried Japanese leek and sansho pepper powder with turmeric as a "secret" ingredient. I topped mine with fried Japanese leek. Unlike the fried garlic often found in most ramen shops, this shop's wasn't so crunchy, but it did have a strange crispy on the outside, chewy on the inside kind of texture. But it made the dish more filling and seeing as I was hungry, I added a lot. When I sprinkled in some sansho powder, it became even more refreshing.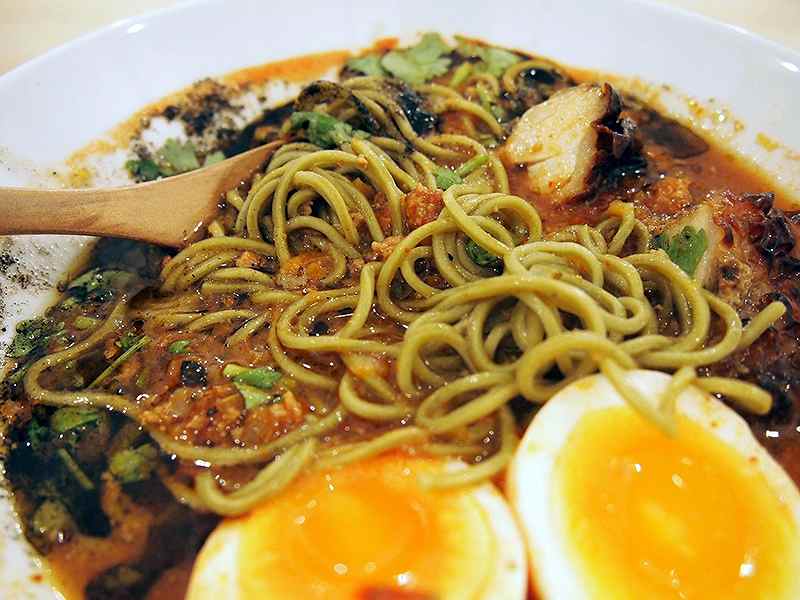 After the remaining taco meat was mixed into the soup, it thickened up. I was thinking, "You know what, I really don't want to waste this soup," when another customer, who seemed like a regular at the restaurant, said to the staff, "Mame please" and handed him a coin. Mame? There was no "Mame" (beans) listed on the ticket machine or for toppings! When I asked the staff about it, he told me it was a smaller than usual "small" rice. The price was reasonable at ¥50, so I forked over a ¥50 coin and said, "Mame, please" just as the other patron had done. To be honest, I was more interested in the ¥200 rice with cheese, but I just ordered plain rice. It arrived right away. I added it to the mix and presto! A delicious "risotto" was ready. All of the toppings were completely mixed, and the unique blend of umami, sourness, pungency and savoriness rolled around in my mouth.
"Mame"rice

The "risotto" is made after the mame rice is added.
Nothing makes me happier than a large-portion, low-calorie dish with no chemical seasonings, which is what this was.
Moringa noodles are good, but they also have lower-calorie konnyaku noodles, so I don't think I'll feel guilty if I eat them while I'm on a diet.
Adjusting recipes for dietary restrictions
Chilitoma Ramen THANK opened in January this year right before the novel coronavirus pandemic. The founder, Yuji Tanabe, had already served similar chili tomato ramen for a limited time at the Toripota ramen THANK that was running before the Chilitoma Ramen THANK. The chili tomato ramen had a good reputation among regular customers. In anticipation that many people from overseas would gather in Tokyo for the Olympics, he decided to open a ramen restaurant that could be frequented by athletes. Low-calorie ingredients such as chicken and tomato are mainly used, and lentils, onions, carrots, celery and garlic are used to enrich the soup.
Tanabe became interested in ramen when he was in high school. He was shocked by tonkotsu ramen, and since then he had eaten ramen when traveling domestically. However, he had never dreamed of becoming a ramen restaurant owner, so he studied international business in the United States while at university. During his stay, he suddenly missed ramen, so he ate it at a Japanese restaurant in Manhattan. However, he was disappointed that he couldn't enjoy the ramen that was available in Japan, so he started to cook it for himself. He then started treating his college friends to his creations, but as he couldn't feed pork ramen to his Muslim friends, he developed a chicken bone variety.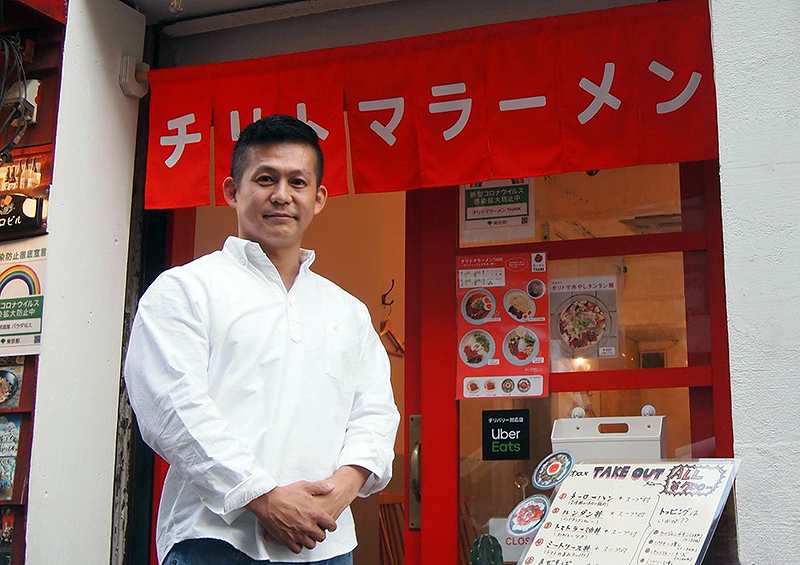 As a result, he had many unforgettable experiences. So when job hunting season was approaching, he settled on becoming a ramen shop operator.
Although his father strongly objected, Tanabe stood firm with his decision. Around that time, he had heard that a famous ramen shop in Japan was set to open a ramen shop in New York. So he returned to Japan and found work at that ramen shop. After eight months of training, he was sent to the New York shop as a supervisor.
As he had originally wanted to run his own ramen shop, he eventually returned to Japan and opened Toripota Ramen THANK in 2012. With his goal achieved, Tanabe won his father's respect and he is now the shop's number one repeat customer.
In 2012, there were not many ramen shops where women felt they could go alone, so Tanabe designed his shop with a stylish and welcoming atmosphere. When the Chilitoma Ramen THANK opened, he kept the design idea going.
The coronavirus pandemic has led to a surge in the number of employees teleworking and has caused a drop in the number of customers who go out for lunch.
"In order to make this ramen shop a place where customers want to come and eat, I want to strengthen my ramen dish," he said.
He said that starting in mid-October, he will offer pickled onions with a hint of curry powder as a free topping. If you have the pickled onions as a topping at the end of the meal, you can get a refreshing aftertaste. In addition, he is in ongoing discussions with the noodle factory to make further improvements to the noodles.
"I want to open a ramen shop in New York someday," Tanabe said. "I'm trying to look at this coronavirus disaster as an opportunity for me to improve the flavor of my ramen day by day."
Perhaps it was because I could feel Tanabe's spirit, and not only because I was full of delicious ramen, that my steps were lighter than usual on my way home that day.
---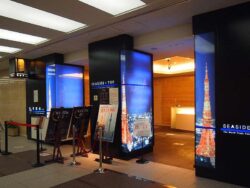 Chilitoma Ramen THANK
2-8-14 Shibadaimon Minato Ward Tokyo. Lunch is served from 11:30 a.m. to 3:00 p.m. every day. Dinner is served from 6:00 p.m. to 10:00 p.m. on weekdays.
They serve chilitoma ramen, chilitoma tsukemen, and two kinds of mazesoba noodle (ramen dish without soup). Each ramen dish costs ¥850 (tax included). They serve cold chilitoma tantanmen noodle during summer.
---
Miho Nakamura, Japan News Staff Writer
As a working mother of two young sons, I haven't been able to enjoy many of the spicy dishes I love because my taste buds have adapted to their level. For me, adding a seasoned egg is a must! I also tend to let any hot food or drink I have cool before I dig in because my tongue is a bit sensitive.
---