Himawari: Savor delicate flavors made with a mother's care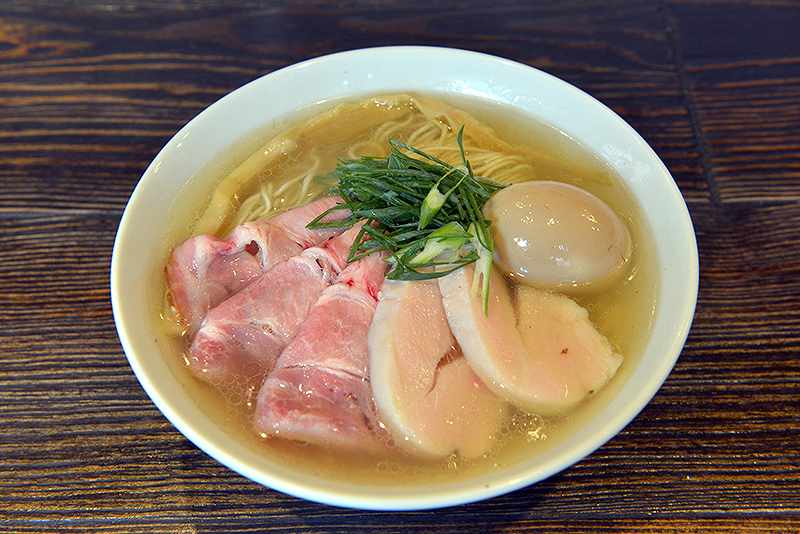 15:31 JST, October 8, 2020
In Mitaka, a city in the west of Tokyo, there's a ramen shop that was founded by the mother of two young children. Giving it the name Himawari, which is the Japanese word for sunflower, she uses only domestic ingredients with no additives or artificial seasoning, wanting to make ramen that even children can enjoy. Knowing the circumstances of the owner made her ramen, with its mild yet rich flavor, all the more delicious. The feeling she put into finding the best and most natural ingredients comes shining through in the flavor. While I have visited this shop many times in the past, this time I decided that I wanted to learn more about it.
Ohashi stands just outside the entrance of Himawari, which has been in operation for over four years.

Five customers can seat at an L-shaped counter. Artificial flowers of sunflowers are displayed on the counter.
"Good afternoon! I'm just getting ready for the dinner rush," the cheerful voice of owner Junko Ohashi called out as I entered just after lunch hours. The shop isn't large by any means, having an L-shaped counter that normally seats seven, but currently only seats five in response to the coronavirus crisis and a table for four in the back. In the kitchen right just behind the counter, Ohashi was hard at work peeling shells from boiled eggs while making broth for her ramen. Her movements were quick and efficient, just as you'd expect from a parent of young children.
Chuka (Chinese-style) ramen and Niboshi (dried fish) ramen are the fundamental dishes on her menu. The chuka ramen's broth is made from pork and Nagoya Cochin, a top-class and well-known brand of chicken, which is later combined with either homemade soy sauce or salt sauce. The niboshi ramen, on the other hand, is made from dried bonito flakes made from five varieties of small fish, including horse mackerel and sea bream.
On the chalkboard is a thank you note that says, "We will cook with all our hearts."

You buy a meal ticket from the vending machine at the entrance.

At the counter, it reads, "Because the owner has children, in the event that the children are unable to attend nursery school due for reasons including illness, the shop may need to close temporarily."
As I took my seat at the counter, I saw a posted sign that read, "Because the owner has children, in the event that the children are unable to attend nursery school due for reasons including illness, the shop may need to close temporarily." In fact, there actually was such an incident in which the shop had to temporarily close.
Even so, this shop isn't run as though it were just a hobby. With just one taste of her ramen, you'll understand just how authentically delicious it is. I ordered a bowl of the special shio (salt) ramen, which is popular among women and foreigners. The ramen that was placed before me was beautiful and looked delicious. Three slices of pork shoulder that looked like roast beef and two slices of homemade roast chicken, both of which were cooked until medium-rare, swimming in a clear, savory broth. It was then topped with a boiled egg, famous brand Kujo leeks, and seasoned bamboo shoots.
I took my first sip of the broth and found its taste and aroma to be mild and in an instant, both my body and spirit felt warmer. The thin, straight noodles were very smooth and were a perfect match for the broth. The chashu roast chicken and pork were also tender and very tasty. This is certainly a bowl of ramen that will make you feel happy.
Ohashi is getting ready for the dinner rush.

Ohashi preparing chashu roast pork

Pour the shio(salt) sauce into a bowl

Noodles are being boiled

Pour the shio(salt) sauce into a bowl

Noodles are being boiled
Mild yet sophisticated flavor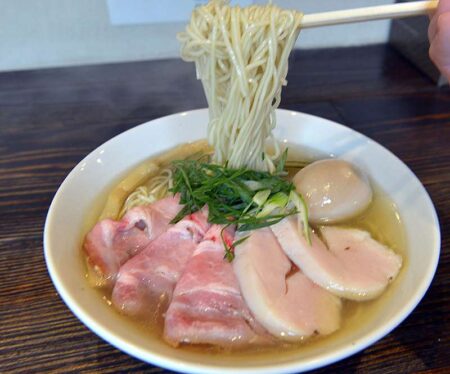 Ohashi has a pretty hectic day-to-day. Each day starts with her seeing her seven-year-old son off for school then loading her five-year-old son on her bicycle to take him to his daycare nursery. From there, she comes straight to the shop and starts prepping for the lunch rush. The shop has become so popular among the locals that there is always a line of people waiting outside. This means that she has no time to rest during business hours, and as soon as the lunch shift finishes at 2:30 p.m., she begins preparing for the dinner shift. "I finish work and go to pick up my kids at around 6:00 p.m. Employees take over for the dinner shift."
Ramen shops typically have a strong masculine image. Finding a restaurant run by a mother raising small children is rare. What's more, Ohashi had never worked or trained in a ramen shop before, studying the craft independently, which is also quite surprising. However, the person who is the most surprised is Ohashi herself. "I had no idea that [the shop] would be this popular," she said.
Ohashi originally worked in the apparel industry. She met and married her husband, the manager of an izakaya Japanese-style tavern in the city of Mitaka. Because working every weekend was mandatory for her job, she felt that she couldn't continue while raising her children, so she eventually quit. However, she had a strong desire to work and a dream of opening a restaurant. "My husband and I both loved ramen and often went out to eat, so I knew how delicious ramen should taste. So I began to think about opening a shop of my own and would experiment with making different kinds of broth every day using a large pot at my husband's izakaya." Her goal was to create a broth with a mild yet sophisticated flavor. She continues to experiment to this day, with her ramen's flavor evolving as she tries different ingredients.
A signboard of a message and ramen menu outside the shop.

A line of customers wait to enjoy Himawari's ramen.
Continuing to try new things
Mitaka is also home to the famous Ghibli Museum, located in Inokashira Park, one of the few Tokyo parks that's full of greenery. The walk there from Kichijoji Station is quite pleasant. Himawari is a less than 10-minute walk from the park and many foreign customers would pay a visit after seeing the Ghibli Museum. However, the number of foreign visitors has decreased dramatically because of Japan's restricted entry in response to the novel coronavirus pandemic. Ohashi hopes that once the pandemic is over, foreign customers will once again come to her ramen shop. She wants them to feel the same sort of kindness and excitement that they would experience at the Ghibli Museum.
The nearby Ghibli Museum, which has reopened its doors following a coronavirus-prompted temporary closure.

At Inokashira Park, you can reach the Ghibli Museum through a path like this
In addition to the regular menu items, Himawari also has a limited-time-only menu, which most recently featured a ramen dish made with dried plums. Her next creation will feature dried nodoguro (a type of seabass) fish in the broth. Her oyster ramen was very popular with customers for its creamy soup, and she hopes to make it available again this winter. "I'd like to try making new kinds of ramen that I've never made before, like vegetable ramen and ethnic ramen."
Limited special ramen in September with ume(dried plums)

3-year anniversary ramen using three famous locally raised chikens.
---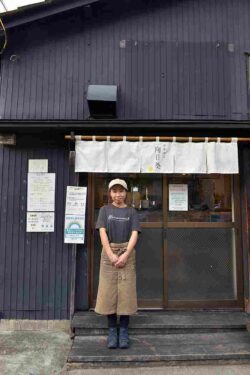 Himawari
1-4-19 Shimorenjaku Mitaka Tokyo. Lunch is served from 11:00 a.m. to 2:30 p.m. Dinner is served from 6:00 p.m. to 9:00 p.m. Open every day.
The shoyu (soy sauce), shio (salt), niboshi (dried fish) ramen are all priced at \800 (tax included). All special ramen dishes are \1,050 (tax included).
---
Futoshi Mori, Deputy editor of The Japan News
Food is a passion. It's a serious battle for both the cook and the diner. There are many ramen restaurants in Japan that have a tremendous passion for ramen and I'd like to introduce to you some of these passionate establishments, making the best of my experience of enjoying cuisine from both Japan and around the world.
---