Kazami / Ramen with 'unbe-lee-vable' flavor thanks to sake lees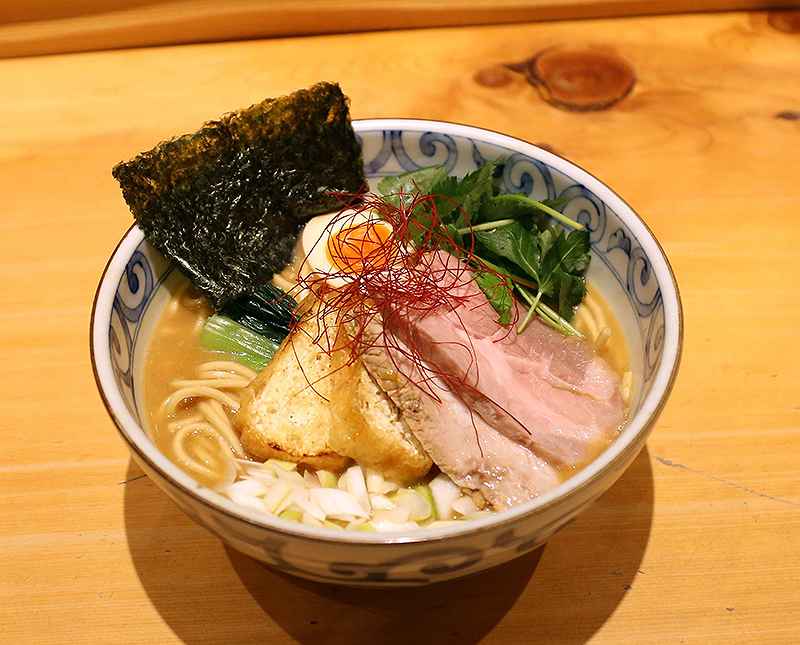 12:44 JST, October 5, 2020
Lined with luxury boutiques, classy dining and ritzy entertainment, Tokyo's Ginza district — with its self-assured elegance — has attracted tons of foreign tourists over the years. After hearing about a ramen restaurant that serves a distinct type of noodle that's made from sake lees, or sake-kasu, I felt compelled to go for a visit. Ginza Kazami, located in a narrow alleyway, is one of those hidden gems that if you blink you'll miss.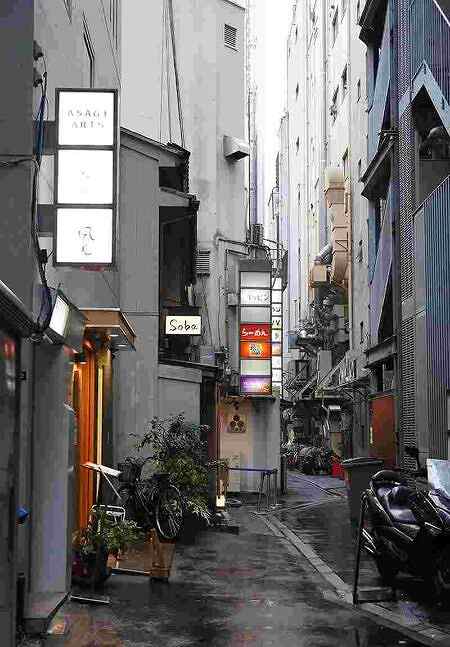 A large navy cloth is draped over one side of its entrance, creating a kind of dignified atmosphere — with a sleek wooden door on the left and narrow vertical windows that add a bit of elegance to the concrete wall on the right.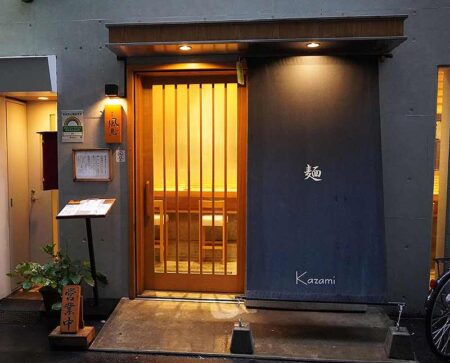 To match its exterior's elegance, Kazami also boasts a sleek wood-focused interior, including a long wooden countertop that's reminiscent of a high-class sushi restaurant. After sitting at one of its six available seats, reduced from eight because of the pandemic, I ordered the sake lee ramen, or the sake kasu noko soba, which goes for ¥1,100.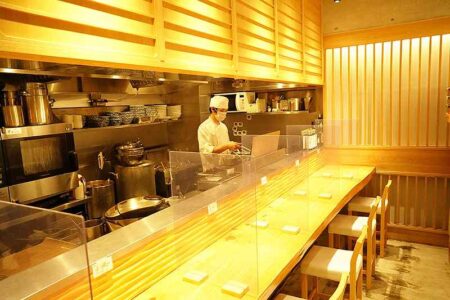 After taking my order, my waiter handed me a paper apron to keep my clothes from getting dirty, and would promptly refill my glass of ice-cold water each time I'd finished it. It was then I understood, with such quality service, it was no wonder so many female customers visited the restaurant.
Acquired taste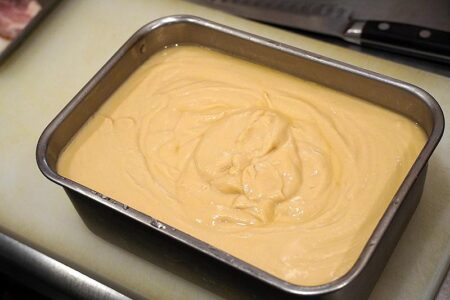 As my meal was being prepared, the sweet aroma of sake lees filled the restaurant. Sake lees are the by-product of rice-based sake production. They are an ingredient in a type of soup called kasujiru and in dishes such as kasuzuke, in which fish and meat are marinated in sake lees then grilled. The nutrients found in sake lees are said to be good for a person's looks and have recently been used in cakes and other sweets targeting women. However, this was my first time coming across ramen made with sake lees.
With a flavor similar to sake, sake lees are liked by some and disliked by others. My mother, for instance, used to make kasujiru soup when I was a child, but I didn't like its sweet taste and sake aroma. However, after became an adult and started to enjoy the taste of alcohol, I've found myself liking the flavor-rich ingredient. Since it was such an acquired taste for me, I wonder how those from foreign countries feel about it.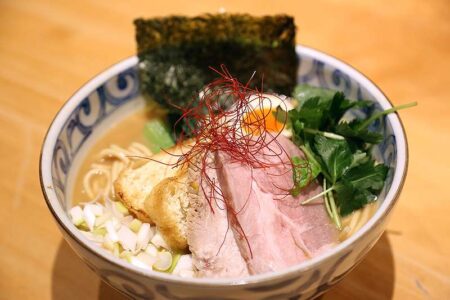 In the midst of my musings, my sake lees ramen was finally brought to my table. When I took my first sip of the light brown soup, the flavor of the sake lees, the slightly savory taste of soy sauce and the umami of the broth spread through my mouth in a harmonious blend of utter deliciousness. The flavors were complex, yet perfectly balanced. I was enthralled. The rich-tasting soup and the medium-thickness of the noodles go quite well together.
Kazami gets its sake lees from a brewery in Nada, Hyogo Prefecture, which is famous for its sake production. According to Shinei Kaneko, 37, manager of the restaurant, the sake lees are simmered in water for three to four hours beforehand to remove the alcohol content. They are then mixed with paitan, a milky-colored broth made from chicken and pork that's been boiled for a long time. If sake lees are added to regular types of soy sauce-based or salt-based ramen, their flavor would be too strong. However, when it's added to the paitan, which has a hint of pork bone broth, the sake lees and the paitan cancel out each other's peculiarities, making for a delicious soup, according to Kaneko.
Though the soup has a rich taste that I couldn't get enough of. And while there were delicious-looking condiments available for customers to add to their ramen, such as sweet and sour pickled ginger and green chili miso, I wanted to relish it without them. The secret to the dish's palatability is a sauce for ramen called kaeshi, which is made of soy sauce. The restaurant's kaeshi is made with three different types of soy sauce and also contains asari clam and oyster extracts. "Customers may get bored with a monotonous soy sauce flavor, so we had to work hard to make our kaeshi," Kaneko said.
6 months of trial and error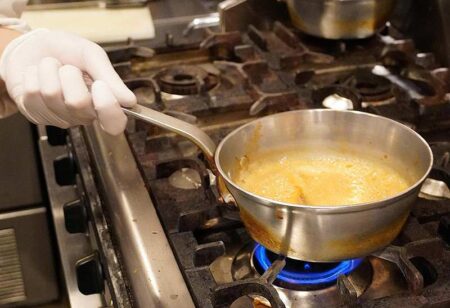 The recipe for sake lees ramen was developed by the four founding members of Kazami, including Kaneko, the owner of the restaurant and the previous manager, after six months of trial and error. "It took us quite a long time to create an original ramen dish."
The toppings were also nicely laid out — a half-boiled egg, two kinds of chashu pork slices, mitsuba leaves, boiled komatsuna greens and Tochioage fried tofu pouch. And on the very top, strings of chili pepper were laced. "We are particular about creating a gorgeous look that is suitable for Ginza," said Kaneko. The mitsuba leaves, for instance, may have looked like they had simply been placed in the dish haphazardly, but care was actually taken to make sure that the leaves were not turned inside out.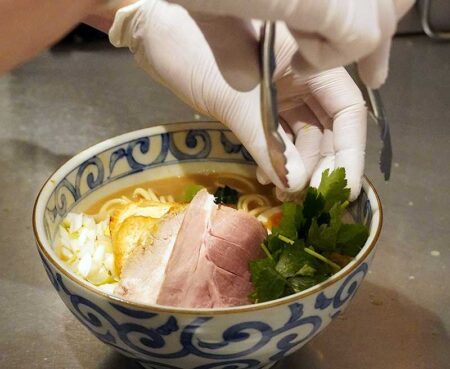 According to Kaneko, the specialty among toppings is the Tochioage, which is imported from Niigata Prefecture. The chewy and savory food absorbed the soup well and was well worth eating.
Experiences in Italian cuisine
Before he began working at Kazami, which opened in 2016, Kaneko was a chef at an Italian restaurant for about 10 years. Kazami's owner invited Kaneko to work for him, saying, "[Pasta and ramen are] both noodle dishes, right?" For Kaneko, the world of ramen is surprisingly deep. For example, the amount of fat dried sardine has is different depending on the season in which it is caught. He also said that he found a lot of similarities between ramen and Italian cuisine. For example, presentation is important for both types of dishes.
His experience at the Italian restaurant has served him well in a number of ways. Thanks to his training, he prepares chashu pork using a sous vide method. He also adds olive oil to shredded sweet and sour pickled ginger to reduce the ginger's acidity. Kaneko, clad in a chef's coat and using a Western saucepan, didn't have the appearance of a ramen chef.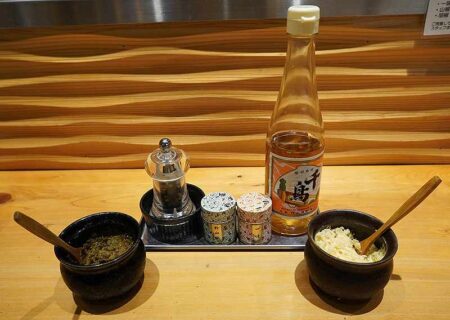 Struggles amid pandemic
According to the restaurant, before the coronavirus outbreak, about 40% of its customers were foreigners. And even though for some it may have been their first experience with a dish made from sake lees, "there were many who drank all of their whole broth and some customers even gave a thumbs-up in approval once they'd finished," Kaneko said. After Kazami had begun garnering a favorable reputation that started to spread, Kaneko was surprised to one day find a photo of the restaurant gracing the cover of an overseas travel guidebook.
Of course, the number of foreign customers at the restaurant has dropped drastically since the pandemic, but there has also been a decline in Japanese customers. In a bid to attract more customers, Kaneko began offering his original ramen dish, which previously only a seasonal item, on a monthly basis from April. In September, he served ramen cooked with duck and hojicha tea, which was well received. "It's hard developing new items for the menu, but I want to make ramen that has never been made before," he said. 
Kaneko said he feels happy when foreign customers occasionally visit the restaurant. "I hope more people will come and enjoy the ramen here at Kazami," he said and looking forward to the day when foreign tourists can once again travel the world freely.
---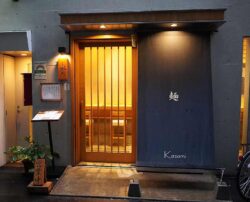 Ginza Kazami
Located at 6-4-13 Ginza, Chuo Ward, Tokyo. Open every day. Hours are from 11:30 a.m. to 3:20 p.m. and from 5:30 p.m. to 10:00 p.m. on weekdays and Saturdays, and from 11:30 a.m. to 8:00 p.m. on Sundays and holidays. Their menu includes richly-flavored sake kasu ramen and tsukemen (noodles to be dipped), ramen in a salt-flavored broth, and soy-sauce flavored ramen.
---
Chikako Minami, Japan News Staff Writer
Enjoys making ramen using a meal kit at home at least once a week and baking various types of bread.
---