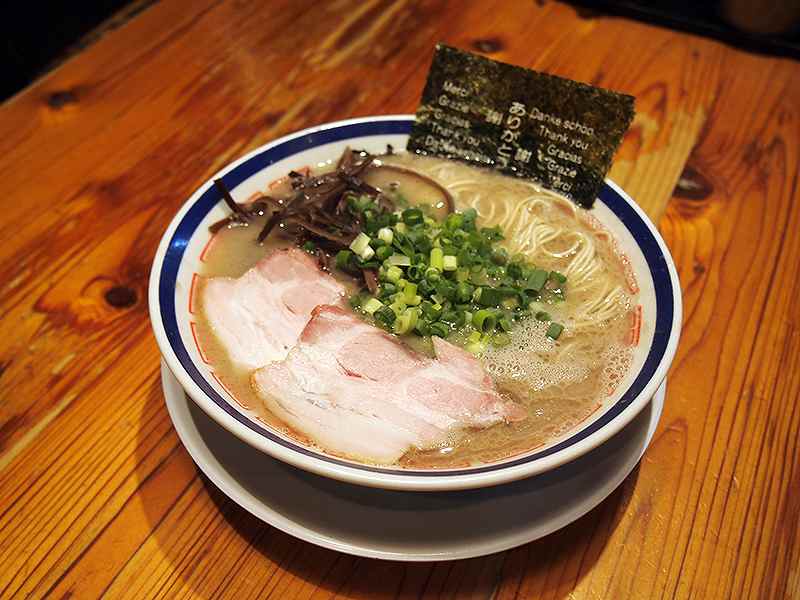 19:31 JST, October 1, 2020
The first ramen shop I chose to introduce to you all is the main branch of Tanaka Shoten, which has one of Tokyo's very well-known ramen shops. Here, customers can enjoy genuine tonkotsu ramen, ramen in a pork marrow-based broth. Tonkotsu just happens to be my favorite kind of ramen, but since I usually enjoy it at chain restaurants, I thought I should pay this famed shop a visit.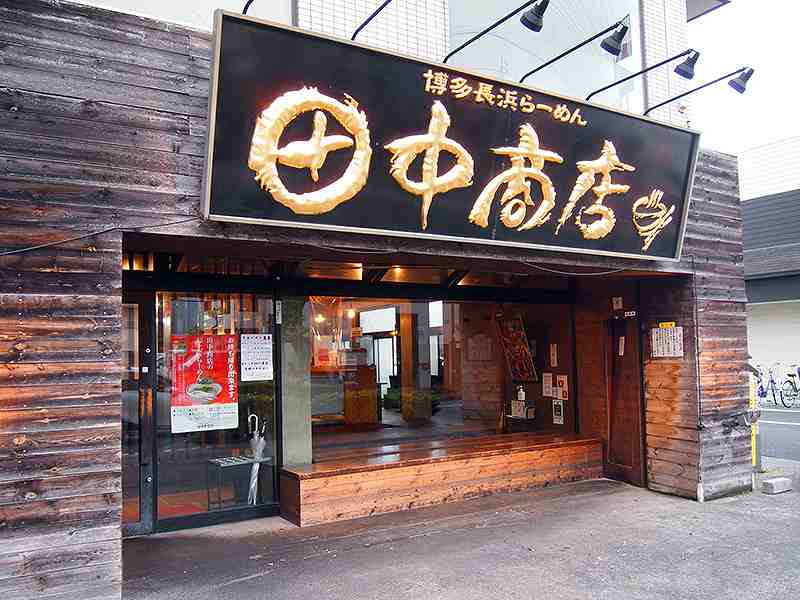 The restaurant's sign, painted a deep black with contrasting gold characters that read "Tanaka Shoten," is huge and I thought it was very impactful. Even amid the current coronavirus crisis, the restaurant remains a hit with its customers who come without fail between the hours of 6 p.m. to 4 a.m. — their business hours.
A piece of nori seaweed rests in a bowl of tonkotsu ramen with "Thank you" written in seven languages.

An assortment of free toppings placed on each table

Chashu roast pork as it is being cooked on site.

A menu to select the firmness of the noodles.
After being seated, I was served a bowl of the restaurant's standard tonkotsu ramen. The first thing to catch my eye was the piece of nori seaweed with words of appreciation printed on it in seven different languages. Seeing that warmed my heart and I feel that I got a sense of the restaurant founder's spirit.
I took my first spoonful of the soup. It had a thickness similar to a potage and it felt as though I had swallowed a morsel of rich flavor. I then mixed the soup with the thin ramen noodles and had another bite. The flavor was different than I expected, so I decided I'd try a little experimenting. With a quick glance nearby, I spotted some free toppings including karashi-takana, which is pickled mustard leaf with chili, ground sesame, ramen sauce, pepper, grated fresh garlic and beni shoga, red pickled ginger.
Without hesitating, I sprinkled some of the ground sesame onto my ramen and took another bite.
I love ground sesame and its addition made the ramen's aroma irresistable! Next, I sunk my teeth into the chashu roast pork prepared in-house, which had a nice salty flavor. I just couldn't get enough of the flavor these ingredients made when combined.
After that, I enjoyed changing the flavor by adding a little of each of the toppings one after another. The karashi takana had a warning that read, "Caution: Very spicy," and even just a pinch of it was spicy enough to make me gulp down a glass of water. Enjoying more of the soup also helped calm my tongue.
By then I noticed that the soup was almost half gone. I don't typically drink so much of the soup when I have ramen because it tends to be too salty to drink. But the soup of Tanaka Shoten's ramen went down as smooth as a potage soup would. I realized that that was probably what gave me the impression that the flavor was a bit weak when I had my first bite with the noodles. This subtle flavor allows the customer to freely create their own flavor by mixing and matching the various toppings available. It was my first time truly realizing the charms of tonkotsu ramen. It's not just any ramen dish, it's a soup that lets you change the flavor to suit your palette. In that moment, the way I saw ramen was forever changed.
After taking a look at the menu, I saw that there were other toppings customers can choose from — seasoned egg, bean sprouts, wood ear mushrooms …… and akaoni (red demon)? I was a bit curious about what akaoni could be, but I was already full. I also wanted to have my usual seasoned egg, but I was so nervous that I forgot to order it. I regretted not coming on a completely empty stomach.
Founder self-proclaimed 'Tonkotsu Baka'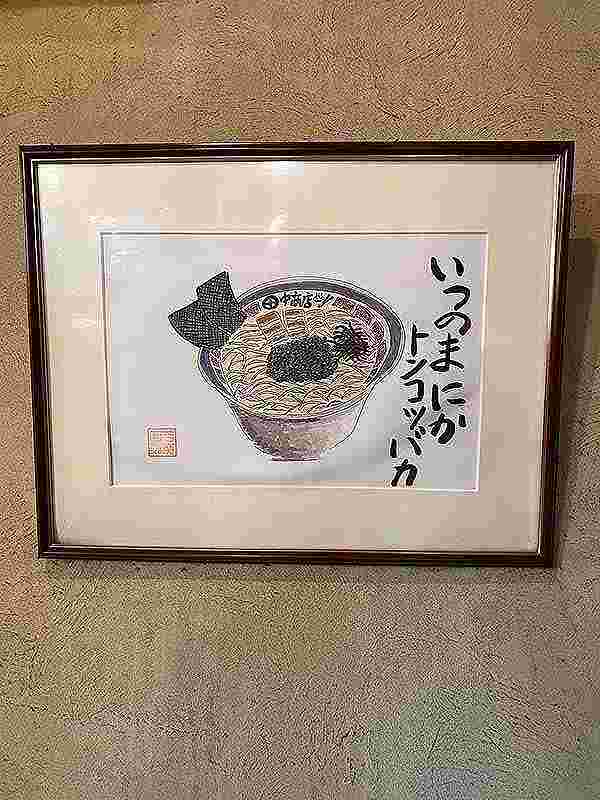 This December, Tanaka Shoten will celebrate its 20th anniversary. Most of the main branches of famous tonkotsu ramen restaurants in the Tokyo metropolitan area are located in Kyushu, West Japan, because it was born there. Tanaka Shoten's main branch, however, is in Adachi Ward, Tokyo. Founder Tsuyoshi Tanaka from Aomori Prefecture, North Japan, ate ramen from shops all over Japan for about two years, and fell in love with tonkotsu ramen. In Kitakyushu, he hand-selected the ingredients he was satisfied with and fills his dishes with them. Calling himself a "Tonkotsu Baka (tonkotsu freak), Tanaka once opened a different tonkotsu ramen store with his colleague in another place in the area, but he was eventually fired. He then opened Tanaka Shoten, where some of his loyal customers have continued visit Tanaka and enjoy his ramen. He introduced the nori seaweed with "Thank you" printed on it in seven languages to show his appreciation. "This is my way of expressing my appreciation toward my customers," said Tanaka.
Second visit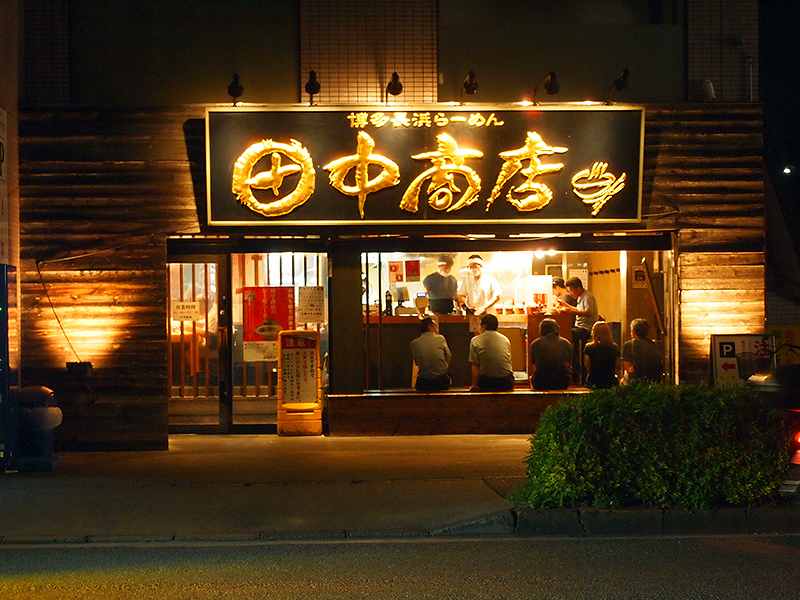 After my wonderful ramen experience, I wanted my family to enjoy Tanaka Shoten's tonkotsu ramen too. So I took my husband and two sons there after few days after my initial visit.
It was 6:10 p.m. when we arrived, but all of the tables were full. The customers really ran the gamut, there were business colleagues, couples and even families with children. Even though there were quite a few people, the waiting time to be seated wasn't long, and there was a fast turnaround of customers.
There are only 4 items on the menu and all of them are tonkotsu ramen, which puts customers at ease because the only other choice that have to make is how firm they'd like their noodles. The firmness levels are harigane (very hard), barikata (hard), normal and yawa (soft) and are determined by the amount of time they are left to boil, with one minute being the longest and five seconds being the shortest. Understanding that helped me realize why there was almost no waiting time.
Store manager Hidenari Sato mixes the pork bones for tonkotsu broth in a stockpot.

The counter and the kitchen, where three stockpots can be seen, of Tanaka Shoten.

Incoming store manager, Yu Oseto, is preparing ramen for a customer
The restaurant's seats surround the kitchen in which there are three stockpots 60 centimeters in diameter and 53 centimeters tall. You can watch the staff as they stir pork bones in the stockpot with an oar-like stick. These stockpots seem to be the source of a peculiar odor that is noticable even outside of the restaurant.
According to Hidenari Sato, the shop's manager, visitors often remark on the bad smell. However, Tanaka Shoten is said to sell ramen that is "firm, smelly and delicious." The stronger the ramen soup's aroma, the richer it tastes.
This time, I didn't pass up the opportunity to order a seasoned egg and, of course, I ordered some akaoni too. I was given a small bowl and a scoop of miso-flavored meat on a plate. A staff member advised me to eat Akaoni like I would tsukemen, a dish eaten by dipping the noodles in separate soup bowls. Because they told me it was spicy, I only put a small amount of akaoni in a bowl, put in the rest of my tonkotsu broth, and ate it as suggested. The spicy miso-flavored meat has quite a different flavor to tonkotsu ramen.
As we ate eating, my sons asked for seconds many times which is more than usual, and my husband also drank all of his broth. I think we could feel the founder's persistence, effort, consideration for his customers thorough the ramen. This delicious bowl of ramen warmed up both my body and my spirit.
---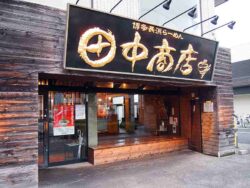 Tanaka Shoten Main Branch
2-14-6 Hitotsuya, Adachi Ward, Tokyo
Business hours: 6:00 p.m.- 4:00 a.m.
No set holidays
The four menu items are: ramen; negi-ramen, ramen with green onions; chashu men, ramen with roasted pork fillet and chashu negi-ramen, ramen with roasted pork fillet ramen and green onions. Amid the coronavirus crisis, the restaurant began offering a take-out option. One set costs ¥740 including tax and comes with fresh noodles, broth, wood ear mushrooms, karashi-takana (mustard leaf), chashu, green onions and nori seaweed that have been vacuum-sealed at the restaurant. Best if eaten within 3 days. "Warning: The contents will cause an unpleasant odor."
---
Miho Nakamura, Japan News Staff Writer
As a working mother of two young sons, I haven't been able to enjoy many of the spicy dishes I love because my taste buds have adapted to their level. For me, adding a seasoned egg is a must! I also tend to let any hot food or drink I have cool before I dig in because my tongue is a bit sensitive.
---
Add TheJapanNews to your Google News feed.