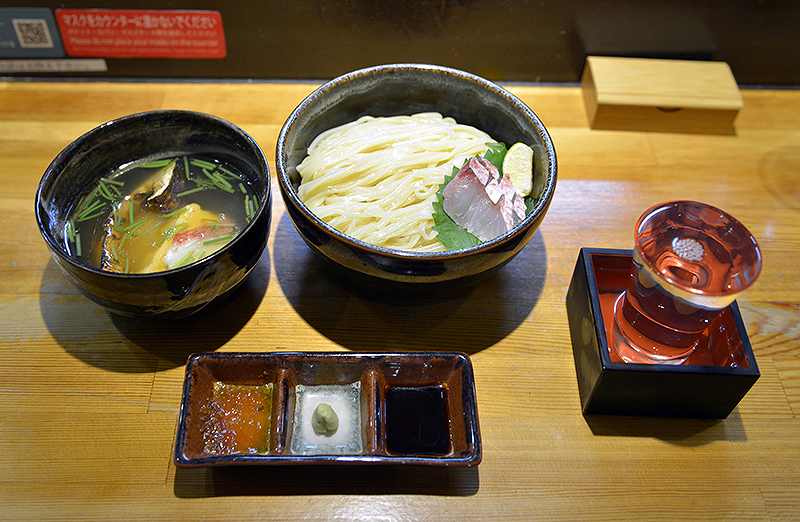 13:10 JST, October 1, 2020
Riding a small streetcar through the city, I gazed at the scenery that passed my window and somehow felt like I was no longer in Tokyo. I was aboard a tram on the Arakawa Line, the sole tram line operated by the Tokyo metropolitan government within city limits. This approximately 12-kilometer line runs mainly through the downtown area and gives you a small taste of feeling as though you are on a trip.
The Arakawa line streetcar

One of Arakawa line's terminals, Waseda station

Gantetsu's front entrance

The restaurant's counter space
After just a three-minute walk from one of the line's terminals — Waseda Station in northwest central Tokyo — you will find the Gantetsu ramen shop, which serves creative limited-edition fish-based ramen dishes on Friday and Saturday nights.
One Saturday in September, I decided that I wanted to try one of these original ramen dishes for myself, so I paid them a visit. The restaurant's interior isn't very spacious, having only a counter that seats about 10 people. The owner, Yasuyuki Hiramatsu, showed me some fillets of the day's fish, saying, "I was able to get my hands on some wild-caught red snapper this time."
Fish of the day: filleted hamadai red snapper

Hiramatsu slices a fillet of hamadai

Large, nicely shaped matsutake mushrooms

A slice of matsutake mushroom as it's being grilled
It was beautiful. It was a high-quality white meat fish with a beautiful red surface. I could tell just by looking at it that it would be delicious. Hiramatsu buys a different kind of fish each time from a fishmonger he's known for a long time and only uses wild-caught, fish in his dishes.
Hiramatsu approached the counter and began cooking right before my eyes, separating the fish to be used for sashimi and the meat that would go into the ramen's soup. Ramen and sashimi. Because it is such an unusual combination, I had high expectations for the dish.
To my further surprise, he then pulled out some large matsutake mushrooms that had a nice shape to them. Matsutake mushrooms with their rich aroma and even richer price tag are a delicacy in Japan. He then began to grill them.
The soup's broth is made from the heads and bones of the fish along with Hokkaido kombu and is then combined with a salty sauce and a small amount of the highest-quality sesame oil to enhance the flavor. The noodles are made in-house and are the pride of the restaurant. For the sashimi, Hiramatsu grates real wasabi — not the staff you get in a tube.
The soup's broth is made from fish heads and bones along with Hokkaido kombu.

Homemade noodles

Wasabi being grated

Gantetsu's ramen is prepared through Hiramatsu's and Kitayama's cooperation.
 "All done. Here you are!" he said, placing a premium ramen dish — the culmination of all of the special ingredients — on the counter before me. It's served in the tsukemen style, which means the broth and the noodles are in separate dishes. In this column, I'll explain below the way tsukemen is supposed to be eaten.
The first thing I noticed was that it was impressively beautiful to look at. I had never seen ramen like this before. I took a sip of the soup and it had a very subtle flavor and aroma. The noodles were firm, went down smoothly and had a distinct flavor all their own. The sashimi served atop on which the noodles with wasabi and soy sauce on the side, was very fresh and delicious.
As a middle-aged man, I enjoy drinking sake while eating good sashimi like this and this restaurant boasts a very nice selection. Hiramatsu filled my glass beyond the brim, overflowing into a lacquered masu cup, with a Nagano brand he keeps refrigerated. Its mild taste paired nicely with the fish and I was more than happy with just that fact alone.
It's ready. This is a Hamadai Tsukemen

A good tasting sake from Nagano, named Wawawa

Hiramatsu filled my glass with Wawawa
The soup into which he put so much effort was filled with matsutake mushrooms, fish, rolled omelets made with dashi soup stock and mitsuba, or Japanese parsley. I ate the fish in the soup after dipping it in some ponzu sauce with a dash of ichimi spice that came with the meal. It had a nice fluffy texture and tasted even better than the sashimi. The matsutake mushrooms were also a real treat. The grilling process brought out their aroma and was a good match for the soup's flavor. To make the most of such an aroma, sudachi, a type of Japanese citrus, was also added as a garnish.
It took me no more than five minutes to eat everything in front of me. This is a special dish that goes beyond ramen. It has a sense of luxury on par with other forms of Japanese haute cuisine, like kaiseki. This particular ramen dish cost me ¥2,400 (tax included). Although this is a pretty high price for ramen in Japan, I think that it's worth it when you consider all of the ramen's ingredients and its flavor. The prices for Gantetsu's creative ramen dishes vary, with the most expensive one so far running for ¥3,100.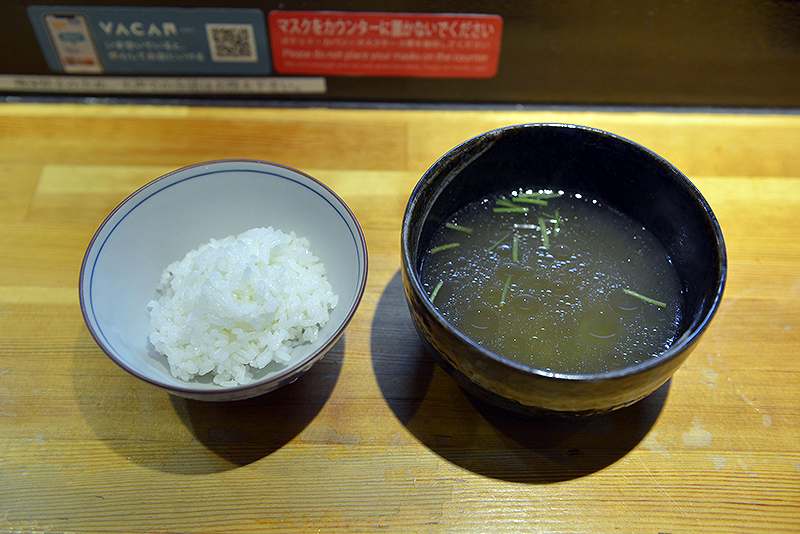 As I basked in the afterglow, a bowl of rice was served with an unflavored broth that was to be added to the soup to make it easier to drink. Hiramatsu advised me to pour the soup into the bowl of rice and enjoy it as dashi chazuke, or rice in soup broth. The soup is so delicious that many customers specifically wanted to make it into dashi chazuke, which is apparently how this dish style came to be. It's a dish you can enjoy until the very end. I was enveloped in euphoria.
'I'd like my ramen to be more well-known'
Hiramatsu, 46, hails from Osaka, and his passion for ramen is apparent even in his powerful appearance and loud voice. He decided at the age of 32 that he wanted a job to which he could devote the rest of his life, so he joined Mentetsu, a famous ramen restaurant in Osaka, where he trained for seven years.
"Mentetsu is well known in Osaka, but not in Tokyo despite the amazing work it's doing. When it came time to start my own business, I wanted more people to have the chance to get to know my ramen, so I chose to relocate to Tokyo." He opened Gantetsu here in April 2014.
Gantetsu's main focus, first and foremost, is homemade noodles, the "star of the show." Water and flour are mixed in a vacuum blender and the resulting noodles are allowed to sit overnight before being served. Using a vacuum mixer allows the noodles to mature at a low temperature and supposedly gives them their smooth yet firm texture. That's why the noodles are delicious even if you eat them on their own.
The soup broth is made from Tankai Jidori chicken procured from a famous poultry farm in Shiga Prefecture. Its meat is soft and gives the broth a subtle flavor. The broth is a good match for fish as well. There is also a soup broth made with shredded dry tuna. The chashu-men, noodles with sliced roast pork, also features three types of homemade chashu pork. Pathogen-free, pork is suspended in a cauldron and roasted. Even though it is cooked all the way through, it remains tender and full of flavor.
The sake that are served are all Hiramatsu's recommendation. He boasts a wide selection of brands and never adds the same sake to his roster during the same season so that each time you visit you experience a different flavor. He wants to make sure he can serve the sake while it's still fresh so he rotates which brands he serves on any particular day.
Amid the coronavirus crisis, before you can purchase a meal ticket, you must undergo a temperature check via the automatic thermometer at the entrance. A partition is positioned between each seat at the counter. There's usually a line of waiting people outside, so once you buy a meal ticket inside, you must go back outside and wait your turn.
Hot straight from the pot
Gantetsu menu. Soy sauce ramen is ¥950, Shibishio(tuna salt) is ¥1100

Soy sauce ramen

Cold curry ramen created by Kitayama
"I'd like all of our customers to enjoy their ramen from the moment it's served," Hiramatsu emphasizes. "As time passes, the noodles absorb water and become swollen and soggy. The best time to enjoy its flavor is right when it's ready," he says. "I put my heart and soul into making each dish and I'd like them to be enjoyed at their very best." If you wish to take a photo of your ramen, he recommends taking it as soon as your order is placed in front of you. He goes on to say that there have been instances of people taking commemorative photos with their friends inside the restaurant after being served and others sitting and chatting for a long time after they've finished eating while people wait their turn outside. Hiramatsu is of the opinion that when you enter a ramen shop, you should focus on your meal and yield your seat to those waiting after you've finished. I feel the same way. This is common practice at popular ramen restaurants in Japan as we'd like to savor our ramen while being mindful of our manners.
On his days off, Hiramatsu spends a lot of time researching other ramen shops and even non-ramen restaurants. "While working to maintain the basics I learned at Mentetsu, I'd like to make new discoveries and create interesting combinations, expressing myself through ramen."
How to eat tsukemen
Tsukemen, a noodle dish in which the broth and noodles are separate, was created as a way for ramen shop employees to eat quickly anytime they were in the kitchen. Having the noodles separate from the broth keeps them from becoming soggy. The noodles are rinsed with water to remove any starchy residue then chilled, giving them their firmness. This also allows you to enjoy their distinct flavor, even when they're on their own.
Trying a few of the noodles with a bit of the broth in your mouth really showcases that distinct flavor. Once you do that, pick up a small portion of the noodles — as much as you can handle in one mouthful — with your chopsticks, dip roughly a third of them in the broth, and enjoy. Don't worry if you make a sound while you slurp your noodles. If it helps, try to imagine the soup and noodles being mixed by the force of a slurp. If you dip the noodles entirely into the broth, however, will cool the broth and make it lose some of its deliciousness. And if you were to dip all of the noodles into the broth, it wouldn't be tsukemen anymore!
Because tsukemen broth is very rich and high in sodium, at the end of your meal, you can ask for some unseasoned broth to add to the soup and that will make it easier to drink.
---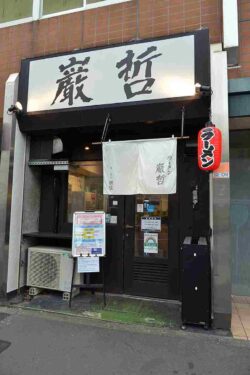 Gantetsu
1-10-4 Nishi-Waseda Shinjuku Ward, Tokyo.Lunch is served from 11:30 to 2:30 p.m. and dinner from 6:00 p.m. to 9:00 p.m. Closed on Sundays and holidays that fall on Mondays.
The regular menu is a choice between soy sauce and shibishio (tuna salt) ramen. On Friday and Saturday nights, they offer creative fish-based ramen dishes, but the number of bowls served per day is limited, so only a lucky few can enjoy them. On Wednesday nights in spring and summer, restaurant staff member Shun Kitayama also offers a special ramen dish of his own creation.
---
Futoshi Mori, Deputy editor of The Japan News
Food is a passion. It's a serious battle for both the cook and the diner. There are many ramen restaurants in Japan that have a tremendous passion for ramen and I'd like to introduce to you some of these passionate establishments, making the best of my experience of enjoying cuisine from both Japan and around the world.
---
Add TheJapanNews to your Google News feed.