LEGEND / Hayao Miyazaki's Anime Works Span Decades, Touch Hearts Worldwide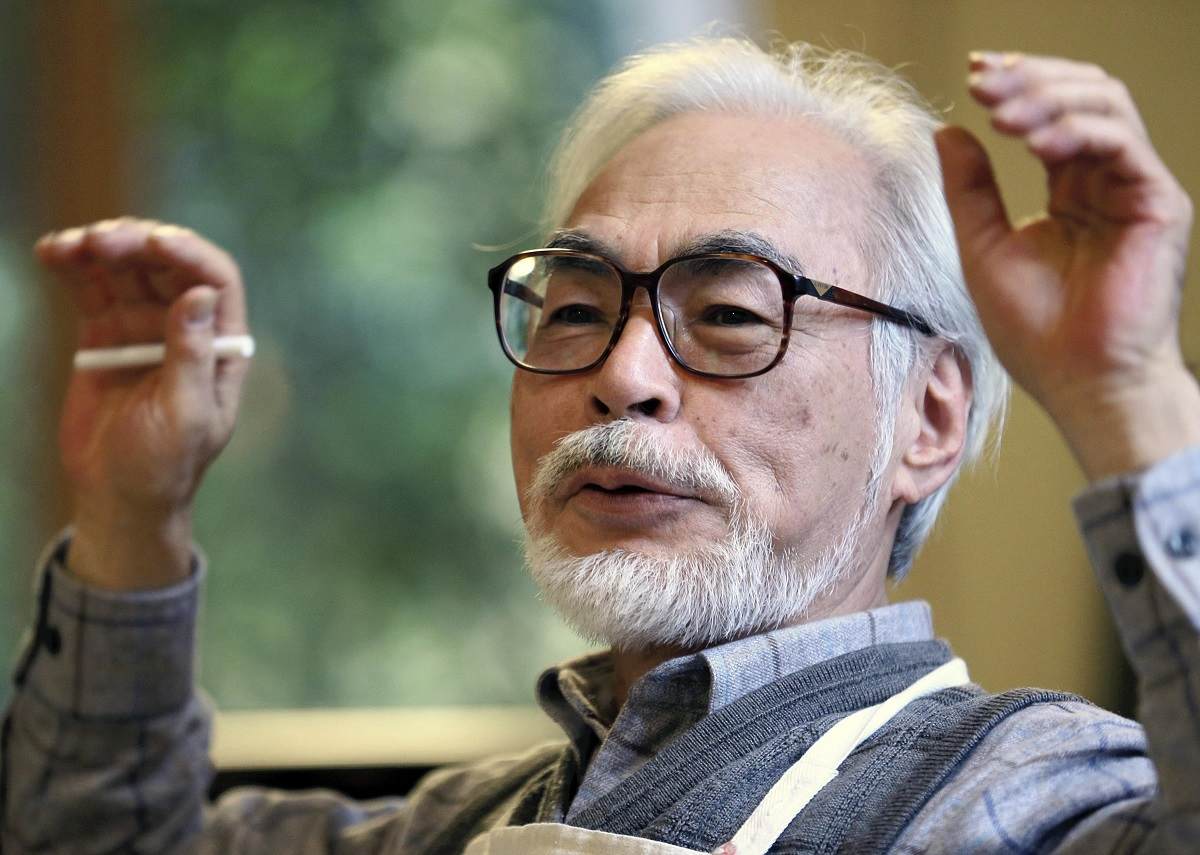 12:00 JST, August 24, 2023
In September 1991, anime director Hayao Miyazaki was idling in a Russian restaurant in Tokyo, rather than pushing ahead with production for his anime film "Kurenai no Buta" ("Porco Rosso").
About two months after Miyazaki first started creating illustrations for the venture, work had ground to a halt over one particular scene, due to problems visualizing the scene featuring diva Madame Gina, voiced by Tokiko Kato.
"Porco Rosso" pivots around the adventures and love life of a pilot. However, unlike other Miyazaki creations, the main character is not a little girl, but rather, a middle-aged pig. The male protagonist's sense of adventure and outlook imbues the film with a very different vibe from Miyazaki's previous works.
To help get Miyazaki's creative juices flowing, the production team decided to shoot a video featuring Kato singing in the restaurant.
"Normally, people would trace the footage of such videos, but Mr. Miyazaki had everything in his head and drew based on his memories," recalled Seiji Okuda, 66, a then Nippon TV representative involved in the production.
Okuda remembers marveling at the final footage, saying the restaurant looked even better in the film than it did in reality. "It was amazing," said Okuda, who now serves as an executive producer at Shochiku Co.
Animated films were once considered to be targeted solely at children. However, Miyazaki's output is noted for altering that perception, turning anime into a genre that can be enjoyed by kids and adults alike.
"Kaze no Tani no Naushika" ("Nausicaa of the Valley of the Wind") grapples with the theme of environmental destruction, "Tonari no Totoro" ("My Neighbor Totoro") deals with coexistence with nature, and "Sen to Chihiro no Kamikakushi" ("Spirited Away") describes a young girl's emotional growth. All these works have received international acclaim for their themes and inherent messages.
In contrast, "Kaze Tachinu" ("The Wind Rises"), has few fantasy elements, featuring a protagonist modeled on the real-world individual who designed the Japanese Zero fighter aircraft. In an interview conducted prior to the film's release, Miyazaki said, "It would be a mistake to make a film now based on what I had thought of as a fantasy."
Miyazaki began storyboarding the work in January 2011; two months later, the March 11 Great East Japan Earthquake struck.
"I use films to address the issue of how we should live in an era of change," Miyazaki said.
The protagonist of "The Wind Rises" earnestly pursues his dreams in an age in which the world seems to be sliding toward war, while also sending a message to people living in the aftermath of the quake and tsunami.
Miyazaki's works are lauded for their sophisticated visuals, which are said to only be possible through the medium of animation.
Early promise
Miyazaki got his industry start in 1963 at Toei Doga — predecessor of Toei Animation Co. — where he quickly demonstrated his abilities.
He worked as a key animator on Isao Takahata's 1968 offering "Taiyo no Oji: Horusu no Daiboken" ("Horus: Prince of the Sun"). The two men subsequently collaborated on the TV series "Arupusu no Shojo Haiji" ("Heidi, Girl of the Alps") and "Haha wo Tazunete Sanzenri" ("3000 Leagues in Search of Mother"), prior to the establishment of Studio Ghibli in 1985.
Takahata focused on directing, while Miyazaki concentrated on animation.
Miyazaki's observational skills resulted in illustrations that are rich in detail and movement. His skills as an animator reached a pinnacle in "Mononoke-hime" ("Princess Mononoke"), for which he crafted more than 140,000 individual illustrations.
As he grew older, however, his workload began to take a toll on his mental and physical health. At a press conference to announce his retirement in September 2013, he said, "Seven hours [of work a day] became my limit."
New project
In May 2017, however, Miyazaki announced he was coming out of retirement due to "having found a subject worthy of being depicted in a film." The subsequent work, "Kimitachi wa do Ikiruka" ("The Boy and the Heron"), was released July 14.
Movie theaters have been packed with audiences eager to soak up Miyazaki's first new work in a decade. The film is said to be themed around how people live through difficult times in modern society.
Miyazaki has not appeared in public or commented in connection with the new work.
"Mr. Miyazaki is satisfied that he was allowed to do what he set out to do," said Studio Ghibli producer Toshio Suzuki, 74. "He is full of energy, and not merely living a carefree life. I don't know how things are going to pan out for him, but I'm certain he's going to be fine."
Tales spun out of childhood memories
Renowned anatomist Takeshi Yoro spoke to The Yomiuri Shimbun about his ties to Hayao Miyazaki.
Miyazaki and I have kept in touch because we are of the same generation, and this allows us to have an unspoken understanding of each other. We co-authored "Mushime to Anime" (An eye for insects, an eye for anime), published in the Shincho Bunko paperback series. We also shared a dialogue that was published in The Yomiuri Shimbun's New Year's supplement in 2014.
[The appeal of Miyazaki's works is] easier to understand, I think, if you don't explain it through logic. Miyazaki draws pictures to express himself. So why should we have to put what he does into words?
This way of thinking is something we probably share.
Still, if I were to explain his appeal in words, Miyazaki's most distinctive feature is that he is able to recall his childhood memories in a very sensuous way. And he depicts them in a way that flows like an old tale. This approach is a part of Miyazaki that does not change. I wonder how [his new film "Kimitachi wa do Ikiruka" ("The Boy and the Heron")] will be received by the new generation.
He said he wants to draw, which likely keeps him in good health. I'm sure he's happy drawing pictures, so I would like to let him have his way.
The Legend feature profiles era-defining figures in culture, sports and other fields.
Add TheJapanNews to your Google News feed.