As Settler Violence Surges, West Bank Palestinians Fear New Displacement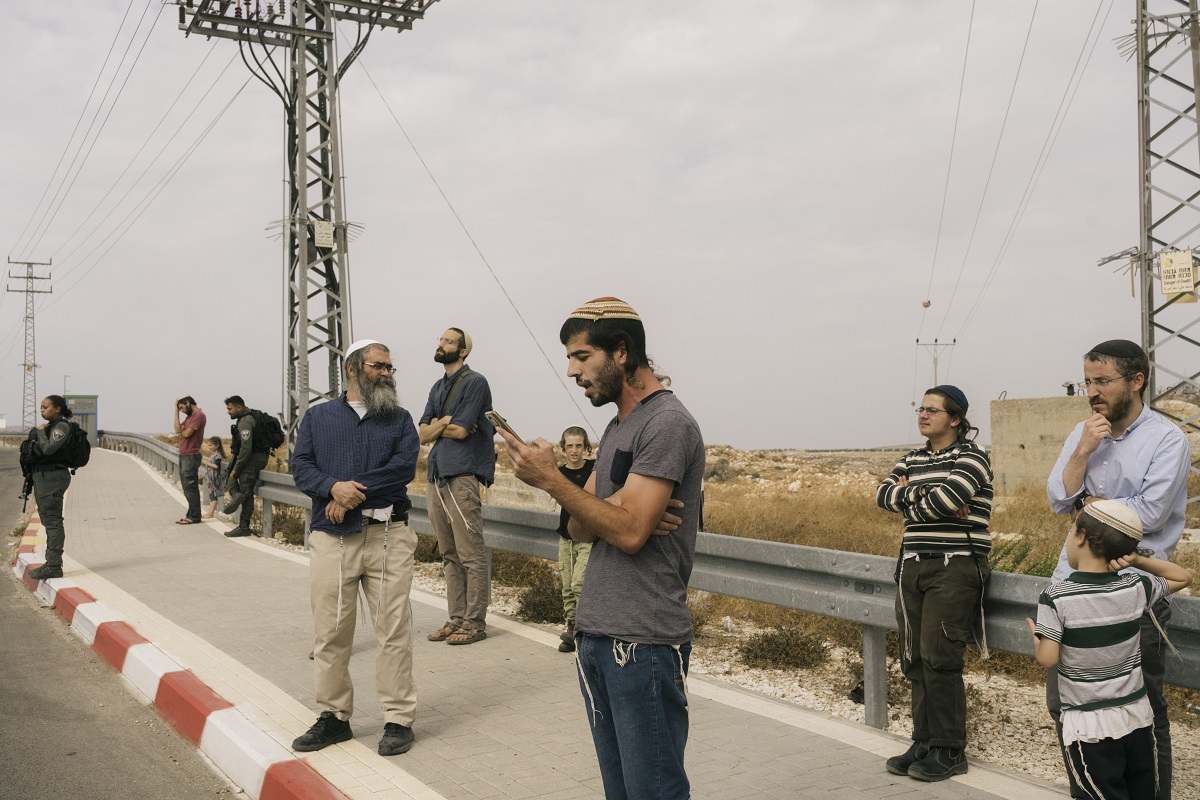 13:37 JST, October 31, 2023
SAWIYA, West Bank – Settler violence against Palestinians in the West Bank has reached record levels in the wake of the Oct. 7 Hamas attack on Israel, according to rights groups, which warn that the radical settler movement is seeking to further entrench its presence across the occupied territory.
B'Tselem, an Israeli human rights group, says at least seven Palestinians have been killed by Israeli settlers since the war in Gaza began; more than 100 Palestinians in the West Bank have been killed by Israeli forces over the same time period, according to the United Nations. Some 500 Palestinians have been driven from their homes.
The attacks have intensified tensions in the West Bank, where calls for militancy are already surging after a spike in Israeli raids and arrests. Settler groups say they are acting in self-defense. Even before Oct. 7, Palestinian militants had carried out deadly attacks this year in Jewish communities across the territory.
But the victims of settler violence are overwhelmingly civilians. Haunted by memories of displacement, Palestinian families fear they are living through another period of forcible dispossession.
In a rare direct condemnation of the violence, President Biden said last week that attacks by "extremist settlers" amounted to "pouring gasoline" on fires already burning. "It has to stop," he said. "They have to be held accountable."
But international attention and Israel's security forces are focused on Gaza, and Palestinians say they are often targeted by Israeli police officers in charge of protecting them.
After a settler shot and killed Bilal Saleh, 38, on Saturday in the village of Sawiya, Israeli police at the scene asked his brother Hashem for eyewitness testimony. As he approached their jeep, Post reporters saw uniformed officers pull him aside for questions, then handcuff him. Hashem – his shirt still stained with his brother's blood – was shoved into an unmarked truck with civilian plates and driven away with a military escort.
Israeli police told Hashem's family he is being held on charges of supporting Hamas.
Relatives and neighbors in the village said settlers often harass farmers, but the deadly incident shocked the community.
"I never thought they would shoot at us," Hashem told The Washington Post before he was arrested. "Even after they fired, I didn't know my brother was hit until I noticed him lying on the ground."
Yossi Dagan, a settler council leader representing the northern West Bank, said the shooter fired in self-defense after being "attacked with rocks by dozens of rioting Hamas supporters," according to a video he posted to Facebook.
Israeli human rights group B'Tselem said settlers are using time-tested methods of intimidation and violence to force Palestinians from their homes. In recent weeks, the assaults have been more intense and more frequent.
"The scale has expanded and not just the scale but also the severity of the attacks," said Dror Sadot, a B'Tselem spokesperson. With the eyes of the international community on Gaza, she said, many settlers feel as though they can act with "impunity."
"Now it's like a Wild West."
Armed settlers began roaming through the small Bedouin community of Wadi Siq nearly every day after Oct. 7, threatening Palestinians with a massacre if they refused to leave, according to Tariq Mustafa, who fled the area to a neighboring village with his family.
"Get out of here; go to Jordan," the settlers shouted in Arabic before knocking down tents. One of the settlers drove off with Mustafa's car, forcing him to walk with his wife and three children to the closest town. Mustafa said he called the Israeli police, but the officer hung up when he tried to report the incident.
Mustafa said about 40 people have been forced from the area, a scenic valley east of Ramallah. He doesn't think he'll ever be able to go home.
"The war in Gaza gave the settlers the green light," he said. "Before, they would yell at us to go to Ramallah. Now they are telling us to go all the way to Jordan."
Settlements have begun receiving weapons from the Israeli government, part of an initiative spearheaded by far-right National Security Minister Itamar Ben Gvir to arm "hundreds" of communities; local armed volunteer groups are expanding and becoming more formalized.
"We will turn the world upside down so that towns are protected," said Ben Gvir, who rose to prominence as an activist in the radical settler movement.
"We have to assume that what happened [near Gaza] could happen any day here," said Erik Claster, a resident of Efrat, a settlement south of Bethlehem, and a member of its volunteer defense force. "Here, we're surrounded," he said pointing to the Palestinian villages beyond the hilltop settlement.
Efrat's Kitat Konenut, or rapid response team, was gathered at a community center late last week beside a shopping mall before fanning out onto residential streets for drills on different attack scenarios. The commander called orders over a radio: "terrorists in a vehicle" and "multiple terrorists on foot."
Claster has been a member of the volunteer unit for years, but now takes his responsibilities more seriously. Like most of the other men, he bought new equipment, including body armor and an upgraded rifle scope. He said many in the community already have personal firearms; those with pistols are looking to obtain rifles.
Tighter security is visible everywhere in Efrat, a relatively large settlement of more than 10,000 people. Extra soldiers guard the entrance and exit. A group of Palestinian garbage collectors were followed by settlement security as they made their rounds.
At a smaller settlement outside Ramallah, Washington Post reporters were told they would not be allowed to enter "with an Arab driver or Arab staff due to security rules," ahead of a scheduled visit.
The Jewish population in the West Bank passed half a million earlier this year – in land once envisioned as part of a Palestinian state – and settlements have continued to expand under Israel's right-wing government. Palestinians accuse the movement's most radical fringe of cynically using the Hamas attack to further their long-held aim of seizing more land.
On Friday, a group of settlers gathered at a traffic circle outside the Palestinian village of Taybeh, near Ramallah. A handful of men stepped into the street to pray as children clustered nearby. Half a dozen Israeli soldiers established a wide perimeter around the scene, stopping traffic in two directions. Settlers in passing cars honked their horns in support.
"This is a nonviolent way to express solidarity and protest," said Barry Shuman, a 58-year-old lawyer who joined the afternoon prayer after he heard that a young man from his settlement of Kochav Hashachar, near Ramallah, had been seriously injured in an ambush the day before.
Shuman said there is "tremendous anger" in settler communities in the wake of the Hamas attack, the deadliest in the country's history. "You can't allow this to continue," he said, referring to threats from Palestinian militants, including from new groups in the West Bank that have taken up arms this year. "You have to clean it up," he said.
"This brings back the clear resolve of 'never again,'" Shuman said. "All those focused on our destruction, we need to destroy them."
But residents of the surrounding villages say they have no connection to militants, and are merely trying to make a living from the land they have worked for generations. Just over a mile down the road from where the settlers were praying, two Palestinians with fresh bruises and bandages said they had been attacked by the same men, who falsely accused them of launching an ambush.
"They were never like this," said Younis Kaabneh, 53, his head wrapped in white gauze. He said the settlers beat him and his family with sticks after they refused to abandon their home outside Taybeh.
One of the blows to his head required stitches, he said, and his sister had both her arms broken. Now, he's too scared to return home.
"There is no one to protect us," he said.
"I suspect [settlers] tried to defend themselves and somebody caught a punch," Shuman said.
Avi Nadel, a fellow resident of Kochav Hashachar, said the Hamas attack "was a rude awakening, but for some it was less of a surprise." He said Israeli political discourse has shifted to the right in the weeks since Oct. 7, which he believes will benefit the settler movement.
"Sometimes less diversity is good," he said.
Add TheJapanNews to your Google News feed.