Maine Residents Emerge to Grieve, with Some Wondering What Comes Next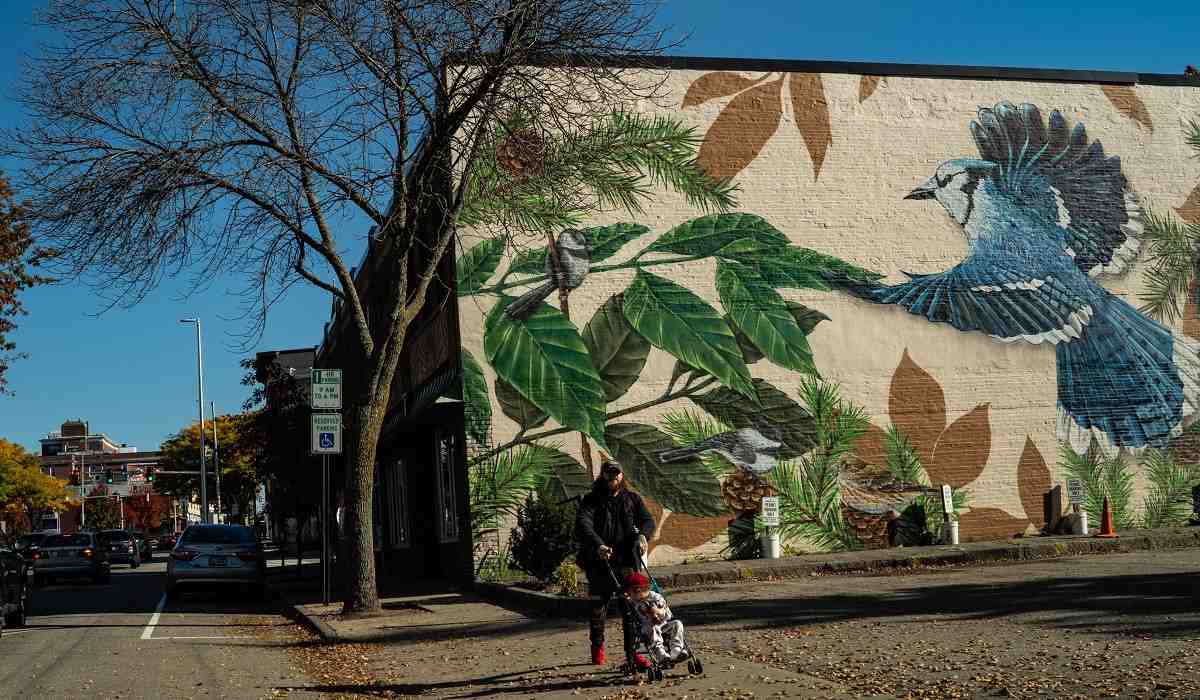 11:29 JST, October 30, 2023
LEWISTON, Maine – It was a regular day inside Forage Market, a coffeehouse in this small downtown, but the scene almost brought Phoebe Abner to tears.
People were sitting at tables, getting coffee, spending time together. To Abner, the cafe's manager, seeing residents of this town reunite Sunday morning – four days after a gunman opened fire at a bowling alley and a bar, killing 18 people and forcing residents to hide in their homes while police searched for him – felt like the start of a healing process.
"We've been in such a holding pattern," said Abner, 25. "We just want to grieve together."
The mass killing and ensuing two-day manhunt have jarred this inland area of Maine. In a small city in a small state, the loss of 18 people rippled widely, and the shooting shattered a sense of rural safety.
The tragedy was complicated by the search for the killer, which shut down schools and businesses and kept thousands of people locked in their homes, often with shades drawn or guns at hand, for 48 hours. On Friday night, authorities announced that they had found the gunman's body, with an apparently self-inflicted gunshot wound.
Flags remained at half-staff Sunday in Lewiston, a riverside former mill town of 38,000, as community organizers prepared for a nighttime vigil in Lewiston honoring the 18 victims. At the local hospital, four of the 13 injured remained under treatment, officials said over the weekend, while the rest of the injured had been discharged.
The town will be forever changed. Lewiston is now another American place that had been transformed by a mass killing – the deadliest this year in the United States.
"The illusion of safety has been burst," said Lisa Love, a resident of neighboring Auburn and a mental health clinical nurse specialist who offered grief sessions via Zoom after the attack. "It's going to have a prolonged ripple effect of questioning, of 'What is safe?'"
Emerging from their homes over the weekend, residents were left to grapple with shock, anxiety and deep grief. Many residents took solace in seeing their friends and neighbors again, but there were also questions about what to do next.
"It feels like our world will never go back," Ursula Jackson, 62, said at a Saturday night vigil in nearby Lisbon. She held candles with friends in honor of Maxx Hathaway, who was killed in the attack, leaving behind a family that includes two children and his wife, who is pregnant.
The vigil in Lisbon, the town where authorities found the gunman's body, marked the first opportunity for the public to gather in honor of the victims. Just 24 hours earlier, bringing a crowd in the dark of night to a wide lawn with woods on one side would have been unthinkable. Amid hushed grief, the relief that the terror of the manhunt had ended was palpable, but it came second to the collective shock and mourning.
"It's just like a recurring nightmare," said Heidi Patrie, whose family was mourning a friend, Joshua Seal.
An uncertain future
People were searching for different answers. At a local arcade, owner Jeffrey Mitchell was thinking about installing security cameras. Chloé Meyers, who owns a farm in neighboring Auburn, is considering getting a permit to carry a concealed firearm. A young mother, Alicia Phelps, had started discussing with her husband about whether to continue living in Maine, given what they see as lax gun regulations.
At the same time, business owners and parents were preparing for a return to some kind of normalcy this week – reopening stores and sending children back to school. A few Halloween activities were held Sunday, and some people reinflated their yard decorations.
Children in Lewiston will remain out of school Monday and return Tuesday, with some half days for the next few weeks to ease back in, Lewiston Public Schools Superintendent K. Jake Langlais said in a reopening plan published Saturday night.
"Sorry about the late notice," Langlais wrote. ". . . There are so many factors to consider."
The week's schedule will be light, for "reflection time and just gathering," the plan said, with an intention to "pace ourselves [and] have and give permission to feel emotions."
"We do not rush grieving, mourning or healing," Langlais wrote, noting that the district was planning "recognitions" for one of the shooting victims, Lucille Violette, who worked in the school district's business office. She was killed at the bowling alley alongside her husband, Robert.
A town in shock
Investigators are still piecing together the gunman's actions leading up to the shooting and trying to determine whether there was a motive beyond his paranoia and mental health issues. Police officials have yet to offer a full accounting of the extent of warnings law enforcement received about Card in the months before the shooting and how aggressively they sought to intervene.
Officials have said the gunman made threats this summer targeting his Army Reserve unit that alarmed his commanders so much that he was sent to a hospital, where he received inpatient psychiatric treatment. His access to firearms, however, was not restricted because Maine doesn't have a "red flag" law allowing police to temporarily remove weapons from people who are believed to be a danger to themselves or others.
Some residents expressed disbelief that this could happen in a tightknit area where some don't lock their doors. Others said they were frustrated by the suggestion that Lewiston – which faces many American challenges when it comes to drugs, guns and homelessness – could somehow be immune to violence.
And the shooting had brought self-defense and gun regulations to the fore of some residents' minds.
People in the area flocked to gun stores amid the shelter-in-place order, buying firearms as they waited in fear for news.
"Your best chance of survival in that situation is having a gun," Lexy Kerr, 25, told The Washington Post.
Others, however, questioned Maine's gun laws and said that, even in a state where hunting is a key part of life, lawmakers should consider the regulation of weapons like the one Card used.
'Weapons meant to kill'
"There's no need for high-capacity assault weapons," said Steven Fulmer, 38, of Lisbon Falls, Maine. "I don't believe guns need to be banned, but I think there needs to be a higher regulation of those weapons that are meant to kill people."
Meyers, 30, who went to a yoga class Sunday and then sat with her laptop at a table by a window in Forage Market, said it felt "really good" to be out but described herself as overwhelmed, frustrated and sad. She already had been worried about the prevalence of mass shootings in the United States and hadn't liked crowds; now, she has "no desire" to be among large groups.
"I'm a gun owner myself. I belong to the local range and the NRA and I think it's okay for us to have guns, but not assault rifles and not high-capacity magazines," Meyers said. "Those are weapons of war."
Meyers said she hoped people could unite around "the realization that things have to change."
Just before the cafe began preparing to close for the day, Abner teared up while looking around.
"Being a consistent place where people can feel safe to be in here and gather once again," she said, "it's very important for us."
Add TheJapanNews to your Google News feed.