How Hamas Broke through Israel's Border Defenses during Oct. 7 Attack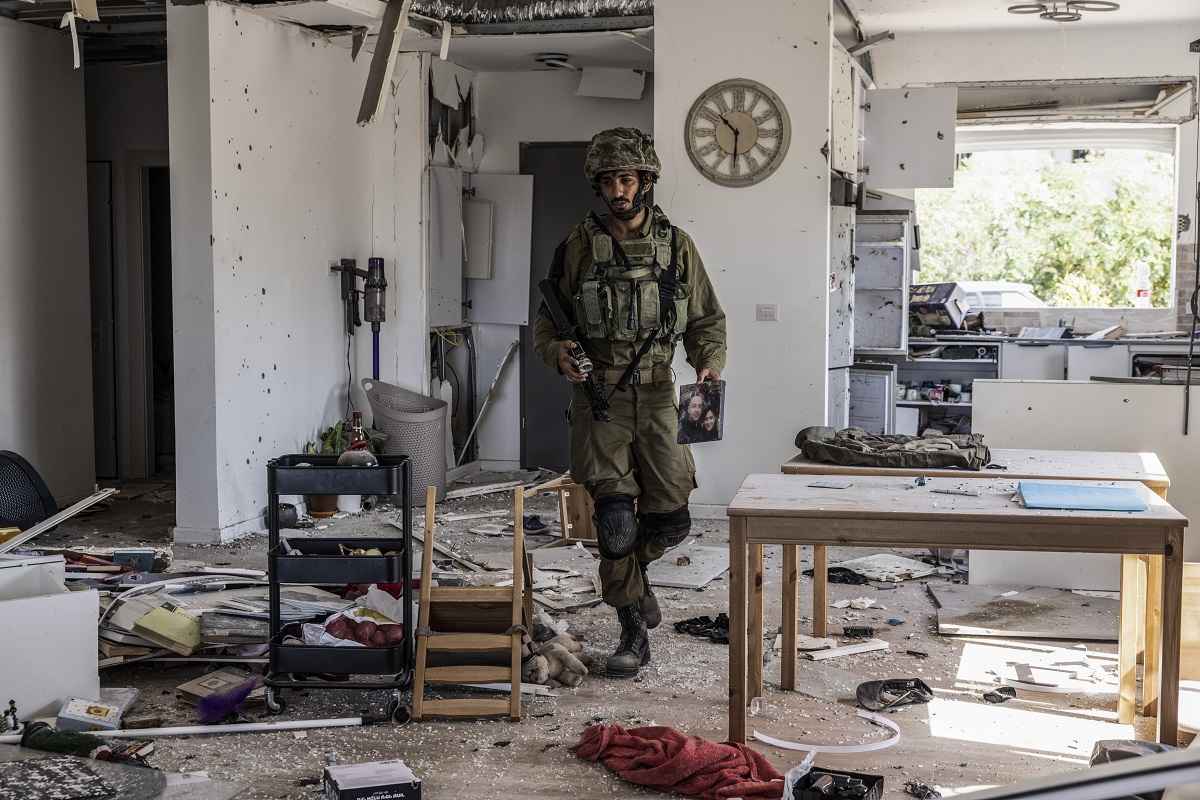 13:43 JST, October 29, 2023
KISSUFIM, Israel – When Hamas militants arrived in the tiny kibbutz of Kissufim, less than a mile from the border with the Gaza Strip, they attacked a carefully picked first target: the white and red metal communication towers on its outskirts.
They made a beeline for the small fenced compound that housed the critical equipment, shooting at it and using a ladder to scale a barbed wire fence to get inside, videos obtained by The Washington Post show.
"They knew exactly what they were doing," said Shai Asher, 50, a member of the armed kibbutz security squad that battled Hamas gunmen that day, struggling to communicate with each other and unable to call for backup.
"The phone network doesn't work, WhatsApp doesn't work, everything is broken down, our radio doesn't work, all the channels of command are missing," he recalled. "They had a flawless battle plan that they executed flawlessly."
For hours, volunteers such as Asher were left to fend for themselves, outnumbered and outgunned. The soldiers that were supposed to protect them were blind to the unfolding disaster, or had been killed or kidnapped.
In a simultaneous wave of attacks on at least seven military posts across the border, Hamas sought to systematically disable key detection, communications and warning systems, using snipers and commercial drones armed with explosives. The strategy allowed its gunmen to advance deep into Israeli territory with little resistance and scrambled the subsequent military response.
The Washington Post spoke to more than a dozen current and former Israeli intelligence and security officials and studied footage from Hamas body cameras to build a picture of how militants were able to overwhelm Israeli military installations and rampage through more than 20 residential communities.
"There weren't enough soldiers; there weren't enough capabilities," said Eyal Hulata, the head of the country's National Security Council from 2021 to 2023. "The first line of defense became the last line of defense, and this should never happen. Israel knows that."
The attack, in which more than 1,400 people were killed and 229 others taken hostage, exposed the vulnerabilities of Israel's border security system, long believed to be one of the most advanced and indomitable in the world. At least 309 Israeli soldiers are among the dead.
Israeli Prime Minister Benjamin Netanyahu had boasted for years of multimillion-dollar investments in an expansive "smart wall," running the length of the enclave above ground and extending deep into the ground.
Claiming in recent years that Hamas had been successfully contained in Gaza, Netanyahu oversaw the gradual withdrawal of troops from the south. Forces left behind at the military and intelligence bases were trained to rely on sophisticated cameras and sensors to monitor for border infiltrations, and to alert forces on the ground in case of unusual events.
But in the early hours of Oct. 7, at least 1,500 Hamas and Islamic Jihad militants broke through some 30 points along the border barrier. They overran some bases so rapidly that soldiers were killed in their bunks, and the militants took out communication networks so efficiently that the area became a blind spot for the military.
"They coordinated it, in sync, to get the maximum impact," Hulata said. "The fact we failed doesn't mean the IDF isn't prepared to respond," he added.
The assault came on a Saturday morning, on the Jewish holiday of Simchat Torah – the end of a two-week string of holidays – ravaging a sleeping nation that had been assured repeatedly by its top security officials that Hamas posed no immediate threat.
"Despite a series of actions that we carried out, unfortunately on Saturday we were unable to generate a sufficient warning that would have thwarted the attack," said Ronen Bar, the head of the Shin Bet internal security service, in a letter to his employees and their families.
Asked for comment by The Post, the Israeli military replied: "Currently the IDF is focused on the ongoing war, we will get to questions of your kind later on." The prime minister's office did not respond to a request for comment.
The coordinated attack began with rocket fire from Gaza – a regular occurrence that caused no particular alarm among soldiers and civilians. As the air raid sirens sounded just before 6:30 a.m., Israeli officers stayed below their lookouts.
Then came the familiar booms from the Iron Dome antimissile defense system, drowning out the gunfire from snipers, who shot at a string of cameras dotting the border, and the explosions from more than 100 remotely operated drones that took out watchtowers, according to security experts who analyzed the footage – most of it posted in real time by the militants.
The towers were outfitted with machine guns and cameras, both connected to the border's thermal imaging sensors and to optical and radar detection systems. They relied partly on automation, partly on remote control.
Once the systems were disabled, fighters from the Nukhba, Hamas's special operations unit, were able to breach the border with relative ease, videos show, using bulldozers, trucks and motorcycles. From there, it was less than a mile's drive to the first military installations, which were mostly unguarded outside.
Front-line observation troops were caught off guard when the militants stormed their bases, navigating confidently through facilities and barracks, security officials familiar with the situation told The Post.
Soldiers managed to kill some Hamas gunmen with remotely controlled guns but, within minutes, hundreds more had taken their place. They killed soldiers in their safe rooms and took others hostage while ransacking weapons caches, loading up trucks and motorbikes already laden with AK-47s, grenades and other weaponry.
Only at 8:06 a.m. – an hour and a half after the start of the assault – did the Israel Defense Forces report a "combined attack." At 8:25, with a large number of Israelis already dead, it declared "a state of alert for war."
Placing key command centers so close to the border was a key mistake, said a former senior Israeli intelligence officer, who spoke to The Post on the condition of anonymity because of the sensitivity of the subject.
"That's what happens when you suffer a catastrophic systemic failure," he said, "and military headquarters and other installations are so close to the border. That's what happens when you forget that all defense lines can eventually be breached and have been historically. That's what happens when you underestimate your enemy."
The Israeli military's regional command-and-control center, near Kibbutz Re'im, suffered a "complete destruction" of "communications systems, their antennas, even the systems that activated the sensors on the fence itself," said Lt. Col. Alon Eviatar, a member of the reserves and an expert in Palestinian militancy as well as being a former officer in 8200, Israel's elite intelligence unit.
In parallel, according to footage reviewed by security analysts, a separate Hamas unit stormed an 8200 installation near Urim, about 10 miles inside Israeli territory, detonating an explosive at the entrance to an underground bunker that housed an expansive intelligence apparatus – synthesizing data from Israel, the Palestinian territories and around the world.
"It is the largest and most significant intelligence base in Israel, one of the country's greatest assets," said Eviatar. "It was a top priority for them."
Hamas fighters battled with Israeli forces outside the bunker, Eviatar said. It is still unclear whether any of the militants survived the battle or managed to take espionage documents or equipment back to Gaza, which he said could be "extremely valuable to Hamas leadership and to Iran."
Forty-five miles to the north, in Zikim, troops at a training base for the Israeli military's search-and-rescue brigade were among the few units not affected by the disabling of communication systems. They belonged to a separate command center that was spared the blackout that affected most of the other installations.
When a rocket struck the base, the duty officer was able to report the attack to Col. Elad Edri, the brigade's commander, who sped to the scene.
"We managed to speak to each other by radio, by phone. It was clear, it was okay," he told The Post. "The bombs didn't influence my unit. They obviously influenced the units that were there to defend the fence."
Edri lost seven soldiers but managed to repel the attack and maintain control of the base.
The breadth and speed of the assault points to deep planning by Hamas. Asher, the security guard in Kissufim, estimates that the militants were at his kibbutz just a few minutes after 6:30 a.m., shortly after the first rocket barrage.
At 6:45 a.m., he got a voice note in the kibbutz's security group on WhatsApp. "This is real action, real action, a real situation," a member of the team said, as gunfire sounded and sirens wailed in the background.
"Do you have any connection with the IDF?" Asher asked, as squad members tried in vain to call in military reinforcements. The internet would cut out soon after. Asher didn't know until 10 p.m. that his wife and two children, barricaded in their safe room at home, had survived.
"It was a nightmare," he said.
After entering the kibbutz, the militants went straight to the house of the community's head of security, who was forced to retreat to a safe room with his family. He could not join the fight, but he survived.
It was a pattern repeated in other communities, Asher said, citing conversations with residents.
"Their success wasn't tech; it was preparation," said Miri Eisin, a former senior intelligence officer in the IDF. They "used military tactics to carry out a terror attack."
As the hours wore on and the death toll climbed, the rare messages that did make it back to Israel's main military headquarters in Tel Aviv were interpreted with "a lot of question marks," said Michael Milshtein, a former senior adviser to COGAT, the Israeli military agency in charge of the Palestinian territories. "After so many years of discounting Hamas," he said, military leaders struggled to grapple with the scale of the unfolding calamity.
Initially, the IDF sent in special operations units, trained to respond to infiltrations from Gaza. But none of their war games resembled what confronted them on Oct. 7.
"[Hamas] knew exactly where they were going, what they were doing, even though it was their first time there," said Milshtein, who said that Shin Bet has been trying to crack down on espionage networks from Gaza over the past two years.
Israeli forces that were able to fight their way into communities under attack struggled to manage the situation, lacking higher-altitude assessments of a vast and chaotic battlefield.
"Without an overall picture, we had to make a lot of quick decisions," said Maj. Palmach, one of the Israeli reservists who, without waiting to be called up, put on their uniforms and jumped in their cars that Saturday, speeding south to fight alongside the special operations forces. He shared his story on the condition that he be identified only by his last name because of IDF ground rules.
Palmach battled Hamas gunmen at the entrance to Alumim, preventing them from entering. He then joined an improvised convoy to Be'eri, one of the hardest-hit kibbutzim. Guided by word of mouth and frantic WhatsApp messages, Palmach rescued people from their safe rooms, many as their houses were burning. Militants lit tires on fire and wheeled them into homes to smoke out families that were in hiding, according to other officers who arrived at the scene that day.
Israel's southern border region is a military zone now. Its tightknit towns are charred and abandoned. Bodies are still being found. Many survivors feel betrayed by a government that promised them safety even as it withdrew protection.
In December 2021, Netanyahu tweeted that the installation of an "underground barrier that stops Hamas's tunnel weapons" amounted to a "historic" day. He had completed the project, he said, despite "great opposition" from other politicians and the defense establishment.
Amir Tibon, a journalist from the Israeli newspaper Haaretz, moved to Nahal Oz in 2014. At least 14 of his neighbors were killed there Oct 7.
When he began living there, combat units were stationed in every community. In recent years, they were redeployed to the West Bank to protect Jewish settlements and to counter new Palestinian militant groups.
"After that fancy underground obstacle that Netanyahu was so proud of, it was decided that the forces weren't needed anymore," Tibon said in a recent Haaretz podcast. "If in every community on that dark Saturday there were forces of 20 people, everything would have looked differently."
Some Israeli soldiers stationed along the border now say they feared a Hamas incursion was imminent and tried to sound the alarm.
"It was clear that something would happen. It was only a matter of time," Maya Dasiatnik, an observation officer in the Nahal Oz base, said an interview with the Kan public broadcaster on Wednesday.
She said that she and dozens of fellow soldiers had repeatedly reported suspicious activity: people approaching the fence with maps, appearing to study it for its weak spots, getting closer every week. There also were tractors and large groups of armed men, carrying out exercises that looked like military drills.
Roni Eshel, who served alongside Dasiatnik, is believed to be among the hostages held in Gaza.
"She reported all kinds of breakdowns along the border," Eyal, her father, told The Post. His last contact with Roni was a text message at 9:27 a.m., three hours after her base was raided. The beds, the safe rooms and the central war room were torched.
"It could have been prevented," he said, "if someone in the army had opened their eyes and ears."
Add TheJapanNews to your Google News feed.