Biden, Shifting Tone, Stresses Need for Palestinian State after War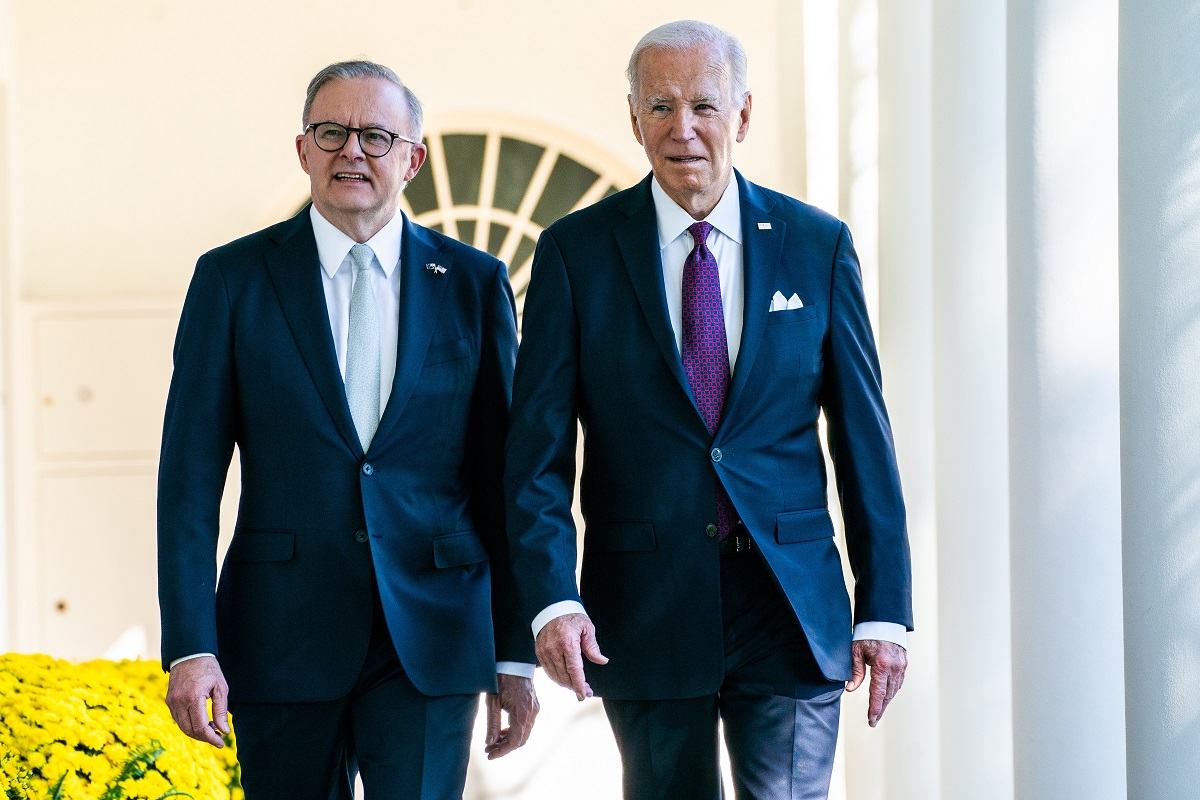 12:31 JST, October 26, 2023
President Biden on Wednesday ramped up his response to Arab concerns about Israel's airstrikes in Gaza, saying there must be "a vision of what comes next" after the war, calling directly for a two-state solution to the Israeli-Palestinian conflict and stressing that Israel must minimize civilian casualties regardless of whether it poses a "burden."
"Hamas is hiding behind Palestinian civilians, and it's despicable – and not surprisingly, cowardly, as well," Biden said. "This also puts an added burden on Israel while they go after Hamas. But that does not lessen the need for us to operate in line with the laws of war. Israel has to do everything in its power."
He sought to signal to Arab leaders in the region that he has an agenda for the Middle East that goes beyond Israel's destruction of Hamas and includes a Palestinian state. "When this crisis is over, there has to be a vision of what comes next," Biden said. "And in our view, it has to be a two-state solution. And it means a concentrated effort from all parties – Israelis, Palestinians, regional partners, global leaders – to put us on a path toward peace."
In the aftermath of Hamas's deadly attacks on Israeli civilians Oct. 7, Biden fiercely embraced Israel, traveled to Tel Aviv and emphasized the Jewish state's right to hit back hard. But in recent days, he has increasingly responded to rising discontent in the Arab world over Israel's devastating barrage of airstrikes and its comprehensive siege of Gaza, an enclave of roughly 2 million people.
Arab leaders have called on Biden to more forcefully address the humanitarian crisis unfolding in Gaza, where Israel has cut off food, fuel, electricity and water, and the hospital system has collapsed. Palestinian health authorities say Israel's aerial bombardment of Gaza has killed more than 6,500 people, many of whom are children.
Arab leaders have also called on Biden to urge Israeli restraint and to signal that he has a vision beyond the current conflict that addresses the needs of Palestinians as well as Israelis. That pressure culminated in Biden's comments Wednesday, which punctuate a steady change in tone regarding the Israel-Hamas conflict in recent days.
The president sharply denounced Israeli settlers who have attacked Palestinians in the West Bank in recent days. Hamas runs the Gaza Strip, while the Palestinian Authority governs the Israeli-occupied West Bank, which has seen a more aggressive settler movement under Israeli Prime Minister Benjamin Netanyahu.
"I continue to be alarmed about extremist settlers attacking Palestinians in the West Bank that are pouring gasoline on the fire," Biden said, noting that the attacks are happening in areas recognized by Israel as Palestinian-controlled. "This was a deal. The deal was made, and they're attacking Palestinians in places they're entitled to be. It has to stop. They have to be held accountable, and it has to stop now."
The current crisis was ignited when Palestinian gunmen from Hamas broke through a sophisticated Israel-Gaza border fence and killed more than 1,400 Israelis by hunting down civilians in their homes and cars, burning people alive and taking scores of people hostage into Gaza. Israel is expected to launch a ground invasion of Gaza shortly, which could usher in an even deadlier phase of the war.
Biden immediately condemned the Hamas attacks as "sheer evil," suggesting they echoed centuries of antisemitic violence endured by Jews. But as Secretary of State Antony Blinken shuttled frenetically between Middle Eastern countries in the aftermath of the assault, the White House quickly realized it had to more directly address growing Arab fury over civilian suffering in Gaza to maintain support in the region, according to administration officials who spoke on the condition of anonymity to discuss internal thinking.
"The [Arab] public is reacting very viscerally," said Paul Salem, president and CEO of the Middle East Institute. "That's something that spurred the administration, after their initial 9/11 reaction, to then also say, 'Respect the laws of war, protect civilians and allow for humanitarian aid.' All of that is pretty straightforward, and it relates to reducing anger in the Arab world and wider Muslim world."
Biden's comments Wednesday came in a joint news conference at the White House with Australian Prime Minister Anthony Albanese. The Australian leader's visit was intended to strengthen the U.S.-led coalition against China's growing influence, but Biden's comments on the Middle East reflected how much his foreign policy agenda has been taken over by events in Israel as well as Ukraine.
When Biden was asked by a reporter about the more than 6,500 civilians killed in Gaza, he said he was skeptical of that figure, which has been reported by a Health Ministry run by Hamas.
"I have no notion that the Palestinians are telling the truth about how many people are killed," Biden said. "I'm sure innocents have been killed. . . . I think that Israelis should be incredibly careful to be sure that they're focusing on going after the folks that are propagating this war against Israel, and it's against our interests when that doesn't happen. But I have no confidence in the number that the Palestinians are using."
As White House officials have privately deliberated in recent days over what lies ahead in the Middle East, they have become more concerned about Israel's tight siege, whether its expected ground incursion can achieve its goals and what the region will look like afterward.
Biden reflected some of those concerns when he visited Tel Aviv last week and warned Israelis not to be "consumed by" rage and repeat the mistakes the United States made after the Sept. 11, 2001, terrorist attacks. Officials have grown particularly anxious that a ground invasion could escalate the war by infuriating Arab leaders and communities around the region.
If Iranian-backed proxies – especially Hezbollah, a political party and militant group in Lebanon that, along with its allies, currently controls the largest number of parliamentary seats – then enter the conflict and turn it into a two-front war, it could stretch Israeli forces and potentially pull the United States into the fray.
As a result, the U.S. warnings to Israel have become unmistakable. "What you're reading in the statements and what they're saying publicly is they're shifting from 'We're 100 percent behind Israel' to 'We really need to figure out a way not to escalate this conflict – and Israel, your actions are the part that needs to be controlled,'" said a person familiar with the White House's thinking, who spoke on the condition of anonymity to discuss private conversations.
As aid trucks have struggled to get into Gaza through the Rafah border crossing with Egypt, American officials have urgently sought partners in the region – particularly Egypt and Qatar, which has ties to Hamas – to help ensure the arrival of aid, open humanitarian corridors in the territory and negotiate hostage releases.
The White House is also eager to protect its diplomatic initiatives in the region that had been in progress before Oct. 7, notably an effort to normalize ties between Saudi Arabia and Israel. Biden said Wednesday that he believed Hamas launched its attack in part to derail that effort.
"I'm convinced one of the reasons Hamas attacked when they did – I have no proof of this, just my instinct tells me is because of the progress we are making towards regional integration for Israel and regional integration overall. And we can't leave that work behind," Biden said.
Throughout his presidency, Biden has devoted less energy than some of his predecessors to trying to bring about peace between Israelis and Palestinians. His long foreign policy experience appeared to convince him of America's limited influence in that effort. At the same time, Biden seemed to accept the growing conclusion of some leaders in the region that Israel and Arab nations could normalize relations without resolving the Palestinian issue first.
But the reaction to the Israel-Gaza crisis has challenged that view, and Biden on Wednesday issued his clearest call to date for a two-state solution that would allow Palestinians to govern themselves after Hamas is removed or greatly weakened.
"I also want to take a moment to look ahead toward the future that we seek: Israelis and Palestinians equally deserve to live side-by-side in safety, dignity and peace," Biden said. "There's no going back to the status quo as it stood on October 6th." That means, he added, both the crippling of Hamas and real movement toward a two-state solution.
That language was more urgent than Biden's tone less than two weeks ago.
During an interview with CBS on Oct. 15, Biden said there needed to be a path to a Palestinian state. But when asked whether Israel would still be open to that solution, given the severity of the Hamas attacks, Biden replied: "Not now. Not now. But I think Israel understands that a significant portion of Palestinian people do not share the views of Hamas and Hezbollah."
Blinken on Tuesday defended Israel's military actions at the United Nations Security Council but also called for a consideration of "humanitarian pauses," another marked shift in the administration's message. The change has been evident as well in the White House summaries of Biden's calls with Netanyahu and Arab leaders.
Shortly after the Hamas attacks, the White House said that the president had spoken with Netanyahu to reiterate his "steadfast support for Israel" and had "reaffirmed U.S. determination to provide the Israeli government with what it needs to protect its citizens."
In recent days, the readouts have increasingly stressed the need for Israel to allow aid into Gaza and abide by the rules of war.
"The President welcomed the first two convoys of humanitarian assistance since Hamas's October 7 terrorist attack, which crossed the border into Gaza and is being distributed to Palestinians in need," a summary of a Sunday Biden-Netanyahu call read. "The leaders affirmed that there will now be continued flow of this critical assistance into Gaza."
Biden also spoke with Saudi Crown Prince Mohammed bin Salman on Tuesday, and the White House readout cited the need for Israeli-Palestinian reconciliation. The two heads of state, it said, "affirmed the importance of working towards a sustainable peace between Israelis and Palestinians as soon as the crisis subsides, building on the work that was already underway between Saudi Arabia and the United States over recent months."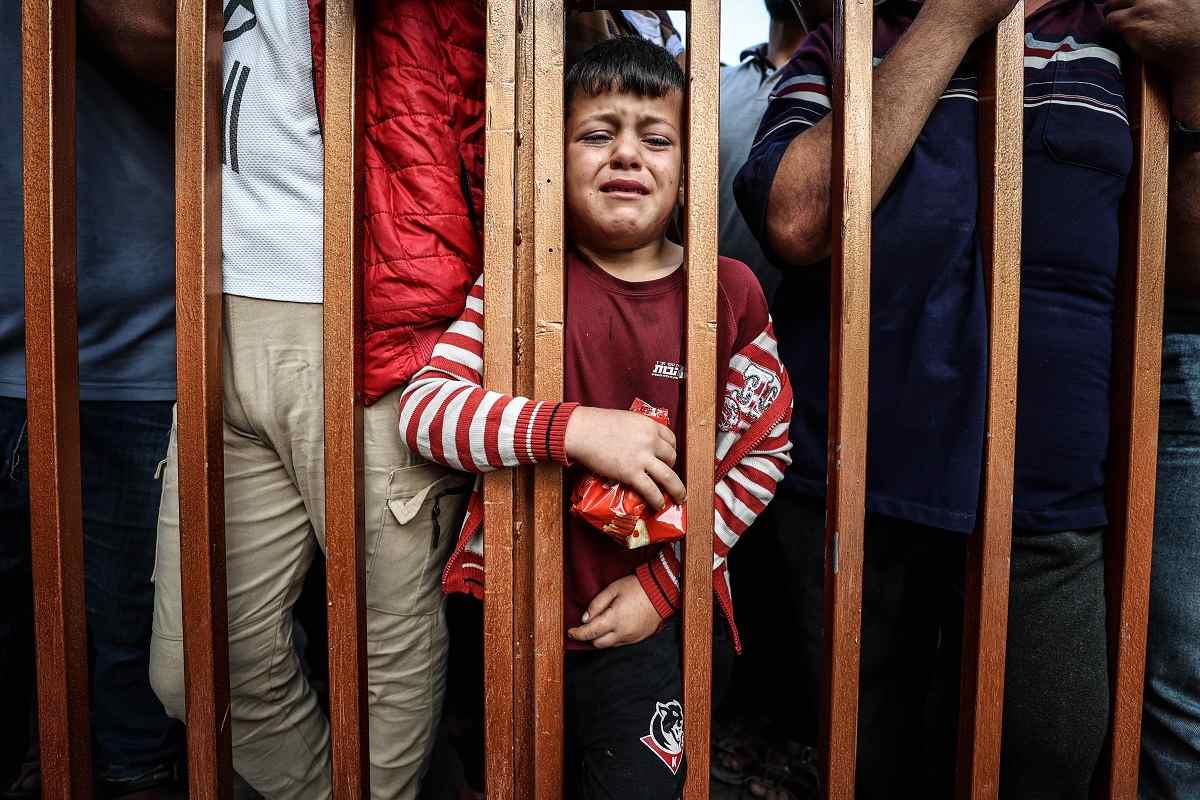 Add TheJapanNews to your Google News feed.