Calls Rising Globally for Pause in Israel-Gaza Violence to Allow in Aid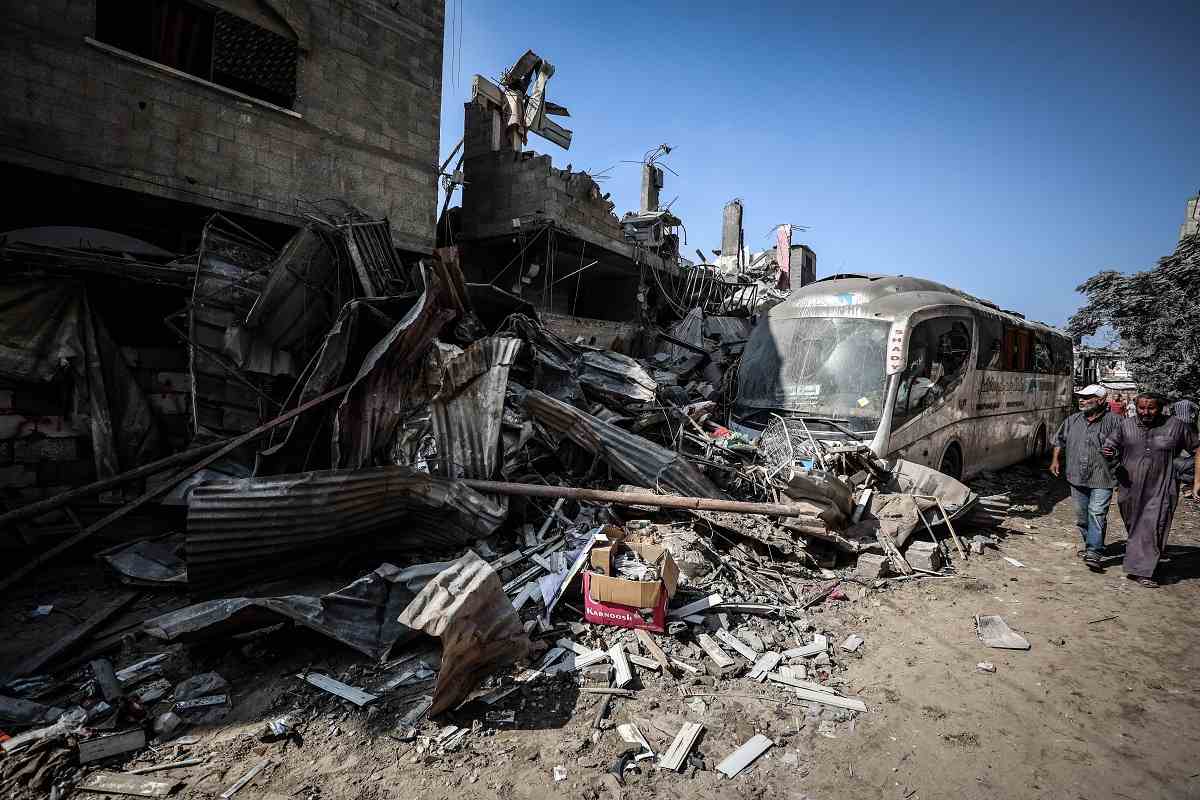 12:24 JST, October 26, 2023
JERUSALEM – On the 19th day of the Israel-Gaza war, the pressure around the Middle Eastern enclave built to a new intensity as health conditions in the Gaza Strip reached what Palestinian authorities called a state of collapse, and a war of words among political leaders around the world exploded with threats of travel bans and broken diplomatic relationships.
International efforts to get Israel to halt or delay plans for a ground assault on Gaza expanded Wednesday, along with calls for a cease-fire or a broad expansion of aid deliveries to Gazans. The Israeli government pushed back, blasting leaders at the United Nations and in Turkey for statements that Israeli officials said condoned Hamas's Oct. 7 attack.
On the ground in Gaza, the impact of Israel's retaliatory air assault worsened: Thousands living in communities pocked with missile craters and collapsed residences resorted to sleeping in the streets, hospitals reported closing for lack of electricity and supplies, and the unconfirmed death toll announced by the Gaza Health Ministry, which is run by Hamas, soared by another 756 on Wednesday, to a total of 6,546.
Despite earlier warnings from Israeli forces for Gazans to evacuate from the north to the south, almost two-thirds of this week's casualties occurred in the southern part of the Strip, the Gaza Health Ministry said.
But at a White House news conference, President Biden cast doubt on the casualty numbers reported by the Gaza Health Ministry. "I have no notion that the Palestinians are telling the truth about how many people are killed," Biden said, though he added, "I'm sure innocents have been killed."
At the same time, the president said the military challenge facing Israel is no excuse not to avoid civilian casualties. "I think that the Israelis should be incredibly careful to be sure that they're focusing on going after the folks that are propagating this war against Israel," he said.
In Israel, authorities released new numbers, saying they had identified 1,106 of the Israelis killed in the Hamas attack, including 798 civilians and 308 soldiers. Israeli police said about 15 percent of the bodies of slain civilians remain unidentified.
Israeli Prime Minister Benjamin Netanyahu, speaking in a televised address, said his war cabinet is in unanimous support of an impending ground incursion: "I won't specify when, how, how many. . . . And that's the way it is supposed to be . . . so that we protect our soldiers' lives."
In Gaza, the U.N. agency that provides aid to Palestinian refugees said that more than 600,000 displaced people are now staying in 150 U.N. facilities, most of them schools. Conditions at those shelters are dire, the relief agency said, with little or no fuel and growing overcrowding.
In the occupied West Bank, the Palestinian Health Ministry – an official agency of the Palestinian Authority – declared "the collapse of the health care system in Gaza" and issued a strongly worded plea for the international community to "intervene immediately" to allow medical aid, food and volunteer health workers to flow into the blockaded enclave.
The ministry said 12 of Gaza's 35 hospitals are "no longer functioning." At the open hospitals, physicians are treating patients on floors and corridors and surgeries are proceeding without anesthetics and under portable lights.
Only about 30 percent of the Gaza medical staffers who worked at hospitals and clinics before the war are still on duty, either because they've had to flee their homes or because they fear moving around the Strip, said Ashraf al-Qudra, spokesperson for the Gaza Health Ministry.
Medical staffers told The Washington Post that they are working nearly 24-hour shifts and have not returned home for days or weeks.
A staff member at al-Shifa Hospital, Gaza's largest, said a nurse on his team left the hospital for the first time since the conflict began. "She started crying and sobbing and screaming" after she learned that her "house was bombed and leveled to the ground," he said, speaking on the condition of anonymity to protect his security.
Many health facilities have turned into improvised camps for displaced Gazans, who are seeking safety in medical compounds, further straining dwindling water, food and power supplies.
"We are looking at a real humanitarian catastrophe, not just in the making, but now fully arrived," said William Schomburg, head of the International Committee of the Red Cross's mission in Gaza. During a recent visit to Gaza City's al-Quds Hospital, airstrikes shook the walls and there was palpable fear among the exhausted medical staff, he recalled. He said he saw displaced Palestinians sleeping "on every inch of spare floor space, because no one feels safe outside."
Schomburg said the Red Cross has trauma surgeons waiting to enter Gaza, "but we need security."
Israeli officials erupted in outrage over comments on Tuesday by U.N. Secretary General António Guterres, who condemned Hamas but also called for a cease-fire and decried "collective punishment" of Palestinians.
Guterres said the attack on Israel "did not happen in a vacuum," to which Israeli government minister Benny Gantz, a former military chief of staff, replied on X, "Dark are the days when the United Nations Secretary General condones terror." Gantz added, "Terror apologists cannot speak on behalf of the world."
After calling for Guterres's resignation, Israel's U.N. ambassador, Gilad Erdan, told Israeli media Wednesday that "we will refuse visas to U.N. representatives. . . . It's time to teach them a lesson." He said a next step should be to expel "hostile U.N. officials" from Israel.
Late Wednesday, Guterres issued a statement saying that his comments had been "misrepresented"; a spokesman for the secretary general, Stéphane Dujarric, said the implication that Guterres was "justifying terror by Hamas . . . was false." To the contrary, Dujarric said, Guterres had "clearly condemned the acts of Hamas unequivocally."
In Turkey, President Recep Tayyip Erdogan on Wednesday delivered a fiery speech to legislators from his party, condemning Israel, defending Hamas and calling for international pressure for a cease-fire. "Hamas is not a terrorist organization but a liberation group, a group of mujahideen that is fighting to protect its soil and its citizens," Erdogan said. Addressing Israel, he said that "Turkey owes you nothing."
Erdogan described Israel's airstrikes against Hamas as "not self-defense, but deliberate brutality aimed at committing crimes against humanity." He called for pressure on Israel for a cease-fire and proposed an "International Palestine-Israel Peace Conference."
Israel's Foreign Ministry issued a sharp retort to Erdogan: "Israel rejects with horror the Turkish president's grave words about the terrorist organization Hamas. Hamas is an abominable terrorist organization, worse than ISIS, that brutally and intentionally murders babies, children, women and the elderly, takes civilians hostage and uses its own people as human shields."
"Erdogan supports terror, period," said Israel's culture minister, Miki Zohar. "It's time we recalibrate the course of our relations with Turkey."
Turkey, a NATO member and one of the first Muslim-majority countries to open diplomatic relations with Israel, had been rebuilding ties, which had been strained in recent years – until this war began.
But the growing calls for a cease-fire won little support from Washington and some of its European allies. The Biden administration has said a formal cease-fire would help Hamas. A spokesman for British Prime Minister Rishi Sunak agreed Wednesday, saying that cessation of the retaliatory attacks "would only serve to benefit Hamas" but adding that "humanitarian pauses, which are temporary, which are limited in scope, can be an operational tool."
At the U.N. Security Council, the United States and Russia vetoed each other's resolutions and accused one another of "political" motivations. The United States had called for a humanitarian pause to allow aid to flow into Gaza, but Russia sought a full cease-fire and accused Washington of giving Israel a "green light" to launch a ground attack.
In his televised address, Netanyahu said questions about why Israel was so completely surprised by the Hamas attack will be addressed after the war is over. "October 7 was a black day in our history," he said. "Everyone will have to give answers on the debacle – including myself – but all that will happen only after the war."
In Gaza, where only three small aid convoys have arrived since Israel announced a "complete siege," Israel's exclusion of fuel from the list of materials that are being allowed into the Strip has led to failures of backup generators that are used to pump water, operate ambulances and keep the lights on.
At al-Aqsa Martyrs Hospital in central Gaza, a spokesman, Mohamed al-Haj, told The Post that the facility will run out of fuel within two days. Doctors are using solar power to attend to the most critical needs, such as newborns in neonatal intensive care, dialysis patients and lifesaving surgeries. But at night, the solar power cuts out.
A 52-year-old teacher who lives nearby said she has only intermittent access to electricity, internet, clean water and cooking gas.
"No one here asks how you are," the educator said by phone, speaking on the condition of anonymity to protect her safety. "We just communicate when we hear bombings and we try to estimate where it is."
Several explosions could be heard during the spotty phone conversation. "We are just trying to survive," she said.
Add TheJapanNews to your Google News feed.