In D.C. Bill, Mayor Muriel Bowser Aims to Curb Retail Theft, Drug Dealing, Police Reform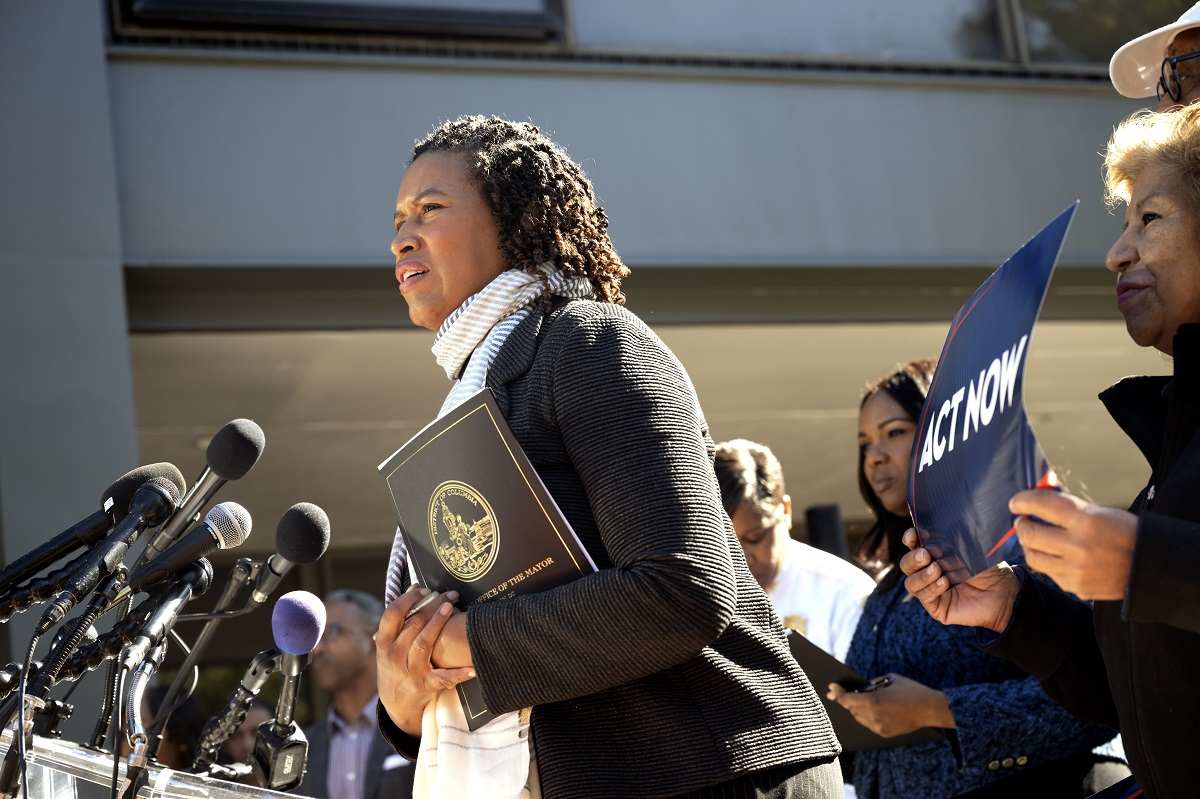 11:33 JST, October 24, 2023
WASHINGTON – Mayor Muriel E. Bowser (D) unveiled new crime and policing legislation Monday intended to crack down on "organized retail theft" and open-air drug markets in the District, while undoing or amending a number of policing changes passed in the aftermath of George Floyd's murder in 2020.
Bowser framed the legislation as responding to a critical moment in the District, which is weathering the greatest spike in violent crime in two decades and contending with historic staffing lows among D.C. police that officials say is hamstringing the department's response to crime.
"We need to act now, and we need to send the strong message that violence is not acceptable in our city – and this perception that people have, that you can commit a brazen crime and get away with it, has got to stop," Bowser said. "This legislation will change that."
But while high violent crime – particularly homicides and carjackings – has been the most vexing challenge, Bowser's legislation is largely targeted to cracking down on retail theft and drug-dealing in public spaces. For some frustrated D.C. business owners and residents, those problems have in some ways symbolized the decline of core areas of downtown.
At a public meeting in Chinatown in August, a representative from Monumental Sports & Entertainment, which owns the Wizards and Capitals, complained of "open-air drug transactions" near Capital One Arena. Viral videos of empty shelves at stores such as CVS have rankled shoppers, while some corporations such as Giant Food have stopped stocking certain items ranging from Tide detergent to Advil due to theft.
The legislation appears to respond specifically to those concerns, while at the same time assuaging complaints brought most loudly by the police union and echoed Monday by Bowser's top public safety officials about some provisions in the Comprehensive Policing and Justice Reform Amendment Act, major policing legislation that sought to enhance transparency and accountability.
Bowser's bill, the Addressing Crime Trends Now Act, would establish new felony crimes for engaging in or "directing" organized retail theft – intended to target shelf-sweeping thievery of specific items to sell them on the street – and would revive a "war on drugs"-era policy allowing the police chief to declare temporary "drug-free zones."
And after months of complaints from the police union and debate in Congress, Bowser is also seeking to roll back a number of provisions of the policing bill, such as narrowing the definition of prohibited neck restraints, slightly loosening restrictions on vehicular pursuits and allowing police to review body-camera footage in most cases before writing reports. The changes, Bowser said, are intended to equip officers to better respond to crime and make the department more attractive for prospective officers.
At the same time, the proposals to undo some parts of the law could test members of the D.C. Council, who passed the permanent version of the policing bill less than a year ago, as Republicans in Congress, which has oversight authority over the city, repeatedly seek to paint the council as anti-police. The legislation narrowly survived being overturned in Congress after President Biden vetoed a bipartisan disapproval resolution that would have killed it. Bowser did not sign the bill herself.
Now, in a deeply liberal city that sought to lead the charge on police accountability amid a nationwide movement, lawmakers will be forced to consider whether to temper some of those changes.
"We have to have a policy environment that allows us to recruit and retain officers, and not lose our officers to the surrounding jurisdictions because our policy environment makes them scared to do their jobs," Bowser said.
The District's grisly crime stats, repeated everywhere from community meetings to Capitol Hill staffer briefings, have demanded a response from public officials this year, especially as the Republican-led House has heightened its oversight. The District has surpassed 200 killings for the third consecutive year, but at a faster clip this year, and surpassed 800 carjackings this weekend, a 108 percent increase over this time last year. Violent crime overall is up 41 percent, driven in part by a spike in robberies.
Bowser called for the council to pass legislation she proposed in the spring that creates some enhanced gun crime penalties and would permanently expand pretrial detention. But this new bill, she said, was intended to respond to "emerging trends" in crime.
When it comes to organized retail crime, city officials said they sought to distinguish between shoplifting and targeted theft of specific items – laundry detergent, for example – that may be sold on the streets or fraudulently returned to stores.
Retail crime is far from new in the District, but data on organized incidents is difficult to track, even as many have garnered attention on social media and neighborhood email groups. A police spokesperson said that the department does not specifically track retail-related crimes and that the incidents can be categorized as either thefts or burglaries, depending on the details.
Thefts in D.C. that don't involve cars are up 22 percent compared with the same time last year but remain below what the city experienced before the pandemic, in 2018 and 2019. The number of burglaries, according to the latest D.C. police data, is roughly the same as this time last year and below pre-pandemic levels.
Signs of resistance to Bowser's proposals were already brewing Monday, however – especially the proposal to revive the "anti-loitering" law to crack down on drug-dealing.
D.C.'s previous law allowing the police chief to temporarily create a "drug-free zone" for five days in a 1,000-square-foot space was on the books from 1996 to 2014, when the D.C. Council repealed it along with one that created "prostitution-free zones." The laws were repealed amid constitutional concerns primarily with the prostitution-free zone law, though council members feared the concerns could extend to the drug-free zone law because the two were similar. At the time, the D.C. Attorney General's Office believed both could be unconstitutional.
Bowser, then a council member, voted for the repeal.
At Monday's news conference, when asked about her support of the repeal in 2014, Bowser did not directly address her action then but explained why she supported bringing back temporary drug-free zones today.
"I supported that bill," she said. "Part of the reason we call this Addressing Crime Trends Now is we want to blunt a trend we see in open-air drug dealing that we have pretty much squelched in this city" in all but a few areas, "and we don't want that problem to proliferate."
Council Chairman Phil Mendelson (D) pushed back Monday, saying he was "disappointed" in Bowser's proposal and that he had the same concerns about the constitutionality of the drug-free zones as in 2014.
"Residents are concerned about gun violence, robberies and carjackings," he said. "This proposal does not address gun violence, robberies and carjackings. Instead, it trots out 'solutions' like recreating drug free zones."
Acting police chief Pamela A. Smith and Deputy Mayor for Public Safety and Justice Lindsey Appiah said leaders are confident the law is constitutional.
"Residents have very real complaints about drug transactions they are witnessing in public space," Smith said at the news conference. "This serves as another tool for our MPD officers to address drug-related crime on our District streets and protect the public from the dangers" associated with dealing.
The legislation also would reinstate a law that was sunset at the beginning of the pandemic in 2020 that made it illegal to wear a mask for the purpose of committing criminal acts, intimidating people or causing fear. Appiah said business owners had been complaining of people coming into stores in ski masks in the middle of July.
Some members of the D.C. Council's former Police Reform Commission came out against the legislation Monday.
Pastor Delonte Gholston said reinstating the drug-free zones law harks back to the failed drug wars of the 1990s. In the absence of real solutions to help city youths, he said, "it will always be more politically convenient to lock them up."
"We failed in the last 10 to 15 years to actually provide an infrastructure around prevention in this city, and it shows," Gholston said.
Patrice Sulton, executive director of DC Justice Lab who also served on the commission, said reinstating the anti-mask law creates a basis for pretextual police stops and includes broad language that she worries will be overly and disproportionally applied to Black people.
"What we got from the mayor was something that's tough on people, but soft on crime," Sulton said.
The police reform commission – convened in the aftermath of the murder of Floyd in 2020 – recommended sweeping changes in how the District is policed. More broadly, the report, issued in April 2021, recommended new approaches to confronting violence outside the parameters of law enforcement, and largely formed the foundation for some of the changes the D.C. Council enacted permanently in the policing bill.
Some of Bowser's proposed changes to that law – many of them adjustments versus wholesale reversals – may draw pushback from the criminal justice advocates who fought for the bill starting in 2020. Sulton, for example, opposed changes to the neck restraints prohibition and said other changes reduce transparency in cases where officers are accused of wrongdoing.
Bowser said some of the provisions in the policing bill "just don't match" officers' needs in routine police work.
"I think they were well-intentioned," Bowser said of the provisions in the bill, "and all of us following the murder of George Floyd wanted to make sure we were doing everything possible to make sure we had a safe and constitutional police force. . . . I think some of the reforms have made our communities less safe."
While the policing law prohibits neck restraints intended or having the effect of restricting a person's "movement, breathing or blood flow," the amended version would remove the word "movement," as well as the word "effect." Bowser's top public safety officials said the department was interpreting the law so broadly that too many officers were drawing disciplinary infractions for "incidentally touching" a person's neck. Chokeholds and intentionally restricting a person's breathing or blood flow would still be illegal.
The legislation would also adjust a provision that prohibited police from reviewing body-camera footage to aid in writing any police reports; in Bowser's proposal the prohibition on reviewing footage would only apply in cases of officer-involved shootings or serious use of force. If police reports conflicted with body-camera footage, that could complicate prosecuting the case, officials said.
Smith said that the new legislation will allow police to "file the most accurate reports possible" to recall relevant details from the scene.
The bill would also eliminate some provisions in the policing law that expanded transparency in cases of officer misconduct, such as requiring the public release of the names of officers in disciplinary cases and restricting public access to disciplinary records in cases that were not sustained.
Smith drew parallels to wanting police officers to have the same privacy protections as other D.C. employees while still holding them accountable for wrongdoing. The police union had long complained that the policing bill infringed on officers' privacy, while advocates said the public should be informed about officers engaged in misconduct.
The bill will now face scrutiny from the council. Bowser expressed confidence Monday that the measure would get the seven votes necessary for it to pass, and asked the legislature to move quickly to consider it.
The council had already shown some willingness this summer to make adjustments to the policing legislation after police brought complaints, specifically about the language restricting the circumstances for vehicular pursuits. Officers were interpreting it so broadly that even in some carjacking cases officers felt they could not give chase, officials have said. The council passed an emergency bill tweaking the language; Bowser's bill would make the adjustments permanent.
Council members Kenyan R. McDuffie (I-At Large), Anita Bonds (D-At Large) and Janeese Lewis George (D-Ward 4) attended Monday's news conference but declined to weigh in on the bill's specifics, noting they still needed to review it fully (though Bonds also expressed optimism about reaching a majority). They said they attended to show the community they were in on a united front.
"It's important for us in this city, as a Democrat-led city, the Republicans are attacking us every day and our very democracy, to stand together united," Lewis George said. "It can't be the council versus the mayor, versus the judges, versus the U.S. attorney versus the D.C. attorney general – it has to be all of us, united together, working together."
Council member Charles Allen (D-Ward 6), who shepherded the policing bill as then-chairman of the judiciary committee, said in a statement he would evaluate Bowser's proposal on whether it offers a smart, equitable way of reducing crime, fills a gap in previous legislation and presents a strategy coordinated across city agencies.
Council member Brooke Pinto (D-Ward 2), the current chair of the judiciary committee, pledged to hold a hearing on the bill this fall.
Add TheJapanNews to your Google News feed.