Strike on Gaza Hospital Kills Hundreds, Palestinian Officials Say, as Biden Departs for Israel Visit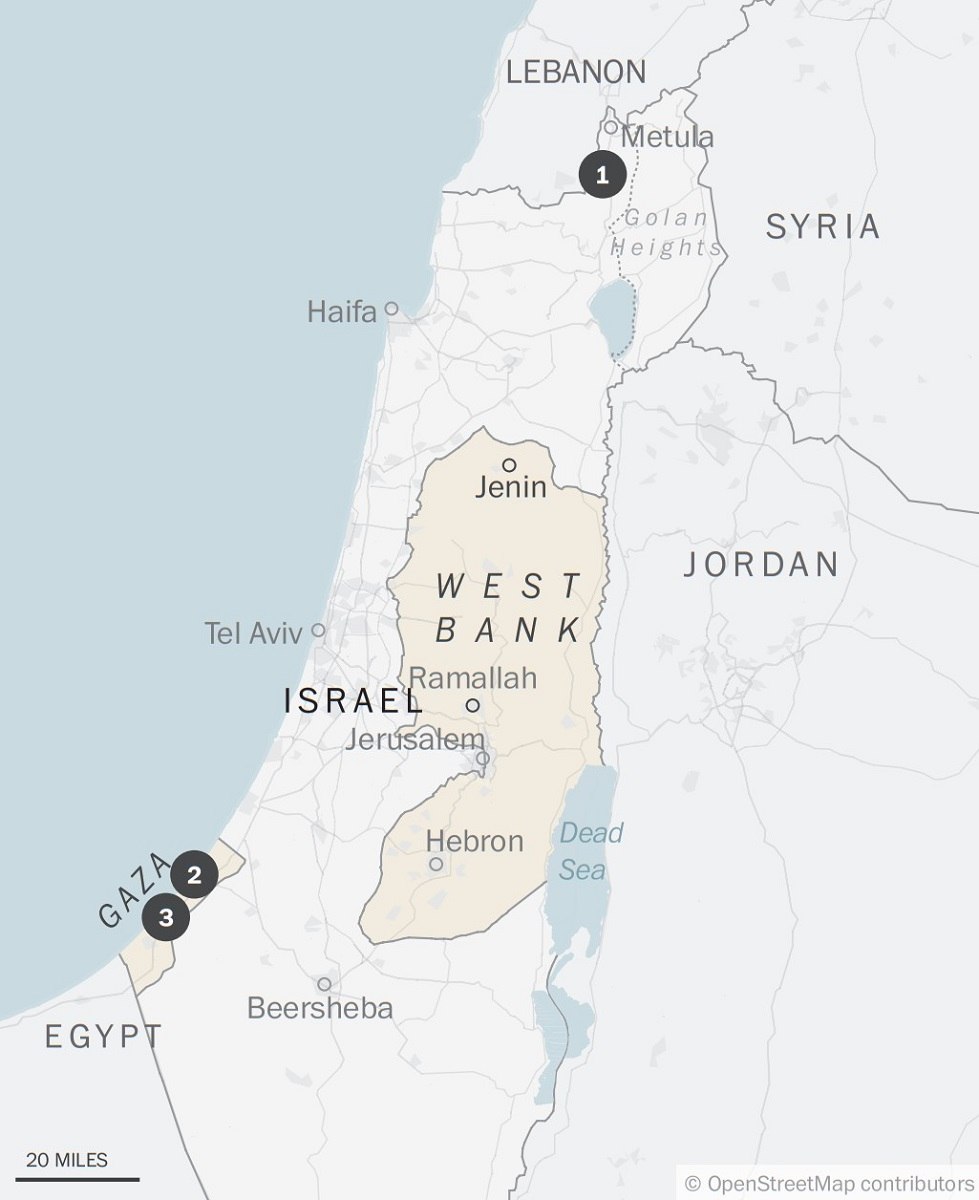 12:53 JST, October 18, 2023
NUSERIAT REFUGEE CAMP, Gaza Strip – A strike on a hospital in Gaza City on Tuesday left hundreds dead, Palestinian authorities said, sparking outrage across the region and elevating fears of wider conflict as President Biden left for Israel on a trip intended as a show of support after Hamas's deadly assault on the country this month.
Israel and Hamas traded blame for the bloodshed at al-Ahli Hospital, which appeared to be the deadliest single strike on civilians in Gaza since the conflict began. The fallout was immediate and worrisome, including clashes between protesters and Israeli and Palestinian security forces in the West Bank. Jordan called off a summit where Biden planned to meet regional Arab leaders to seek ways to keep tensions from spreading.
The Palestinian Ministry of Health said at least 500 people were killed at the hospital operated by a branch of the Anglican Communion, one of the largest Christian groups in the world. Doctors at Ahli quickly organized a stunning news conference amid the dead and injured.
Palestinian officials said an Israeli airstrike hit the hospital courtyard, where displaced Gazans had sought shelter ahead of an expected Israeli ground incursion. Hamas, the militant group that controls Gaza, called the strike a "crime of genocide" that "reveals the ugly face of this criminal enemy."
Israeli officials, including Prime Minister Benjamin Netanyahu, denied carrying out an attack. The Israel Defense Forces blamed the Palestinian Islamic Jihad militant group, "saying a barrage of rockets was fired by terrorists in Gaza, passing in close proximity to the al-Ahli hospital in Gaza at the time it was hit."
As news of the hospital blast spread, protests erupted across the region. Palestinian Authority President Mahmoud Abbas declared a three-day mourning period and ordered flags be flown at half-staff, according to WAFA, the official Palestinian news agency.
The strike on the hospital was certain to loom over and complicate Biden's planned visit to Israel on Wednesday, meant to be a show of solidarity for Israel after Hamas militants attacked dozens of border communities Oct. 7, killing at least 1,400 people, taking more than 200 back to Gaza as hostages and setting off the country's worst crisis in decades.
Jordan's foreign minister said his country would not host a planned summit with Biden, Jordanian King Abdullah II, Egyptian President Abdel Fatah El-Sisi and the Palestinian Authority's Abbas.
In response to the Hamas attack, Israel has throttled Gaza, a 25-mile-long enclave under Hamas control that is home to 2 million people, sealing it off from aid deliveries and cutting off electricity amid blistering airstrikes and an expected ground incursion. The effect has been what a U.N. agency has called a "bone-chilling" humanitarian crisis that has turned the densely populated and besieged enclave into a "hellhole."
Palestinian officials said, before the hospital bloodshed, that at least 2,778 people have been killed in Gaza and almost 10,000 wounded. The hospital strike came as dwindling fuel supplies were pushing Gaza's health-care system close to collapse. The only oncology hospital in the Gaza Strip was days away from halting services because of the shortages, Palestinian officials said.
Aid convoys were waiting at the entrance into Gaza from Rafah on the Egyptian border, but days of negotiations with Israel to allow them in have been unsuccessful.
Biden said Tuesday he had directed his national security team to continue gathering information about what happened at the hospital, saying the bloodshed left him "outraged and deeply saddened."
"The United States stands unequivocally for the protection of civilian life during this conflict," he said in a statement. "And we mourn the patients, medical staff and other innocents killed or wounded in this tragedy."
A video of the strike on the hospital, verified by The Washington Post, captures the first sounds of an explosion – a whirring noise in the air and then a loud blast – as the camera pans to show plumes of smoke, tinged orange from the flames, across a nighttime sky.
The World Health Organization condemned any targeting of health-care facilities. "The hospital was operational, with patients, health and care givers, and internally displaced people sheltering there," the organization said, calling for civilians and health-care sites in Gaza to be protected.
At least 10 hospitals in Gaza have come under attack since Oct. 7, according to data collected by the United Nations.
"This is a massacre," Doctors Without Borders, which blamed Israel for the hospital strike, said in a statement. "It is absolutely unacceptable. . . . Hospitals are not a target. This bloodshed must stop. Enough is enough."
Ahli is owned and operated by the Episcopal Diocese of Jerusalem, said Eileen Spencer, head of the American fundraising arm for the diocese. The 80-bed hospital manages roughly 3,500 outpatient visits and about 300 surgeries per month, according to the diocese website. It also runs a free program for the early detection of breast cancer.
"There are so many casualties," Spencer said, "and it seems like it is just going to get worse."
A stream of ambulances took people to nearby al-Shifa Hospital for more than 90 minutes Tuesday night, said Mohammed Kahlout, who witnessed the aftermath. "The scene was horrific and unbelievable," Kahlout said. "People were screaming and crying."
The Ahli hospital "was sheltering thousands of displaced people who were forcibly evacuated from their homes," the Palestinian Ministry of Health said in a statement posted to Facebook. The ministry said many of those killed were women and children.
Israel's military ordered all civilians in Gaza City and northern neighborhoods to evacuate last week, triggering hundreds of thousands to head south to Gaza. But many refused to go, and some people who stayed in Gaza City moved near hospitals such as Ahli, hoping medical complexes would be safer and less likely to be hit.
Many hospitals in the north said it was impossible to evacuate to the south.
"We all know that all of those hospitals and their courtyards have thousands of displaced people," Richard Peeperkorn, the WHO's representative for the West Bank and Gaza, said at a news conference. "They go to these hospitals because they expect safe places. If even a hospital is not a safe place anymore, what is?"
In a separate incident Tuesday, the U.N. agency for Palestinian refugees said at least six people were killed and dozens injured when one of its schools was struck "during Israeli forces airstrikes and bombardment on the Gaza Strip."
The agency, known as UNRWA, said a school in the al-Maghazi refugee camp was sheltering 4,000 Gazans with nowhere else to go. It said it provided the coordinates of the school to the "relevant parties."
"This is outrageous," Philippe Lazzarini, commissioner general of UNRWA, said in a statement. "And it again shows a flagrant disregard for the lives of civilians."
One of Biden's aims on the trip was to try to keep the conflict from turning into a broader regional war and reactivating fronts where Iran, Israel's archenemy, has other allied forces.
Four fighters from the Iranian-backed paramilitary group Hezbollah were killed Tuesday as clashes flared along Israel's border with Lebanon, in some of the worst conflict since the Hamas attack. The Israeli military reported that three soldiers and a civilian were injured by antitank rockets fired across the border.
Biden is among several world leaders who have visited or announced plans to visit Israel, many of them also trying to negotiate a pause in the fighting that would allow foreign nationals to leave Gaza through the Rafah crossing on the Egypt-Gaza border and let in the humanitarian aid.
The Israel military said Tuesday that its fighter jets had struck operational command centers, military infrastructure with operatives within, and hideouts belonging to Hamas in Zeitoun and Jabalia in the northern portion of the Gaza Strip, and northern Rafah and Khan Younis in the south.
Hamas on Tuesday said one of its top military commanders, Ayman Nofal, was killed in an Israeli strike. Gaza's Interior Ministry said about 80 people were killed in the strikes, while dozens of others were injured.
The siege has affected the ability of emergency responders to conduct even basic search-and-rescue operations. Excavation equipment is in short supply and there is little fuel.
Authorities in Gaza had urged citizens to donate what fuel they had left to the health ministry to keep the hospital generators on and save lives. One doctor told The Post he had found handwritten wills in people's pockets.
Islam Dhair, a father of four who lives in Rafah, said his life in Gaza had been punctuated by cycles of conflict, "but nothing like this." Food and other goods were running low in his neighborhood as thousands of people arrived from the north.
Ghassan Abu Sitta, a doctor with Doctors Without Borders, said Tuesday he had moved from Shifa to Ahli to help treat the wounded. He had noted how full the Ahli courtyard was with families seeking refuge at what they thought was a safe place.
Now, he said, many of those people were either dead or injured.
Abu Sitta said he heard a missile screech followed by a huge explosion.
"I could see bodies of children, piled up, some dead, some moving," he said at a news conference at the hospital, surrounded by bodies under bloody plastic sheets. "There were body parts everywhere."
Add TheJapanNews to your Google News feed.