Behind Closed Doors, Marines Struggle with a Glaring Diversity Problem
12:39 JST, October 17, 2023
Zach Mullins was used to walking into rooms filled with White faces. But he was taken aback when, at an air show last year in San Diego, a man approached to ask: "Did you know that you're the only Black fighter pilot in the Marine Corps?"
Mullins, who flies F/A-18 Hornets, is one of five, in fact. But in recalling the exchange, he said that, "I never really thought about the numbers just because it was the job that I wanted to do" – though it was "a little staggering," the Marine captain conceded, to learn the number of African Americans in elite jobs like his was so small.
The Marine Corps, in step with the rest of the U.S. military, has spent decades making a concerted push to become more reflective of the diverse nation it defends. Officials point to sustained gains in recruiting women to join the force and in growing overall diversity among the service's officer ranks.
But within its community of fighter pilots, these efforts have failed to keep pace. And while leaders acknowledge they have work to do, observers say the institution appears unwilling to take the aggressive and resource-intensive steps that experts deem necessary to put Black candidates for those jobs on more equal footing with their White peers.
Gary Graham Jr., a film producer whose father flew fighter jets in the Marine Corps, has researched the imbalance and concluded that the service's leaders underestimate what's required for African Americans to overcome certain obstacles that can stymie the prospects of otherwise qualified individuals. He points to previous flying experience, which is expensive. Graham also faults a recruiting system that he said has done a lackluster job engaging the Black community specifically.
"So those opportunities," he said, "aren't known to folks who would even consider it, and who would be skillful or educated enough."
Over the past quarter-century, the number of Black Marines who fly fighter jets has fallen from an all-time high of 15 in 2000 to just the five today – not even 1 percent of the approximately 580 fighter pilots serving across the Marine Corps. It's the military's worst such disparity – and one made more striking by the rise of Air Force Gen. Charles Q. Brown Jr., a fighter pilot and African American, who as chairman of the Joint Chiefs of Staff holds the military's highest post.
David Berger, who retired in July as the Marines' top general, commissioned during his tenure as commandant an independent study that yielded a road map for the service to start closing the gap. But two years later, the study's most transformative recommendations remain unimplemented as leaders opt instead to remain on a course that emphasizes a broad concept of diversity rather than targeting shortfalls in individual demographics or career fields.
To lead the effort, Berger tapped Charles Bolden Jr., a former NASA administrator and the second Black Marine aviator ever promoted to general officer, and Bolden's son Ché, who spent 26 years in the Marine Corps. In an interview, Charles Bolden said he accepted the assignment "somewhat leery," having grown disillusioned with what he characterized as the Pentagon's vague efforts to promote military diversity.
"I came out depressed," he said. "Because I personally had no idea we had gone as backwards as we have gone." He and his son remain doubtful that Marine Corps leaders will expend the resources and effort required to achieve the change they prescribe.
The Boldens' study, a copy of which was obtained by The Washington Post, has not been made public. It concludes that the Marine Corps cannot overcome generations of discrimination and mistrust merely by having removed barriers to participation in top-tier jobs such as fighter pilot. Rather, the Boldens assert, the service must establish new pathways to reach and recruit African Americans and entrust the role of "chief diversity officer" to the commandant himself rather than delegate that responsibility to a leader with less visibility and influence as it does now.
"We made a very clear statement upfront that, hey, the Black jet pilot community is an avatar for the Marine Corps," Ché Bolden said.
In response to questions about the study, Maj. Joshua Larson, a Marine Corps spokesman, pointed to a mission statement indicating that the service is "committed" to diversity, equity and inclusion, "not to satisfy abstract notions of political correctness, but as a very real means to recruit, develop, and retain Marines of varied talents."
Only the Air Force, Navy and Marine Corps operate fighter jets, and while all have struggled to recruit and retain Black pilots, the Marines have performed most poorly.
There are 60 Black fighter pilots in the Air Force, or 2 percent of the community. Navy data show 15 Black pilots out of 1,124, about 1.3 percent. Those figures could be higher, however, as both services allow personnel to identify as multiple races or decline to respond.
In the Marine Corps, the fighter pilot community has an outsize impact: The service's top officers are almost always promoted from within the infantry and aviation fields. One takeaway from the Boldens' study was that Black Marines often take themselves out of the running for these positions at the start of their military careers by pursuing fields such as logistics or administration that transfer more readily to future civilian employment.
The Marine Corps could diversify its pilot ranks by selecting more Black enlisted troops for officer training, the study found. But a restrictive process that requires enlisted Marines to serve at least four years – which is the duration of a standard contract – before entering an officer program reduces the pool of candidates. The Boldens recommended removing these barriers, but to date, the service has not done so.
Last year the Marine Corps did launch a program that brought 40 enlisted reservists from underrepresented demographics to the D.C. region where, for a week, they observed Marine officer training – to help them "visualize" what it would be like to pursue such a career path, according to program materials supplied by Larson, the spokesman.
Statistics provided by the Marine Corps show that, in the past two years, about 35 percent of newly commissioned lieutenants came from what the service calls diverse backgrounds, defined as anyone other than a White male. The data show, too, that last year nearly 45 percent of those enrolled in enlisted-to-officer programs were categorized as diverse.
The Bolden study is critical of the service's broad-brush discussion of diversity, saying that failing to distinguish demographics by race and job field amounts to "data masking."
Another focus of their study was the availability of education opportunities that prepare promising leaders for future military service. The Boldens called for establishment of an additional military feeder school at a historically Black college or university – there are six such institutions nationwide now – and aviation-specific recruitment programs at each.
"The Marine Corps does not have close, long-term, habitual relationships with key institutions within the Black community," the Boldens wrote, emphasizing that this "very same shortcoming" was highlighted during a similar diversity initiative undertaken during the early 1990s. "Decades later," they wrote, "it remains a problem."
Before retiring, Berger, the study's commissioner, said he agreed the Marines have more to learn from HBCUs – "that's a partnership we can continue to build on" – and noted that he had met last year with administrators from Florida A&M to discuss diversity and bridging "perceived gaps about what service means today." To date, the Marines have not announced any plans to pursue the establishment of a new feeder school, though. Doing so would require collaboration with the other military branches and Congress.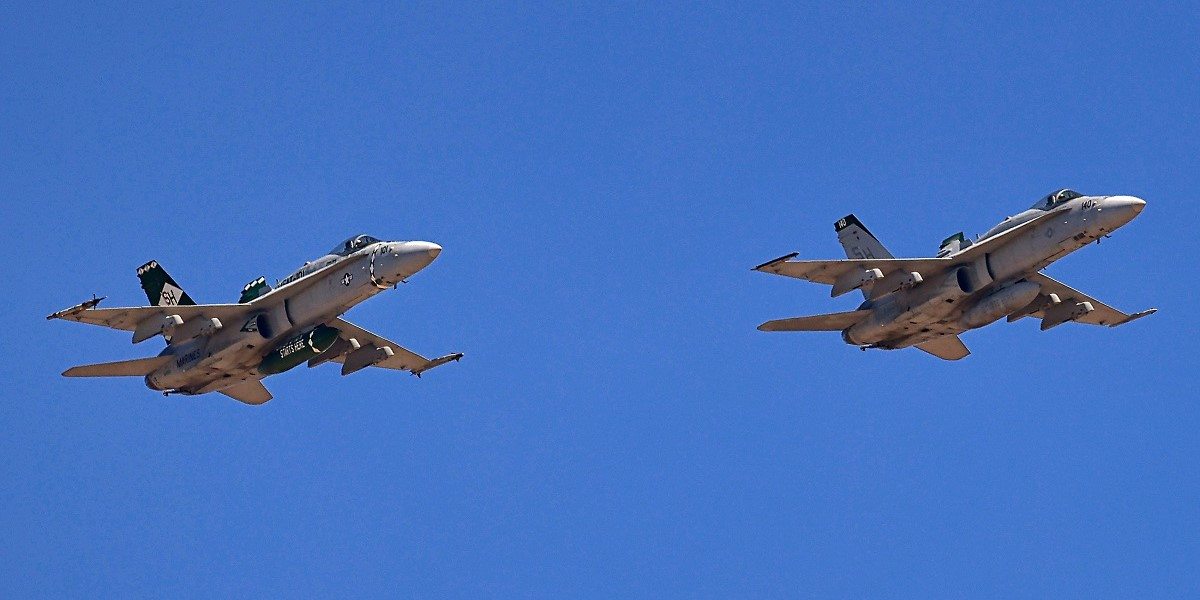 Mullins's path to the cockpit illustrates the effectiveness of community outreach. A Houston native, he said he had a natural affinity for engineering and loved to attend air shows but knew nothing about military academies until an Army officer visited his school when he was in eighth grade.
It was a family friend, who'd flown for the Navy, who turned Mullins's head with stories of landing on aircraft carriers. Ultimately, he attended the Merchant Marine Academy in New York, a lesser-known federal service academy. He said his education, from his days at a predominantly White Catholic high school, prepared him well not only for a demanding military career, but for navigating non-diverse environments.
"I wouldn't say I'd settled into being the minority in the group, but I think it's a statistic that I'm not unfamiliar with," Mullins said. "As I matured, I realized what that meant. And I do think I carry a little bit of extra intentionality with the way . . . I conduct myself, because I do know that I might be the only Black guy in the room."
The Boldens' study noted only a few reported incidents of racial hostility within the Marines' aviation units, and none from recent years, but it described a culture of "silence" in which Black and White Marines are unwilling to engage in conversations about race and representation. Often, the study says, as the only minorities in their unit, non-White Marines deem it necessary to "adapt to the cultural circumstances in which they find themselves if they want to be accepted by peers."
The Boldens have called for the creation of Socratic-style discussion groups, centered on topics of diversity and race, at Marine Corps training hubs. Officials said the service will consider such groups.
Charles and Ché Bolden suggested that, until the message comes from the Marines' most senior leaders that Black fighter pilots are needed in the ranks, efforts to reach candidates will ring hollow. They called in their study for assigning the responsibilities of chief diversity officer to the commandant, a recommendation that has gone unheeded. Such a step, they added, would permit Marines in the ranks to pursue more radical solutions for building diversity, rather than relying on established approaches.
"Without the commandant's explicit oversight," Ché Bolden said, "you're always going to find those younger, or those who are not able to chart their own destiny, afraid of sticking their neck out."
At NASA, where he answered directly to the president, Charles Bolden said, he assigned himself this role. The move was meant to make his priorities clear to all. "I felt that the only way to build an effective, No. 1-ranked organization that beats everybody else is to have that organization be diverse and inclusive," he said.
Add TheJapanNews to your Google News feed.