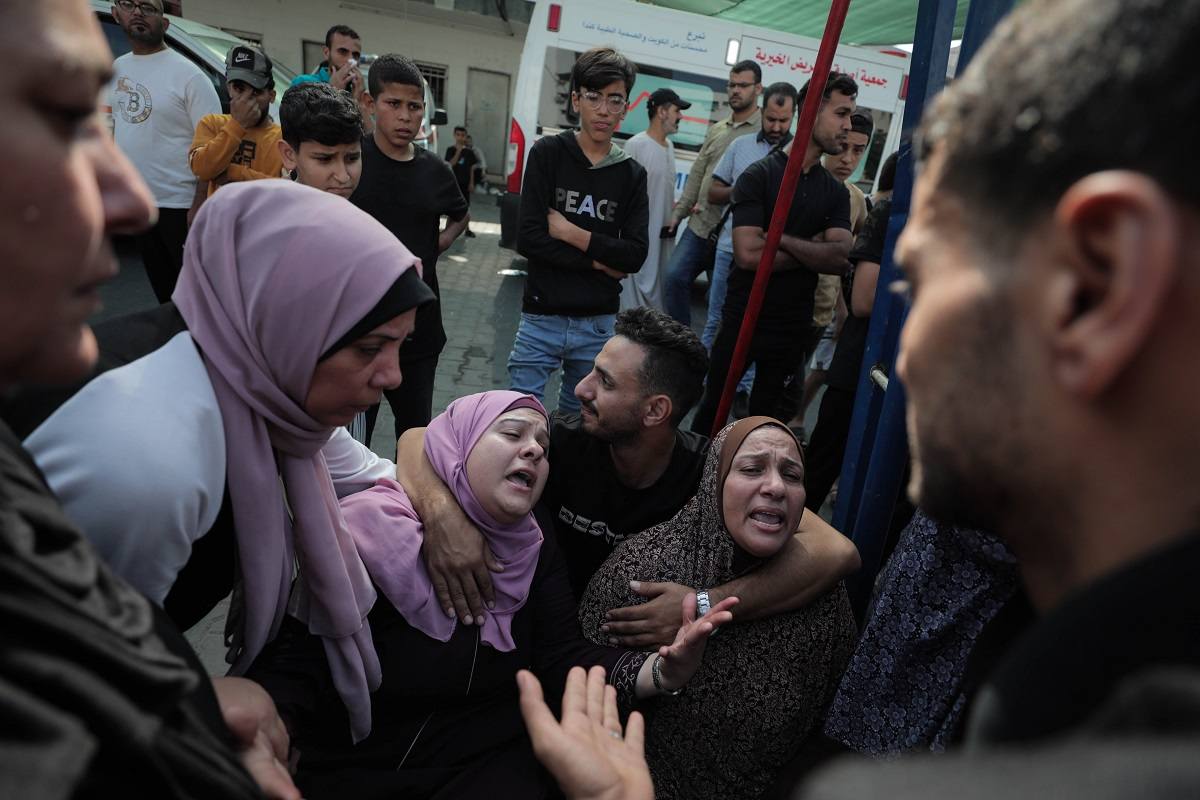 12:08 JST, October 12, 2023
Secretary of State Antony Blinken headed to Israel on Wednesday as a show of support in the wake of the brazen Hamas attack, even as the Biden administration tried to temper a humanitarian collapse unleashed by Israel's airstrikes and shutdown of Gaza.
Israel has not responded to appeals to stop airstrikes in the border area between the Gaza Strip and Egypt to allow humanitarian supplies to enter the enclave and permit fleeing Palestinians and foreign nationals to leave, according to U.N., U.S. and other Western officials.
Asked about conversations with both Israel and Egypt over civilian access to the crossing, Blinken told reporters as he boarded a plane at Joint Base Andrews that it was "complicated."
"But we want to make sure to the best of our ability – and I know Israel wants to make sure to the best of its ability – that civilians are not harmed," he continued. "But Israel has to take steps to defend itself. It has to make sure that any ongoing threat is dealt with – and I believe it has to make sure that, going forward, what happened doesn't happen again."
Blinken was boarding a flight to Israel, where he will receive an update from senior Israeli officials on the security situation and ask what else the United States can provide.
Meanwhile, electricity, food and water are in desperately short supply for the 2.3 million people living inside the 140-square-mile Gaza enclave, U.N. Secretary General António Guterres said Wednesday. "There is no time to lose. Every moment counts."
As fuel ran out at Gaza's sole power plant, a full blackout was imminent, according to a statement by the International Committee of the Red Cross posted on X, formerly Twitter. "Hospitals are going to be turned into graveyards" as incubators and oxygen cut off, the ICRC said.
Egypt, in conversations with U.N. officials, has agreed to facilitate humanitarian access from its side of the Rafah crossing – the only entry to Gaza that Israel does not control – and to allow the use of nearby Al Arish airport, Guterres said. But Israel so far has been unyielding in implementing what it has called a "full-scale siege" of the territory, continuing airstrikes that led to closure of the crossing and making preparations for a ground invasion.
The tentative Egyptian agreement did not include passage across the border for fleeing Palestinians and foreign nationals. Many who had gathered on the Palestinian side of the crossing early this week scattered after Israeli airstrikes began Monday. Trucks that had lined up to deliver humanitarian supplies quickly turned around.
"Everybody is in the same boat, trying to get their people out and making an effort to try to get supplies in. We've all been told the same thing. A flat no from the Israelis," said a Western diplomat in Cairo, speaking on the condition of anonymity because of the sensitivity of the situation.
The Biden administration has been stalwart in rhetorical and material support for Israel, repeating that the country has the right to defend itself following the horrific weekend attack that left more than 1,200 dead and what Israel has said are at least 100 Israelis and foreigners dragged into Gaza as hostages.
"Nobody wants to see any more innocent life lost," White House spokesman John Kirby told reporters Wednesday. It was Hamas, he said, that was "directly endangering Palestinian lives" by using them as human shields in Gaza.
"We'll let the Israelis speak for their military operations," he added. "Our focus right now in these still-early hours is to make sure the Israelis have what they need."
President Biden said Wednesday that he spoke to Israeli Prime Minister Benjamin Netanyahu and reminded him that Israel, in "all the anger, frustration," is still bound to "operate by the rules of war," which prohibit strikes on civilians or a disproportionate response to attacks.
Guterres said 11 U.N. relief workers in Gaza had been killed since the weekend. His spokesman, Stephane Dujarric, told reporters that 220,000 Palestinian civilians were sheltering in U.N. facilities, primarily schools, inside the enclave.
U.S. concern also is growing about what Kirby said are now 17 unaccounted-for American citizens, some or all of whom may be among the Hamas hostages. At least 22 Americans were killed in the Saturday incursion into Israel by Hamas, he said.
"Where they are and in what condition . . . sadly, we don't know," Kirby said of the hostages. The situation is "very very difficult. We don't know if they're all in one group, several groups, we don't know if they're being moved, or with what frequency."
Kirby declined to discuss rescue options. "Obviously we're in discussion not only with Israelis about what hostage recovery could look like, but with other allies and partners in the region," he said. Qatar, where some Hamas leaders are residing, has been coordinating indirect negotiation efforts.
As Israel readies a ground offensive, the United States "is supporting efforts to help innocent civilians wishing to leave Gaza to do so safely," a spokesperson for the U.S. Embassy in Cairo said Wednesday. "Civilians are not to blame for Hamas' horrific terrorism. Civilians should be given every opportunity to avoid what could be a very tragic fate."
Efforts by Egyptian citizens and aid organizations to collect donations and direct supplies for humanitarian aid to Gaza continued Wednesday, even as the border crossing remained closed. The Egyptian Red Crescent, which sent truckloads of medical aid through the Rafah crossing to Gaza during the first days of the fighting, said in a statement Wednesday that it had positioned a humanitarian relief convoy on standby to receive patients in critical cases who might need transport across the border, as well as to provide psychological support for fleeing Gazans, in the event the crossing is reopened.
The border region is ill-equipped to handle a large influx of refugees, said Ahmed Salem, executive director of the Sinai Foundation for Human Rights. During Egypt's decade-long fight against an Islamic State-linked insurgency in Sinai, dozens of local schools – facilities often used in crisis situations to house displaced people – have been destroyed or taken over by the military. The main hospital in Arish has insufficient food, staff and medical supplies to handle a major influx of wounded people, Salem said.
In a public statement from President Abdel Fatah El-Sisi on Tuesday, and through comments by unnamed security officials to Egyptian state media in recent days, Cairo has signaled deep reservation about opening the border to civilians – leery of the political and security ramifications of an exodus of Palestinians to Sinai.
Add TheJapanNews to your Google News feed.