Gambling on a 'Pragmatic' Hamas Was a Deadly Mistake, Analysts Say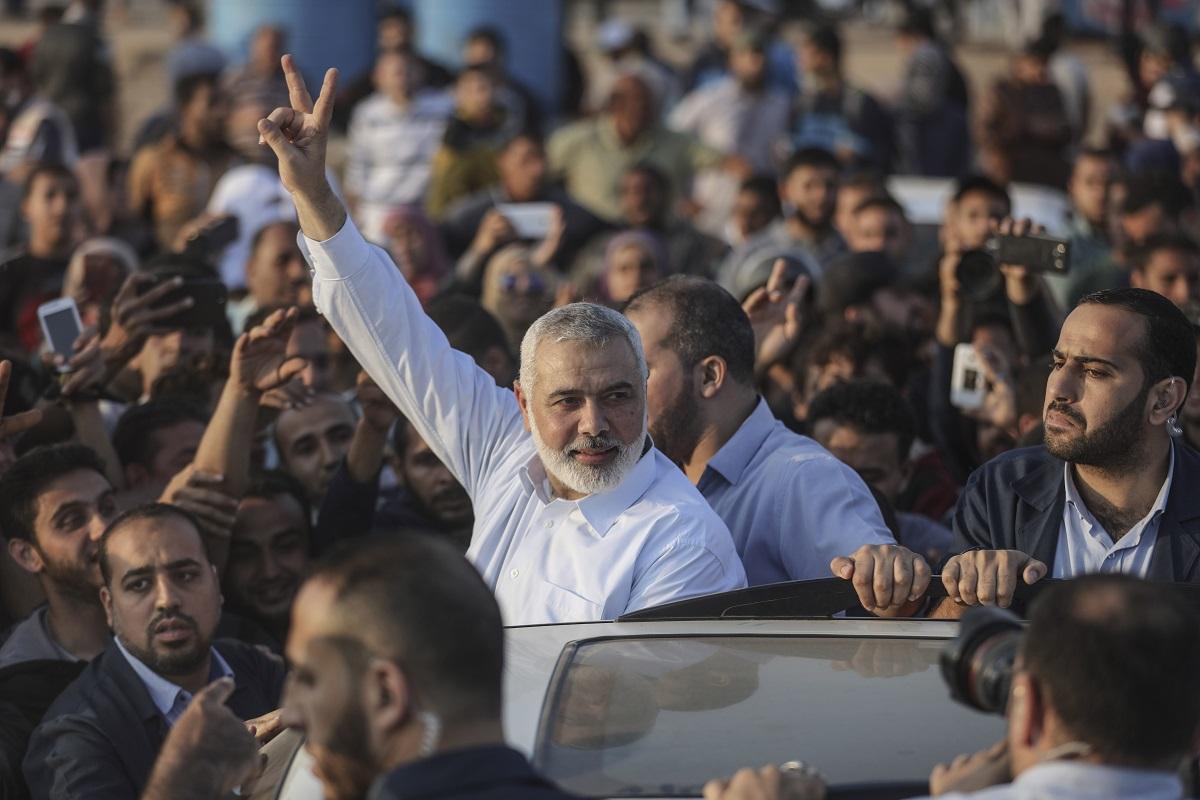 12:03 JST, October 12, 2023
Longtime observers of Hamas debate how much the Palestinian militant group truly evolved over the last decade, particularly during the period sometimes known as its "pragmatic era." There is no argument, however, about when that era ended: Just after sunrise Saturday with the launch of a devastating attack on Israel.
Since it seized control of the Gaza Strip in 2007, Hamas, while steadfast in its rejection of Israel's right to exist as a state, nevertheless had made small overtures, analysts say, such as signaling support for a long-term cease-fire and opening diplomatic back channels. As the years ticked by, some Middle East analysts even began speaking of Hamas as "contained," though they reserved skepticism for the militants they knew as among the most strategic and protean in the region.
Then came the eventual – many would say inevitable – break from that position last weekend with a Hamas operation that stunned the world in its brazenness and brutality. More than 1,200 Israelis were killed and more than 100 were captured as hostages. The atrocities inflicted upon civilians, including children, analysts said, signals a dark new chapter for a group that likes to boast of striking Israeli military and police targets, distinguishing its conduct from the bloodlust of Islamic State extremists.
"It's hard to reconcile this pragmatic version of Hamas over the past 15-odd years with what just happened, which will close the door on any kind of international acceptance," said Khaled Elgindy, a former adviser to Palestinian peace negotiators and now a senior fellow at the Middle East Institute in Washington. "What is the end game in this?"
That's the question researchers and policymakers who for years have monitored Hamas are trying to answer as they revisit the group's trajectory to understand the motivations for an attack so extraordinary in its scope and lethality that Hamas surely realized it was risking its own annihilation. Israeli Prime Minister Benjamin Netanyahu has vowed to "cleanse" the area of Hamas in a war of vengeance whose toll on the militants "will reverberate with them for generations."
Israel has launched air raids and announced the severing of electricity, fuel and food to the blockaded Gaza Strip, home to more than 2 million people, roughly half of them children. The "complete siege" announced by Israel is prohibited by international law, U.N. High Commissioner for Human Rights Volker Türk said Tuesday. In Gaza, more than 1,000 people have been killed, including hundreds of women and children, according to Palestinian authorities.
Hamas's official line is that the attack was in response to Israel's long-running blockade and violence against Palestinians, but researchers said a host of other factors shaped the timing and methods. They also cautioned that the conflict remains fluid, with little verified information about the genesis of the operation and whether Hamas had help from Iran or other regional backers to execute it.
The attack comes after months of escalating violence that already had made 2023 the deadliest year for Palestinians in the West Bank since the U.N. started tracking deaths two decades ago. Between January and September, 227 Palestinians were killed by Israeli forces or settlers, according to the United Nations. Israeli fatalities, before the latest violence, totaled at least 29.
The toll elicited little attention from Israel's Western allies. The Biden administration's hands-off approach, according to a recent International Crisis Group report, "entailed standing by largely passively in the face of repeated settler attacks on Palestinians in the West Bank, the killing of ever-increasing numbers of Palestinians, including children, by the army, and the expansion of Israel's settlement enterprise in the West Bank toward de facto annexation."
Catalysts of catastrophe
The violence alone might have been enough to mobilize Hamas, analysts said, but there were other considerations.
One is the decrepit state of Palestinian politics, and particular frustrations over the Palestinian Authority's corruption and lack of a clear plan for who will succeed 87-year-old President Mahmoud Abbas.
Another factor is the internal Israeli political crisis. Netanyahu's far-right coalition government has continued apace with settlement construction while pushing controversial judicial reforms that would hobble the courts' role as a check on executive power. With thousands of Israelis protesting in the streets, analysts said Hamas may have seen the Israeli state in a vulnerable position and Palestinian voices once again sidelined in a political fight that could shape their future.
"Hamas understood that Israel is now in an existential crisis in some ways about what kind of state it will be," said Tareq Baconi, the author of "Hamas Contained" and president of the board of Al-Shabaka, the Palestinian policy network. "And that conversation has been happening as if Palestinians are absent."
A third catalyst may have been the U.S.-backed push to normalize relations between Israel and Gulf Arab states such as Saudi Arabia. The attack Saturday, Elgindy said, was at least in part a bloody reminder from Hamas that "you can't leapfrog toward some imaginary regional kumbaya that doesn't address Palestinian issues."
Other analysts said looking for logic gives Hamas too much credit. The veteran terrorism researcher Bruce Hoffman, writing in the Atlantic this week, revisited the group's original 1988 charter, which "spells out clearly Hamas's genocidal intentions." The attack Saturday, Hoffman wrote, "was in fact the inchoate realization of Hamas's true ambitions."
Foreign policy analysts who warned against buying into the idea of a new-and-improved Hamas are finding themselves vindicated in the worst way.
"Hamas was never the answer," said Michael Singh, who served as a senior Middle East director for the National Security Council during the George W. Bush administration and is now at the Washington Institute. "Pragmatic engagement and so forth was always an illusion, and now everyone is seeing that."
Strategic and patient
Hamas emerged in 1987 during the throes of the first intifada, a mass uprising in the Palestinian territories against Israeli occupation. A scramble was on among Palestinian authorities, at the time led by an exiled Yasser Arafat, to harness the defiance coursing through the population.
Amid the chaos, a group of Islamist militants saw an opening. They issued leaflets offering themselves as an alternative to both oppression by Israel and corruption from mainstream Palestinian leaders. Founders of the group, a Muslim Brotherhood spinoff which came to be known as Hamas, "viewed the intifada as an opportune time to leverage all the preparation that had been taking place clandestinely for years" to create an Islamist resistance movement, Baconi wrote in his book.
Two elements of the Hamas origin story – strategy and patience – would become part of its playbook as it gradually transformed into a movement sophisticated enough to pull off the kind of multipronged attack Israel experienced last weekend.
"It's been reading the tea leaves, watching, preparing, and really playing the long game in terms of figuring out when to strike, and for what reason," Baconi said.
In 1997, the United States designated Hamas as a terrorist organization, citing the group's use of suicide bombings and kidnappings. Unlike its rivals in the Palestine Liberation Organization and the Fatah political party, Hamas does not recognize Israel's right to exist and preaches a fundamentalist Islamist brand of armed resistance.
Israeli forces withdrew from the territory in 2005 but still controls, along with Egypt, the borders and much of the West Bank.
Like other Islamist groups, Hamas initially gained popularity among Palestinians by creating local charities and programs to tackle health care and education. That translated into political power in 2006 when the Hamas bloc known as "Change and Reform" won legislative elections, posing an existential threat to the Fatah-dominated Palestinian Authority. As in Lebanon, Iraq and elsewhere, the White House had pushed for elections, then balked when voters picked militant Islamists over secular leaders who were seen as ineffectual and beholden to Western interests.
The power struggle between Hamas and Fatah deepened, culminating in the Islamist militants grabbing control of the Gaza Strip and removing Fatah officials in June 2007. The split resulted in de facto political partition, with the West Bank under PA control and Gaza under Hamas rule.
Since then, Hamas repeatedly has attacked Israel with rockets and mortars, and Israel has retaliated with superior firepower and a punishing blockade, restricting imports and the movement of civilians.
In 2008, a six-month agreement with Israel provided a short-lived calm that was interrupted by a resumption of Hamas rocket fire and a major Israeli military operation that winter. In 2014, another period of relative quiet ended in a spasm of violence over the abduction and killing of three Israeli teenagers. Israeli settlers killed a Palestinian, and ensuing tit-for-tat attacks ballooned into open conflict.
"They have never given up their military aims, no matter what kind of entrance into the world diplomatic stage they've made, or concessions they've made," said Gina Ligon, who studied the movement's leadership from 2008 to 2013 and now leads a Homeland Security terrorism research center at the University of Nebraska at Omaha.
Ligon said Hamas stood out among regional militants because its leaders put a premium on enlisting recruits with military skill and technological expertise, "not just guys that were willing to fight and die for the cause." She said Hamas fighters looked back at the history of World War I tunnellers as they dug their own underground warrens to circumvent the blockade. They also looked forward, she said, encouraging innovation.
"We arrayed all of the groups in terms of organizational complexity and they were at the highest of our scale – very bureaucratized, but also they had, like, a skunk works," Ligon said.
Hamas leaders also learned from political and operational missteps, such as gambles they made during the Arab Spring rebellions.
In Egypt, researchers said, Hamas overestimated the Muslim Brotherhood's capacity to hold power after the ouster of U.S.-backed strongman Hosni Mubarak, and underestimated the Egyptian public's resistance to conservative Islamist rule. After its Brotherhood allies were swept from power, Hamas faced a crackdown from Egypt's U.S.-backed military rulers.
In Syria, Hamas lost its sanctuary in Damascus – and, more importantly, analysts said, funding from Iran – when it sided with protesters who rose up against Syrian leader Bashar al-Assad. Over time, Hamas mended fences with Tehran. Today, Iran is one of Hamas's biggest patrons, contributing funds, weapons, and training, including $100 million in annual aid to Hamas and other militant Palestinian factions, according to the State Department.
A failed containment
Reeling from Hamas's attack, Israeli commentators have taken their government to task for policies they said weakened Fatah and emboldened militants, a failed divide-and-conquer strategy.
"Most of the time, Israeli policy was to treat the Palestinian Authority as a burden and Hamas as an asset," Tal Schneider wrote in an op-ed this week in the Times of Israel. Hamas played along, becoming stronger as it bided its time under the auspices of a glacial peace process, Schneider wrote, "and hundreds of Israelis have paid with their lives for this massive omission."
U.S. officials also embraced the idea that Hamas was in a pragmatic phase, analysts said, gambling that – despite the blockade – economic incentives such as more permits for Gazans to work outside the impoverished enclave and millions of dollars from Hamas's regional benefactors would be enough to pacify the group. Meanwhile, Washington focused on normalization talks between Israel and Saudi Arabia, a prospect that is now in jeopardy.
In an Arabic-language interview this week with Russia Today, a Beirut-based Hamas official, Ali Baraka, boasted about the pragmatic ruse and how "we made them think that Hamas was busy with governing Gaza," according to a translation posted by the MEMRI research group. In reality, he said, Hamas had been stockpiling arms and running secret factories for weapons and ammunition.
"In the past couple of years, Hamas has adopted a 'rational' approach. It did not go into any war, and it did not join the Islamic Jihad in its recent battle," Baraka said.
"All the while, under the table," he said, "Hamas was preparing for this big attack."
Add TheJapanNews to your Google News feed.