He Live-Streamed His Attacks on Indian Muslims. YouTube Gave Him An Award.
13:20 JST, October 4, 2023
HUSSAINPUR, India – The Hyundai hatchback barreled down the country road past darkened fields. A white SUV followed in hot pursuit, shattering the pre-dawn quiet with its screaming siren.
The three young Muslim men in the first car were desperately trying to outrun one of the most notorious Hindu vigilantes in north India when they lost control, veered into a vegetable truck and came to a screeching halt. Now, they were in the clutches of Monu Manesar.
The three men were immediately pulled out of their wrecked vehicle by Manesar's gun-toting gang, then interrogated and beaten, according to surveillance footage and witness accounts. But the events of that fateful morning were recorded and then flaunted by another, unusual source: Manesar's own Facebook page.
The violence on display was carried out in the name of protecting cows.
Since 2020, the self-styled "cow protection" squad led by Manesar had repeatedly live-streamed its late-night missions to intercept drivers suspected of transporting and slaughtering cows – a job often done by Muslims in India. Manesar would film himself exchanging gunfire with moving cattle trucks and ramming them with his SUV. He chased cow transporters on foot and beat them on camera. In return, his fans on YouTube and Facebook left comments full of heart emojis, praising him for doing the work of God.
For a century, vigilantes in north India have worked discreetly in a legal gray zone to protect cows, an animal worshiped by Hindus. But these enforcers have become more extreme and flamboyant in the past decade, thanks to American social media companies that reward them with online followings, and officials from Prime Minister Narendra Modi's Bharatiya Janata Party (BJP), who offer them political protection and champion their militant brand of Hindu nationalism.
The emerging phenomenon of cow vigilante streamers exemplifies how the BJP and allied right-wing groups have used U.S. social media platforms – including YouTube, a Google subsidiary, and Facebook and Instagram, owned by Meta – to polarize India, rally their political base and assert Hindu dominance, sometimes brutally, in one of the world's most digitally connected countries. This effort is part of a broader campaign by Hindu nationalists aligned with Modi to use technology to advance their ideology and consolidate their control.
Despite repeated warnings from Indian activists, Silicon Valley companies gave Manesar a platform to broadcast violence – and propelled his rise to fame.
Last October, Manesar received a "Silver Creator" award from YouTube for reaching 100,000 subscribers and posed with his plaque next to a cow. A cycle of soaring viewership and increasing violence followed.
In January and February, according to complaints filed with police and the courts, Manesar and his followers were involved in several shootings and killings.
In April, Instagram granted Manesar's account a "verified" badge reserved for public figures and celebrities.
In July, Manesar was widely accused of inciting a sectarian riot that left six dead outside New Delhi, the nation's capital, after he taunted Muslims in a WhatsApp video.
In a call with The Washington Post, Manesar said several weeks ago that he was "staying underground" and avoiding the media. He declined to comment on the allegations against him. Speaking with Indian media earlier this year, he denied any criminal wrongdoing in connection with the series of violent incidents.
A YouTube spokesman said the platform terminated Manesar's channel four months ago following a review of his videos. Meta said that in general the company removes from its platforms accounts that repeatedly violate a ban on violent content.
Earlier this year, The Post began tracking Manesar's social media and downloaded 25 gigabytes of his videos before YouTube closed the account amid a probe of his network by police in Rajasthan state. A review of these videos and other posts published by Manesar's supporters, along with interviews with his associates and their victims and an examination of hundreds of pages of police documents and court filings, tells the story of a gang leader who terrorized minority Muslim communities in two Indian states.
One of Manesar's most chilling videos was published on Jan. 28. Shortly before 5 a.m., his Facebook page went live with a video showing the three Muslim men – Nafis, Shokeen and Waris, all known by single names – being led away from their wrecked Hyundai. In the 21-minute stream, Manesar asks the men, their faces bloodied, for their names and hometowns. The three are pressed to the ground while Manesar and his gang stand over them like trophy hunters, clutching rifles and smiling for photos.
Around sunrise, Waris's older brother Imran received an anonymous call demanding a payment of 100,000 rupees ($1,200) to set Waris free, Imran recalled.
He said no and hung up. Unlike younger Muslims in the region who feared Manesar, Imran, 32, never used much social media. He never followed Manesar's videos boasting of shootings and beatings.
He never anticipated that Waris would be dead by noon.
Rise of the vigilante streamer
Since ancient times, Hindus have revered the cow as the embodiment of a multitude of gods, the Mother whose milk sustains life and Earth itself. Today in north India, most states strictly prohibit cattle slaughter, and cracking down on the black market in cows – through whatever means necessary – is a rallying cry for Hindu nationalist organizations and their political wing, the BJP.
In the last decade, the ascent of the BJP coincided with the arrival of U.S. social media services, setting the stage for vigilante streamers. The Post reviewed more than 140 accounts of cow protectors on Facebook, who often uploaded bucolic videos of injured or abandoned cows being nurtured and fed. But roughly 30 percent of the accounts resembled a hardcore, extrajudicial version of "Cops," replete with posts of car chases, arrests and beatings.
Raqib Hameed Naik, the Washington-based founder of HindutvaWatch, which monitors far-right Indian social media, said violent cow vigilante videos began to surface in 2018 but skyrocketed during the pandemic, when online video consumption boomed. "We also observed that the more violent the content, the more reach and engagement it would get," Naik said. "For the most part, platforms like Facebook, Twitter, Instagram and YouTube have provided them an unrestricted space."
The YouTube cache reviewed by The Post contained 10 violent videos that Manesar posted between 2020 and 2022. His social media reach, however, was much wider because he maintained several accounts on different social media platforms and his associates also disseminated videos in which he featured.
YouTube spokesman Jack Malon said that the company suspended Manesar's ability to make money off ads on his channel in February after Indian police made serious allegations against him, and that the channel was terminated in late May after repeated violations of the company's harassment policy. Asked why YouTube did not act sooner, Malon said it uses a combination of software and human review to identify problematic videos, but "our systems sometimes don't detect potential violations." If they had, he said, Manesar "would have been ineligible to receive a Creator Award."
Meta spokeswoman Erin McPike said, "We have clear rules prohibiting particularly violent or graphic material on our platform. We removed content that broke those rules and disabled accounts for repeated violations." Several Facebook and Instagram accounts associated with Manesar were taken down by the company this year. McPike said Manesar's verified Instagram account was "restored in error and has since been disabled." X, formerly known as Twitter, declined to comment, saying it was too busy.
Human rights activists say they sounded warnings about Manesar long before the companies took action.
Thenmozhi Soundararajan, executive director of the civil rights group Equality Labs, said she warned YouTube and Meta "as early as 2021 and 2022" through internal reporting mechanisms that Manesar's accounts were hateful and posed a risk to society. She said the companies told her they would look into the accounts, but no action was taken. Representatives from YouTube and Meta also told her they worried that removing hateful influencers would physically endanger the firms' employees in India, she said. In response, Malon said, the "notion that we'd allow violative content to remain on YouTube due to employee concerns is false."
Ritumbra Manuvie, director of the London Story, a Hague-based group that investigates online propaganda that fuels hate crimes, said she has flagged hundreds of hateful Indian influencers to Meta using its internal reporting mechanism, often with no success. In April 2022, Manuvie's group reported Manesar's account to Meta but received no response, she said. The group reported another account it said was associated with him this June again with no result.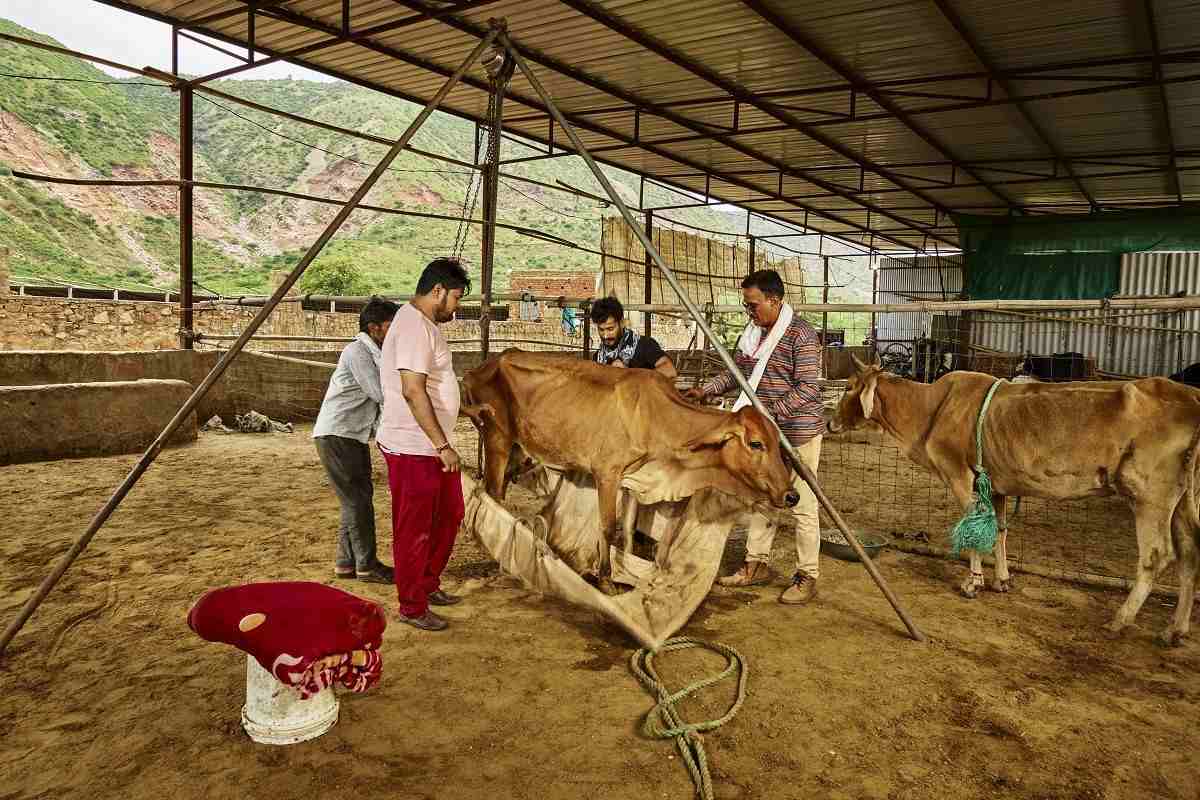 Climbing the influence ladder
Among cow vigilante influencers, no star shone brighter than Manesar, a 30-year-old from Haryana state who uploaded YouTube videos with catchy titles like "Watch Live Raid!" and "Clash with Cow Smugglers!" Sporting a bowl cut and a collection of assault rifles, Manesar's on-camera persona was both boyish and hardened. He would dance and force his captives to eat cow dung. He would beat a cattle driver kneeling on the ground, zoom in on the boy's swollen face – and plug his Instagram handle in a cartoonish font. At his peak, Manesar boasted more than 210,000 YouTube subscribers and 83,000 Facebook followers.
Akash Banerjee, a former media executive who now hosts Deshbakht, one of the biggest YouTube channels in India, estimated that Manesar could make hundreds of dollars a month, depending on his videos' view count.
But in a rural society where the ability to garner support and mobilize the masses meant political power and prestige, making money wasn't the point, Banerjee said. "He's actually trying to climb up the political ladder, the influence ladder, and he's using social media as a tool," he said.
Sitting in a dirt parking lot illuminated by the moon, a vigilante named Sonu Bhiwadi recalled the night in 2014 when a chubby new kid from a poor but deeply religious Hindu family came along on his first car chase, excitedly yelling into a walkie-talkie. Manesar had already created his YouTube account a year earlier. "He was always into social media," said Bhiwadi, a brawny 27-year-old with a thick beard and a wooden cow-shaped pendant dangling from his neck. "But you couldn't imagine him being the star he is today."
Soon, Manesar and Bhiwadi became a team. They set out to make a name for themselves by targeting Mewat, a nearby stretch of impoverished, majority-Muslim villages straddling Haryana and Rajasthan states. The state line was invisible but crucial: Cow vigilantes had to move cautiously in Rajasthan, where the opposition Congress party controlled the police. But the BJP won control of Haryana in 2014, and the state police afforded vigilantes free rein, even working alongside them.
In the early days, Bhiwadi recalled, their gang lacked cars, guns and recognition. They chased cattle trucks on motorcycles, with barely any money for gas. Muslim drivers were often armed and fought back. In a region where hundreds of vigilantes competed for clout, Manesar and Bhiwadi could stand out only by becoming more extreme.
Bhiwadi dragged on a cigarette, then pulled out a photo of Manesar recovering from a bullet to the chest in 2020. Bhiwadi himself was arrested for attempted murder last year but released from jail after a few months, with some serious charges dropped. The case won him attention and demonstrated his political clout, Bhiwadi said. "Right now," he said proudly, "we're the main men."
Crucially, the gang rose because Manesar pioneered something new: videos that put viewers inside the action. The videos showed how "Monu puts his life on the line every time he leaves home," said Vijay Tauru, another Haryana cow protector. "All kinds of people wanted to associate with Monu."
An arm of the state
Over the years, Manesar's social media feeds often showed Haryana police officers asking him to pose for photos. In 2021, Haryana formed a civilian cow-protection task force, and Manesar posted Instagram photos of himself in a khaki uniform issued by Haryana police.
Manesar uploaded a selfie with Amit Shah, who is India's home minister overseeing domestic security and a Modi confidant seen as a driving force in executing the BJP's Hindu-first agenda. Manesar also posted a YouTube video of BJP Minister of Information Anurag Thakur placing a hand on Manesar's shoulder and giving a fiery speech exhorting right-wing activists to use social media. (Raj Kumar, a spokesman for Shah's Home Ministry, did not respond to a request for comment about the Manesar selfie. Kanchan Gupta, senior adviser in the Ministry of Information and Broadcasting, said Thakur, who heads the ministry, encounters many people in public life and rejects violence of any kind.)
All of that made Manesar seem not just a freelancer but an arm of the BJP-led state.
On the dusty plains outside New Delhi, the Monu Manesar effect could already be seen among a new generation of vigilantes. Two hours south of Bhiwadi, Savinay Gaud, a 25-year-old with bulging biceps, said he diligently studies YouTube audience-growth strategies. Gaud's younger brother Harshit practices video-editing.
A couple of nights a week, the Gauds' crew goes out to ambush trucks. When they see one coming on the highway, they toss out a "kaanta" – a 50-pound metal frame with rusty six-inch spikes – to deflate its tires. Then they accost the drivers and seize the cows. Beatings are meted out if the smugglers are repeat offenders, Gaud said.
Gaud said he was considering escalating to torture and killings. He mulled the question of how best to publicize it. "We'll upload a video of us stopping a truck," he said, "and then let reporters find out later that the men were killed."
A fatal encounter
Nothing seemed out of the ordinary when Waris left home at 7 p.m., telling his family he had a job to do.
The rail-thin, painfully shy 22-year-old mechanic often went out at odd hours, his brother Imran said. When Waris wasn't working at a Hyundai showroom, he would get calls from car owners to fix vehicles all over Mewat. Whatever money he made, he used it to support his wife, Taslima, and 1-month-old daughter, Ridha.
But when Imran rose for morning prayers on Jan. 28, Waris wasn't back. As the sun rose over fields of pearl millet, word filtered through social media: Waris had been nabbed by Manesar on National Highway 919.
Closed-circuit TV footage that was recorded at a nearby auto mechanic shop and reviewed by The Post shows Waris's hatchback racing down the road at 4:56 a.m. when it loses control and smashes into a vegetable truck traveling the other direction. Vigilantes rush out of a Mahindra SUV and immediately start punching the men who stumble out of the crashed vehicle.
Then, one of Manesar's associates takes out a phone and begins to film.
That video, streamed to Manesar's more than 83,000 Facebook followers, shows glimpses of what happened next: The vigilantes drag their captives into the back seat of their SUV, and Manesar begins to interrogate them. Waris, meek but still alert, answers as Shokeen and Nafis try to hide their bloody faces. The camera pans to show vigilantes pulling a small cow out of the hatchback. They celebrate with chants of "Hail Mother Cow!" and "Hail Lord Ram!"
Over the next hour, according to the CCTV footage, more than a dozen vigilantes take turns entering the SUV and disappearing inside.
In a court petition that Imran filed, Nafis and Shokeen allege that Manesar's men took turns beating them inside the SUV and used a rifle butt to pummel Waris, who sat in the middle seat. Witnesses interviewed by The Post described a similar scene. Abdul Hamid, a day laborer who lives next to the crash site, recalled seeing Waris keeled over vomiting and hearing vigilantes say that Waris was pleading for water.
The official account unravels
About 90 minutes after the crash, Haryana police arrived at the scene but did not interfere, CCTV footage shows.
About 7:30 a.m., police drove the three captured men to a local clinic, where records show Waris complained of severe abdominal pain but was turned away and referred to a surgeon. Police then drove the three to a nearby college hospital. By the time they arrived at 10:30 a.m., Waris was dead. An autopsy determined that he died from severe internal bleeding due to a ruptured liver. His face was cut and he had eight large bruises around his knee.
Haryana police and vigilantes would tell a different story. They alleged that the three Muslims were smuggling a cow when they crashed into a vegetable seller, who filed a reckless-driving complaint against them. Manesar's vigilantes tried to save the men, Haryana police said, but Waris died of injuries sustained in the collision.
But the official account soon began to fray. The vegetable seller said in a subsequent court affidavit that police had coerced him to file a fake report. Doctors told Imran that Waris didn't suffer the head and upper-chest injuries usually seen in car crash victims. And Imran recorded a video of Nafis at the hospital with his head bandaged, recounting how Manesar's men had beaten them.
Bhiwadi, who was present and could be seen clutching a rifle in Manesar's video, said Waris died because the car's steering wheel struck his abdomen during the collision. No vigilantes "laid a finger" on the cow smugglers, Bhiwadi said.
A few hours after Waris was pronounced dead, Manesar removed his video from Facebook. By then, a screenshot showed, it had garnered 164 likes.
Reign of fear
On Feb. 6, nine days after Waris's death, a fresh Facebook video of Manesar firing a rifle in what looked like a gang war started circulating online. Manesar had led his men in a clash against local Muslims in a dispute over an interfaith marriage, and the gunfight wounded a Muslim bystander, local residents alleged in a police complaint.
A week after that, two Muslims named Junaid and Nasir were allegedly kidnapped, then beaten and burned to death. This time, the kidnapping took place a few miles inside Rajasthan state lines, and a young police officer named Ram Naresh Meena decided to investigate. Meena arrested and charged three men within days, but he said he found they were part of a much larger, interstate network of cow vigilantes who may have been accomplices in the double killing. In a 4,000-page indictment, Meena listed 27 additional suspects. Most-wanted: Monu Manesar.
But Meena's attempts to arrest Manesar sputtered. Police in BJP-controlled Haryana blocked his efforts, he said, and Hindu nationalist groups held huge street protests demanding that Rajasthan authorities back off.
A few miles away from Meena's modest police station, the neighbors of Junaid and Nasir saw their hopes for justice dwindle. In a Muslim-dominated village where almost every man worked as a truck driver, villagers said their livelihoods were also at risk. Rather than face punishment, vigilantes were taunting Muslims on social media daily and stopping their trucks at will.
A few jobless drivers recently gathered one morning in front of the corner store, too fearful to ply the highways. Junaid's brother Hamid spoke up, saying he couldn't bear the constant stream of vigilante videos. "Every time they put out a video threatening us, it makes it fresh, like it happened yesterday," Hamid said, referring to Junaid's killing. "The reason they make videos is to put fear in our hearts."
His uncle Ismail, an older man with a wispy white beard, shook his head.
"No," Ismail told the younger men. "Within this regime, people who do criminal activity are rewarded. If his popularity continues to grow. I think he could contest for elections."
Sparking a riot
Manesar continued to post.
In July, he teased on social media that he and his team would attend a yearly parade organized by Hindu nationalists through Muslim-dominated Mewat. The post set off a firestorm. Muslim YouTubers responded by vowing they would teach Manesar a "lesson" if he showed up.
In the end, he didn't show – but his job was done. As the parade wound through Haryana on July 31, Muslim gangs showered stones on Hindu gangs armed with swords, sparking an all-out riot. Homes, shops and cars were torched. A mosque was burned to the ground, its young imam stabbed 13 times. Facing national outrage, the BJP chief minister of Haryana said the state would not obstruct Rajasthan police if they wanted to detain Manesar.
But the vigilante was defiant. In a local TV interview, he seemed preoccupied with social media as he lashed out at Muslim YouTubers who accused him of inciting the turmoil. "I'm tired of these small YouTubers who cannot understand anything," he said dismissively. "They don't even get 10 likes but think of themselves as big YouTubers making all kinds of videos about me."
On Sept. 12, Manesar was finally detained by Haryana authorities for spreading "inflammatory posts" before the riot erupted, and handed over to Rajasthan police.
Today, Imran is still petitioning the Haryana high court to launch an independent inquiry into the death of his brother, Waris. Court records show that Haryana officials are indeed pursuing a criminal case arising from the fateful morning of Jan. 28. They have charged two men, Nafis and Shokeen, with animal cruelty and recklessly driving a Hyundai hatchback into a vegetable truck. Waris, though dead, was initially named as the third suspect.
Manesar's reach still extends far across social media. The Post counted 40 fan pages on Instagram that continue to disseminate his videos. And in the weeks leading up to his arrest, he began to increasingly post on X, formerly known as Twitter.
Just weeks ago, he secured a "verified" blue check mark for his X account.
Add TheJapanNews to your Google News feed.