Backroom Battles between IRS Agents, Prosecutors in Hunter Biden Tax Case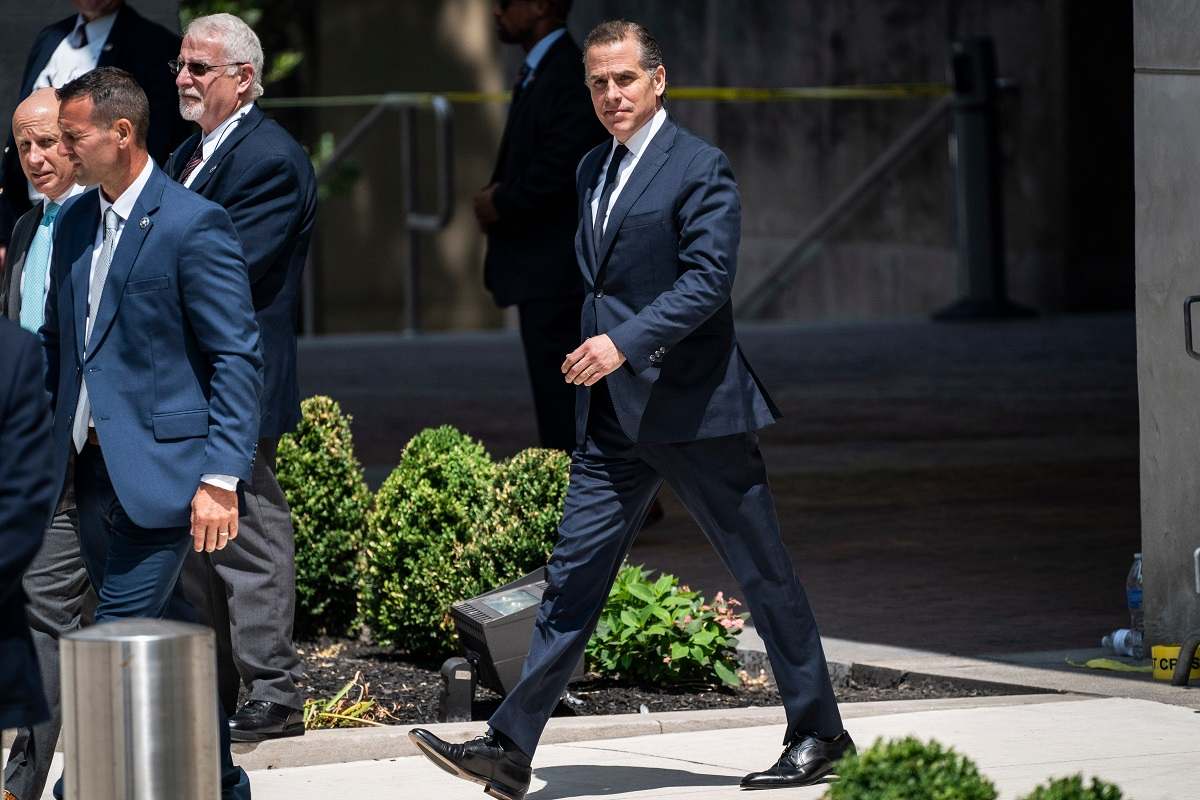 13:14 JST, October 3, 2023
The suspicion and distrust that beset the federal investigation into Hunter Biden stretch back years, according to a review of transcripts, documents and interviews – revealing how prosecutors and investigators turned on each other while handling a high-profile case Republicans are using to attack President Biden ahead of the 2024 election.
Hunter Biden, 53, was indicted last month on false statement and gun possession charges, and special counsel David Weiss is weighing whether to file tax charges against him in California, according to people familiar with the matter who spoke on the condition of anonymity to discuss a sensitive case. Biden is expected to plead not guilty at his arraignment on the gun charges Tuesday in federal court in Wilmington, Del.
First opened by IRS agents in 2018, the Biden probe became public during the 2020 presidential campaign – a minefield for the Justice Department, still scarred by decisions law enforcement officials made in 2016 that affected that year's presidential contest between Hillary Clinton and Donald Trump.
Democrats argue Hunter Biden is the victim of a sustained smear campaign; Republicans insist the president's only surviving son has received kid-glove treatment by the Biden administration.
That Republican criticism intensified in the spring after two IRS agents came forward as whistleblowers, complaining that Justice Department officials – including Weiss, who led the investigation as the U.S. attorney for Delaware before his appointment in August as special counsel – had slow-walked and stymied their case.
The allegations have become a key element of Republican efforts to impeach President Biden.
But internal records, transcripts and interviews by The Washington Post tell a more complex story of an investigation hobbled by a growing sense of distrust between an IRS agent and a prosecutor, a relationship that began souring during the Trump administration. Along the way, Justice Department officials repeatedly insisted on senior level sign-off for investigative steps. Those approvals often came slowly if at all, raising suspicions among agents that prosecutors had little appetite for moving forward.
Over time, the agents' concerns metastasized until they threatened to scuttle the case entirely.
The whistleblowers and their supporters say they came forward to force authorities to do the right thing: bring criminal charges against a person whom the agents believe broke the law.
Senior law enforcement officials insist they steered the investigation appropriately, and say they eventually removed the IRS agents not to kill the case, but to save it.
Investigating 'Sportsman'
The investigation into Hunter Biden grew out of an international tax probe of an amateur online pornography company in Britain suspected of failing to pay taxes on payments to contractors, according to internal IRS documents shared with Congress.
One of those people was a suspected escort who bank records showed also received payments from Hunter Biden, according to case file documents. A review of Biden's tax history showed he had failed to file federal tax returns for several years, prompting agents to open a separate investigation into his conduct.
The first official note of alarm about the Hunter Biden probe was struck on June 16, 2020, nearly five months before Joe Biden beat Trump in that year's presidential election. IRS supervisory special agent Gary Shapley complained to his bosses of being told by Justice Department tax division lawyers to wait on executing search warrants, conducting interviews or requesting documents – decisions he later told congressional investigators were outside the norm.
Both the IRS and the Justice Department were part of the criminal probe; by long-standing regulation, tax officials at Justice Department headquarters are required to approve any criminal tax charges around the country. In the Biden investigation, FBI agents joined the case early on.
Current and former law enforcement officials say disagreements and even arguments are a regular part of many investigations. In that sense, at least at the beginning, the Biden case was hardly unique. "I challenge prosecutors all the time. They challenge me. It's fantastic," Shapley said in his congressional interview earlier this year, after seeking whistleblower protections. Usually, he added, such disputes quickly blow over. "We come in the next day and talk about our families."
But as time went on, Shapley – who became an IRS agent in 2009, after a stint at the National Security Agency's inspector general's office – kept documenting to his bosses how he thought prosecutors were holding back his investigation into Biden, whom the agents all referred to by a code name: Sportsman.
In late 2020, Shapley expressed concern that the FBI was forcing decisions in a case that was about taxes, which was not its area of expertise. An assistant U.S. attorney in Weiss's office "does not allow dissenting opinion without verbal admonishment," he added in his report.
Shapley, whose experience included complex international cases such as U.S. taxpayers hiding funds in Swiss bank accounts, told Congress that getting approval for even simple tasks in the Biden case was difficult. When IRS agents wanted in late 2020 to walk by Biden's California home to verify that it was, in fact, his residence, they were overruled by Justice Department headquarters. "Tax does not approve," an official wrote in an email, according to a congressional interview transcript. "This will be on hold until further notice."
Part of the Justice Department officials' concern was not taking any overt investigative steps during the 2020 election season – one in which Trump boosters such as Rudy Giuliani were publicizing the contents of a Hunter Biden laptop, claiming it showed evidence of corruption not just by a son who had struggled with drug addiction for years, but by Joe Biden in support of Hunter's business deals with foreign firms. To date, the president's Republican critics have found little meaningful evidence tying his conduct to his son's finances.
It is long-standing Justice Department practice not to make observable investigative moves in the two or three months before an election that might influence the outcome. So while the case agents pressed to dig deeper into possible connections between Hunter's business and his father's position, Justice Department and FBI officials were focused on keeping the investigation secret.
By September 2020, agents had gathered evidence that some of the paperwork they were seeking was in a guesthouse Hunter Biden used on Joe Biden's property. Shapley and his IRS case agent, Joseph Ziegler, wanted to get a search warrant for the guesthouse. But Weiss's office said no, arguing they would not get approval from higher-ups for that, Shapley told Congress.
The need for secrecy eased after the election, but the tension kept building.
In mid-December, Ziegler told Lesley Wolf, a prosecutor in Weiss's office who was overseeing much of the work, that he didn't believe prosecutors were supporting him. Offended that Ziegler had questioned her integrity, Wolf said "she has concern with the relationship moving forward and that if Ziegler has this concern regarding the case that maybe they need to address that with upper management," according to notes Ziegler made that were later shared with congressional investigators.
The notes say he apologized for offending her, but said it was how he felt.
Six months later, in May 2021, Shapley complained that Wolf did not want agents looking into possible evidence of campaign finance violations by Hunter Biden. According to the agent's notes on one conversation, the prosecutor argued that the theory of such a violation was weaker than a past case against former presidential candidate John Edwards – a case that failed.
"We do not agree with her obstruction on this matter," Shapley wrote in a report to his superiors.
In September and October of that year, Shapley and Ziegler got more disappointing news, according to documents and congressional testimony. The Delaware prosecutors' office told them in one email that the Justice Department's tax division seemed unlikely to approve some parts of the investigation, and said in another that "it will get us into hot water if we interview the president's grandchildren."
Attorney General Merrick Garland, a Biden appointee, has insisted in congressional testimony that Weiss, a career prosecutor in Delaware tapped by Trump as U.S. attorney in 2017, had full authority to conduct the Biden investigation as he saw fit. But the regular practice of tax investigations meant the reality was more complicated.
The accounts of multiple law enforcement officials interviewed by congressional committees as part of their examination of the probe show the officials all understood that the tax division at headquarters played a major role in decision-making – not just in what crimes to charge, but in investigative steps like subpoenas and search warrants.
While the tax division officials were career Justice Department staffers, not political appointees, their apparent resistance to a range of steps – and their insistence that they needed more time to make decisions – frustrated the IRS investigators.
Hunter Biden's lawyer, Abbe Lowell, has accused Republicans of taking advantage of those frustrations "to promote a false narrative about Hunter Biden's finances. . . . This has been and continues to be an unprecedented, improper attempt to influence and interfere with the ongoing investigation by the U.S. Attorney in Delaware," Lowell said in a statement.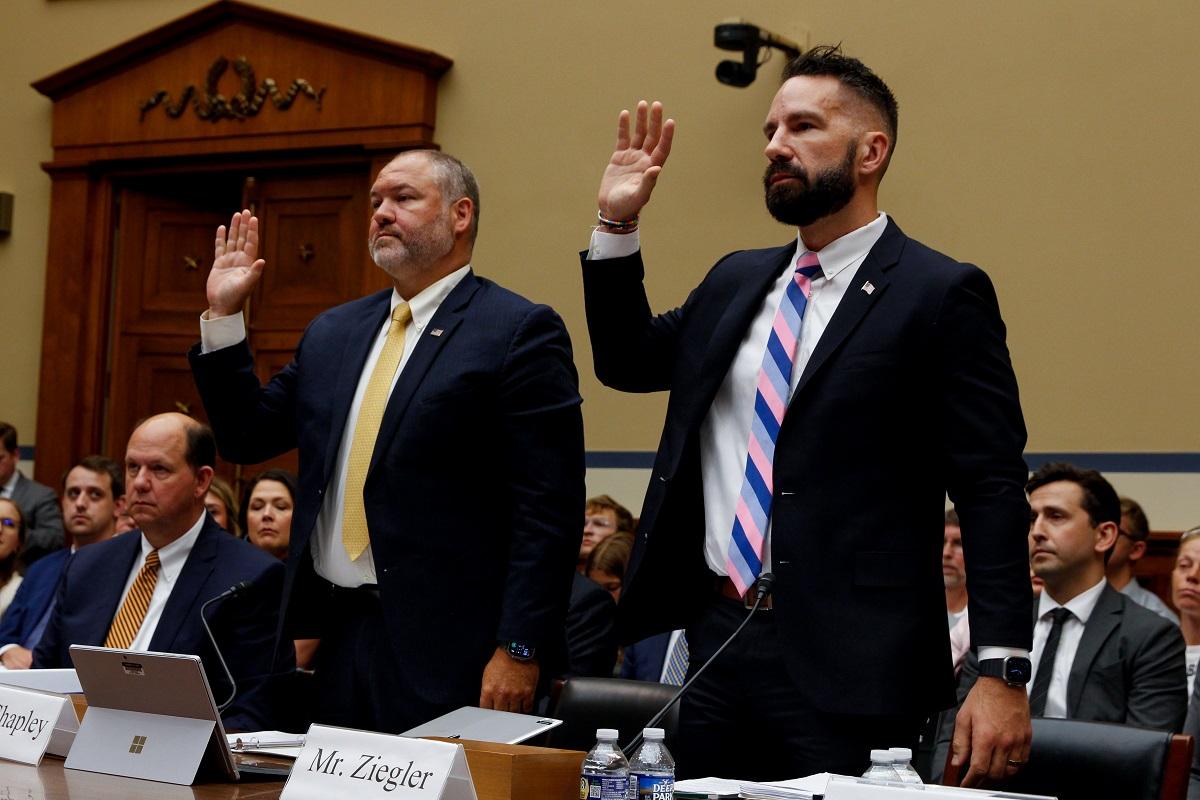 1 in 500
As House lawmakers continued to investigate the probe, they interviewed Michael Batdorf, a senior IRS official several levels above Shapley, who praised the agent's tenacity.
"Gary is a fantastic agent. He's a bulldog. He will get to the bottom of it," Batdorf said, according to a congressional transcript. But Batdorf also told congressional investigators that Shapley's belief in his cases meant that he often went above or outside his chain of command to try to fix what he saw as problems.
Of the more than 500 IRS agents whom Batdorf oversaw, he said only one would bring case issues to him directly – Shapley. "Gary has a tendency to go to like Grade 7, five-alarm fire on everything," Batdorf said.
Some of Shapley's assertions were not supported by his colleagues.
At one point, for example, Shapley complained that Weiss had secretly met with FBI agents on the Biden case, cutting out the IRS agents. When Darrell Waldon, an IRS official above Shapley who reported to Batdorf, looked into the allegation, he found out that the meeting had been about something else.
"I wasn't seeing supportive evidence" for Shapley's complaints of bias and foot-dragging by prosecutors, Waldon later told congressional investigators.
Despite the infighting, by early 2022, IRS agents felt they had built a strong case to charge Hunter Biden with felony tax crimes for some of the years between 2014 and 2019, and misdemeanor charges for all of those years, according to documents, testimony and interviews.
On Feb. 25, 2022, Ziegler sent a lengthy special agent report recommending those charges. Justice Department tax division officials began talking to Biden's defense lawyers, and a "tax summit" was scheduled in June between those officials and the IRS investigators.
The meeting was attended by Stuart Goldberg, the acting head of Justice's tax division, several of his deputies, IRS officials and agents, and FBI officials. It became a kind of faceoff between IRS agents arguing for charging Biden and Justice Department tax division officials insisting the evidence was too weak to charge crimes for the 2014 and 2015 tax years.
The scrutiny from prosecutors was welcome, Batdorf later told congressional investigators. "In extremely sensitive investigations, you want, we want to have all of our evidence beat up. Beat it up, and let's get to the bottom line of whether we believe we had enough to prosecute or not," he said.
In addition, he said, he understood that tax division officials at Justice Department headquarters "would have to authorize charges prior to David Weiss recommending an indictment or prosecution."
But Batdorf and his agents were not swayed by the government tax lawyers' critique of their case at the meeting, believing they still had plenty of evidence to justify criminal charges.
That disagreement would linger, coming to a head in a more consequential gathering of people involved in the investigation that fall.
In the meantime, there were more conversations. About two months later, two FBI agents involved in the case discussed the possibility that Weiss might be named a special counsel, a move that would give him a greater formal degree of independence from Justice Department leadership. But that appointment didn't happen.
As summer turned to fall, both the IRS and FBI agents thought the Delaware U.S. attorney's office should be moving faster.
"I was frustrated in not just this investigation," one FBI supervisor later told Congress. "The processing of investigations in the office were a little bit slower than what I was used to."
A spokesperson for Weiss's office declined to comment.
Breaking point
In early October 2022, The Washington Post reported that, according to people familiar with the case, federal agents had gathered what they believed was sufficient evidence to charge Hunter Biden with tax crimes and a false statement related to a gun purchase.
The decision was still up to Weiss, who like any prosecutor had to consider whether the evidence was strong enough to lead to a likely conviction at trial.
A day after The Post article published, Weiss met with the FBI and IRS agents. It was at that meeting, Shapley would later tell congressional investigators, that a "red line" was crossed, at least in his mind.
The Oct. 7, 2022, session has become a focal point of efforts by GOP lawmakers to prove the investigation was biased in favor of the president's son.
According to Shapley, Weiss said at the meeting that he was not the decision-maker on whether to charge Biden, and that he'd asked for special counsel authority and been denied. To Republicans, that was a bombshell accusation, potentially undermining all of the assurances Garland had given since his nomination.
The other law enforcement officials at the meeting have testified they don't remember Weiss saying that, however. They have suggested Shapley may have misunderstood a discussion of a possible special attorney appointment for Weiss, rather than special counsel.
While the terms are very similar, a special counsel has a greater degree of autonomy; a special attorney is a less formal structure that allows a federal prosecutor in one district to file charges in another district.
"I don't recall those exact words as I sit here today," Waldon, Shapley's boss, later told congressional investigators. "But I do recall there being the process discussion, where he would talk about the process in order to get the case indicted and subsequently prosecuted. And that could've involved the different districts."
Waldon said that just because the case needed approval from tax lawyers at Justice Department headquarters to charge Biden, that didn't mean to him that Weiss wasn't in charge of the case.
Weiss wrote to Congress in the summer, after Shapley's allegations became public, insisting he had full authority over the case and was assured, long before the October meeting with agents, that he would be granted special attorney status if he asked for it. He also wrote he had "never been denied the authority to bring charges in any jurisdiction."
But to Shapley, the Oct. 7 meeting crystallized his suspicions about the process. Weiss seemed to be perpetually waiting for permission from Justice Department headquarters, or at times Biden-appointed U.S. attorneys in other districts, to file charges. Just a day before the meeting, Ziegler had written an email – later turned over to Congress – that said the Justice Department tax division didn't expect to indict Hunter Biden until the following year, "as they still have various levels of approval" to secure.
Shapley's notes from the meeting show Weiss also laid out the reasoning for not charging Biden with crimes for the 2014 and 2015 years – the part of the case Shapley felt was strongest.
Those reasons included that some of the taxes on the income from those years subsequently was paid, that there was confusion over which corporate entity or person was responsible for whatever had not been paid, and that in May 2015, Hunter's brother Beau died of brain cancer at age 46, meaning Hunter may not have been paying attention to his taxes.
Weiss said at the meeting that D.C. U.S. attorney's office had been consulted on the 2014 and 2015 evidence and declined to partner on the case with him, according to people who attended. That was important because the District was where Biden lived then, making it the proper venue for charging any crimes for those years. As a U.S. Attorney, Weiss did not automatically have authority to file charges outside of Delaware – though Justice Department officials have said he would have been granted such authority if he asked.
Weiss told the agents he planned to ask his counterpart in Los Angeles to partner on a Hunter Biden case there, which was the proper venue for any potential tax charges from 2018 on. If the California prosecutor said no, "Weiss will request approval to proceed" there solo, Shapley's notes said. "CA decision not determinative," Shapley wrote.
The U.S. Attorney's offices in D.C. and Los Angeles declined to comment.
Shapley has described the Oct. 7 meeting as surprisingly contentious, and deeply frustrating to him personally. Other agents, questioned by congressional investigators long after the meeting, said they didn't remember it being a particularly difficult or angry session.
The break between Weiss and Shapley would soon prove irrevocable.
But his emails
Within weeks, Weiss requested copies of Shapley's internal emails to superiors about the case, saying he wanted to gather "discovery" – potential evidence that is eventually turned over to defense lawyers in preparation for trial.
Shapley, as a manager, found the request unusual, since a manager's notes – unlike those of case agents – are not typically part of discovery. Throughout the case, Shapley had chronicled his frustrations assuming neither prosecutors nor defense lawyers would ever see them.
"In order to protect the record of the investigation, basically it was me that could only document that, right? Because we wanted to make sure that the agents weren't documenting things that would eventually be turned over in discovery and somehow affect the viability of the case," Shapley later told investigators.
But Weiss pressed Shapley's bosses to turn the emails over. Ziegler, too, found the request "highly unusual."
"I've never had it happen to where they've asked me for my manager's either emails or discovery," Ziegler said later to Congress. "And it was at that point that I believe things changed with them."
Batdorf, the IRS manager, said in his congressional interview that Weiss "had concerns with Gary Shapley's ability to remain objective in the investigation."
Weiss refused to speak to the IRS agents on the case anymore, insisting he would only communicate with their boss, Waldon, a situation that Batdorf called "extremely troubling."
The standoff intensified in early December.
"We were told that the prosecutors had found some emails that concerned them if they could actually charge the case," Ziegler testified to Congress. Recalling his reaction, he added, " . . . I'm just, I'm shocked."
In later testimony, Ziegler seemed to suggest that the potential problem involved emails from a different supervisor. Shapley, however, told his bosses the prosecutors might be angry after discovering his criticism of them.
"If the content of what I documented in report or email is the cause of their consternation, I would direct them to consider their actions instead of who documented them," he wrote in a message that was later turned over to Congress. "I have done nothing wrong," Shapley added, underlining and bolding the sentence.
Just before Christmas, Batdorf and Waldon, the two IRS chiefs, conferred with Weiss, who made clear what he wanted. Weiss "never specifically stated that we had to remove the investigative team," Batdorf later told Congress. "He stated that he does not control IRS resources, and he understands that. But part of that concern of moving forward was our investigative team."
Privately, Waldon and Batdorf agreed that Shapley had to be taken off the Biden case.
"I recommended that, you know, he be removed so that we could continue to push the investigation forward," Waldon later testified. "A personnel shift was needed because there was no longer any communication going on between the team."
Shapley's legal team said in a written statement that the evidence shows Weiss "retaliated for SSA Shapley's protected disclosures by refusing to work with him, but that doesn't absolve the IRS of responsibility. How would removing the agents most familiar with the evidence preserve the prosecution? Clearly it didn't, as the case languished with no activity until after these brave agents came forward and Weiss tried to end the case with a sweetheart plea deal."
Batdorf told Congress that, as much as he personally liked Shapley, he was concerned Weiss might simply refuse to charge Biden as long as the agent remained on the case. Waldon and Batdorf "were doing everything we could to move the case forward," Batdorf said in his testimony.
Months passed as investigators continued to wait for Weiss to make a charging decision.
In May, IRS officials were told Weiss had decided to pursue criminal charges, and Shapley and the other IRS agents on the case were formally replaced.
A tentative plea deal – in which Hunter Biden would have pleaded guilty to two misdemeanor tax charges and admitted the facts of the gun case – was announced the next month. The deal collapsed, however, when prosecutors and defense lawyers could not agree whether it protected Biden from additional criminal charges.
After the plea deal fell apart, Weiss sought and received special counsel status, and said in court filings that he soon would seek criminal charges.
Add TheJapanNews to your Google News feed.