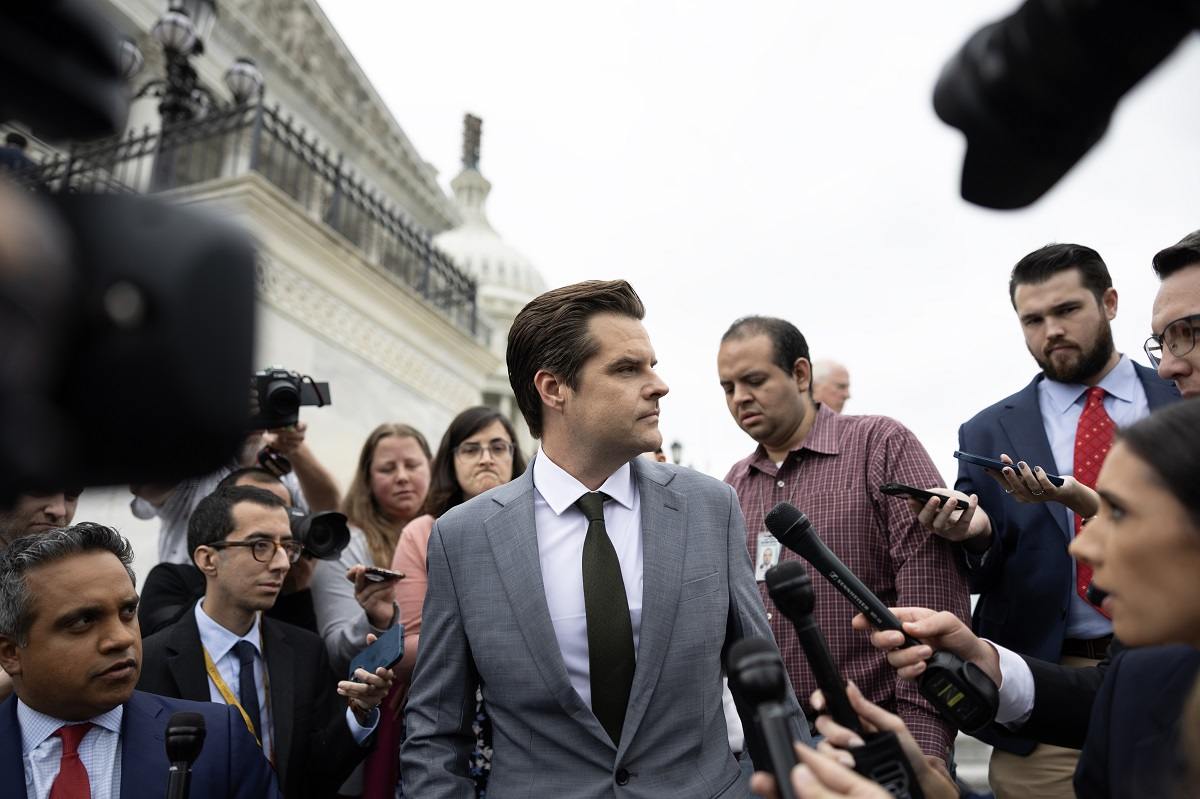 13:00 JST, October 3, 2023
WASHINGTON – Rep. Matt Gaetz introduced a resolution Monday evening to remove Speaker Kevin McCarthy from his leadership position, triggering an expected intraparty clash and setting up a showdown for the House to decide whether to depose McCarthy within 48 hours.
The effort to dismiss McCarthy has alarmed many House Republicans, setting up an internal civil war between his allies and those who have pressured him repeatedly with a variety of, at times unrealistic, demands. A serious effort to remove the speaker is unprecedented and threatens to throw the House into chaos if successful.
Gaetz (R-Fla.) and a handful of hard-right Republicans had repeatedly threatened to go after McCarthy's speakership if he relied on Democratic votes to pass any spending legislation, which happened Saturday after McCarthy (R-Calif.) could not secure the passage of various proposals to fund the government with only Republican votes.
"Bring it on," McCarthy defiantly responded on X, formerly known as Twitter.
The effort to remove him could also force McCarthy and his allies to strategize with Democrats, further irritating the hard-right, because the minority party will play a determinative role in whether McCarthy can hold onto his leadership seat.
Before Gaetz officially filed the motion, McCarthy said Monday he has not asked Democrats for help. "No, no, no, I haven't talked to Democrats," he said.
Rep. Patrick T. McHenry (R-N.C.), one of McCarthy's closest allies, said he shouldn't offer Democrats anything in exchange for their vote. Instead, he argued that a "functioning appropriations process" and a speaker that "treats the minority" party fairly are incentive enough to keep McCarthy.
"He's treated the minority leader the way he wished to have been treated," McHenry said of McCarthy's relationship with Minority Leader Hakeem Jeffries (D-N.Y.).
Given the decisive role they play, House Democrats are discussing how they would handle the challenge to McCarthy's speakership, but all factions of the caucus – from the most willing to side with Republicans to liberals – have said they are not seriously entertaining bailing him out until he asks for it and agrees to several concessions. Drastic concessions to Democrats could mean asking McCarthy to skirt hard-line conservatives in his conference and form a coalition government where McCarthy governs to the center.
Minority Whip Katherine M. Clark (D-Mass.) declined to speculate what posture Democrats would take on a possible vote before Gaetz filed his motion, suggesting there was still too much unknown.
"We'll just have to wait and see how this civil war plays out," she said.
After putting McCarthy on notice in a floor speech earlier in the day, Gaetz again positioned himself at the front of the chamber during Monday evening's vote series. As he approached the lectern and briefly introduced the motion, scores of lawmakers present in the House chamber were silent. Using a motion to vacate, a single person can force the House to consider removing the speaker. McCarthy agreed to lowering the threshold for bringing the motion to win over enough support to become speaker in January.
"If he's able to stay in power, it will be him working for the Democrats, continuing to do their bidding. So this is a revealing exercise and I think it will show the country who's really in charge," Gaetz said after filing the resolution.
It's not clear whether Gaetz has the simple majority of votes without himself relying on Democrats to vote with the small handful of Republicans who would support ousting the speaker. After the Monday evening votes, Gaetz declared that he had enough GOP support to assure that McCarthy's only path to remain in office would make him "the speaker of the House working at the pleasure of the Democrats."
A person familiar with some hard-right members' thinking said at least seven Republicans would support Gaetz's motion, but a dozen more have expressed some grievances about McCarthy.
Several Republicans who had vowed to oppose any short-term funding bill remained mum on whether they would support McCarthy's removal. Rep. Bob Good (R-Va.) told reporters Monday he supported Gaetz and would vote to oust McCarthy, blaming him for advancing a deal that left in place funding levels Democrats set last year. Rep. Wesley Hunt (R-Tex.) is keeping "an open mind," while Rep. Andrew Ogles (R-Tenn.) remains undecided.
"Favorably disposed," Rep. Andy Biggs (R-Ariz.) said about the effort to expel McCarthy from his speaker office.
Rep. Tim Burchett (R-Tenn.), who opposed last week's funding deal but supported McCarthy for speaker in January, said he has been praying over the decision. His heart is telling him to stick with "my friend" McCarthy, but "my conscience is telling me to vote him out," he told reporters.
A majority of Republicans across the conference struck a different tone, making clear they would rather focus on passing appropriation bills than voting on repeated attempts by Gaetz to oust McCarthy.
"We have to figure out how we're going to fund the government for another 11 months now, and we have to secure this border," said Rep. Byron Donalds (R-Fla.), a member of the House Freedom Caucus who has at times been critical of McCarthy. "That needs to be the primary focus of our conference."
Gaetz did not move on his motion to vacate in a speech on the House floor earlier Monday, in part because it is not permissible to do so during a session called "morning hours," according to House rules. But the Florida Republican said McCarthy would need to answer the questions he laid out during his speech or "there may be other votes coming today or later this week" – a not-so-subtle threat.
In response, Rep. Earl L. "Buddy" Carter (R-Ga.) scoffed while sitting on the House floor.
In a speech Monday morning, Gaetz accused McCarthy of making a "secret Ukraine side deal" with Democrats to get a short-term funding bill passed to avert a government shutdown.
McCarthy denied having any side deals with Democrats in return for their votes to help fund the government. He reiterated that behind closed doors to a small group of lawmakers across the ideological spectrum who meet every week in the speaker's suite, according to two people familiar with the meeting who, like others, spoke on the condition of anonymity to discuss private conversations.
"There's not a secret plan," McCarthy told reporters. "[Gaetz] says a lot of things."
The motion to vacate did not come up during that weekly meeting in McCarthy's office before Gaetz filed the motion, except when Donalds flagged for the group that members of the Freedom Caucus were having those conversations. Instead, the group spoke about its promise to pass all remaining eight full-year funding bills to the Senate this month.
As he left McCarthy's office Monday evening, Rep. Dusty Johnson (R-S.D.), who chairs the conservative Republican Main Street Caucus, confidently predicted that McCarthy would be the speaker at "the end of the week . . . at the end of the month . . . at the end of the year."
"I've talked to a lot of Republican members, and there are more people buying Kevin McCarthy stock than selling it," he said.
The disdain for Gaetz is so palpable across much of the GOP conference that some members have begun to publicly rebuke him as self-destructive and selfish. Some McCarthy allies have also discussed whether they could find enough support to raise the threshold needed for any future motions to vacate, according to two Republicans who spoke on the condition of anonymity to outline private ongoing discussions.
Gaetz has pledged he would continue to bring up the motion to oust McCarthy as many times as it took for McCarthy to become speaker – 15 rounds.
"I don't think I'm being any more dilatory than he was," Gaetz said.
Rep. Brian Fitzpatrick (R-Pa.) predicted that one of the most obvious consequences of moving to remove the speaker repeatedly is a government shutdown on Nov. 17, the new deadline to fund the government for the full fiscal year.
"We got 45 days to figure all this out," he said. "Do you think that's going to happen if we don't have a speaker?"
In response to those concerns, Gaetz said his colleagues should thank him for trying to rid them all of McCarthy "because we weren't endeavoring on the appropriations process earnestly until we held a political gun to the speaker's head last week."
McCarthy allies are holding out hope that some Democrats could help prevent him from being successfully removed because bipartisan concern exists that a speakership election fight could drag on for days, blunting progress on passing appropriation bills.
Rep. Tom McClintock (R), a colleague of McCarthy's in the California delegation, spoke before Gaetz early Monday, directing his comments at him without mentioning his name. He stressed that a successful motion to vacate would "paralyze the House indefinitely" until a new speaker is elected and would delay passing conservative funding bills.
"The supreme irony is that this is being initiated by self-described conservatives," McClintock said. "Do they honestly believe that when the Democrats side with them to remove a Republican speaker, that they will then side with them to name a more conservative replacement?"
Some Democrats have floated voting "present" during a motion to table Gaetz's potential resolution, which would lower the 218-vote threshold needed to pass. That path would allow Democrats to claim they did not ever vote in support of McCarthy for speaker since it would put the onus on Republicans to determine McCarthy's fate.
Some of the demands being floated among Democrats include funding the government at levels previously agreed to by McCarthy and President Biden, the reallocation of the number of Democrats compared to Republicans on committees and a more equal percentage of earmarks in appropriations bills; Democrats said they have received a significantly lower percentage of earmarks than Republicans.
"I don't know, right now, what we should do or what we will do," said Rep. Jan Schakowsky (D-Ill.), before adding that she didn't know if it is "an honor or a curse" to lead the fractured House Republican conference as their speaker.
Democrats point to slights by the speaker, including refusing to hold a vote before launching an impeachment inquiry into Biden after previously stating he would do so and walking away from a debt ceiling deal with Biden on top-line government funding levels.
But McHenry argued that keeping McCarthy in place will lead to a return of House functions and governance.
"I think we'll have a far more functional House with his speakership going forward than any other person," McHenry argued.
Add TheJapanNews to your Google News feed.