UAW Strike Unites Red and Blue Voters in CEO-Worker Pay Gap Protest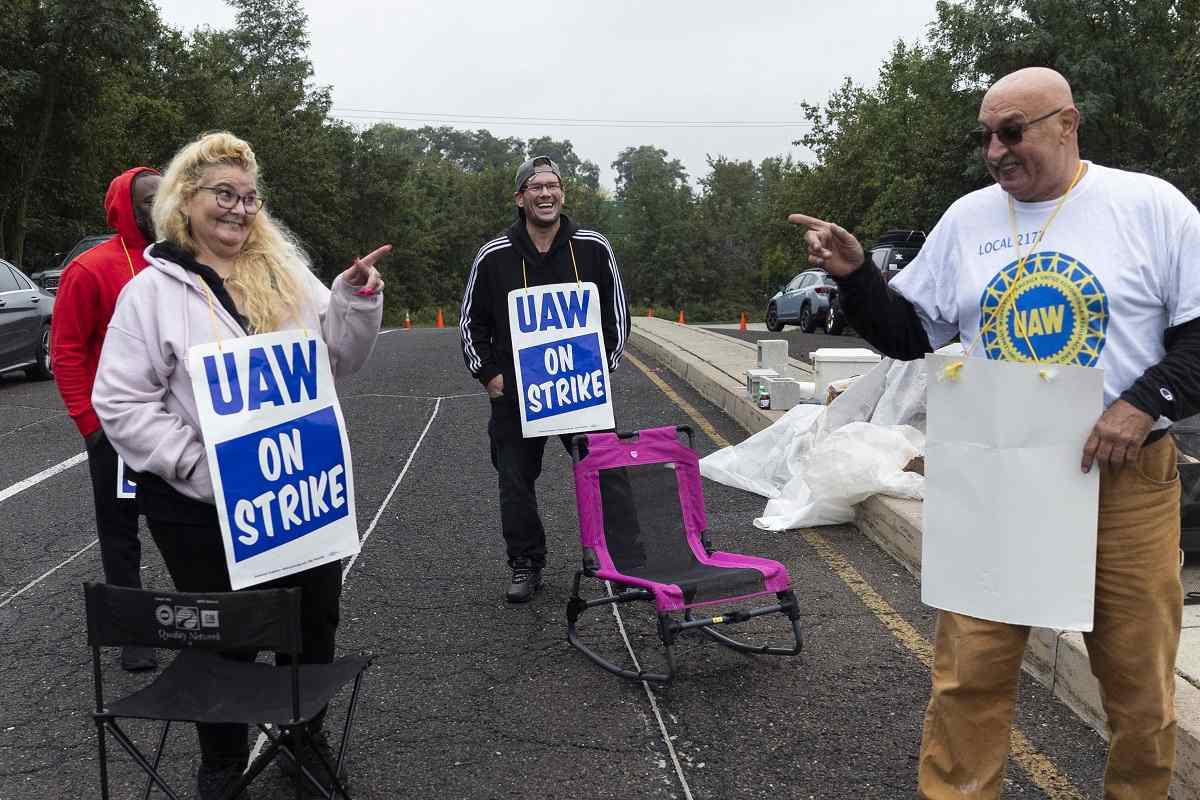 15:55 JST, September 28, 2023
BUCKS COUNTY, Pa. – When Russ Oxley read on Facebook that a group of striking autoworkers needed firewood to keep them warm, he loaded up his GMC pickup and drove to the picket line outside a General Motors warehouse.
The rain-soaked workers gratefully accepted the donation and threw a few logs on a fire they'd been nursing since last week, when they walked out of their auto-parts storehouse in a strike for better wages and benefits.
"The CEOs and all the people at the top of the pile have all the money," said Oxley, 68, a retired truck driver in a Harley Davidson hat who last belonged to a union when he was 18. "But the guys at the bottom get hardly anything."
Huddling over the fire was Selvin Sandoval, a striking employee who earns $31 an hour after ten years of stocking shelves at the warehouse, which ships parts to GM dealerships for vehicle repair. Sandoval often works ten or twenty hours of overtime a week to make ends meet for his wife and three children.
"Without the overtime, it would be extremely difficult," said Sandoval, who recently clocked a 74-hour week. "I pretty much work every hour they offer."
The United Auto Workers began their strike against GM, Ford and Jeep-maker Stellantis two weeks ago in a targeted fashion, shutting down three factories that assemble popular SUVs and pickup trucks. Last week, the union expanded the action to 38 parts warehouses across the country, broadening the work stoppage in a way that will affect more drivers – those trying to get their cars fixed.
So far, residents of Bucks County appear mostly sympathetic to the workers. A few expressed concern about what the strike will do to auto prices and availability, but most who spoke with The Washington Post said they supported working people standing up for better pay in an era of widening income inequality.
The views here in Bucks County – a well-known swing county on the northern rim of the Philadelphia suburbs – could offer hints of how the electorate will view the strike and its potential economic impact in the run-up to an election year. Bucks County went for President Biden in 2020 but Republicans also turned out strong, reelecting Republican Rep. Brian Fitzpatrick to Congress.
Biden and former president Donald Trump this week are both speaking publicly about the work stoppage, hoping to convince union voters and Americans generally that they are on the side of the working class.
On Wednesday, Trump is scheduled to speak in a suburb of Detroit at a nonunion auto parts maker, instead of joining the Republican presidential debate. On Tuesday, Biden stood with UAW President Shawn Fain in front of a GM parts warehouse in Wayne, Mich., telling strikers they've "earned a hell of a lot more" than they're getting paid today.
GM warehouse workers hired after 2015 have been stuck on a lower wage tier that starts around $17 an hour and maxes out at $25, below the $18 to $32 range for full-time vehicle-assembly workers. GM's current offer to the UAW would boost the warehouse workers up to assembly worker wages, an improvement that Fain welcomed in a Sept. 22 Facebook Live address. But he said GM's offer was still unacceptable because the company was declining to grant the union the job-security provisions or the regular cost-of-living adjustments to wages that the UAW is seeking.
GM has called its offer, which also includes a 20 percent raise over four years for full-time workers, the best in the company's 115-year history.
Working-class pay is clearly an issue that resonates with Bucks County voters of all political leanings, who vented frustration about the yawning gap between rich and poor.
At the Langhorne Coffee House, a ten-minute drive from the striking workers, Sherri Crisenbery was having breakfast this week with two friends from church.
"I think there's just been this huge disparity between management and labor, for years and years and years," said the self-described liberal voter. "I think most people are sympathetic to the union workers because the disparity is too large . . . there needs to be a little evening out in every industry."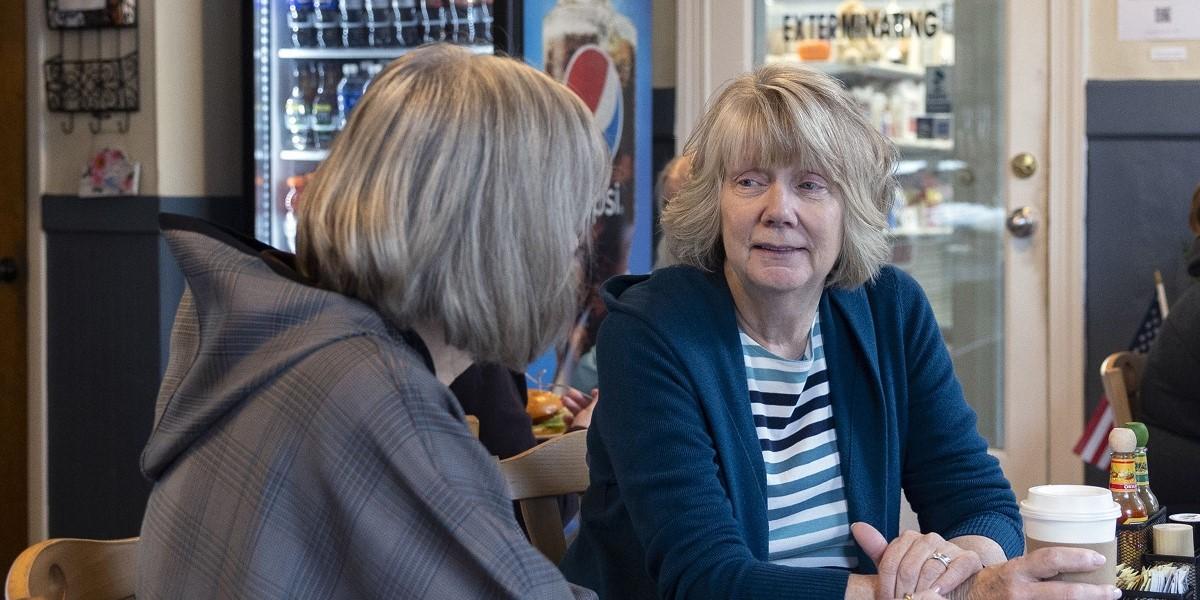 Her friend from church, Karen Marquis, said she'd seen the strikers while driving past the warehouse the other day. Marquis, who describes herself as a moderate Republican who never supported Trump and voted for Biden in the last election, recalled a recent lecture at their Unitarian church about economic justice.
"I think most people would be sympathetic to saying a person ought to be given a wage that is in proportion to the success of the business," Marquis said. "The people who are producing the product are the reason why the business is successful."
"I'm generally sympathetic – of course, until I want to go and buy a car," Marquis added with a laugh.
At the next table over, Randy Hips, a longtime conservative and Trump supporter who is in the market for a used Chevy Suburban, said he's a little worried about how the strike might affect auto prices, too. He's also concerned about the Detroit manufacturers losing ground to foreign automakers with lower labor costs. But he said he supports the UAW workers fighting for more.
"They should get what they're entitled to and be able to maximize their talents and get paid what they're worth," said Hips, who sells deli products to supermarkets.
Maintaining public support will be important to the strike, especially if it drags on, said Jake Rosenfeld, a sociology professor and labor expert at Washington University in St. Louis. He said he's been surprised so far by the high level of public approval among adults who are not union members, citing polls showing 2-to-1 support among that population. "This level of support for such a potentially disruptive industrial action is really impressive," he said.
The UAW has made a point to emphasize that car prices have already soared to record highs in recent years, propelled by pandemic-related market gyrations and automakers' increasing focus on more expensive vehicles.
Fain said the union is targeting the GM and Stellantis parts warehouses in part because they produce a lot of profit for the companies. As he announced the new strike targets last week, he also appeared to acknowledge the delays some car owners may experience when they need repairs. The way to "fix the frustrating customer experience" is for the companies to invest their "record profits into stable jobs and sustainable wages and benefits," he said during a Sept. 22 Facebook Live address.
Kelly McKinnon, a warehouse worker holding down the picket line Tuesday, said the disruption to parts deliveries means that "everyone's going to get affected." She said she hoped the public would remain on the side of workers. "We need them to help – the public – to help push back a bit," she said.
GM dealerships are among the most wary in Bucks County about the strike.
Joshua Jones, assistant parts manager at O'Neil Buick-GMC in Warminster, said in recent weeks he ordered an extra $20,000 of parts, including extra oil filters and air filters, to keep his dealership well stocked for several months. During the last UAW strike against GM, in 2019, the dealership ran out of important parts, forcing it to "plead with other dealers" for help, he said.
Jones, who typically supports Democrats, said he doesn't feel particularly sympathetic toward the workers or the companies. "I don't think either side's being realistic," he said. "I think it's mostly just greed on both parts."
Wearing an Eagles jersey to watch Monday Night Football at a local sports bar, Chris Kinsey, an editor at an advertising agency, described himself as "very pro union" and fully supportive of the strike. Asked whether he worried about car prices going up, he dismissed the concern.
"I don't think we should be worried about that kind of thing," he said. "I think we should be worried about Americans . . . making a living wage."
Add TheJapanNews to your Google News feed.