Menendez Brushes Off Calls to Resign from Senate after Indictment
MUST CREDIT: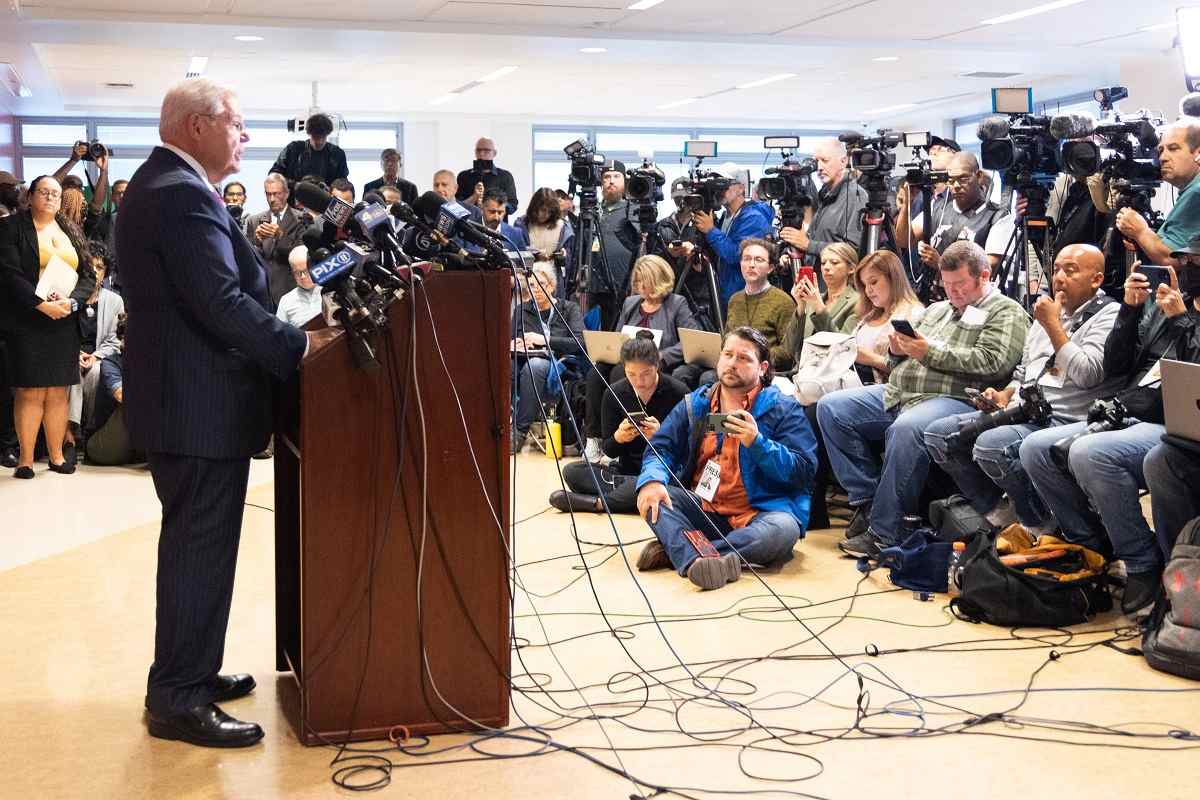 12:32 JST, September 26, 2023
UNION CITY, N.J. – A defiant Sen. Robert Menendez (D-N.J.) brushed aside growing calls for his resignation Monday, declaring that he will be exonerated and will continue to serve in the U.S. Senate after a federal indictment alleging that he and his wife accepted bribes in exchange for exerting his political influence.
Menendez, who is up for reelection next year, gave no indication that he might forgo the race.
"I recognize this will be the biggest fight yet," Menendez said at a community college in Union City, the town where he grew up and began his decades-long political career. "But as I have stated throughout this whole process, I firmly believe that when all the facts are presented, not only will I be exonerated, but I still will be New Jersey's senior senator."
Menendez, who did not take questions from the media, asked for the presumption of innocence while the case plays out, arguing that "instead of waiting for all the facts to be presented, [some] have rushed to judgment because they see a political opportunity for themselves or those around them." He also emphasized that he did not believe that he had lost the support of New Jersey voters.
A growing number of elected officials – including New Jersey Gov. Phil Murphy (D) – have called on Menendez, 69, to step down from the Senate in the wake of the indictment. The senator has vehemently denied the Justice Department's allegations and has steadfastly refused to resign.
Before the indictment was made public, the senator stated his intentions to run for reelection. The bribery charges complicate Democrats' chances of retaining a seat in the Senate that wasn't previously expected to be competitive.
The indictment against the senator and his wife, Nadine Menendez, as well as three associates, lays out wide-ranging abuses of power. At one point, Menendez is alleged to have pressed the Biden administration to nominate a U.S. attorney in New Jersey who he thought would be sympathetic to one of those three associates, Fred Daibes, a real estate developer who was facing federal fraud charges. In another instance, prosecutors alleged that Menendez held meetings with Egyptian military officials as part of an arrangement that secured his wife a "low-or-no-show" job with another of the associates, Wael Hana, an Egyptian American business executive.
In his remarks Monday, the Cuban American senator attempted to clarify his actions, laying out his previous record in Egypt. Menendez, who is the son of Cuban immigrants and is the sixth Latino to serve in the U.S. Senate, also claimed that he has withdrawn thousands of dollars in cash from his personal savings account because of his family's history of facing confiscation in Cuba – though Menendez's parents immigrated to the United States before the communist takeover.
"Now, this may seem old-fashioned, but these were moneys drawn from my personal savings account based on the income that I have lawfully derived over those 30 years," he said.
Menendez, who said he intends to return to Washington this week, is scheduled to make his first appearance in federal court in Manhattan this week, officials said.
Rep. Andy Kim (D-N.J.) has announced that he will run against Menendez for the Senate seat in the 2024 Democratic primary. At least two other Democrats have already declared they are running for the seat.
Though Menendez rebuffed calls for his resignation, he did step down from his position as chairman of the Senate Foreign Relations Committee in the wake of Friday's indictment, in accordance with the Senate Democratic Caucus's rules.
Senate Majority Leader Charles E. Schumer (D-N.Y.) said in a statement Friday that Menendez "has a right to due process and a fair trial." Sens. Sherrod Brown (Ohio) and Peter Welch (Vt.) on Monday joined Sen. John Fetterman (Pa.) as the only Democrats in the upper chamber who have called on Menendez to resign.
The latest bribery allegations come about five years after a New Jersey jury deadlocked after Menendez was tried on a separate set of bribery charges. The Senate Ethics Committee in early 2018 said Menendez violated federal law and Senate rules in accepting unreported gifts from a friend and political ally. The panel called on him to pay back the gifts he received. Menendez still easily won reelection that fall.
Menendez's Senate term is set to end next year. If he vacates the position before the end of his term, Murphy would appoint a replacement.
Menendez served in city and state legislature roles in New Jersey before winning election to the U.S. House in 1992. He served 13 years in the House, becoming chairman of the House Democratic Caucus before being appointed to the Senate by Gov. Jon Corzine (D) in 2006 to fill his seat. Menendez went on to win three general-election races.
In a statement released last week, Menendez alleged that the investigation into him had been tainted by racial bias, saying that it was "not lost" on him "how quickly some are rushing to judge a Latino and push him out of his seat." On Monday, Menendez was flanked by constituents, many of them Latino, as he delivered remarks in both English and Spanish.
Manny Contreras of Passaic County, N.J., said at Monday's event that he would give the senator the benefit of the doubt until the allegations were proved in court.
"I've known the senator for the last 30 years, so I came here to support him during his darkest moment," said Contreras, who owns a small construction company. "As a Latino, I truly believe he has done positive things for our community, and that's been my main reason to vote for him."
He added: "If he is found guilty, he must go. But so far, he's still got my support."
Add TheJapanNews to your Google News feed.