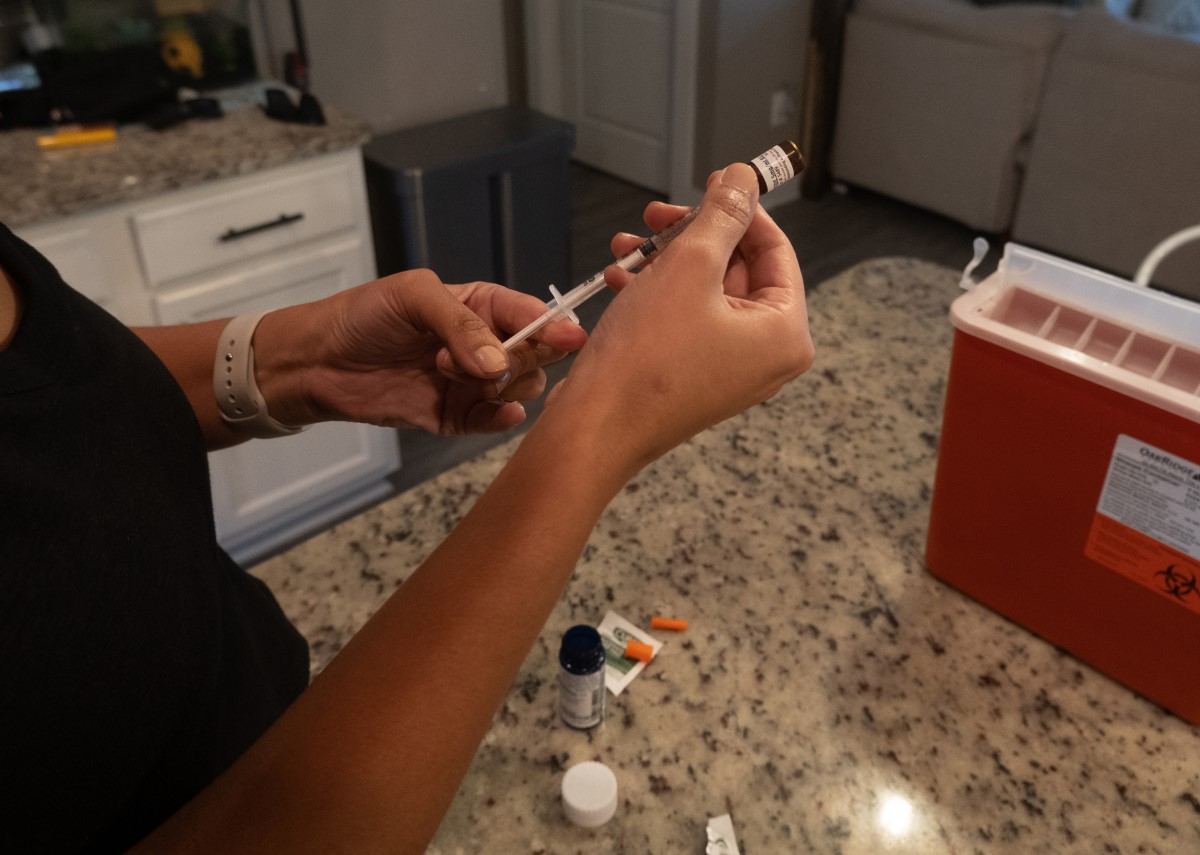 16:15 JST, September 24, 2023
Ashley Dunham lost 100 pounds over the past year, but she didn't take Ozempic. Instead, she favors a cheaper, off-brand concoction made with Ozempic's active ingredient.
"This medication is life-changing," said Dunham, 32, who has attracted nearly 60,000 TikTok followers by chronicling her weight-loss journey. Her transformation inspired her stepfather, a nurse practitioner, to start a family practice where he offers the off-brand drugs for about $300 a month – less than a third of the list price for Ozempic.
The Jacksonville, Fla., clinic – called Slym Wellness – is part of a flourishing industry around the new generation of weight-loss drugs, which have proved so effective that patients are clamoring for more than drugmakers can churn out. Last year, the U.S. Food and Drug Administration declared Ozempic and Wegovy in shortage, a designation that allows specialized pharmacies to mix up their own, cheaper versions of the blockbuster drugs.
Since then, a parallel marketplace with no modern precedent has sprung up, attracting both licensed medical professionals and entrepreneurs with histories ranging from regulatory violations to armed robbery. While clinics like Slym Wellness prescribe off-brand weight-loss medication following FDA policy, others are riding the boom in a legally gray area.
The Washington Post found more than two dozen websites that bypass doctors and pharmacies completely to sell semaglutide – the active ingredient in Ozempic and Wegovy – directly to consumers, usually with disclaimers that it's not for human use. One group, Doctor's Medical Weight Loss Partnership, charges would-be clinic owners $100,000 to get a piece of the action and has wrongly advertised the off-brand medications as FDA-approved.
"This method of providing access scares me," David Kessler, a former FDA commissioner, said of the gold rush, which is putting weight-loss medications into the hands of patients who often don't know their original source and pedigree. "Problems are going to happen."
So far, many patients seem unconcerned. FDA data does not suggest that pharmacy-made semaglutide is causing widespread harm. But in May, the FDA warned consumers that they can't know for sure what they're getting when they buy off-brand semaglutide even from a licensed compounding pharmacy. And "purchasing medicine online from unregulated, unlicensed sources," the agency said, "can expose patients to potentially unsafe products."
Compounding pharmacies are the custom tailors of the pharmaceutical world. About 7,500 operate in the United States, and their main job is modifying prescription drugs for people who need personalized formulations, for instance because of an allergy to an ingredient in an FDA-approved medication. The pharmacies are inspected by state and federal authorities. However, compounded medications do not carry the FDA's seal of approval, and the agency says they are typically not as safe as drugs that undergo rigorous agency review.
Under normal circumstances, compounders aren't allowed to make copious copies of an FDA-approved drug – unless the agency lists it in shortage, as it has with semaglutide, and they meet certain requirements. The ingredient has remained in short supply since March 2022, when the FDA placed Wegovy, an obesity drug, on its shortage list. Ozempic, a diabetes drug, joined the list five months later. With their list prices exceeding $900 for a month's supply and the lack of an FDA-approved generic version, compounding pharmacies have begun to function as an alternative, cheaper source for the highly sought drugs that often aren't covered by insurance for weight-loss.
"Semaglutide is a very unique situation," said Michigan pharmacist David Miller, who sits on the board of the Alliance for Pharmacy Compounding, a trade group. "In and of itself," the extended shortage "for a multibillion-dollar drug is unheard of," he said.
Total prescriptions have nearly doubled for Ozempic and more than quadrupled for Wegovy over the past year, according to TD Cowen analysts. Novo Nordisk, which makes both drugs, has racked up the equivalent of about $7.8 billion in sales of the drugs in the first half of 2023, according to its financial statements. That's roughly 85 percent more than the same period a year ago.
Novo's chief executive recently told CNN that it could take "quite some years" before it can fully meet the demand for Wegovy. In the meantime, it has sued nearly a dozen clinics and pharmacies that market or dispense alternative versions, accusing some of infringing its trademarks and others of selling "unapproved new drugs" in violation of state laws.
Despite reports of undesirable side effects, semaglutide-based drugs got another boost last month after a clinical trial showed Wegovy dramatically reduced the risk of heart problems for overweight people. "We continue to engage with regulatory authorities to keep them informed of the details of supply challenges," a Novo spokesperson said.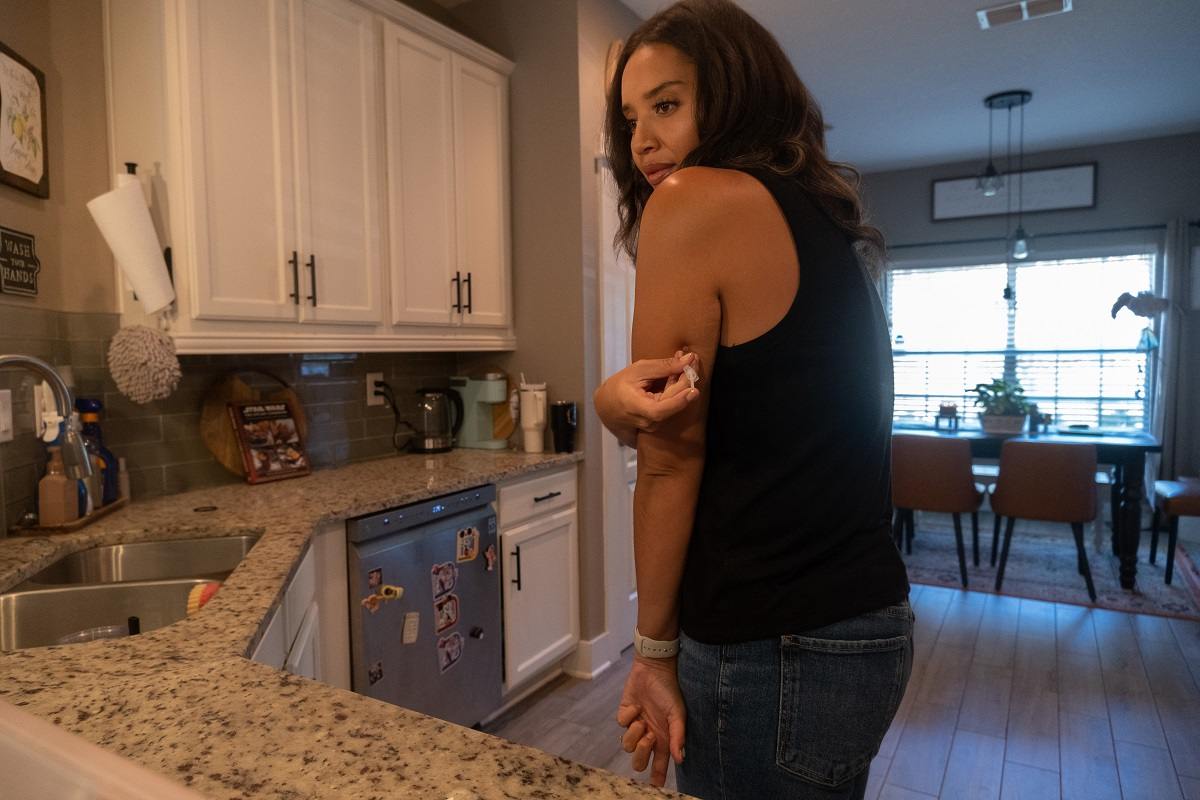 'A whole nother league'
Many people look to social media for advice on losing weight, entering a marketplace of paid influencers and telehealth firms advertising their services.
That's where Eric, a 37-year-old petrochemical worker in Houston, found QuickMD. He wanted to lose weight but knew his insurance wouldn't cover the pricey brand-name drugs. The telehealth firm, which says it has a nationwide reach, presented a more affordable solution.
For $579 – and a potential wait of six weeks or more – QuickMD offered a month's dose of brand-name Ozempic. Or patients could order a package of "semaglutide sodium," presented as a comparable product for less than half that price that could ship in a week.
One detail QuickMD left out: The FDA doesn't consider semaglutide sodium to be the same ingredient in approved drugs like Ozempic and Wegovy. Instead, it has said the sodium version shouldn't be used to make copies of the drugs in shortage and has "not been shown to be safe and effective."
Eric, who spoke on the condition that his last name not be used to discuss a private medical matter, ordered the semaglutide sodium. He said he lost 10 pounds in six weeks.
Of all the weight-loss methods he's tried, he said, "semaglutide is in a whole nother league, man."
It's not clear whether Eric in fact received semaglutide sodium. He said the medication came from the Florida-based pharmacy Hallandale, which said it doesn't use the salt version. After an inquiry from The Post, QuickMD removed references to semaglutide sodium from its website.
The sodium was offered as part of a "90-day pilot program that already ended," QuickMD said in an emailed statement. "The specific program you're referring to is no longer offered at QuickMD."
Jen Witherspoon, a 46-year-old dental office manager in Austin, also found her weight-loss solution on social media. Witherspoon was taking Mounjaro, another new diabetes drug often prescribed off-label for weight loss that also is in shortage. But Mounjaro made her feel nauseated, and she began looking into compounded drugs as an alternative.
She settled on MinuteMD, a telehealth provider that advertised tirzepatide, the active ingredient in Mounjaro.
As recently as July, MinuteMD's website described tirzepatide as FDA-approved, though the compounded version isn't. The language was recently revised. MinuteMD founder Joe Stiver said by email that the company "does not advertise any of its compounded products as FDA-approved."
Stiver, 31, founded MinuteMD in Ohio in 2021. The telehealth service is the latest project in an entrepreneurial medical career that got off to an inauspicious start in 2014, when Stiver was sentenced at age 23 for illegally selling steroids, Ohio court records show. In 2020, Stiver pleaded guilty to a federal money-laundering charge related to the earlier conviction.
Asked about his criminal record, Stiver wrote: "I firmly believe you cannot judge a person's character by a single incident; rather, you should evaluate someone on how they have overcome obstacles in their life." He said he has worked to rehabilitate himself, and his companies donated medical equipment during the pandemic.
Witherspoon said she knew nothing about Stiver's record but isn't bothered by it, saying she believes in second chances. She said she found the company's process easy to use and was impressed by the comprehensive lab work it required before writing a prescription.
More importantly, Witherspoon said she had hardly any side effects after a month on compounded tirzepatide. "I was like, okay, this is fantastic," she said.
In April, she signed a contract with MinuteMD to promote her experience on social media.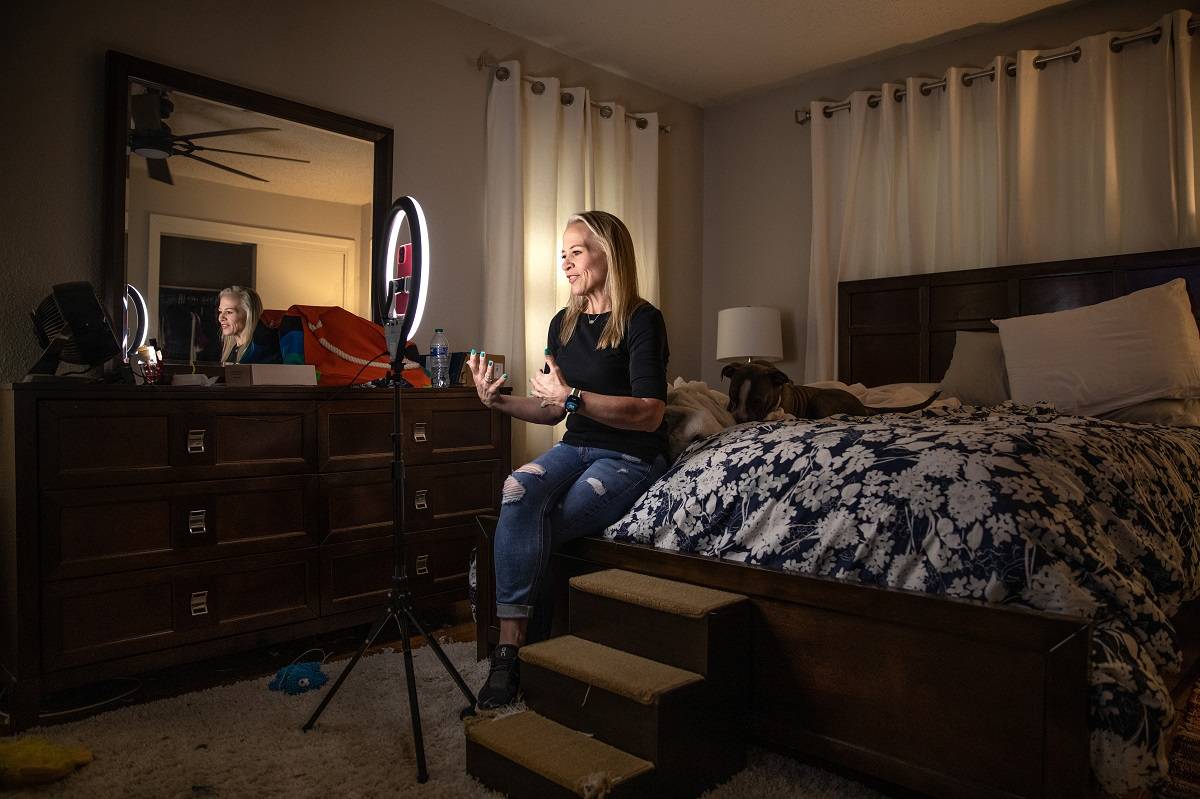 'We make it in our lab at a low cost'
Even as compounding pharmacies have become an essential cog in the business of off-brand weight-loss medications, they also have become a source of some intrigue: The pharmacies are tight-lipped about where they obtain the raw semaglutide, which doesn't come from Novo Nordisk, and the recipe could deviate from the drugmaker's patented product.
Take the case of Tailor Made Compounding pharmacy outside Lexington, Ky. In March 2022, FDA inspectors cited Tailor Made for using semaglutide approved only for research, not for patient use. Research-grade products can put patients at risk because they haven't been reviewed by the FDA for safety, purity or quality, according to the agency.
In an email, Ross Jordan, one of Tailor Made's owners, denied that the pharmacy used research-grade semaglutide. He said that the FDA's finding was based on international records from a larger shipment of multiple ingredients, adding that a packing slip and certificate didn't indicate the semaglutide was for research.
After FDA inspectors faulted the pharmacy for inadequately sterile conditions in the same inspection, Tailor Made recalled batches of multiple drugs, including semaglutide. The company has since put in place extensive new quality-control measures, Jordan said.
The Tailor Made case provides a clue to the source of the semaglutide: The raw ingredient came from overseas. In addition to Novo Nordisk, 15 firms have registered with the FDA as makers or distributors of semaglutide, almost all of them overseas, according to agency data. An FDA spokesperson said it inspects such manufacturers "on a risk-based schedule to help identify and prevent any weaknesses in the pharmaceutical supply chain."
Though the ability to mix up versions of the weight-loss drugs may last only as long as the shortage, some compounders are seizing the business opportunity. Empower Pharmacy, in Houston, offers on its website to sell semaglutide to health-care providers. Preston's Pharmacy, in Arlington, Va., also compounds semaglutide and has an online explainer about how to inject it.
Frank Odeh, one of Preston's owners, said compounded semaglutide offers "one more weapon in the arsenal to fight morbid obesity." The impact on business, he said, has been "a little bit of an uptick." Empower did not respond to requests for comment.
ACA Pharmacy, based in Nashville, touted semaglutide on Instagram, posting a promotion in July 2022 that emphasized savings over the brand-name weight-loss drugs. "A generic is NOT available commercially," the post said, "but we make it in our lab at a low cost to you!"
Last month, the Tennessee Board of Pharmacy ordered the company to stop sterile compounding, without publicly disclosing the reason.
ACA didn't respond to messages seeking comment, and a spokesperson for the Tennessee Department of Health declined to comment.
Not for human consumption
While compounding pharmacies like ACA are subject to state and federal regulation, online purveyors of semaglutide aren't vetted by government inspectors.
Paradigm Peptides until recently offered a small vial of semaglutide it called "the highest quality and potency available" for $90, with the caveat that it was "not for human consumption." When The Post placed an order, a padded envelope arrived in four days from Michigan City, Ind. Inside was a vial the size of a fingertip containing clumps of white powder.
The package contained no instructions. But an automated email from Paradigm highlighted that other buyers of semaglutide ordered sterile water and a syringe, which would allow the powder to be dissolved and injected.
The FDA says drugs made specifically for research "pose significant risks to patients." The agency has taken action against companies that sold "research use only" substances for muscle building and made "unapproved drug claims," an FDA spokesperson said. One man pleaded guilty in April.
Reached by phone, Paradigm manager Matthew Kawa said the company would remove its weight-loss offerings from its website. "People are buying them not for the intended purpose we're selling for," he said. Hours later, its listings for semaglutide and tirzepatide were offline.
At Peptides of America, it's a different story. The website, registered in April, offers a vial of semaglutide for $350. Those who scroll past the option to buy the vial will find a disclaimer stating that it, too, is not for human consumption. But its founder, Damon Vann, readily acknowledged that his customers are using it to lose weight.
"It's really great to see some people become the best version of themselves," Vann said in an interview.
Vann also runs a construction company and said he had a medical-supply business during the covid-19 pandemic. He said he'd received more than 200 orders for semaglutide, which he insists is completely safe, adding he's used it himself.
Though his website allows people to order without a prescription, Vann said he calls every customer. If they don't have a prescription, he said, "I cannot sell to them."
Vann said the not-for-human-use disclaimer comes from his suppliers, which he declined to identify but described as labs in Miami and Chicago. He called research-only drugs a "gray area" best left to the discretion of individual customers.
"It's for everyone, I guess, to decide," he said.
A 'gastric bypass in a bottle'
More entrepreneurs are joining the weight-loss gold rush, spurred on by claims of wild profits promoted by outfits like Doctor's Medical Weight Loss Partnership. The group, which says it is a division of Tallahassee-based Riley Medical, advertises that a clinic can clear $1 million in annual profit. In an investment aimed at "non-doctors," the partnership charges $100,000 to set up new clinic owners.
Sean McGivern and his wife, who live in the San Jose area, saw the pitch in April 2022 and soon launched the California Medical Group. As part of the deal, McGivern said they received a newscast-style video – now posted on their website – in which a man identified only as "Dr. Kevin" talks up off-brand weight-loss medication as a "gastric bypass in a bottle."
Through online image searches, The Post identified "Dr. Kevin" as Kevin Hornsby, a licensed physician who co-owned a multistate chain of clinics treating erectile dysfunction. In 2014, he was fined $20,000 by the Florida Department of Health and permanently barred from prescribing testosterone. Massachusetts sued Hornsby in 2015, in part alleging deceptive advertising. Two of his companies were subsequently ordered to pay more than $17 million, including fines and restitution, the state attorney general's office said.
Hornsby declined to speak to a Post reporter by telephone, but said in an email that he left clinical practice earlier this year for health reasons. He said the Florida disciplinary case and Massachusetts lawsuit "are fully reconciled and resolved."
Hornsby said that he has no ownership stake in Riley or related companies and that he consults for Doctor's Medical Weight Loss "with no regularity."
More than 50 weight-loss clinics across 24 states feature promotional language that appears to be drawn from Doctor's Medical Weight Loss. Asked why websites featuring Hornsby's video claimed that compounded weight-loss drugs were FDA-approved, Hornsby said the raw ingredients were approved and the issue was "nothing more than confusing semantics." He said that he passed along the question to "those websites," which were swiftly updated to remove such language.
Neither Doctor's Medical Weight Loss nor Riley Medical responded to telephone messages. A Craigslist ad for the partnership listed a contact, who offered a telephone number for a man he identified only as "Richard." Richard also did not respond to messages.
Troy Watson, who owns Set Point Medicine outside Sacramento, said Doctor's Medical Weight Loss wasn't perfect but he credits it with getting him up and running. "It's been a very good business for me," he said, adding that his clinic sees about 550 patients a month.
McGivern, however, doesn't feel he got his money's worth from Doctor's Medical Weight Loss, saying he and his wife had to figure out much of the business on their own. "I definitely do not feel like they set people up for success," he said.
McGivern has his own complicated past, including a conviction for armed robbery in 2017 that he called "a mistake." These days, "I'm a much different person," he said, adding that he has fully immersed himself in the weight-loss business.
In theory, the off-brand weight-loss business will last only as long as drugs like Ozempic and Wegovy remain on the FDA's shortage list. But McGivern is betting that it will continue.
He noted that Eli Lilly is seeking FDA approval for a new tirzepatide-based drug to treat obesity. The company also is developing a compound called retatrutide that studies suggest could be even more powerful than any weight-loss drug the FDA has so far approved.
"There is always going to be a new one that comes out," McGivern said, "a new one on shortage."
Add TheJapanNews to your Google News feed.