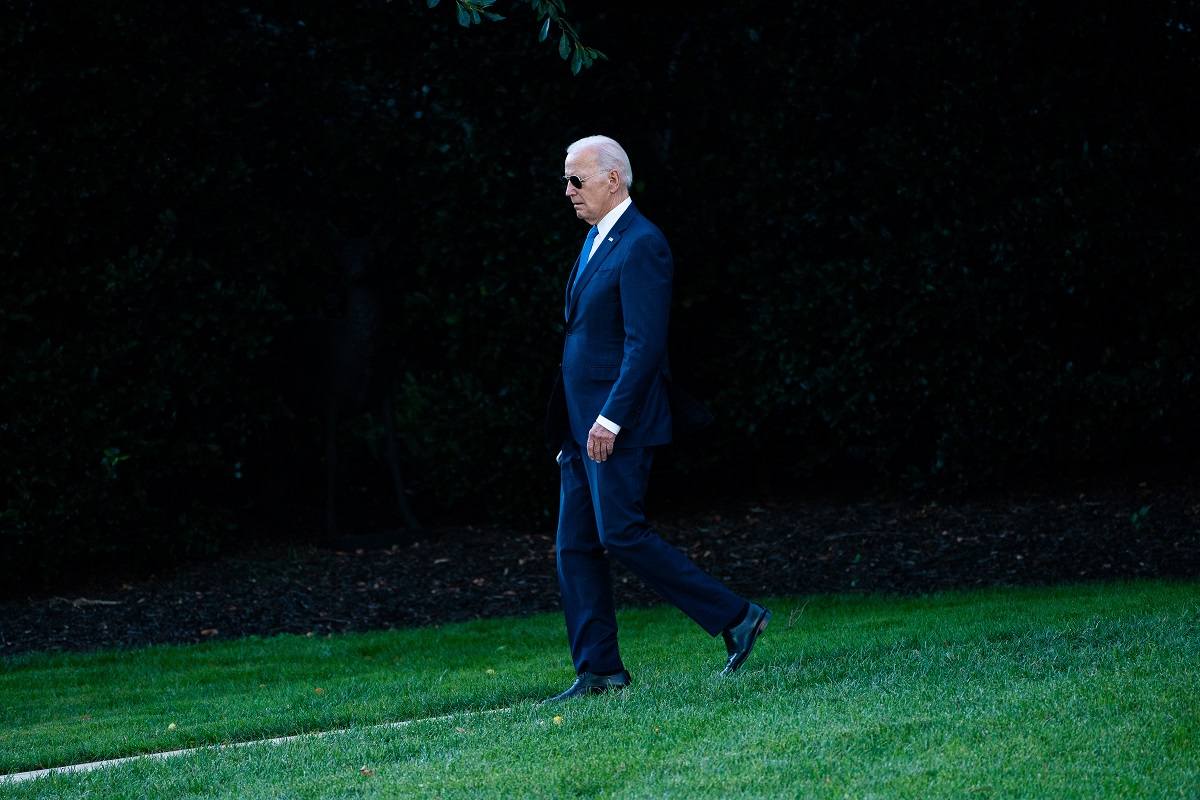 15:19 JST, September 19, 2023
A growing number of polls are showing voters concerned about President Biden's age and energy. Democratic lawmakers have hesitated to offer full-throated endorsements of his running mate. Prominent commentators have ruminated on whether he should drop out of the presidential race.
This series of political vulnerabilities – along with House Republicans announcing an impeachment inquiry and the Justice Department indicting Biden's son on gun charges – is now sending waves of anxiety through parts of the Democratic Party, as some fret about whether the man who helped oust Donald Trump from the White House may not have the vitality, at 80, to successfully prevent a return.
"He is in a period of his life where passing and death is imminent," said Sharon Sweda, the leader of the Democratic Party in Lorain County in Ohio, who said she often hears from voters worried about the president's potential frailty. "We are all on a ticking clock. But when you're at his age or at Trump's age, that clock is ticking a little faster, and that's a concern for voters."
Many in the party continue to voice confidence in Biden, and they note that Trump himself is not much younger at 77. But Biden's allies are frustrated by the hand-wringing from an anxious faction of the party, and even as campaign officials point to the president's record of defying skeptics, they are strategizing internally about how to best combat the unmistakable nervousness.
Such "Washington whispers" have become far too common among "bed-wetting" Democrats, said Jim Messina, who ran Barack Obama's 2012 campaign and recently put together a 24-slide deck aiming to calm the jitters, which he sent to prominent Democratic officeholders.
"I'm not saying that this is going to be easy and he's fine," Messina said in an interview. "Look, America is split right down the middle. Both parties are going to get 46 percent, and we're fighting over the rest."
But he said Biden is in a much stronger position than Trump and encouraged Democrats to stop their public and private agonizing. He said one senator texted him immediately after receiving his presentation, which included details on Biden's string of early endorsements by key groups, the impact of cooling inflation and the popularity of many of the president's achievements.
"I'm going to stop bed-wetting now," the senator wrote.
But interviews with more than 30 lawmakers, strategists, activists and other Democrats show that the uncertainty persists.
Many Democrats express steadfast support for the president's running for a second term, and no major figure has risen to challenge him in a primary. Several party leaders predicted that even voters who voice ambivalence about Biden will ultimately be animated to vote against the Republican choice, especially if that choice is Trump.
But few offered confident assessments that Biden's stubbornly low approval ratings would rebound before next year, and many conceded that one of the president's most significant challenges is one he has no control over: his age. Supporters and critics alike suggested that Biden's prospects may hinge on whether he can find a way to overcome a persistent and growing feeling in the electorate that his advanced age is his defining characteristic.
For now, recent polls show Biden running even with Trump, who leads the Republican field by a wide margin.
An August survey from Associated Press/NORC found that 77 percent of Americans, including 69 percent of Democrats, thought Biden was too old to be effective for another four-year term. When asked what word came to mind when they thought of Biden, more than a quarter of respondents mentioned age, with another 15 percent using words like "slow" or "confused."
Other polls are also flashing warning signs for Democrats. A CNN/SSRS survey found that Biden's approval rating was mired at 39 percent, with nearly three-quarters of respondents saying they were concerned about his age. The poll also found that most Democrats want the party to nominate a different presidential candidate.
Polling has also suggested that Biden's support among non-White voters is slipping, that a growing number of voters prefer age limits for public service and that Americans continue to feel unease about the economy.
Perhaps most troubling for Democrats, several recent surveys have found Biden running neck-and-neck with Trump – even though Trump, who is three years younger than Biden, faces four criminal indictments.
Biden's campaign shrugs off such concerns, casting them as well-worn examples of second-guessing by people who have previously questioned the president, only to be surprised by his victories.
"Coming off the president's historic midterm performance, President Biden is delivering results, his agenda is popular with the American people, and we are mobilizing our winning coalition of voters well ahead of next year's general election," said Biden campaign spokesman Kevin Munoz. "Next year's election will be a stark choice between President Biden and the extreme, unpopular MAGA agenda. We'll win in 2024 by putting our heads down and doing the work, not by fretting about polls."
White House officials note that Obama had similarly low approval ratings in 2011 before cruising to reelection the following year. They have also pointed to special elections this year in which Democrats have outperformed expectations, saying the abortion issue that helped propel the party continues to animate voters.
To support a president who often answers age questions by saying, "Watch me," aides have often spoken publicly of his stamina and his grueling schedule during overseas trips. Biden's campaign has launched an early $25 million ad campaign that includes television spots showing the president looking energetic and brisk during a nearly 40-hour round-trip journey to a Ukrainian war zone.
But while Biden's doctor in February described him as "healthy," "vigorous" and mentally sharp, voters who see him – or see selective video clips of him shared online by his foes – have often come away with a different assessment.
Biden's gait can be stiff, and his physical and verbal stumbles have at times given his critics material. After a Sept. 10 news conference in Vietnam, several conservative outlets noted that he seemed fatigued and ended the event by saying he was ready to go to bed. (His aides point out that the 11-hour time difference could have been challenging for anyone.)
While Trump is also at an advanced age and regularly makes his own erratic comments, polls show that voters are less concerned about his stamina and acuity, whether because of his brash personality or because his legal problems eclipse other concerns.
"I would always choose 'I'm going to bed' over 'I'm going to jail,' " said Sen. John Fetterman (D-Pa.), referring to the multiple criminal indictments against Trump.
Nikki Fried, chairwoman of the Florida Democratic Party, said there is no evidence age has hindered what Biden has been able to accomplish in office.
"There's been an overhyping of this conversation, with social media and 24-hour news cycles," Fried said, "as opposed to pointing to specific issues or specific policies that have not been able to be implemented or followed through on."
But one House Democrat, who spoke on the condition of anonymity to offer a candid assessment of Biden's candidacy, said he has heard concerns among fellow members as well as major Democratic donors about whether the president can sustain a grueling campaign and another four years in office.
"You don't want to do anything to undercut the person who is going to be your nominee," the lawmaker said. "At the same time, these concerns are very real."
Even some Democrats who fully back Biden's reelection do not always discuss his bid in inspirational terms. Sen. Richard Blumenthal (D-Conn.) compared concerns about the president's age to a broken leg he himself sustained after being knocked down at a parade.
"I'm concerned about polls, certainly. I'm not dismissive," Blumenthal said. "But I guess I compare it to, I just had a broken leg. Was I concerned? Yeah, I was really concerned about having a broken leg. I had to take care of it. And now," the 77-year-old said as he began to jog in place, "I'm fine. Full strength."
At the same time, Biden's age has put an even more glaring spotlight on Harris, who would be a leading contender should Biden step aside and would replace him if he cannot complete a second term.
Some Democrats question Harris's political strength, and on occasion lawmakers have struggled to defend her. Former house speaker Nancy Pelosi (D-Calif.) gave a less-than-enthusiastic answer when asked by CNN last week whether Harris is the best choice to be Biden's running mate in 2024. "He thinks so," she said. "And that's what matters."
Asked if she agreed with that assessment, Pelosi called Harris "politically astute."
Like Pelosi, Rep. Jamie B. Raskin (D-Md.) did not answer directly when asked on CNN whether Harris is the best running mate for Biden. He and Pelosi later took to social media to offer more enthusiastic endorsements of Harris, but their initial comments were noted by the vice president's allies and foes alike.
In part to rebut such concerns, Harris's team posted images of the vice president being warmly greeted by thousands of enthusiastic students during a college tour last week.
"Wild. I heard that she was unpopular," Harris's press secretary Kirsten Allen wrote on X, formerly known on Twitter, on Friday, sharing images of a packed auditorium of North Carolina A&T University students waiting to see the vice president.
Questions about the 2024 Democratic ticket arose even before Biden was sworn in. The president's age, relatively low approval ratings and a campaign pledge to be a "transitional" figure have long raised questions about whether he would – or should – seek a second term.
Those questions subsided after unexpected Democratic successes in the midterm elections. But they have intensified in recent weeks, as Democrats realize that the window for making any change is rapidly closing – just as polls show voters increasingly wary about their current choice.
One Democratic lawmaker, speaking on the condition of anonymity to discuss a sensitive matter, raised the prospect that Biden could secure the nomination, then have to drop out for health reasons. "The worst-case scenario is we get past the nominating process with President Biden as the nominee, and then he's no longer able to continue on as the nominee," the lawmaker said. "That's the nightmare scenario for Democrats."
For some in Biden's circle, Democrats' existential fear of Trump is their best guarantee that Democrats will rally around the president. They have been seeking to emphasize contrasts between Biden and his predecessor.
In recent speeches, Biden has been more forceful in criticizing Trump's economic record. "Great real estate builder, the former president," Biden said sarcastically last Thursday. "He didn't build a damn thing."
One Democratic leader in a battleground state, speaking on the condition of anonymity to candidly discuss the party's prospects, said Democrats might be driven to the ballot box as a way to protest Trump, but might not wait in line for hours at polling places out of enthusiasm for Biden.
"Folks are not energized right now," the person said.
Rep. Maxwell Frost (D-Fla.), who at 26 is the youngest member of Congress, said Biden's age is a bigger issue with older voters, while younger people are more focused on issues like climate change and gun violence.
"You're talking about a generation that was really excited for Bernie Sanders, who is also very old," Frost said.
But John Paul Mejia, a college student and spokesman for Sunrise Movement, a youth-led political organization advocating on climate change, said Biden seems older than Sanders because he has not fully embraced the progressive policies supported by Generation Z.
"Biden has an opportunity to overcome the optical concerns," Mejia said. "I think he could be younger if he wants."
Add TheJapanNews to your Google News feed.