Wisconsin Republicans Vote to Fire Elections Director, who Sues to Keep Her Job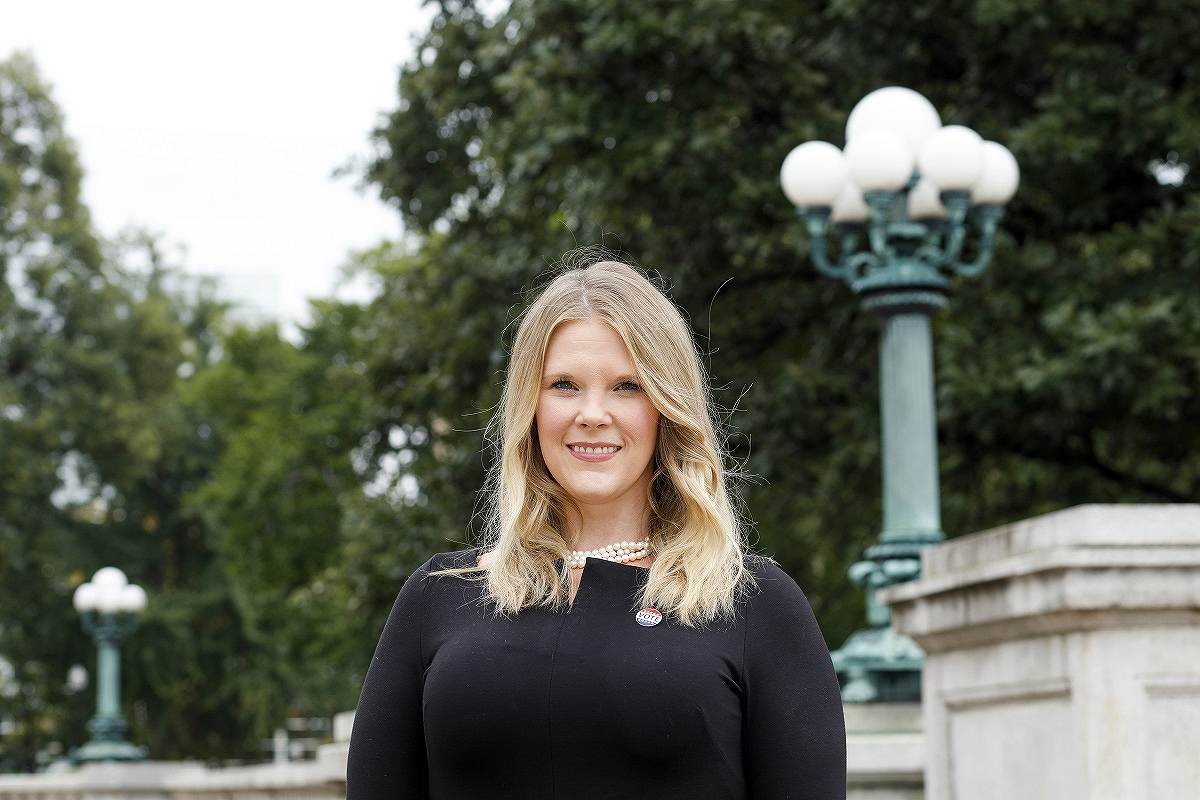 13:36 JST, September 15, 2023
MADISON, Wis. – Republicans in the Wisconsin Senate voted Thursday to fire the swing state's top elections official, who argued lawmakers didn't have the power to oust her and said she would stay in office. About an hour after the vote, she sued GOP lawmakers, seeking validation from the courts that she can keep her job.
The vote ignited a dispute over who is in charge of overseeing elections in a state that is expected to play a critical role in next year's presidential contest and that may have to redraw its legislative districts within months.
The Republicans' own lawyers, as well as the state's Democratic attorney general, told the senators before the vote that they didn't have the authority to remove Meagan Wolfe, the director of the state's bipartisan elections commission. Wolfe, whose position is nonpartisan, has won praise from voting administrators across the country as well as local officials in Wisconsin.
The vote – 22-11 in favor of firing Wolfe – gives conservative critics a chance to question the legality of every action she takes until courts rule on her fate. Experts said the uncertainty could create trouble in the meantime.
"I think it's really worrisome because we're in the final stages of preparation for the 2024 elections," said Barry Burden, a political scientist at the University of Wisconsin at Madison and director of its Elections Research Center. "The elections commission is training clerks around the state and issuing guidance, so to have uncertainty about who the top administrator is going into this crucial election season, I think is a real problem."
The move against Wolfe comes as Republican lawmakers threaten to impeach a state Supreme Court justice who gave liberals a majority on the state's top court when she was sworn in last month. The court in the coming year is expected to determine the legality of abortion and whether to keep in place election maps that have given Republicans large majorities in the legislature.
Shortly after state senators cast their party-line votes on Wolfe's future, she filed a lawsuit with the help of Wisconsin Attorney General Josh Kaul (D) and said she would continue to perform her duties while the case proceeds. Her lawsuit seeks a court order that declares she still holds her job and bars lawmakers from appointing a replacement.
"The action of the Senate today has no legal effect," Kaul told reporters.
At a separate news conference, Wolfe expressed confidence about continuing in her job and said she welcomed having the courts decide her lawsuit. She emphasized the importance of conducting elections in a nonpartisan manner.
"The reason that they want to get rid of me for political purposes is because I will not bend to political pressure," Wolfe said of the Republican lawmakers. "I think the political outcome they desire is to have someone in this position of their own choosing that would indeed bend to those political pressures."
Four years ago, the GOP-dominated state Senate unanimously confirmed Wolfe, who was appointed by an elections commission consisting of three Republicans and three Democrats. Republican lawmakers largely stayed out of her way as she and the elections commission navigated how to conduct the 2020 election amid the coronavirus pandemic.
After President Donald Trump narrowly lost the state, Republican lawmakers raised complaints about the use of ballot drop boxes, absentee voting in nursing homes and other election policies. Over the next year, they consulted with conspiracy theorists and toyed with a discredited theory that lawmakers could revoke the state's 10 electoral votes but turned up no evidence that would alter the results.
Conservatives increasingly objected to Wolfe, even as many of the state's 1,800 town and city clerks rallied to her defense. The Wisconsin Supreme Court last year ruled state law does not allow the use of absentee ballot drop boxes, and Wolfe's critics said the decision showed she should be fired because drop boxes were used during 2020. Her supporters disputed such attacks, noting every decision she made had support from the election commission.
Republican lawmakers found they had few options for getting rid of Wolfe – ironically because of a lawsuit they won last year that says state officials often can remain in their positions until the state Senate confirms a replacement.
Wolfe's term as the commission director expired this summer. Republican and Democratic commissioners were united in wanting her to continue to serve but disagreed on how to make sure she could remain. The commission couldn't reach a decision, which legislative attorneys said meant Wolfe could continue to serve because of the court decision.
Republican senators discounted their attorneys' opinions and moved forward with the vote anyway, saying they believed they had the power to remove her. State Senate Majority Leader Devin LeMahieu (R) said the Republicans were acting because they believe people don't trust how elections are run in the state.
"If they don't have faith in our elections, we've disenfranchised voters," LeMahieu said on the Senate floor.
Despite the vote, Wolfe and her backers said she would continue to perform her duties. She faced few immediate impediments from doing so because she has the support of Gov. Tony Evers (D), whose administration can make sure she continues to get paid and maintains access to her office. Republicans could try to hire a replacement for Wolfe, but whoever they choose may not be able to obtain a key card needed to enter state office buildings.
"Wisconsin Republicans' attempt to illegally fire Wisconsin's elections administrator without cause today shows they are continuing to escalate efforts to sow distrust and disinformation about our elections, denigrate our clerks, poll workers, and election administrators, and undermine basic tenets of our democracy, including the peaceful transfer of power," Evers said in a written statement.
Still, the vote gives Wolfe's enemies a new avenue for disputing any actions she takes as the state gears up for the 2024 presidential election. Her lawsuit could quickly make its way to the state Supreme Court.
Voters in April elected Janet Protasiewicz to the high court by an 11-point margin, ending 15 years of conservative control. Protasiewicz won by championing her support for abortion rights and opposition to gerrymandering.
Democratic voters have filed a pair of lawsuits challenging district maps that have given Republicans a firm grip on the legislature. Assembly Speaker Robin Vos (R) said if Protasiewicz did not step aside from the case, given her previous statements on the matter, he would consider impeaching her.
Protasiewicz has not said whether she will recuse herself from the case, but Democrats who spent $10 million to get her elected quickly got behind her. They began running ads against GOP lawmakers, and some Republicans have grown wary of impeaching someone who won with so much support. Vos appeared to inch away from the idea at a Tuesday news conference, but he told a radio host the next day that he would have a group of conservative former state Supreme Court members analyze when they could impeach a justice.
"We are not foaming at the mouth to have an impeachment process, but it is part of our constitutional duty," he said.
Vos this week rolled out a new plan aimed at ending the redistricting lawsuits. For more than a decade, Vos has rejected calls to take partisan control out of redistricting, but on Tuesday he announced the Assembly would adopt legislation to have nonpartisan state workers draft maps that don't favor one party over the other. The plan could result in new maps for 2024 – ones that Republicans hope would be more favorable to them than the ones liberals on the state Supreme Court could draw.
Vos could have a tough time getting his plan passed. Republican leaders in the state Senate haven't said whether they would take the measure up, and Wisconsin's Democratic governor signaled he would veto the proposal if it gets to him. For years, Evers has embraced nonpartisan redistricting but in a written statement said he couldn't trust Republicans on the issue, noting the legislature could fire the nonpartisan mapmakers or overrule the plans they produce.
"Wisconsinites deserve a redistricting process that's free of partisanship and interference from politicians, and it's never been clearer that today's Legislature cannot be trusted with that important responsibility," Evers said in his statement.
Vos's surprise offer and Democrats' reaction laid bare the bizarre politics that can unfold amid fights over how to draw legislative maps. Republicans embraced an idea they had long derided, and Democrats rejected one they had long championed. They accused each other of hypocrisy, even as they ignored they had flipped positions themselves.
One Republican state representative, Ron Tusler, suggested politics was a factor when a critic told him he was getting rolled by switching his position on redistricting.
"Perhaps," he wrote on X, the social media platform previously known as Twitter. "Why do you think we are all of a sudden in favor of something that we were once against?"
Add TheJapanNews to your Google News feed.