U.S. Poverty Spiked in 2022, Reversing Gains, Census Bureau Data Shows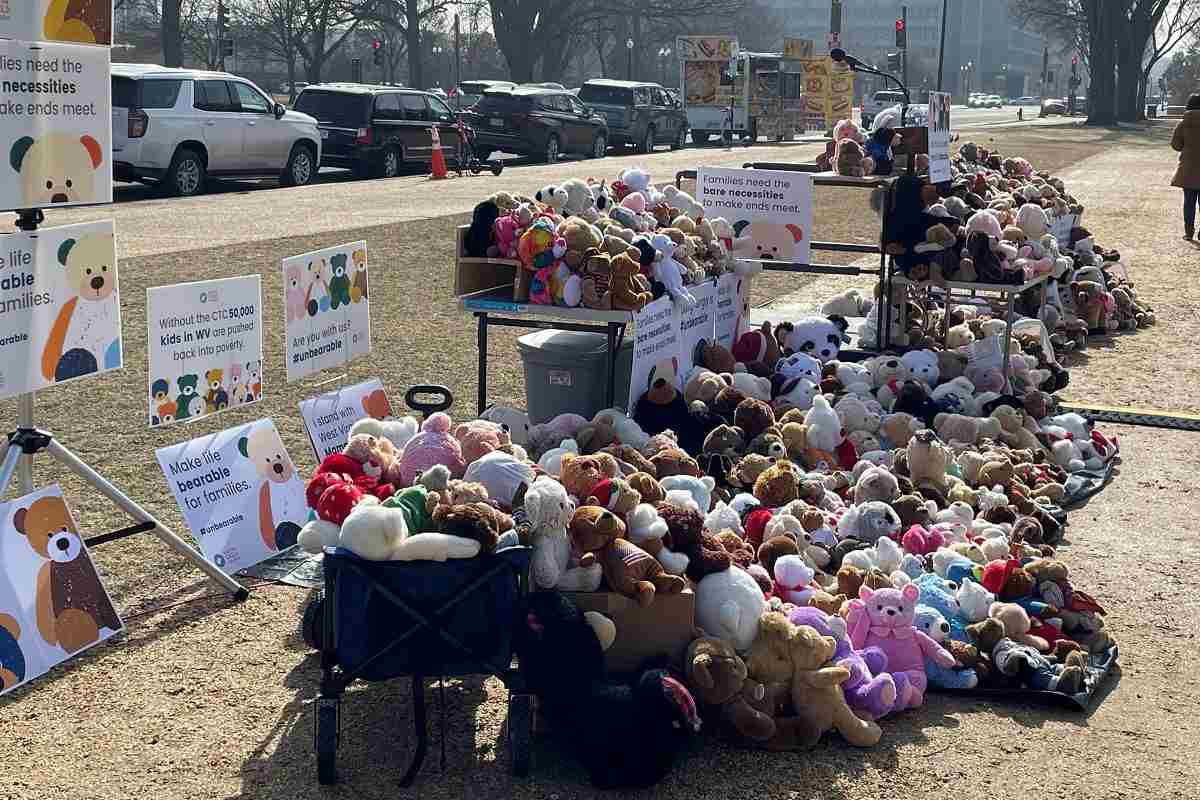 13:08 JST, September 13, 2023
U.S. poverty spiked last year, with child poverty more than doubling, the U.S. Census Bureau reported Tuesday, while the proportion of people lacking health insurance in 2022 dropped to an uncommonly low level.
The figures reflect the uneven pace at which the government has ceased some forms of coronavirus pandemic assistance as well as the calamitous effects of record inflation on household finances. Tuesday's data offer the first statistical snapshot of how the wind-down of such programs as well as rising prices have begun reshaping the country.
The poverty rate, taking into account government aid programs to the poor, was 12.4 percent in 2022, up from 7.8 percent the previous year, the census data shows. That spike follows two years of declines and coincided with the end of increased child tax credit payments and other government interventions.
The data tell "a story of what could have been," said Arloc Sherman, vice president for data analysis and research at the Center on Budget and Policy Priorities. "The pandemic showed that we could stand up policies that could help families. These numbers underscore how much poverty is a policy choice."
In contrast, the proportion of Americans without health insurance at any point during the year dwindled – from 8.3 percent in 2021 to 7.9 percent last year. The greater availability of health coverage was driven in part by a temporary source: the fact that no one on Medicaid, the state-federal program for those with low incomes, was dropped from the program in 2022, a result of another pandemic benefit that is now gradually ending.
Poverty researchers credited the expanded child tax credit payments with lifting millions of children out of poverty and driving down the child poverty rate to a record low of 5.2 percent in 2021. The new data show that 37.9 million people lived in poverty in 2022.
The White House seized on the data after the release Tuesday. In a statement, President Biden blamed the rise in child poverty on congressional Republicans and lambasted them for having blocked a continuation of the expanded child tax credit.
"The rise reported today is no accident," Biden said.
Tuesday's census data also noted a 2.3 percent drop in median household income, from $76,330 in 2021 to $74,580 in 2022. Real median earnings both for part-time and full-time workers also dropped last year by 2.2 percent, though incomes grew slightly for the lowest-paid workers.
The data also showed that 65.6 percent of working women worked full-time jobs year-round in 2022, the largest share on record.
Before Tuesday's data release, experts had been expecting a jump in the national poverty rate. The main question was the size of that increase, because of the competing effects of an improving labor market and record inflation. The numbers reflected the impact of those higher costs: According to the data, cost-of-living adjustments increased by 7.8 percent between 2021 and 2022, the largest jump since 1980.
The poverty rate of 12.4 percent represents what is known as the supplemental poverty rate, which incorporates the value of benefits such as child tax credits, earned income tax credits and stimulus checks. Tuesday's census release also includes a different statistic, the official poverty measure, which includes only monetary income. The official poverty rate for 2022 was 11.5 percent, compared to 11.6 percent in 2021.
Social scientists widely consider the supplemental measure as a more useful statistic, because it more accurately reflects the felt experience of U.S. residents with scanty income.
But experts also urged putting the jump in context.
"This basically is a return to pre-pandemic levels," said Robert Greenstein, a visiting fellow in economic studies at the Brookings Institution. "It's not as though it's some high for U.S. poverty; it's that in 2021 we had historic lows in poverty."
Greenstein pointed out that the fact that the official poverty rate remained the same in the past year illustrates that "employment growth and wage growth among lower income people offset the effects of higher inflation," he said. "It's a jump back to where we were before which is still significantly higher than most western European countries."
For 2022, the U.S. poverty level was $13,590 for individuals and $23,030 for a family of three.
The Census Bureau releases poverty, income and health insurance data annually based on the Current Population Survey, one of its main sources of nationwide data. The census's insurance data released Tuesday, combined with state-level data from the American Community Survey set to be released Thursday, is considered the most accurate portrait of health coverage in the United States.
Leading up to Tuesday's release, health policy experts said they expected the data to show an atypically low uninsured rate partly because of the Medicaid changes during the coronavirus federal health emergency.
The number of people in the United States without health insurance at any time in the year fell from 27.2 million in 2021 to 25.9 million last year, the data show. Among all adults of all measured racial and ethnic groups, the percentage lacking insurance dropped last year, but sizable gaps remain. For White adults, 6.8 percent had no coverage at any point in 2022, compared with 7.4 percent among Asian adults, 11.4 among Black adults and 23.4 among Hispanics.
The data show that 18.8 percent of people with some form of health coverage at any time last year were on Medicaid, comparable to the 18.9 percent in 2021. Sara Rosenbaum, a health law and policy professor at George Washington University, said it was not surprising that the proportion of people on Medicaid stayed high last year since the so-called Medicaid unwinding did not begin until earlier this year.
But Rosenbaum said she will be watching as the shrinkage of the Medicaid rolls begins to become apparent in the census data released a year from now. The "disturbing question," she said, is whether people have lost coverage by then because they no longer needed the safety-net insurance or because of the kind of paperwork mistakes that have accounted for most losses of Medicaid in recent months.
Overall, public insurance of all types accounted for 36.1 percent of all health coverage last year, nearly half a percentage point more than the 35.7 percent who held public coverage for some or all of 2021. That change largely was driven by an enrollment increase in Medicare, the federal insurance program for people who are age 65 and older or have disabilities, because of the aging of the U.S. population.
At the same time, the number of people who bought Affordable Care Act marketplace health plans continued to increase slightly for the third consecutive year: 11.8 million last year, compared to 11.4 million in 2021 and 10.9 million in 2020.
Biden administration officials have praised the widened use of such health plans, intended for those who do not have access to affordable health benefits through a job, and attributed their increasing popularity to larger federal tax credits available for the past couple of years under recent laws.
Douglas J. Besharov, a public policy professor at the University of Maryland's School of Public Affairs, said Tuesday's census release shows a mix of good and less good news as the country was moving past the pandemic last year. The dwindling number of people without health coverage "is a good story," he said.
But the meaning of the change in poverty, Besharov said, depends on whether one believes that the wherewithal of people at the lower economic rungs should be propped up by government programs or by a greater availability of jobs. From his vantage point, Besharov said, "the economy is chugging along."
Add TheJapanNews to your Google News feed.