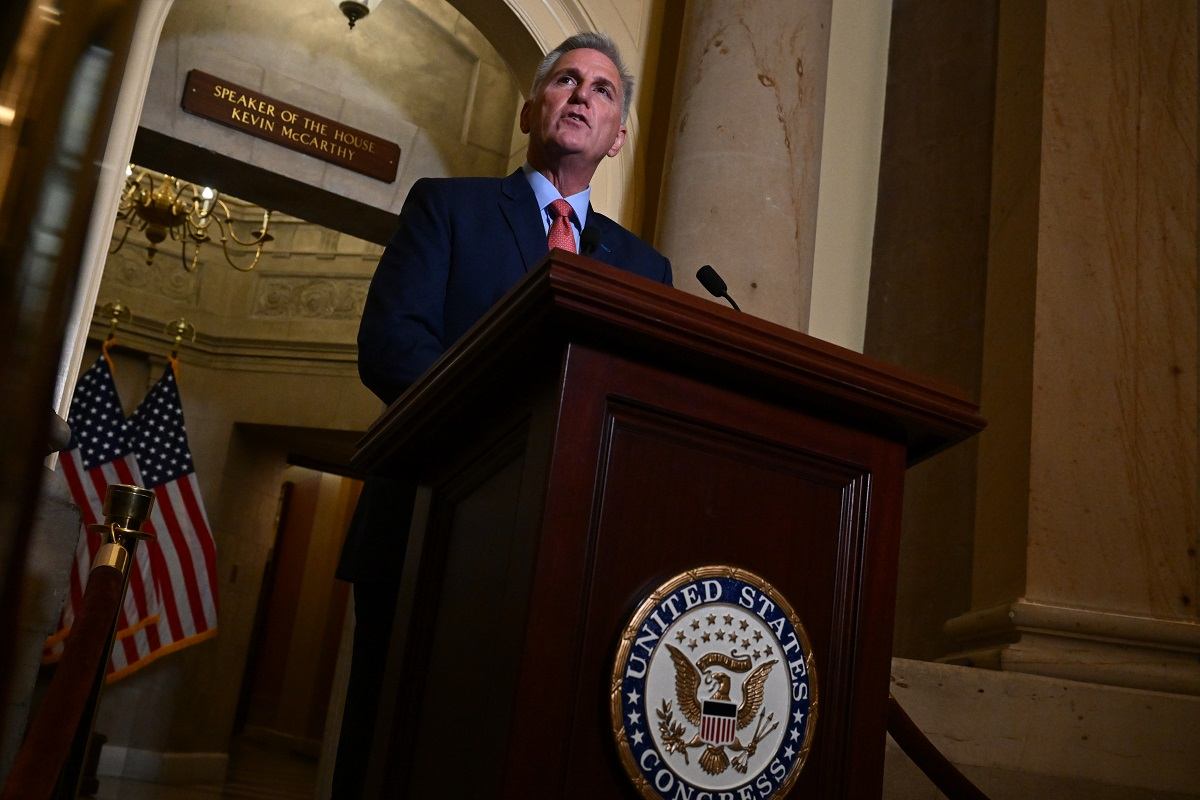 12:45 JST, September 13, 2023
"These are allegations of abuse of power, obstruction and corruption and warrant further investigation by the House of Representatives. That's why today I am directing our House committee to open a formal impeachment inquiry into President Joe Biden. . . .We will go wherever the evidence takes us."
– House Speaker Kevin McCarthy (R-Calif.), directing three House committees to begin an impeachment inquiry into President Biden
***
Now that the House is embarked on a formal impeachment inquiry – albeit one that is proceeding without a vote to open it – readers are bound to have questions. Here's a quick guide to what's behind the allegations against the president, most of which concern his son Hunter's business practices.
What do we know about Hunter Biden's business?
Biden's younger son earned millions of dollars doing international business deals while his father was vice president. He traded on the family name, in some cases holding positions that posed the appearance of conflicts with his father's job.
The most jarring example is when Hunter Biden in 2014 became a board director of the Ukrainian energy firm Burisma, owned by a man that the United States considered corrupt. At the time, the vice president was the Obama administration's key interlocutor on Ukraine. As part of his policy brief, Biden pressed the Ukrainian government to crack down on corruption, including removing the top prosecutor, who was viewed by the international community as an impediment to reform in part because he failed to prosecute the owner of Burisma.
Unflattering news reports at the time highlighted the contradiction – which was also the source of consternation in the State Department. Hunter Biden has claimed that he never discussed his Ukraine business with his father, except for a brief exchange after he joined Burisma. "I hope you know what you are doing," the vice president supposedly told him.
Hunter Biden has had a troubled life. He was discharged from the Navy Reserve for drug use and, according to a memoir published in 2021, he actively used crack cocaine and abused alcohol, especially after his older brother, Beau, died of cancer.
President Biden has been defensive about his son, insisting he did no wrong and once, in the 2020 presidential debate, falsely claiming that his son earned nothing from business deals in China.
What was Joe Biden's connection?
Republicans have long suspected that Joe Biden acted with corrupt intent through his son, though no evidence has emerged to support that.
For instance, they have claimed that Biden pushed to remove the prosecutor to aid the company that employed his son, even though the policy had been set by the U.S. government and was supported by the European Union and the International Monetary Fund. Devon Archer, Hunter Biden's former business partner, told congressional investigators that it was his understanding that the removal of the prosecutor was a setback for the company rather than something it saw as beneficial to its interests.
Late in the 2020 election campaign, a leaked copy of Hunter Biden's laptop emerged, exposing not only a sordid personal life but years of business practices that may have crossed the line. This summer, he was set to settle charges related to two minor tax crimes and a gun offense, possibly avoiding jail time, but that deal collapsed and prosecutors have said they will indict him.
Republicans have been tantalized by suggestions in some emails – such as a reference to Hunter holding money for an unnamed "big guy" – that Joe Biden had a secret role in Hunter's business deals. The emails have helped prove that Joe Biden sometimes attended or dropped by meals at which some of Hunter's overseas partners appeared. On at least 20 occasions over a decade, Archer said, Hunter put his father on speaker phone while meeting with business partners or clients. Archer said Hunter sold the illusion of access to his father, but the president was not involved in business deals or even business discussions.
What has the House uncovered so far?
Republicans have drilled many dry holes, but you would not know that from some of the rhetoric. For instance, Republicans say they have discovered that the "Biden family" earned $20 million from "foreign sources," but most of that money went to business associates of Hunter Biden. Hunter Biden himself earned about $7.5 million, while documents have also pointed to earnings by some other family members, such as Joe Biden's brother and daughter-in-law. No money has been traced to Joe Biden.
It's important to remember that in the four years between being vice president and president – 2017 to 2021 – President Biden could have been in business with his son without running afoul of ethics rules. But again, that has not been shown to be the case.
One document unearthed by Republicans – a 2020 tip from an FBI confidential human source – alleges that Joe and Hunter Biden in 2016 were involved in a foreign bribery scheme with a Ukrainian business executive, with each supposedly receiving $5 million. No evidence has emerged to confirm this claim, which has been investigated by the Justice Department.
Joe Biden has publicly released 25 years of federal tax returns, dating to 1988, so he would have been lying on his tax returns if he failed to disclose income earned through Hunter's businesses or account for a bribe from a foreign country.
What are some outstanding questions?
The holy grail for Republicans would be direct evidence showing Joe Biden secretly was involved in Hunter's businesses while he was vice president. Alternatively, they will seek to prove that he acted to shape U.S. policy in ways that would have helped his son or his business associates.
Separately, the House will investigate whether Biden put any pressure on the Justice Department to go easy on his son during the federal investigation of the tax and gun offenses. The White House has insisted Attorney General Merrick Garland has been free to act as he wished.
After becoming attorney general, Garland heeded the urging of Republicans such as Rep. James A. Comer of Kentucky, chairman of the House Oversight Committee, to keep in place the Donald Trump-appointed U.S. attorney in Delaware who had launched the probe into Hunter Biden's finances.
But when that U.S. attorney, David Weiss, reached a plea deal with Hunter Biden, Republicans cried foul, citing whistleblower testimony claiming Weiss's probe has been hampered by political influence. Once the plea deal fell apart, Weiss asked Garland to appoint him special counsel – which Garland did.
Add TheJapanNews to your Google News feed.