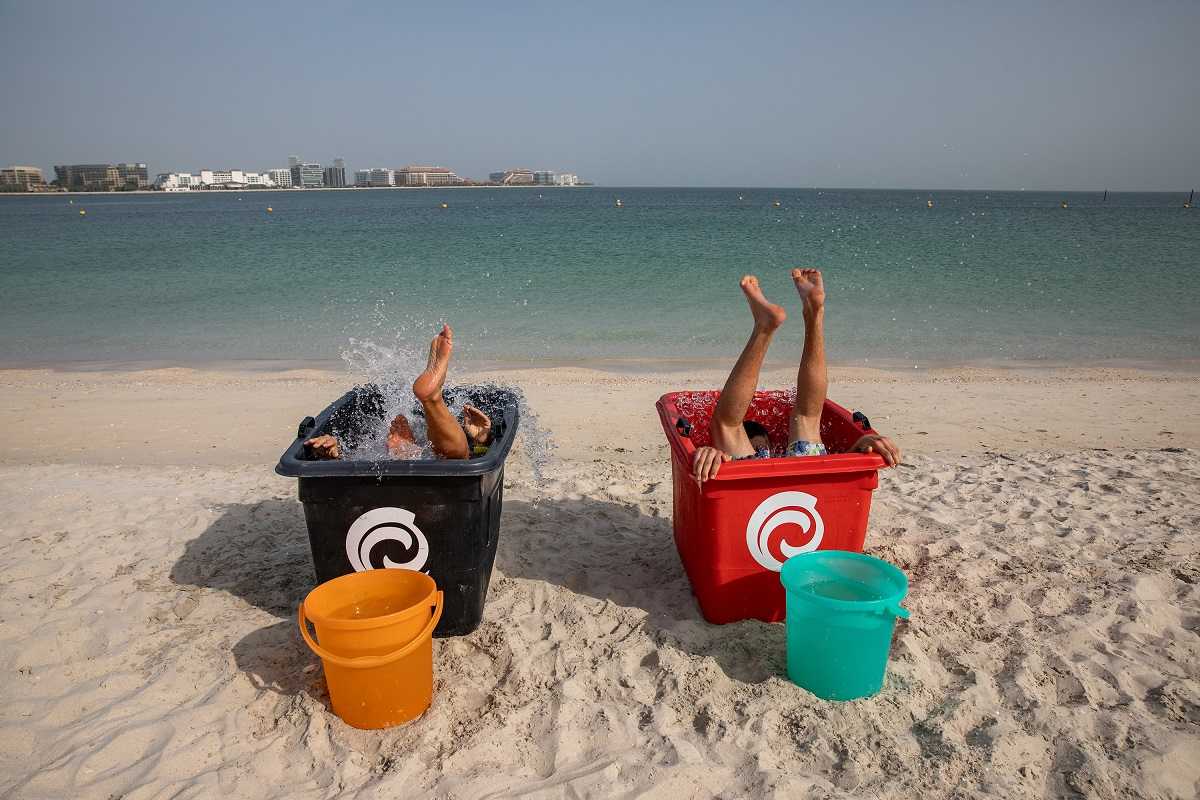 13:04 JST, September 12, 2023
DUBAI – In one of the world's richest and hottest cities, combating the desert heat and humidity is not just a way of life, it's a chance to get creative.
From oceanside ice baths to indoor ski resorts, people living in Dubai are doing their best to keep cool, even while nature works against them. Unlike other major cities, ill-equipped to fight rising temperatures caused by climate change, people in this metropolis in the United Arab Emirates are prepared, though that often depends on how much money you have. Air conditioning is ubiquitous – even outdoors – public cooling centers abound and gatherings shift to early morning or late evening.
For the more than 3 million people in the city, summers are only getting hotter.
On one white-sand beach, the waves of the Persian Gulf lapped at the shore as grinning clients braced themselves before plunging into tubs of ice water. The temperature that day peaked at 110 degrees, according to AccuWeather. The humidity makes it feel hotter.
"The hard part is the first 20 seconds," said Andrea Casole, a life and career coach who moved from Italy to Dubai less than a year ago. He said summer in his new home has proved more comfortable than his experience in Milan.
"We have AC in Milan but it's not this high and not all the places have it," Casole said.
The two-hour-long ice-bath sessions, which include guided breathing, meditation, fruit and coffee, cost about $80. For Benoit Demeulemeester, who runs Endorphins Method, the company that offers the baths, Dubai summer beats many sought-after European destinations.
"Everything here is air-conditioned," he said. "It's worse to go to the south of France, where my mother lives. It's hot, and nowhere has AC."
Away from the seaside, the air in Dubai is muggier, and shade is a valuable commodity.
Cooling off in the pool is only an option if the pool is cool enough. Companies come to houses and drop in large blocks of ice.
It's not easy to escape the heat: Even in the middle of the night, Dubai's temperatures rarely dip below 90 degrees during the summer.
A great divide is always present in this wealthy city. Bikers for Deliveroo, a British app that offers delivery services, similar to Postmates, spend hours outside fulfilling orders.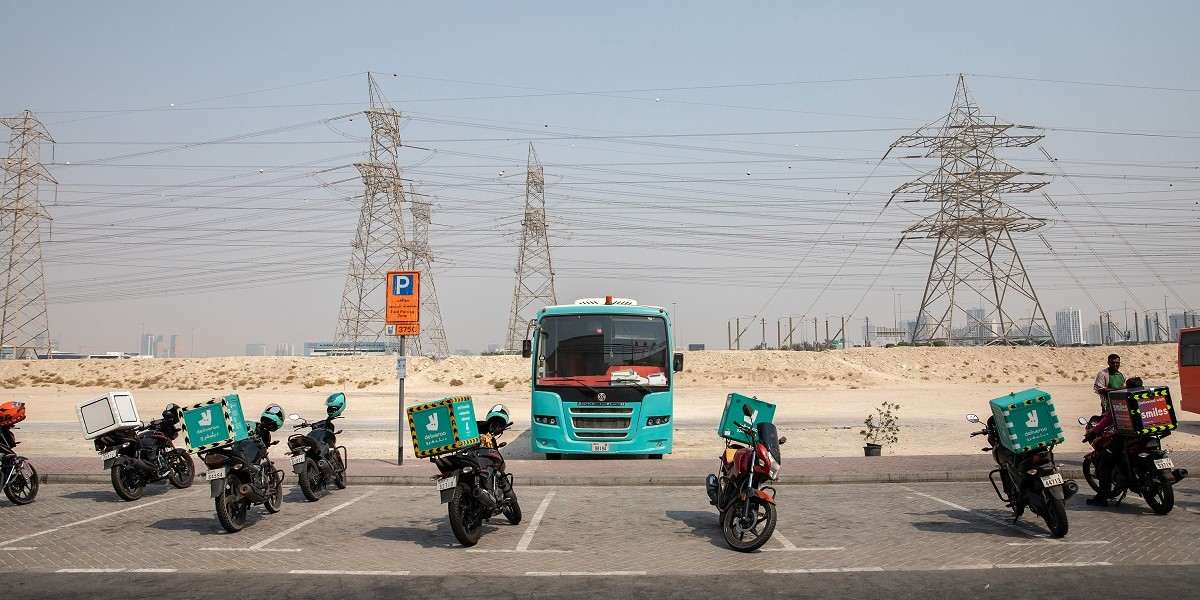 In a new initiative rolled out this year, the company set up Roo Buses, air-conditioned rest stops throughout the city where riders can take a break from the heat. The vehicles are comfortably cool, and equipped with water and snacks.
Rights groups say Gulf state governments could be doing more to protect workers – many of whom are migrants – from the heat. A Human Rights Watch report from May urged countries to use wet bulb globe temperature – a heat index that accounts for temperature, humidity, wind speed and sun exposure – to set limits on time spent outdoors.
The UAE restricts people from working outside in the sun between 12:30 p.m. and 3 p.m. in the summer months, but Deliveroo workers are exempt, because they are considered essential and their work brings them indoors from time to time. Still, the company is trying to address workers' well-being in the extreme heat. They also provide safety training for drivers on how to stay cool in the summer.
"During the summer months, the most important way to cope with the heat is hydration," said Godwin Imoroa, a 28-year-old from Nigeria who has spent two years working for Deliveroo. "I think summer is difficult to live anywhere in the world. But in Dubai, they are equipped and adapted to the heat."
For those who have the luxury of staying inside, options range from cooling down to getting cold. Chillout Lounge, which is the first ice lounge in the Middle East, according to its website, offers hot soups and cappuccinos in a room decorated with ice sculptures.
At Ski Dubai, an indoor ski arena where a two-hour pass costs approximately $68, people hit the slopes all year round.
"It doesn't matter if it's summer or winter, we just enjoy the snow," said Eric Chow, a former Singapore resident who has lived in Dubai for four years.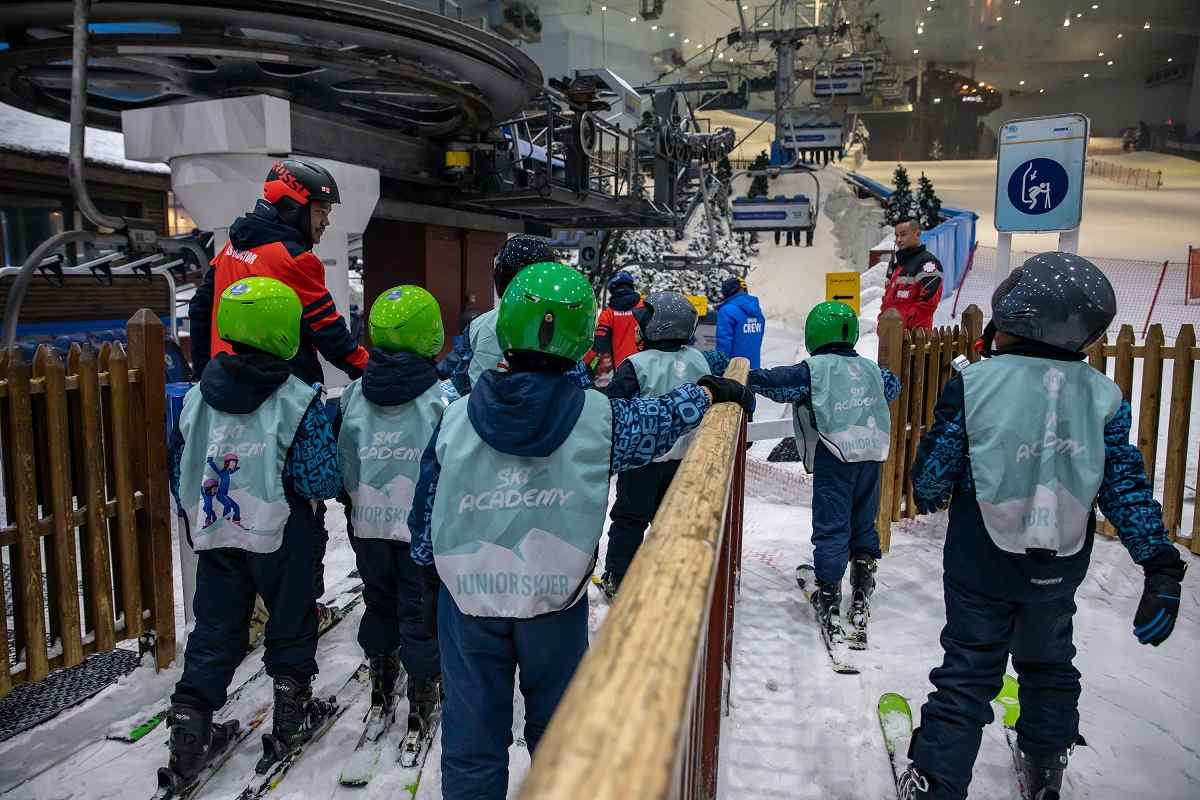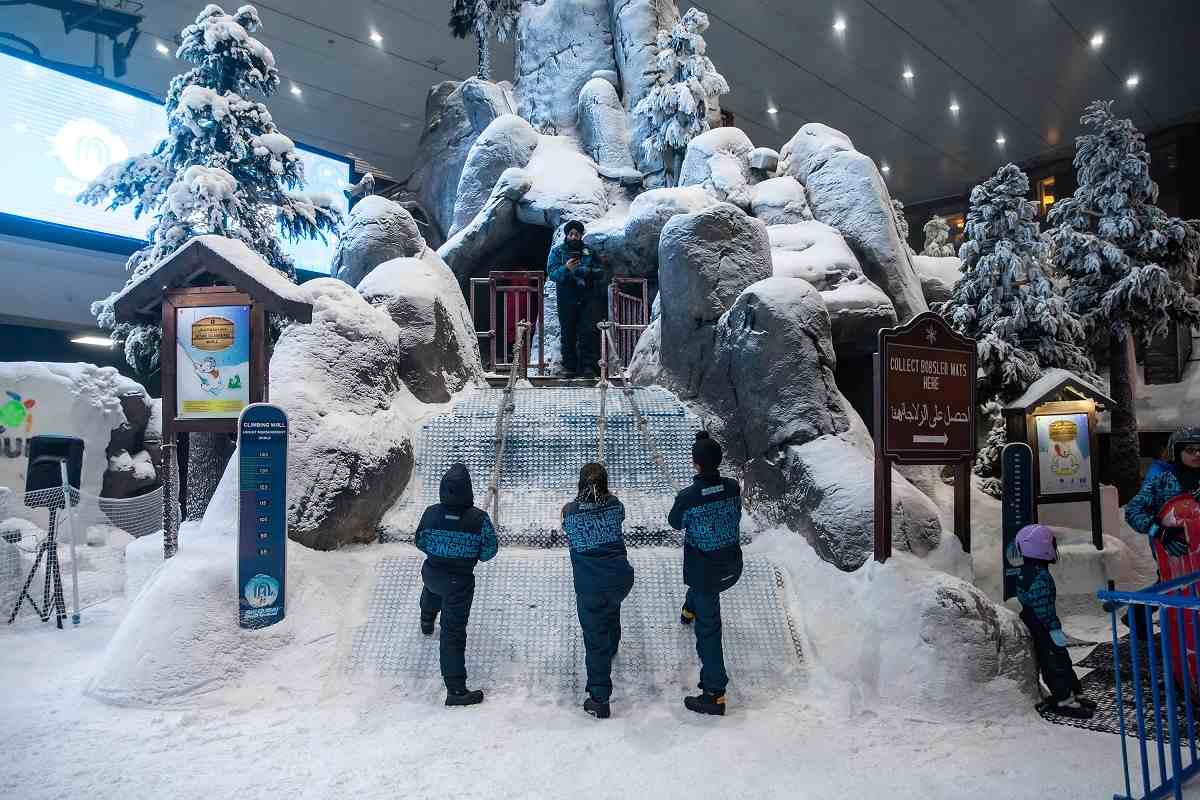 The resort also offers day camps for children, who bundled in winter gear in August as the temperature outside soared to 104 degrees.
Nizam Rahamattulla, who is from southern India and has lived in Dubai for almost 20 years, came to ski with his wife and 5-year-old daughter. The family found themselves seeking refuge not from the heat, but from the cold.
"This cold is too much for us to tolerate," he said. "Every hour or two hours, we have to go outside to warm up again, then we come back in."
The complex also has a "snow cinema." Moviegoers can sip hot chocolate under thick blankets and watch a film. Ski Dubai maintains temperatures as low as 25 degrees, according to its website.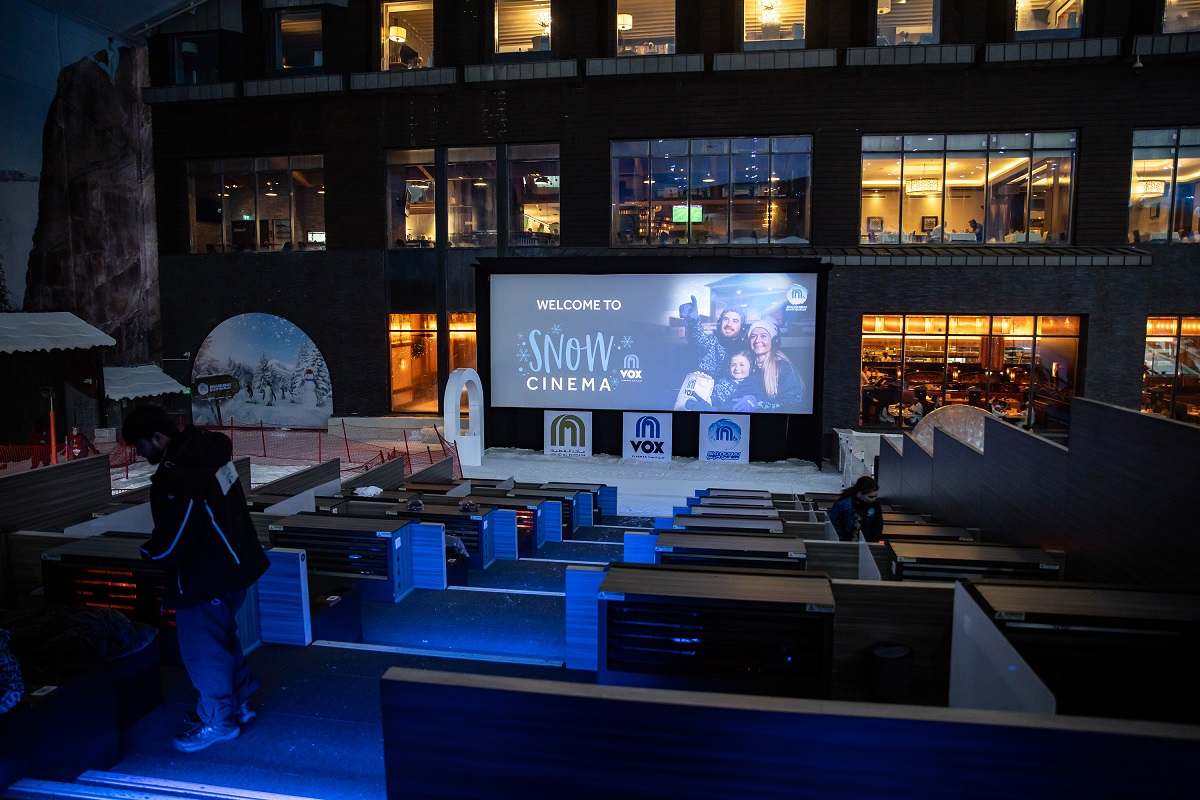 While hot and humid summers have long been the norm in Dubai, other parts of the world are now beginning to deal with similar climates. July was the warmest month on record, according to the National Oceanic and Atmospheric Administration. The previous record was set in July 2021. Some tourists hoping to escape the heat and humidity in places where the infrastructure hasn't caught up with the rising temperatures view the Gulf city as an ideal summer destination.
"I've been cold in the shopping centers, even before coming to [Ski Dubai]," said Lillian Trent, a tourist from Perth, Australia. "The AC is so strong you get goose bumps. I don't get that in Rome."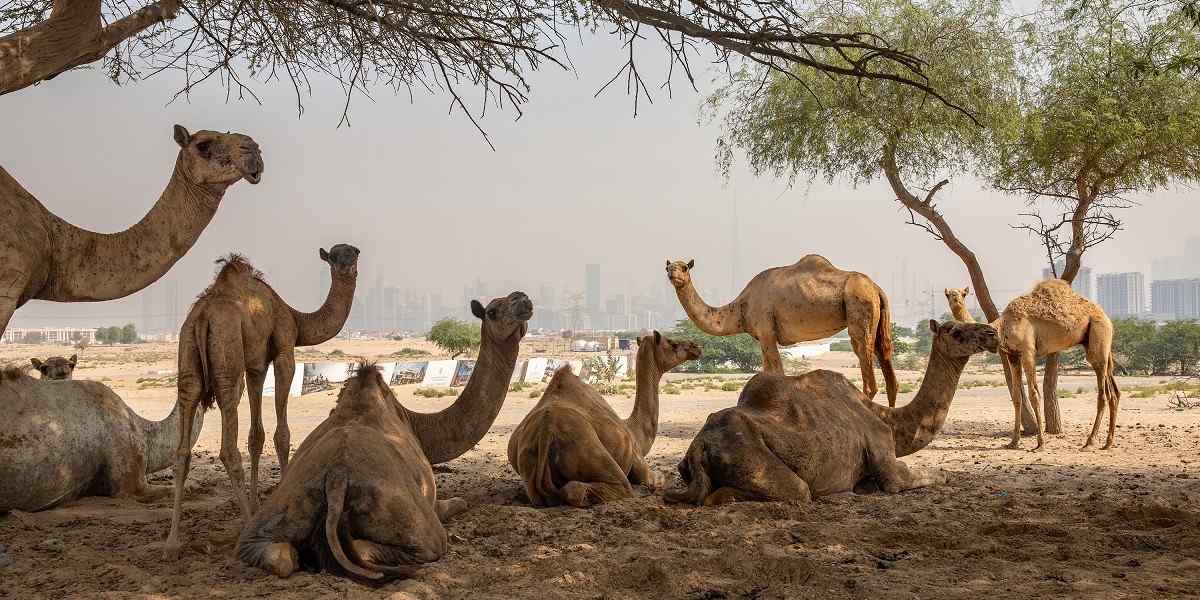 Add TheJapanNews to your Google News feed.