As Migrants Continue to Arrive in D.C. Concerns Remain about Capacity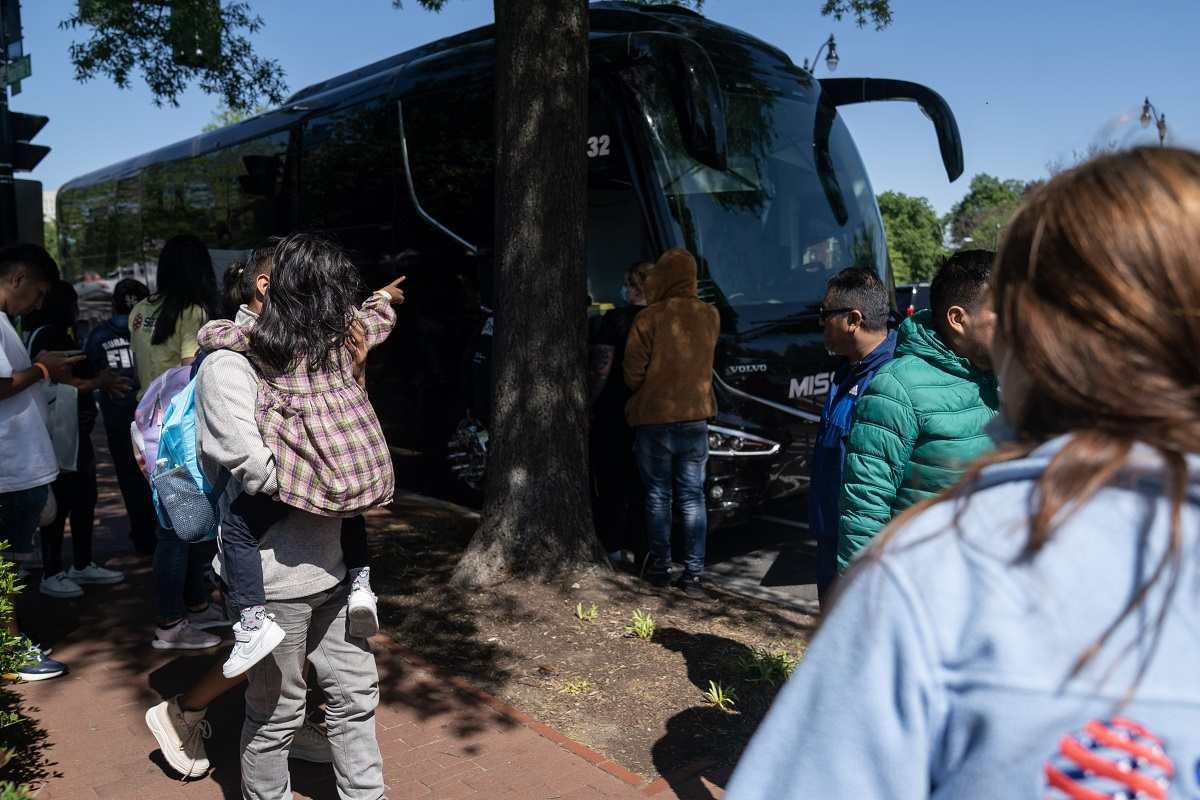 15:01 JST, September 5, 2023
WASHINGTON – It's been about 17 months since Republican governors from Texas and Arizona started sending thousands of migrants to the District and other cities in protest of President Biden's border policies, but questions and concerns remain about the availability of short-term shelter in the nation's capital as buses continue to arrive.
D.C. has received around 60 busloads of asylum seekers since May, raising the total number of buses sent to the District to 239, according to SAMU First Response, a nonprofit that has been the primary contact for new migrants in the District of Columbia. The group said in a statement Friday that it has helped 10,500 migrants find shelter or reach their next destination, a figure that includes asylum seekers who've arrived to D.C. by other means outside of the busing program.
District lawmakers sounded alarms in early May when the city's Department of Human Services, which houses the Office of Migrant Services erected last year, said three D.C. hotels that are being used as short-term housing for the migrants had reached capacity. At the same time, nonprofits working with migrant families said they had faced challenges with finding them long-term housing, raising concerns about how the system would fare with more buses anticipated to arrive over the summer.
While the department said the pause in housing new migrants at the hotels was temporary, agency spokesperson Kevin Valentine said Friday they are still not accepting new migrants. It was not immediately clear when that would change. At a news conference last month, City Administrator Kevin Donahue said the department is still housing just over 1,000 individuals in the hotels – a slight decrease from May, when the city said it was hosting 1,250 migrants at those sites.
Valentine indicated that migrants are being routed to a Salvation Army building, a short-term respite center that D.C. opened in June offering food, case management and support with plans to move elsewhere, similar to a respite site in Maryland's Montgomery County.
The Department of Human Services did not respond to questions from The Washington Post about how many people had been served at the Salvation Army site and how long residents are able to stay there. Migrant advocates have said the site was insufficient to meet demand as asylum seekers continue to arrive, at times sleeping inside cars parked outside the hotels.
Madhvi Venkatraman, an organizer with the Migrant Solidarity Mutual Aid Network, said those concerns have not abated heading into the fall – especially since families typically leave the Salvation Army site after a short period of time. Asylum seekers are also still having challenges with getting documents like IDs that are confiscated at the border, especially after an effort by D.C. Council member Charles Allen (D) to make it easier for migrants to get temporary ID cards fell apart in June.
"There are families who end up on the street, many families end up sleeping in cars or crashing on the floor with friends – when we can, we have folks house people but it's pretty hard to find people who room for a family of four or five," Venkatraman said. "Until the city decides they want to taken an approach of welcoming people as new residents, it's going to be this emergency mode endlessly."
Similar concerns have generated tension in others cities targeted by the busing effort, like New York, which has struggled to meet demand for shelter even as officials have converted hotels, dormitories and other residences into emergency sites.
In D.C., the Department of Human Services says it has spent $36.4 million on migrant services through Aug. 31, up from about $15.1 million in May. The agency has said it expects those costs to eclipse $52.5 million by October. D.C. has requested about $5.5 million from the Federal Emergency Management Agency, which offers reimbursements for 30 days of temporary housing for migrants – but advocates say migrant families usually require a longer stay, increasing costs.
In all, just over 2,000 people in migrant families have received temporary shelter in D.C., according to the Department of Human Services, a number that includes 516 children. Their average length of stay in temporary lodging in D.C. is 212 days.
But Donahue said last month that the number of migrants in the city is probably greater than expected, as some adults seeking asylum go to D.C.'s homeless shelters for support. By law, the city cannot ask these individuals about their immigration status.
"We know more anecdotally what our homeless adult system has seen, and they have seen a moderate increase in tenancy, which providers believe is likely the result of migrants coming here," Donahue added.
Asked about the pace of asylum seekers arriving to the city, Donahue confirmed that the buses from southern states are still coming, "but not to the degree or quantity that they have sent before." The new arrivals, he said, are often looking for help to reach a secondary destination.
According to the Department of Human Services, about 23 percent of migrants listed D.C. as their preferred final destination. New York was the most preferred final stop, with D.C. listed second most frequently. New Jersey, Ohio and Maryland round out their preferred destinations.
Add TheJapanNews to your Google News feed.