Faster trains to Begin Carrying Passengers as Amtrak's Monopoly Falls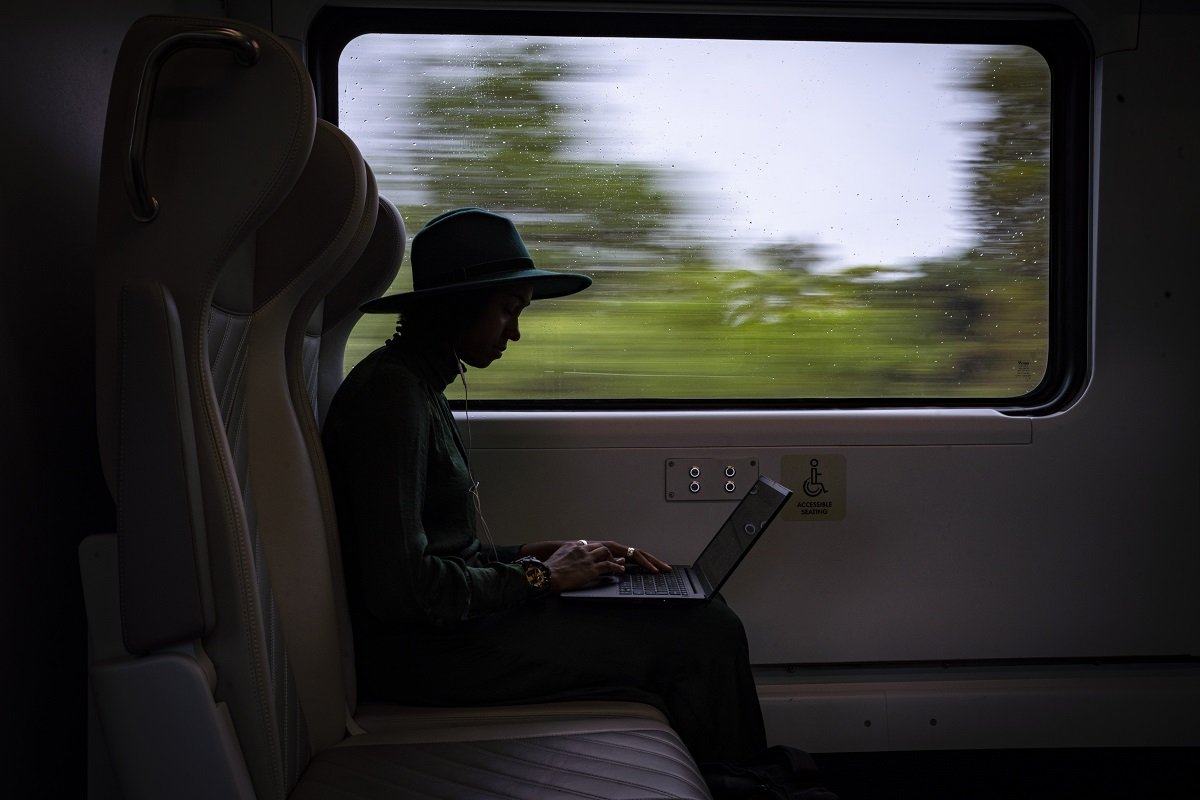 13:15 JST, August 31, 2023
ORLANDO – Amtrak's decades-old monopoly on intercity passenger rail travel will fall in the coming weeks when Florida becomes home to the fastest American trains outside the Northeast Corridor.
Brightline, the only private passenger railroad in the country, is slated to open its newest station here later this year, providing a train connection between Orlando International Airport and South Florida in three hours. Meanwhile, work is progressing on high-speed projects in Western states and Texas, while Amtrak is eyeing its biggest expansion in 52 years.
Two years after the infrastructure law began pumping $66 billion into the nation's aging rail network, domestic passenger railroads are showing their greatest signs of strength in generations. Amtrak's singular grip on transporting U.S. rail passengers is slipping as private companies, states and the federal government look to fast trains as environmentally friendly alternatives to traffic-clogged highways, while developers promise speeds rivaling those in Europe and Asia.
Amtrak says it views other rail providers as complementary to its offerings, coming as the nation's longtime passenger rail – newly flush with billions of federal dollars – embarks on its own plan to add 39 routes while linking dozens more cities. President Biden, whose fondness for the system earned him the nickname "Amtrak Joe," is perhaps the bipartisan project's biggest booster.
Launching with no federal help, the modern debut of private passenger rail connecting two major metropolitan areas will come to fruition when Brightline riders arrive in Orlando from downtown Miami. The Federal Railroad Administration expects to sign off within days, triggering a three-week testing period before Brightline carries passengers. The company will then set its sights on a $12 billion high-speed railway from Las Vegas to Southern California, a massive undertaking that could put trains traveling at 186 mph on America's tracks by 2028.
"We're much closer than we've ever been. It's going to happen," said former transportation secretary Ray LaHood, putting the Western U.S. project at "the top of the list" of major corridors that could place the nation on the high-speed rail map.
The test case for the U.S.'s passenger rail ambitions is taking place in car-dominant South Florida, where a gleaming station has transformed a long-overlooked Miami neighborhood three miles from the southern terminus of Interstate 95.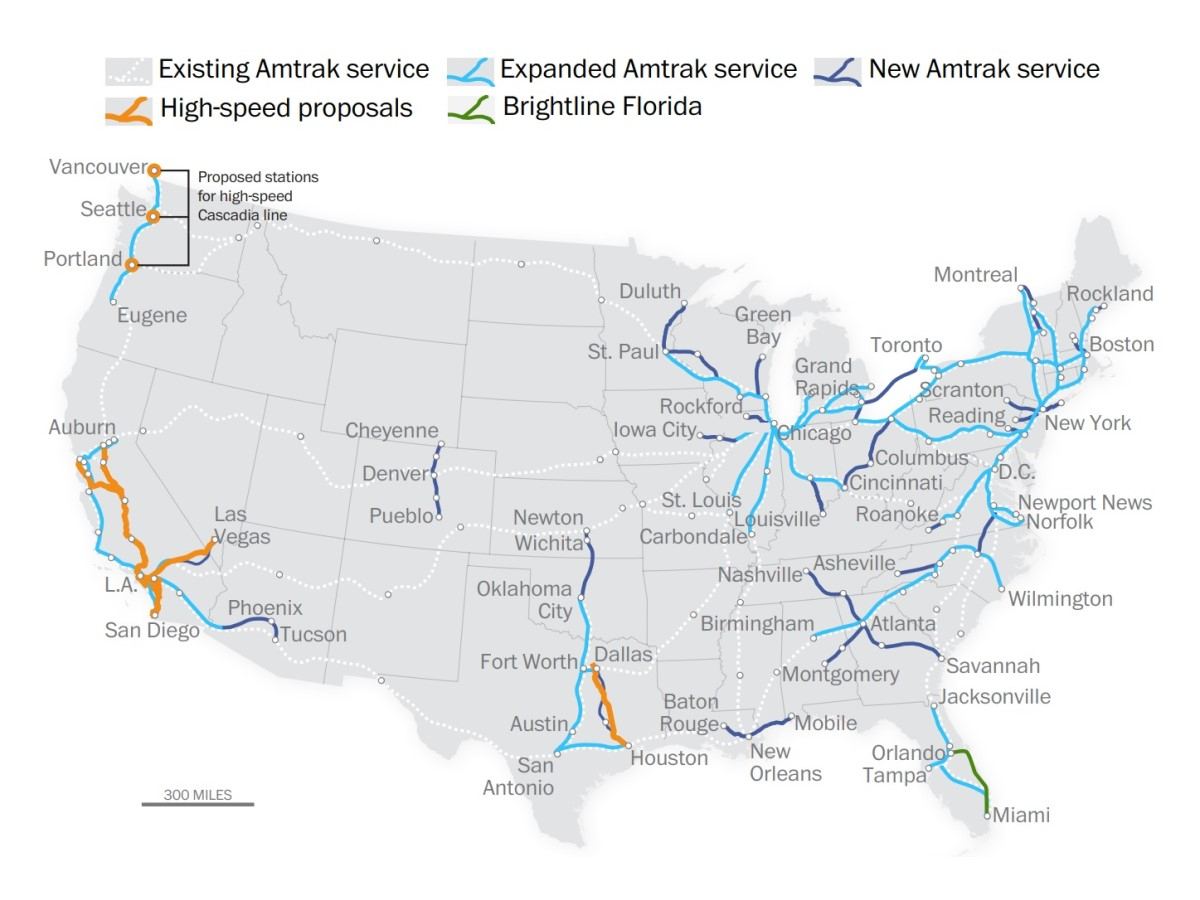 ***
After operating much like a commuter service through South Florida, the Orlando station will be the nation's first non-Amtrak passenger train connection between two metro areas in four decades – a project with nearly $6 billion in private investment. Although not a true high-speed operation, the Brightline Florida service will surpass speeds of 125 mph in some areas – the nation's fastest train outside the D.C.-Boston region.
Five years after Brightline opened its 67-mile service between Miami and West Palm Beach, passengers fill the five-car trains for sporting events and festivals while commuters use it to get to jobs. Students receive discounted passes for educational excursions.
Brightline uses business tycoon Henry Flagler's original Miami train station and his Florida East Coast Railway, built in the late 1880s. The station had fallen into disrepair and was surrounded by parking lots. The raised platform is now the hub of 1.5 million square feet of development, with office, commercial and residential spaces built by Brightline's owner.
Its rail cars, built by German industrial conglomerate Siemens and operated with diesel-electric locomotives on each end, come with features missing in many of Amtrak's trains – some of which are 50 years old – including wide leather seats, an abundance of power outlets and strong WiFi.
Attendants bring coffee, alcoholic beverages and snacks for purchase to economy-fare travelers – items that are complementary to premium ticket holders. Passengers can schedule Uber connections to airports and other locations through the Brightline app, and the carrier offers free shuttle service at some stations.
Other differences compared to Amtrak include assigned seating – which Amtrak offers only on its Acela route and business-class fares on select trains – a security checkpoint before boarding and passenger use of conference rooms at stations.
Fares, which are comparable to Amtrak's and competitive with airfare, vary depending on the time of travel and how early tickets are purchased. A ticket from Miami to West Palm Beach can cost between $15 and $52. Economy fares from Orlando to Miami start at $79 one way. Brightline will offer 16 daily round trips with hourly departures between Miami and Orlando.
The service carried more than 1.2 million people in 2022, with more than 1.1 million rides this year through the end of July. But the goal has always been linking two of the nation's most tourist-friendly cities – Orlando and Las Vegas – with the nearby metropolis on each coast – Miami and Los Angeles – before taking high-speed rail nationwide.
"Florida is Version 1.0, and we think it's a great 1.0," said Wes Edens, the billionaire co-owner of the Milwaukee Bucks basketball team and co-founder of Fortress Investment Group, which owns Brightline. "Version 2.0, the high-speed rail from Vegas to L.A., we think is the real embodiment of what high-speed rail can and should look like. And that's the system that people will look at and emulate when they look at building systems around the country."
***
The 218-mile Las Vegas-to-suburban-Los Angeles route, dubbed Brightline West, has land, federal reviews and labor agreements in place, and company leaders say it could be built in four years. Its prospects are good, industry leaders and transportation officials say, amid renewed attention to rail in Washington and historic levels of federal funding for a national rail network that has lagged on the global stage.
Brightline West, expected to be funded primarily through private investment, like the Florida project, is also aiming for a multibillion-dollar federal grant.
Edens said history will repeat itself: The United States will have its first high-speed rail system just before it hosts its next Olympic Games – the 2028 Summer Olympics in Los Angeles. Brightline West's target date coincides with start of the games.
Japan's first bullet train from Tokyo to Osaka, now the world's oldest high-speed rail line, opened 10 days before the 1964 Tokyo Olympics. China opened its first high-speed line, from Beijing to Tianjin, a week before the 2008 Beijing Olympics and has since built 26,000 miles of lines.
"It's going to happen in the U.S. just like it did in China and Japan before it," said Edens, who envisions a service modeled on the Paris-to-London Eurostar route and is already eyeing other corridors. "I think one [system] will quickly turn to two or three or four. I really believe that over the course of the next 20 to 30 years, you can see dozens of high-speed rails built in the United States."
Among other projects at various stages, California is building a 500-mile system to connect Los Angeles and San Francisco that has been marred by delays and cost overruns. Its price tag, at $128 billion, is nearly quadruple the $33 billion project voters approved in 2008. A 119-mile section is under construction and projections call for a 171-mile segment connecting Merced, Fresno and Bakersfield to open between 2030 and 2033.
In Texas, a plan for a train connecting Dallas and Houston in less than 90 minutes has been slow to progress amid challenges in an environmental review, opposition from landowners and, more recently, a leadership exodus at the company developing the line. In the Pacific Northwest, a project is in the early phases of planning between Portland, Ore., Seattle and Vancouver, Canada.
While most of the $66 billion the infrastructure law allocated for rail will go toward upgrading existing track and replacing century-old tunnels and bridges along Amtrak's Northeast Corridor, $12 billion is set aside for improving passenger services outside that region, including for high-speed rail.
Brightline West recently received a $25-million grant from the infrastructure law, while the California high-speed project has a $20-million grant for its Fresno station as it seeks $8 billion more. Other projects have requested federal funding.
Transportation Secretary Pete Buttigieg, who rode Japan's Shinkansen train this summer while at the Group of Seven summit, said funding through the law aims to boost an array of rail projects.
"I really think seeing is believing, and when we get even one of these up and running – which I do think can happen in this decade – then Americans will demand more," he said.
High costs and a complicated federal approval process that can drag for years have stalled projects. Meanwhile, rail advocates and industry leaders say a decades-old "Buy America" mandate adds complexity. The policy requires federally funded transportation infrastructure to use U.S.-made materials, a challenge for a fledgling domestic industry.
Rep. Seth Moulton (D-Mass.), a self-described evangelist for high-speed rail and the former managing director of Texas Central, the company developing the Houston-to-Dallas line, has called for speeding up the regulatory process, particularly for rail projects that he said would benefit the environment.
"It's a little bit crazy that we have an environmental policy act that hinders the development of projects that are fundamentally really good for the environment," Moulton said at a recent conference in Washington. "There should be clear timelines."
The United States has some of the most expensive transportation projects in the world, said Eric Goldwyn, an urban planning professor at New York University. His research found costs associated with governance issues, such as environmental reviews, and a U.S. tendency to build larger stations with longer construction timelines have made some projects cost-prohibitive.
While the infrastructure law made money available, experts say the biggest challenge is whether political and public support for rail can shift in a nation that moves by automobile. Traffic congestion and environmental concerns have not been significant incentives to reducing car dependency, said Robert Cervero, professor emeritus at UC-Berkeley's City and Regional Planning Department, who cited increased car ownership during the pandemic as transit declined.
"We're historically a far more car-oriented society, so it's really hard for high-speed rail to get a foothold in the United States relative to some of the other advanced economies," he said.
While demand for rail is high in densely populated corridors like the Northeast, Cervero said in city pairs such as Los Angeles-to-Las Vegas or Dallas-to-Houston, it might be difficult to sell intercity rail as a driving alternative because passengers at terminals probably still need a car to move around.
The 265-mile, electrified rail line from Las Vegas to Rancho Cucamonga, where it would connect to downtown Los Angeles via commuter train, is estimated to cost $12 billion – three times the price tag envisioned in the mid-2000s. Brightline submitted a 4,000-page application in April for a $3.75 billion federal grant from the infrastructure law.
Add TheJapanNews to your Google News feed.